The farmhouse dining table post does have affiliate links to products I use and recommend. By purchasing through the link I may receive a small commission.
Hey babes and gents! We are voting on our farmhouse dining table today! We can FINALLY stop talking about it and start voting for The House That Votes Built. I'm going to give you a background on the table, the dining space and then Mike and I are both going to pitch the choices we have picked. The final step is for you to take all the information in and vote on the finish you like the best.
Mike and I are co-writing this so his part will be in dark blue and mine in black.
DIY Farmhouse Dining Table
About a month ago I needed a mom break. I was at my whit's end listening to my kids bicker, fight and most of all whine. Mike was sick of listening to me complain about the kids so he told me to go do something. Who am I to argue that!? I basically sprinted to the car and drove off like I was part of the next NASCAR race. On my much-needed solo adventure I wound up at Lowe's buying wood for the farmhouse table I had been dreaming and planning in my head for months.
Quick funny story –
I was finally inspired to buy the wood for the table after my sister-in-law found me four table legs at a local vintage sale. I loaded it up in our minivan and I had three ten foot long boards I had to finagle so I could close the back hatch. Two minutes later as I was making my way home I put on my breaks and low and behold the boards slowly, as in slow motion, pushed against the front windshield and cracked it. I did not even want to go home and tell Mike. I already knew he was going to give me the third degree so I held off telling him until the next day.
Anyways, after I bought the wood for the tabletop I cut it with my miter saw and put it in the garage for another day. Last weekend I was hit with the fact that we were moving in ONE week. It motivated me to pull the wood back out and work on the table some more. I grabbed my drill and kreg jig and used them to put the tabletop together using 2×10 boards. Then using 2x4s and the table legs I planned and cut the wood for the base of the table. Since the tabletop alone weights a ton and I wasn't sure if we could fit the table in the door completely put together I stopped at that point.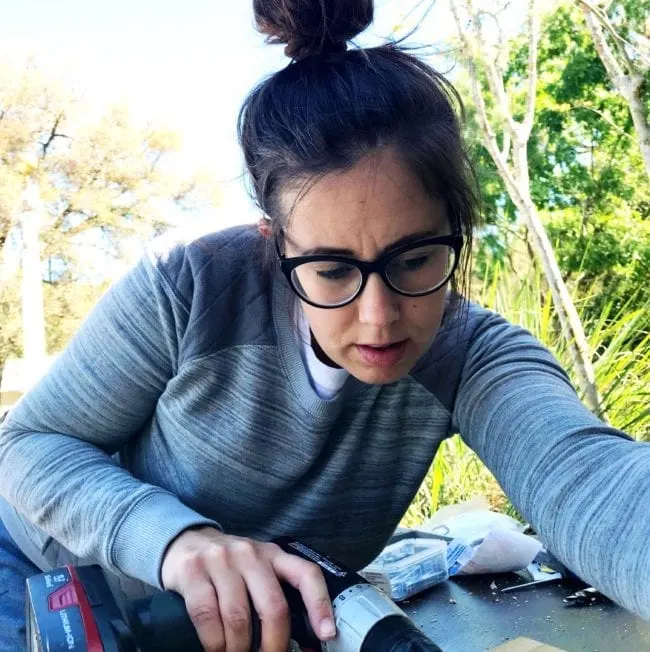 Fast forward to tomorrow. We are closing on the house tomorrow and getting the keys! Afterwards we are going straight to get a U-haul truck and move our belongings, crap, shit or whatever you want to call it. The table will be put together on Saturday. My parents are coming to help us and I gave my dad the task of putting my puzzle together. I am so thankful for my dad and all he has taught me about woodworking and power tools. If you wnt to see the completely put together farmhouse dining table and see some funny moments from moving follow us on Instagram @thehousethatvotesbuilt
Here is the table as I was planning out the base. I will have the free plans up on the blog in the next few weeks if you are interested in building your own table!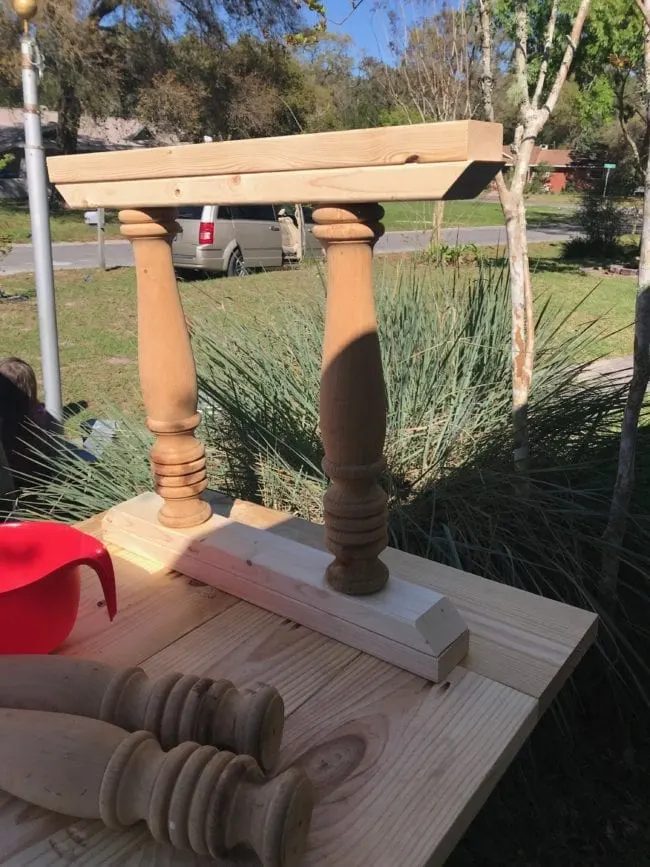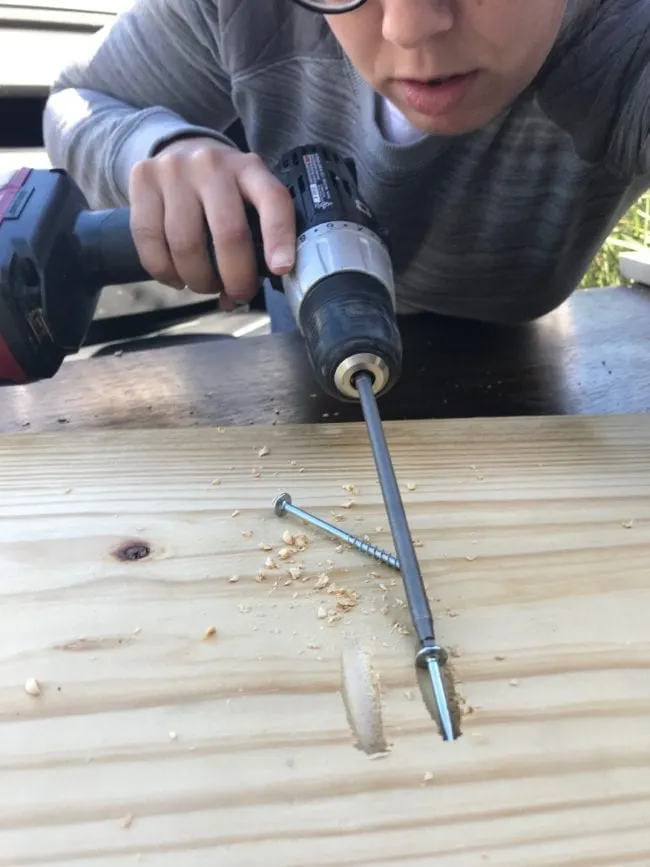 Dining Room Plans
The overall idea for the dining room is to have a long, skinny table with banquet seating on one side. The dining room is long but not very wide and the first thing you see when you walk in the front door.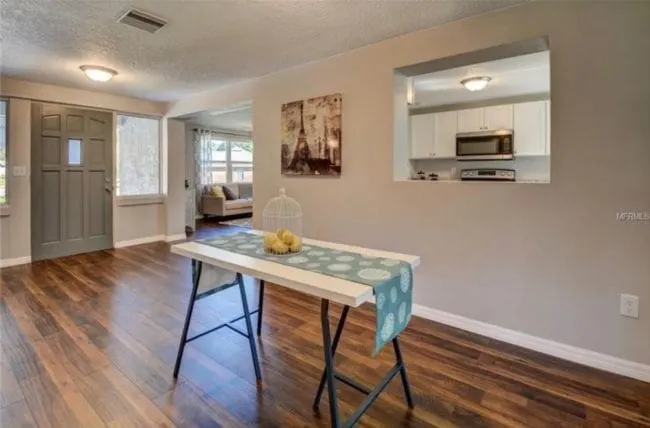 Looking at the image below from the front door, the banquet seating would be along the wall on the left. The table would run down the center and chairs on the right. It will be tight when the table is full, but have the perfect amount of room for getting by when it is empty.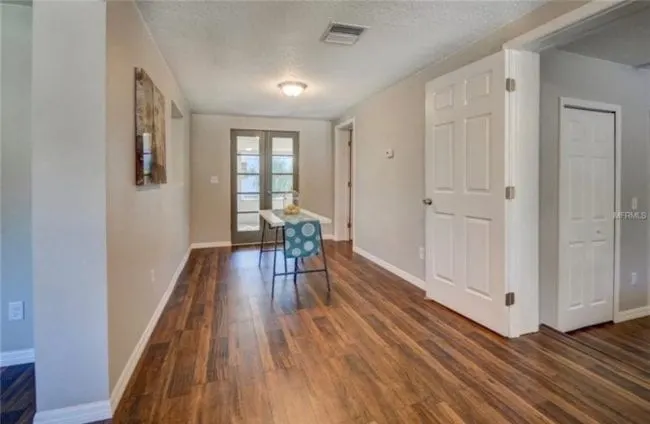 Here are a few inspiration pictures I have saved from Pinterest and they all have a farmhouse table. I like the cozy feeling and décor in these dining rooms.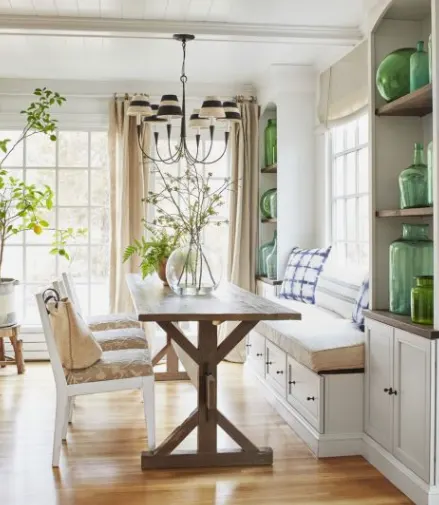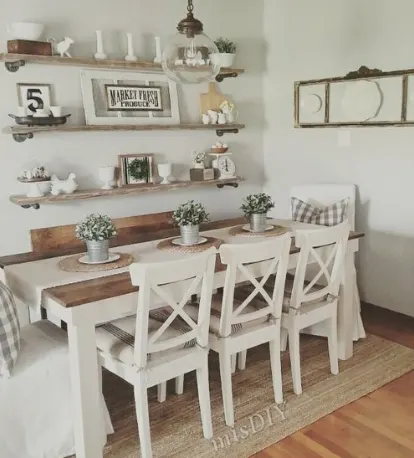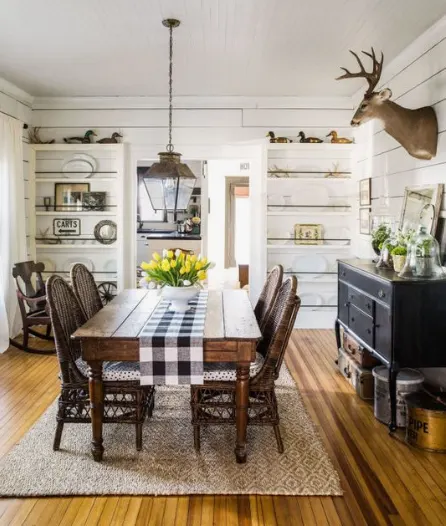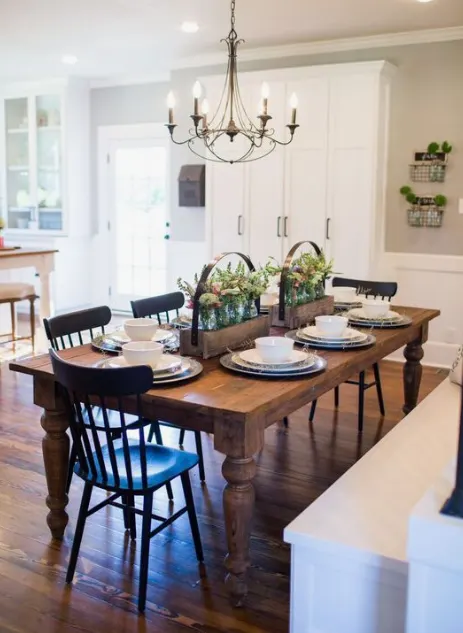 Mike's Pitch – White Dining Table
Here is my pitch. This is where I am supposed to convince you of why you should vote on my choice vs. Kelsey's. What's up for vote? A recently built (by my super crafty wife herself) farmhouse style table, more specifically the overall look and colors of the table. Apparently, Kelsey wants the table to look like a farm house table that you ACTUALLY find on a farm…but not INSIDE the house. The farmer got sick of looking at the table and decided to subsequently transport it to the barn where it sat for about 60 years falling apart and getting uglier. Listen, I am all about the old worn and torn antique-y style for stuff that will go in our new house, but I must draw the line somewhere.
Kelsey's choice of color looks more like an older drab blue or grey. If you look at her photo, to me the bottom color just looks too worn and torn as well as the top where I would assume she would stain and then antique it. It looks like a table I would pick up at the end of someone's driveway on trash day and then take home to sand and redo…although she wants it to look like I never got around to the sanding and redoing part. That my voters, is counterproductive. Why not have a table with the color and staining that still gives you a fresh farmhouse feel, but without going over the top? Her choice looks like Joanna Gaines and Property Brothers had a drunken night out and spawned an illegitimate child together as a result…just ew.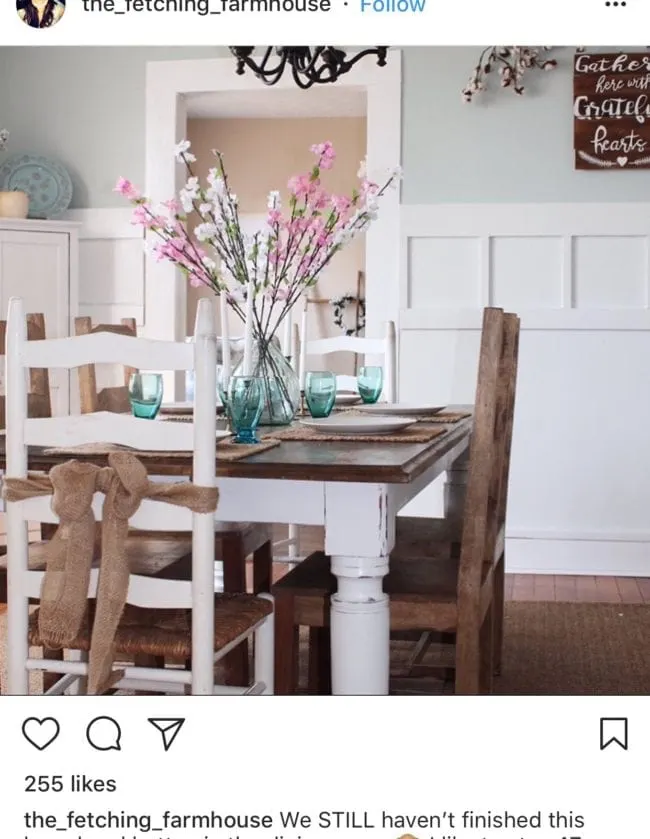 Mike's Farmhouse Dining Table Choice
While keeping the farm house feel, I am in total aggreeance to make the table look distressed and antiqued…but only to a minimum extent. I would choose the stain the table top about the same color as the new floors in our house. Not only will the table blend well with the rest of the house, but it will also maintain that fresh farmhouse earthy feel. My stain would be nice and clean with minimal antiquing…trust me, my children will antique this bitch better than 80 years of time. As for the bottom color of the table I would choose a nice soothing white. If you look closer at the floor boards in our new house, they are white and really pop against the darker wooden floors as well as the light grey paint…it just looks good. Yes, white gets dirty…and yes, white will show little grubby finger prints and food splashes easier…but a little daily maintaining and it would never be an issue.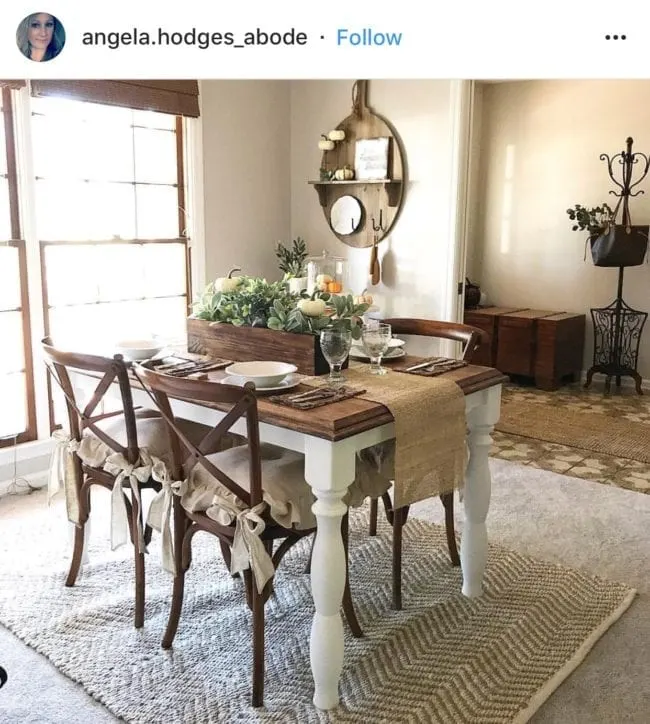 The white I choose would be a softer white with a non-glossy finish. After all, most things that are farmhouse loose the shiny luster and end up resembling flat finishes anyways. In addition to the color, I would also give it the worn and antiqued appeal on the legs and table base as seen in my photo, just not as much on the table top itself. Overall, I think my choice of staining and colors along with the antiquing would be easiest on the eyes and would be easier to match other furniture and fixtures within the house. After all, Kelsey said she wants a very earthy woody feel and I agree…just not this time with her terrible color choice. So! The choice is clear and while voting, remember not to be biased in your decision because I know some of you traitors will choose Kelsey's idea just because she is Kelsey. If this were your house and a table that would be sitting in your dining room, what would you prefer to see?
Kelsey – Dark Dining Table
Before I start let me just navigate to Mike's statement about a white table base … 'but a little daily maintaining and it would never be an issue'. Bitch, who is going to be doing that daily maintaining? Not him. He will be ignoring housework playing PubG on his XBOX or Champions on his phone after dinner. Mmmmkay!? I can totally agree that grubby finger prints and food splashes will of course be seen on our table from time to time thanks to four kids who can basically make a mess out of nothing.
I'm envisioning the top of the farmhouse table stained in a light color with a dark base. I don't want it to have any distressing to the top. I want a flat dark gray, nearly black, base sanded in some areas to see the wood through. I'm proposing a dark color to hide marks and any dirty spots my four kids WILL add to the table. One of my favorite inspiration pictures is this one … I love the base of this table but I wouldn't go as crazy as they did on the distressing.
If a farmer had this in their yard I would say it's a safe bet that they are single and lack any sort of décor vision.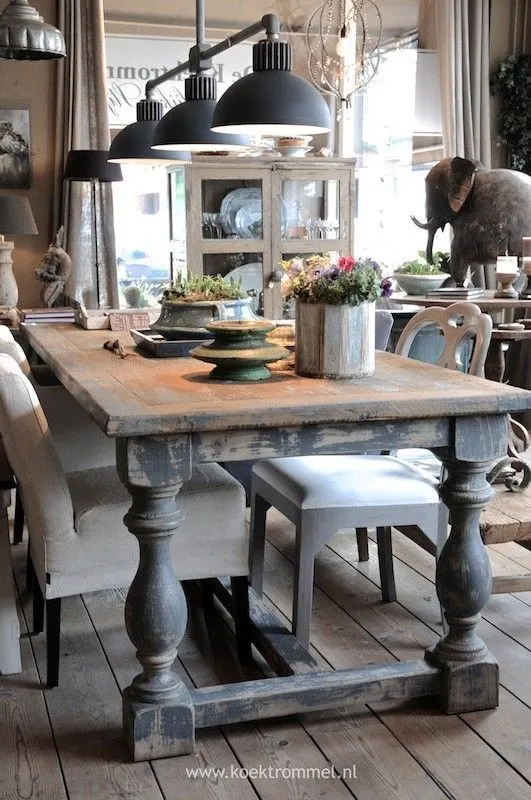 Then there is the lightly stained tabletop from this table…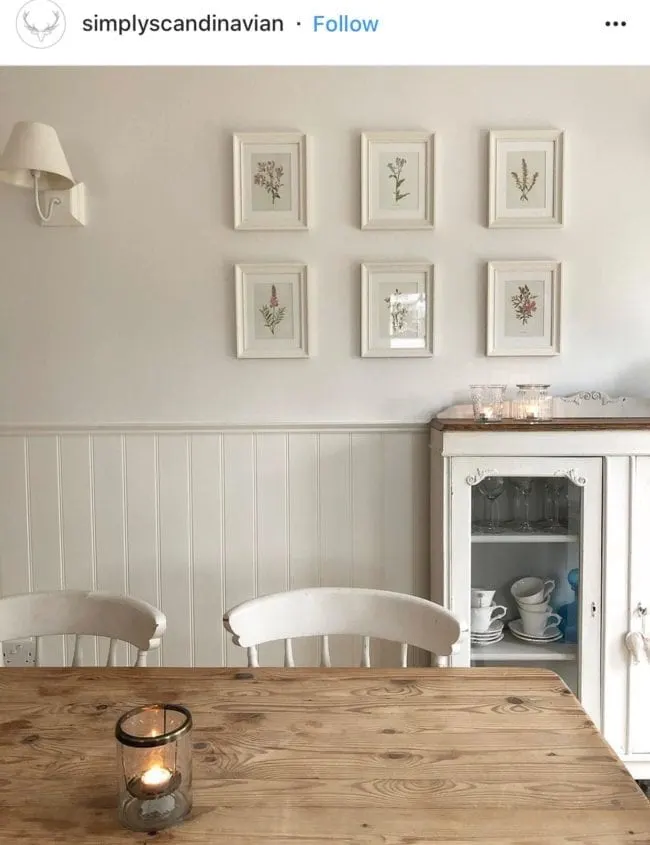 The dining table has always been the heart of our home. I say that because we eat dinner as a family at the table every single night. We talk about our day and do roses and thorns. Roses is the best part of your day and thorns is the worst part. It is when we all put our busy work aside and enjoy the company of one another. Mike and I both agree this is an important part of our family life. We have missed it the past few months as we lived with in-laws. There were too many people to fit around one table.
I am going towards a darker base because I like taking risks. If I don't like it I can always paint it another color. Also, as I mentioned I want to hide the marks and mess my kids will add to the table.
Cast Your Vote – (VOTING CLOSED)