Farmhouse laundry room – This post contains affiliate links to products we used and recommend. If you make a purchase we may receive a small commission.
We have two small, quick votes in our laundry room. Help us decide on the color to paint the new shelving we added to our laundry room and also some cabinet hardware. Winning shelving color will go on THIS weekend and cabinet hardware will be ordered too.
A few weekends ago I had my parents come over so my dad could help me with my laundry room vision. We banged out a trip to the hardware store, hanging cabinets and building the shelves in under six hours. When I say 'we' I really mean my dad. I was the hardware assistant… kind of like a dental assistant handing tools over to the professional.
Below is what the laundry room looked like the day we moved in… spacious! This was a good thing since I spend a lot of time in the laundry room. The fish eye lens that used for the photo almost doesn't do it justice.
Here is what it looked like a few hours before my dad arrived.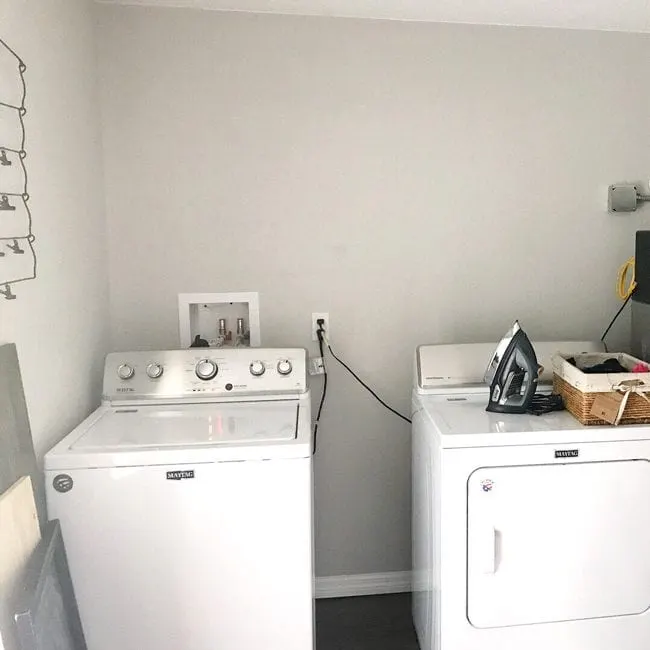 When he left Saturday evening we had cabinets and shelving! Phase 1 of the laundry room is done. In a few weeks I'll have him back for more shelving on the adjacent wall.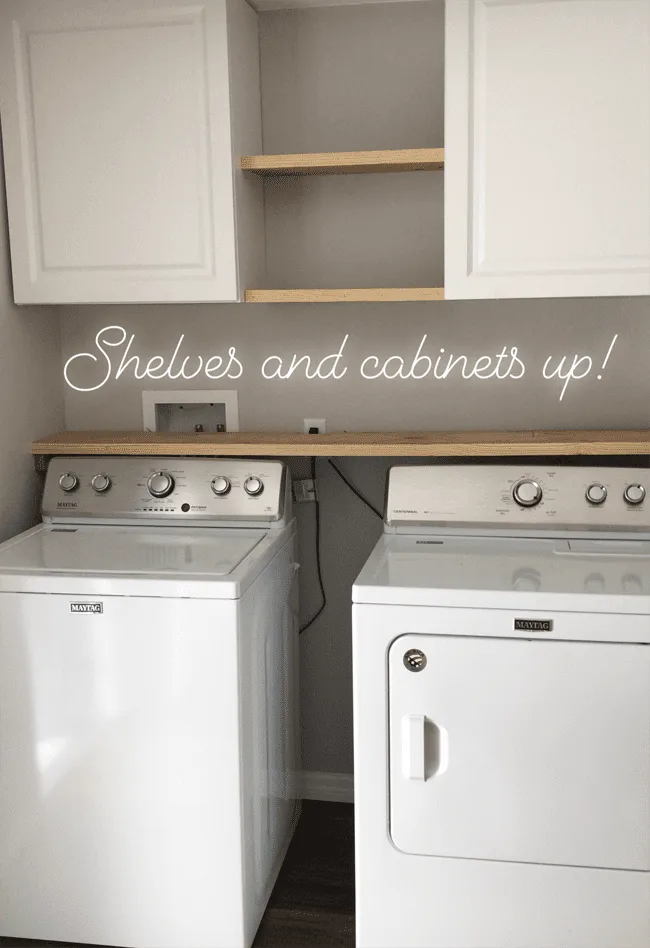 Laundry Room Cabinet and Shelving Cost
This Satruday DIY cost me around $200 for supplies and cabinets.
We had the other supplies –
wood for shelving
screws
drill
level
speed square
pencil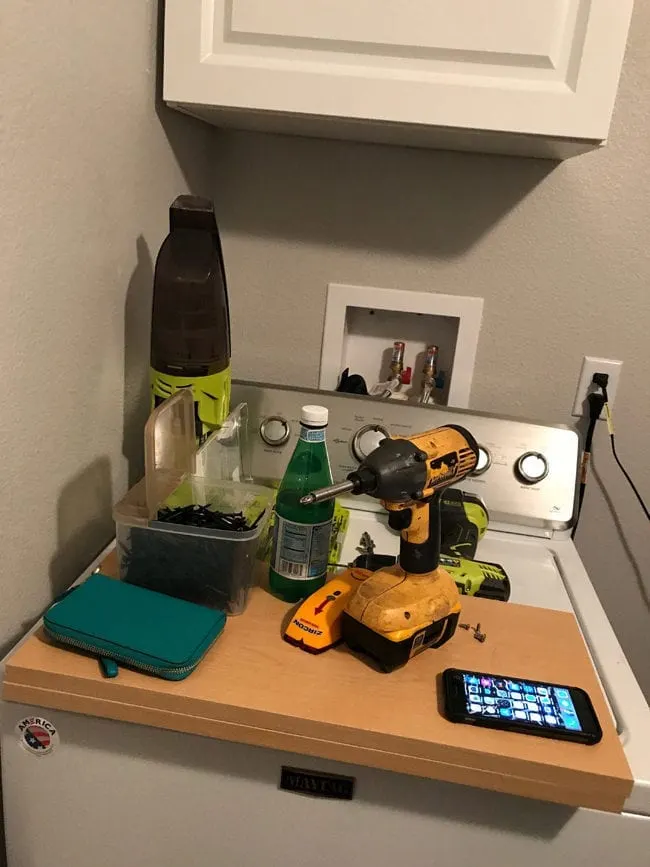 Once we got the cabinets hung we drilled screws through the sides of the cabinets into the wood for the two shelves between. Then we built a waterfall type shelf around the washer and dryer. You can't tell from these pictures but we made a cutout for access to the water valves and outlet. Once I get the shelves decorated I plan to cover both of those areas so you won't see them.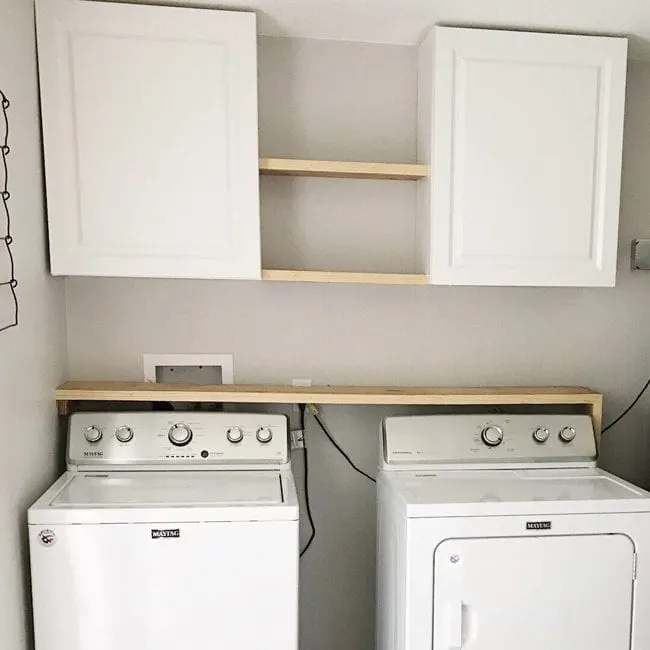 Here is what you should know…
Mike and I aren't playing against each other this time. Mike doesn't even know about these two votes. For good reason. The man rarely steps foot inside the laundry room so his opinions here don't matter much. (Honey, thanks for that laundry you did earlier this week though! Love ya!) He will be working all weekend and here is a little blast from the past. When I met Mike he had five Rubbermaid containers lining one wall of his bedroom. He had two more in his closet under where a person would usually hang clothes. Instead… Mike had piles of clean clothes in each Rubbermaid. He basically took his laundry straight from the dryer to the Rubbermaid and it sat there until he wanted to wear something. At that time he would blast the article of clothing in the dryer to dewrinkle and BAM. He also didn't know how to balance his checking account but that is a story for another day.
Dark or White Shelves in the Laundry Room?
Since we used scrap wood for the shelving we have to paint them. I did a little photoshop work to give you an idea of what each choice would look like. Should we go with a dark brown/black paint or white paint on the laundry shelving? Mike and I aren't pitching our ideas to you this time around – simply asking for a vote of what YOU like best.
I plan to put some sort of sign or decal above the top shelf and vintage jars filling both shelves. I'm still brainstorming what will go on the bottom shelf.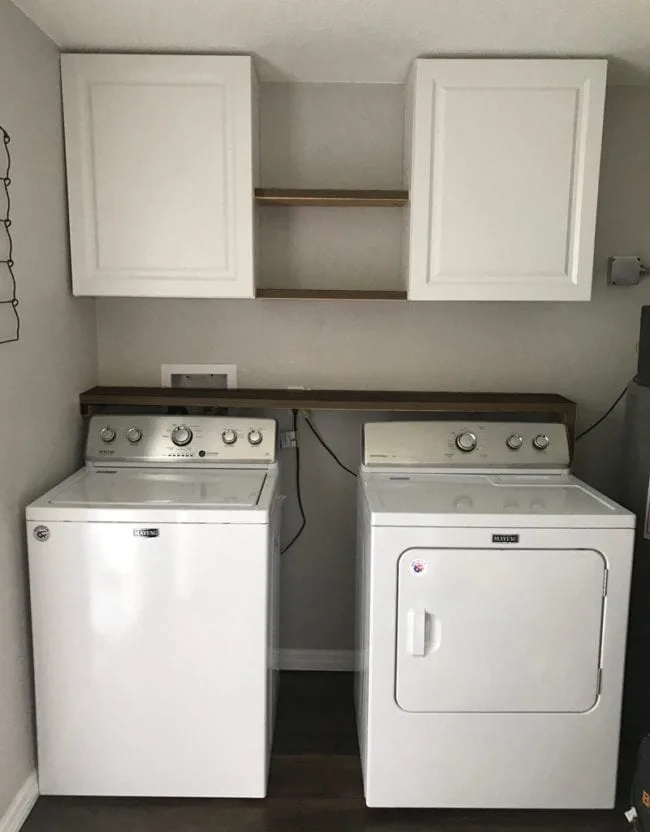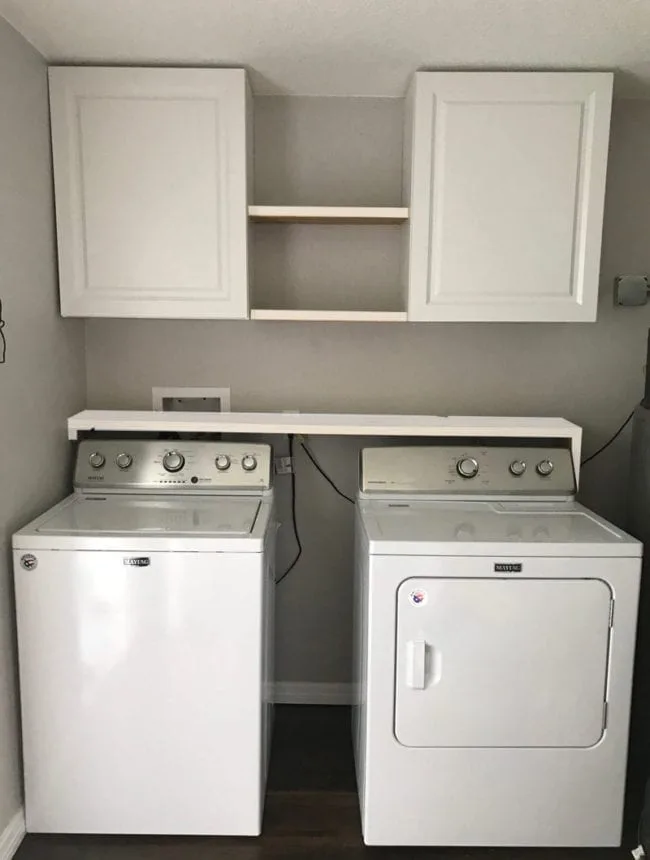 Then those cabinets need hardware in the corners so this little shorty can open them with a bit more ease.
Laundry Room Cabinet Hardware
Do you prefer the square black knobs…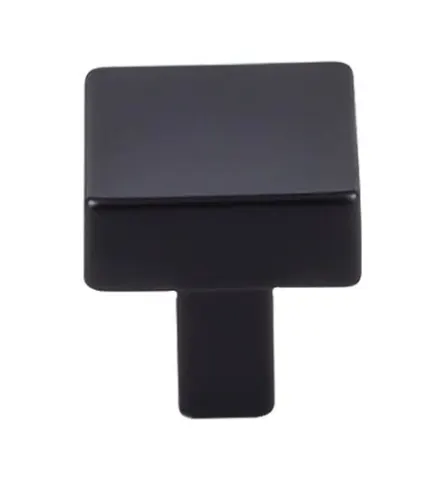 or the black bar pull?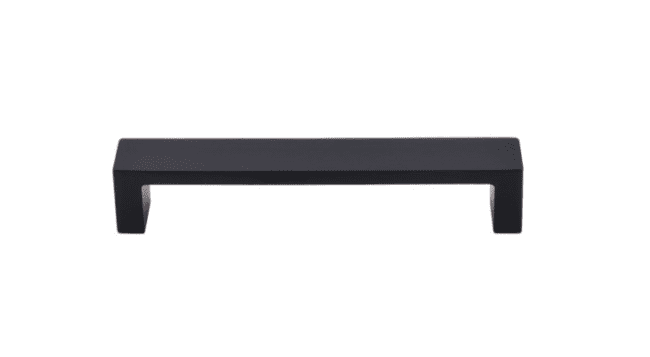 Vote for our Laundry Room Choices – Voting Closed