Farmhouse Laundry Room
Hey there – we are here to reveal our farmhouse laundry room. If you are signed up to vote for The House that Votes Built then your laundry room vote helped pick our shelving color and cabinet hardware.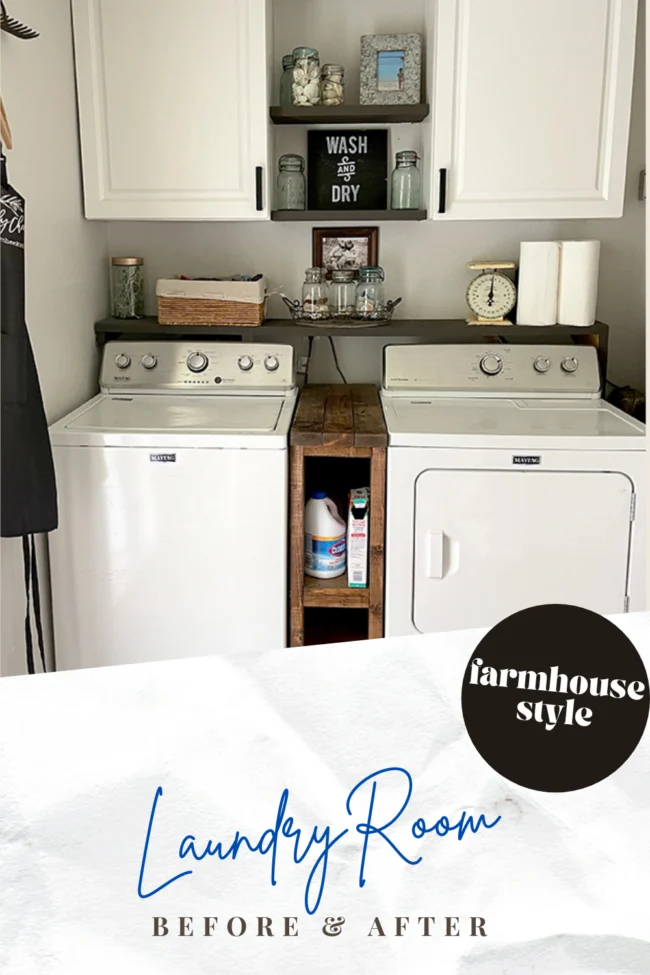 Walking into do laundry is so much more enjoyable now. Sometimes the floors are piled high with laundry mountain ranges but I suppose that is to be suspected.
Laundry Room Before Pictures
Do you remember what it looked like before? This was the day we moved in.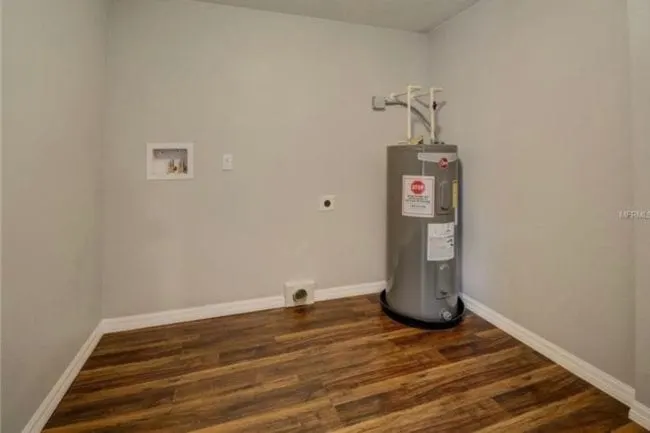 A few months after we moved in I asked my dad to come over and help start the laundry room makeover. My mom watched the kids while my dad and I ran down to Home Depot and picked up two cabinets and a few other odds and ends. He is a perfectionist so he convinced me I needed my own carpenters square and stud finder.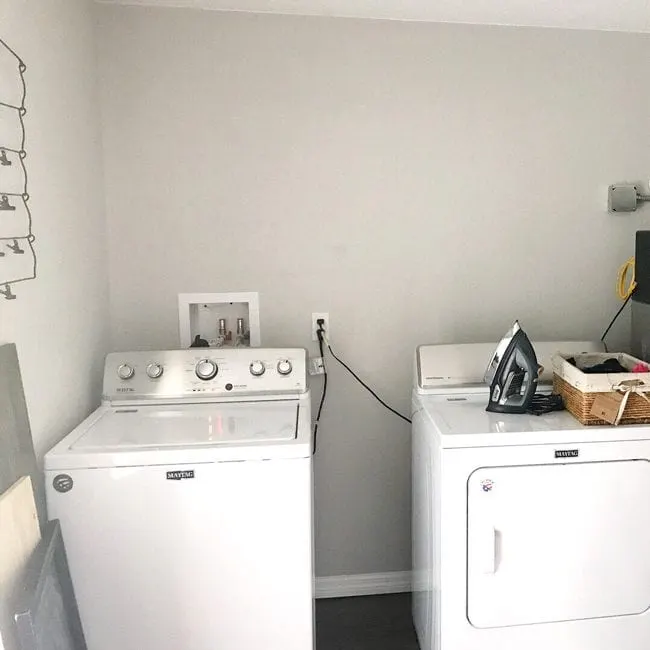 We came back home and he helped me hang the shelves. (Although it was probably more like me helping him as he did most of the work.) He also did the bulk of the shelving with a tiny bit of help from me.
Basically when my dad comes to help me with my project ideas (and there are many) I try to soak as much in as I can. Little by little I've been able to do more projects on my own. His woodworking skills are amazing and sadly you don't see that being passed down as much these days.
I wanted shelving in between the cabinets for décor items and a waterfall shelf to go over the tops of the washer and dryer for storage. Eventually I still want to add a rolling storage cabinet between the washer and dryer for even more storage.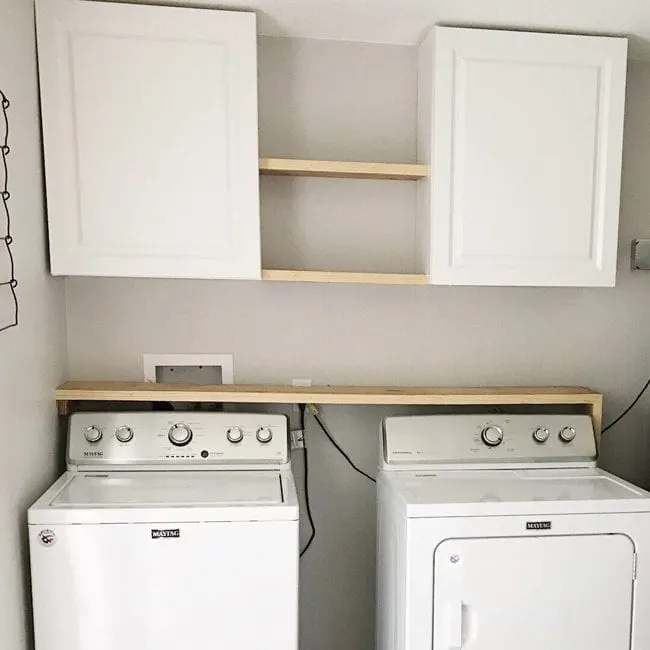 See all the laundry room before pictures and how it started coming together.
Farmhouse Laundry Room After Pictures
Now the laundry room has a lot more storage and is overall more functional.
My goals for the laundry room makeover were to
create more storage for laundry items and craft supplies
add a farmhouse feel to the room
make the room somewhat enjoyable to be in (if that's possible when laundry is involved)
never have to see a wire rack
The cabinets are the perfect spot for storing laundry detergent, bleach and dryer sheets. We also have our iron and cleaning rags hidden away. Since I'm always crafting I also have my most used craft supplies taking up half of one of the cabinets.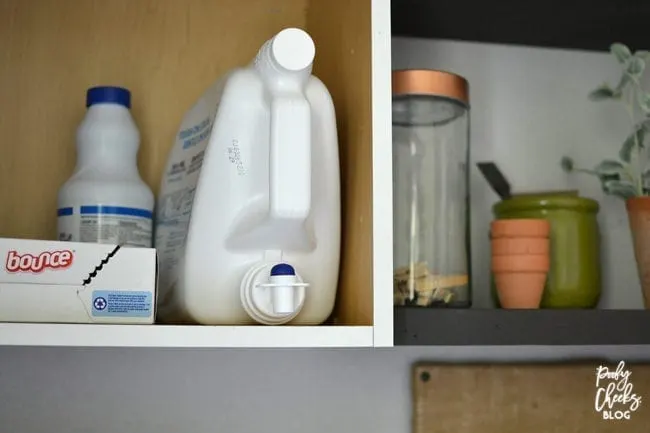 We have always had wire laundry racks hanging over our washer and dryer. While they were great for hanging laundry I hated that everything was out in the open to see. I prefer the detergents and clutter are hidden away.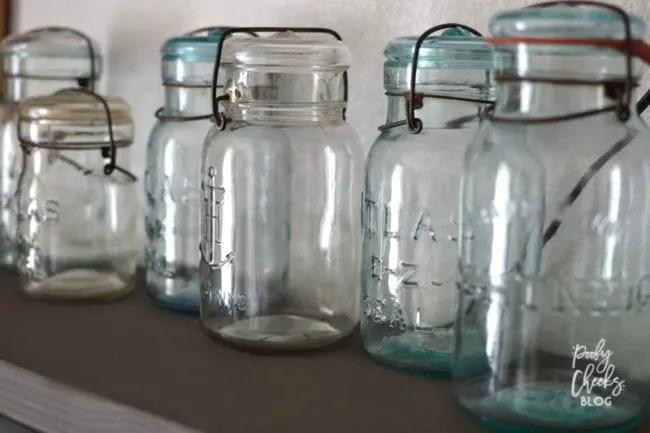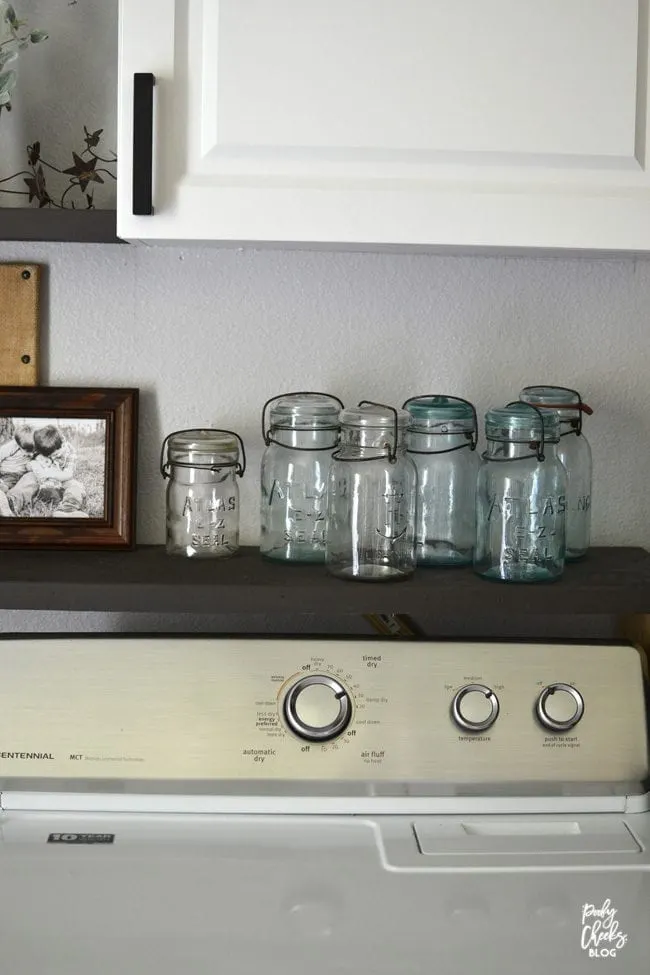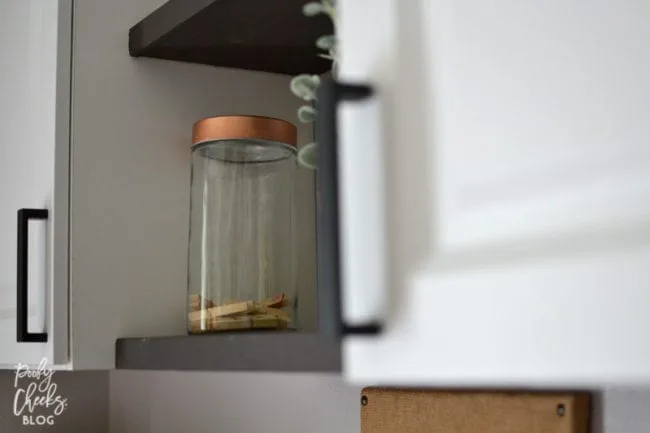 Per the winning votes we purchased the cabinet hardware from Wayfair. I absolutely love the look of matte black right now.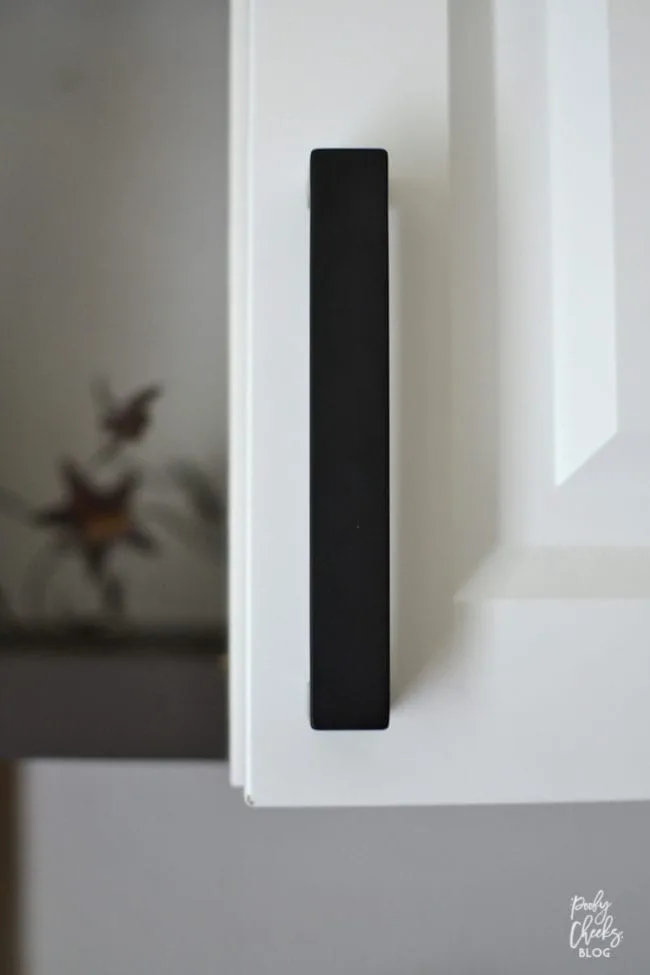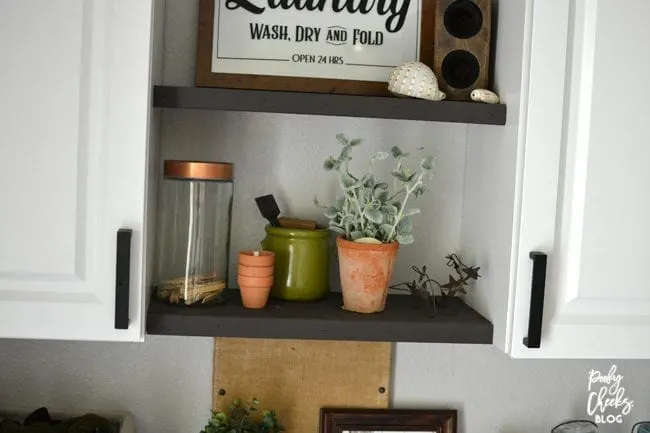 I made the laundry room sign using a 70% off frame from Michaels, matte black adhesive vinyl, my silhouette cameo and a free cut file from Cedar Lane Farmhouse. The vinyl was applied right to the outside glass of the frame and it fits in perfectly. I decorated the shelves with an array of terra cotta pots, vintage finds, faux greenery and jars. Those are some of my favorite farmhouse décor items.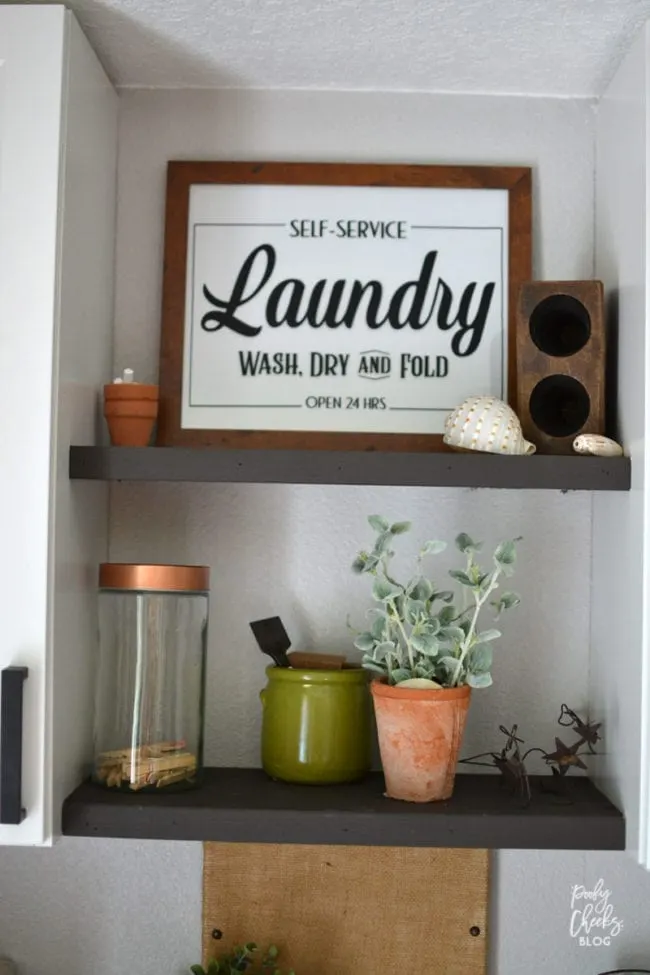 For the shelves you all voted on darker shelving rather than white. I really love the contrast between the dark shelving and white cabinets. I used BEHR paint in flat Berry Brown. It is a brown that is almost black.
Farmhouse Laundry Room Details
This basket is for socks. Want to know a little secret? I should have bought a bigger basket because matching socks for a family of 6 is no fun. I'd rather poke myself in the eye repeatedly than match socks. I tend to let them pile up until the basket is beyond overflowing.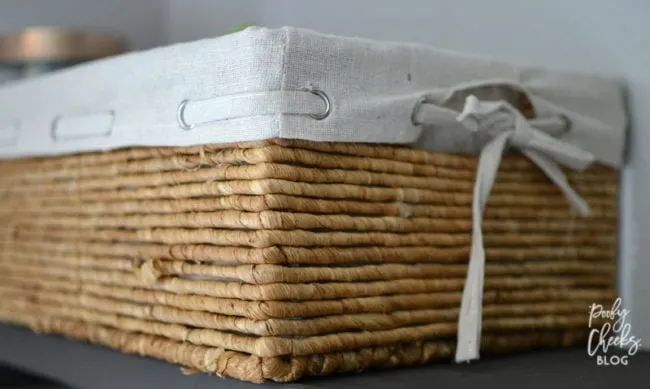 One thing I love about the farmhouse laundry room is that if I decide I'm no longer loving the farmhouse feel I can change out the décor. Once the décor is removed I'm left with a blank slate of neutral colors.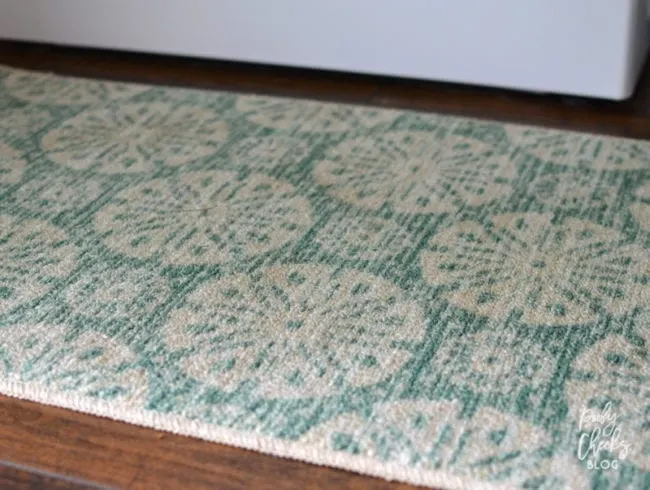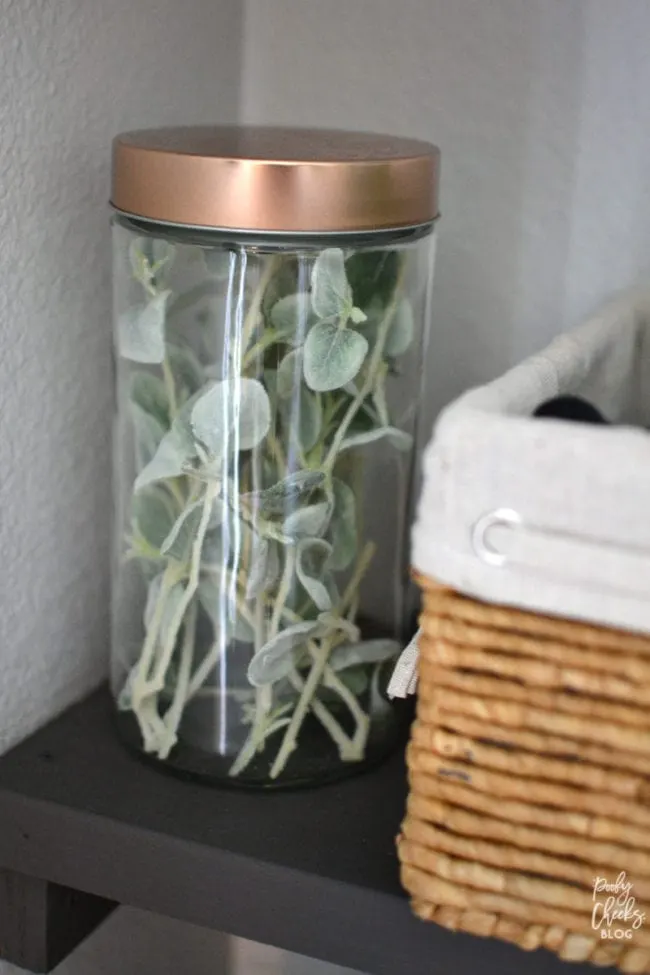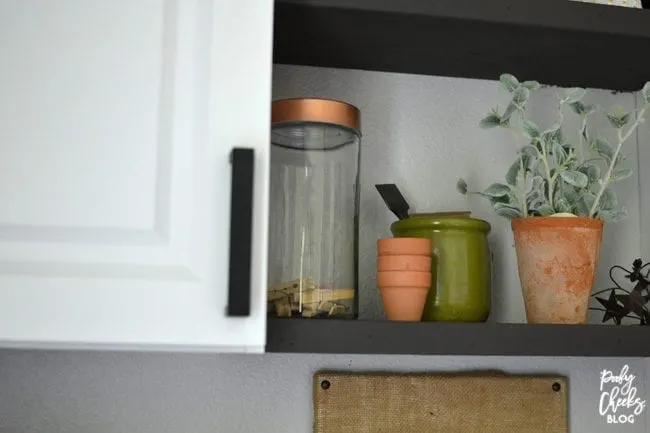 Farmhouse Laundry Room Makeover Cost
It's time to crunch numbers. With lots of DIYs on the list the laundry room needed to be done for less than $400. Normally I'd try to do it for even less but I didn't have much time to bargain shop the cabinets. Not to mention we also had to buy a new washer and dryer as soon as we moved in.
2 Wall Cabinets – $167 each
Wood for shelves – Free (my dad had scrap wood we used)
BEHR paint for Shelves – 2 sample sizes – $2.94 each
Tapcon Screws – $10
Rug – $12.99
2 tall bronze lid jars – TJ Maxx – $1.99 each
Basket – TJ Maxx – $9.99
Fake Greenery – Michaels 40% off – $8.39
TOTAL COST – $400.53
Let's do one last Laundry Room Before and After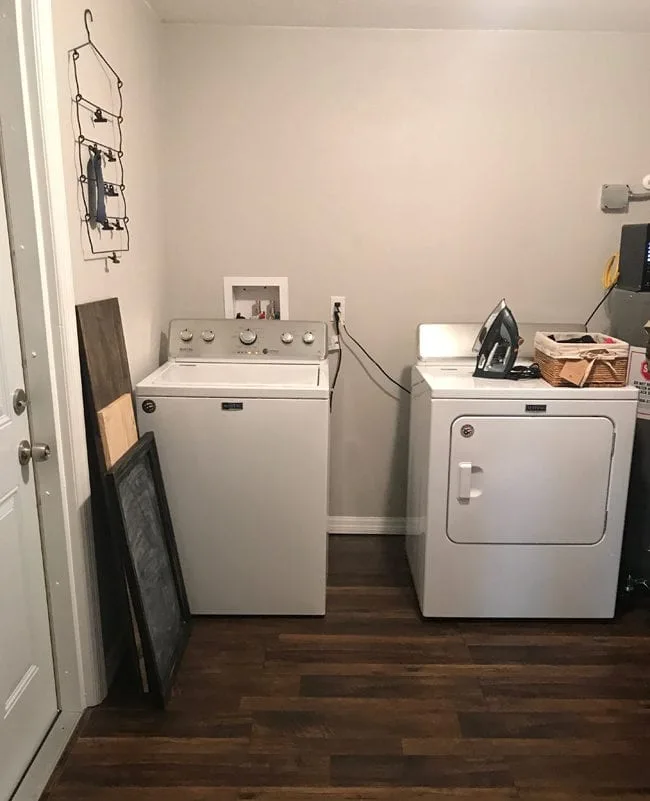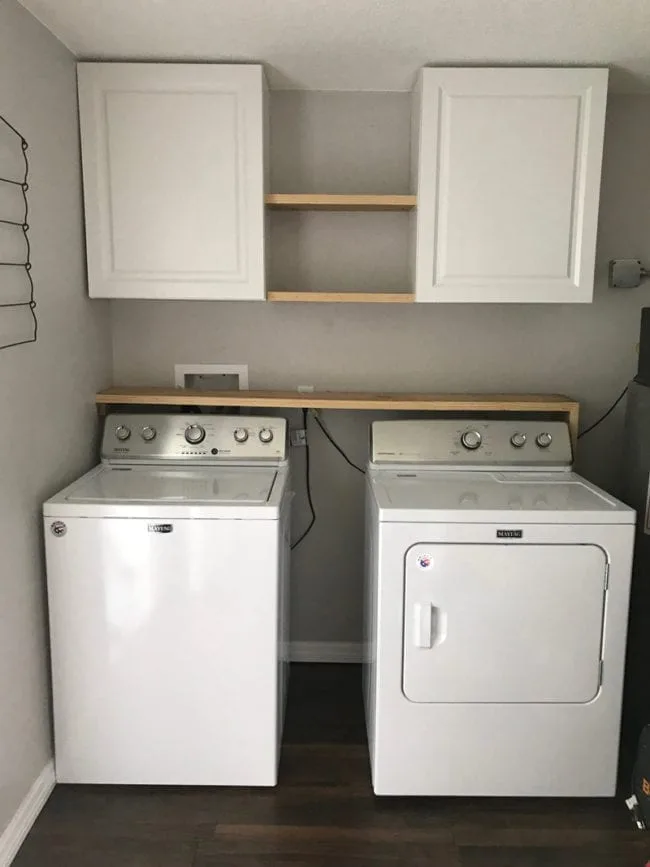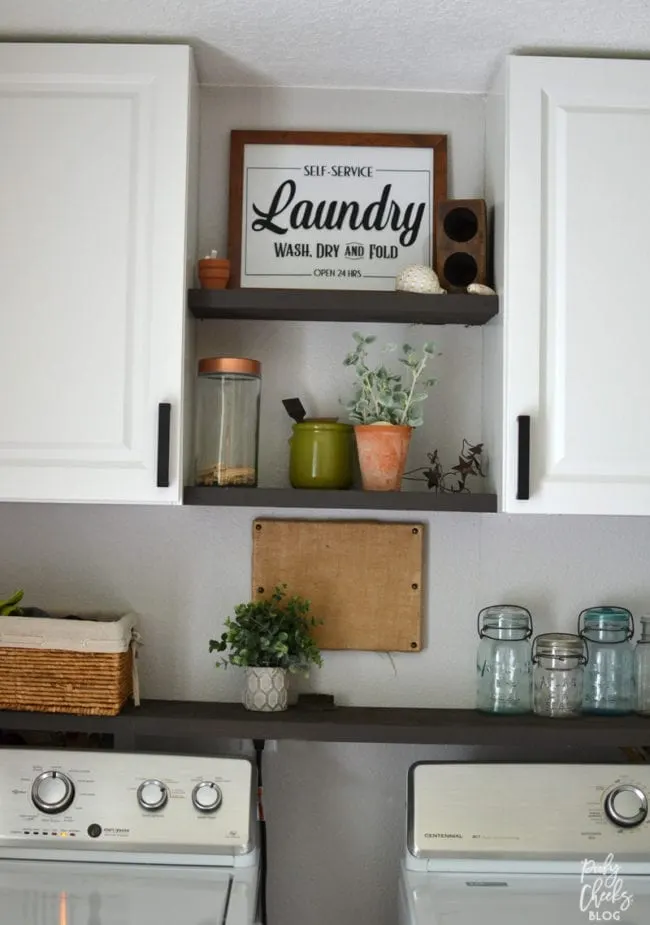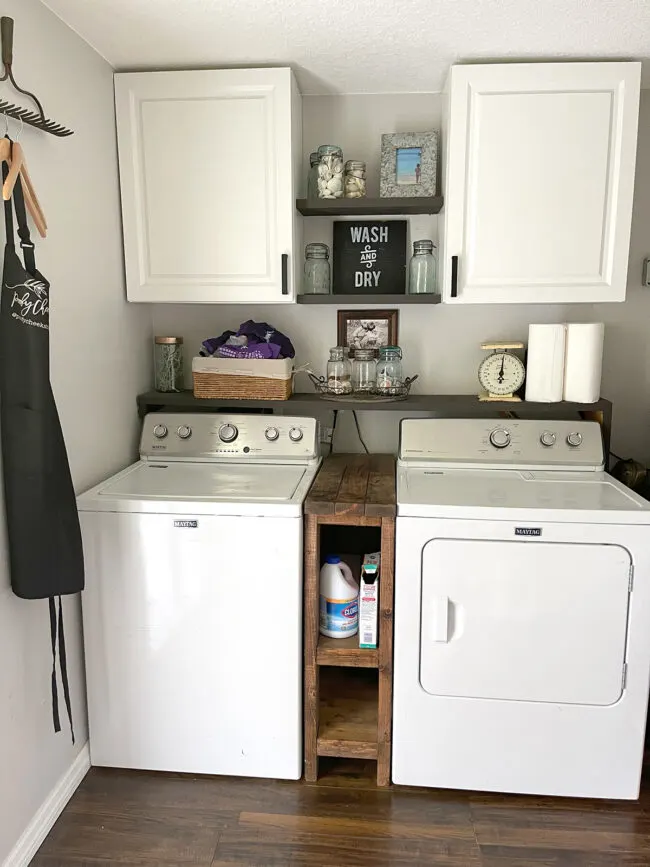 Doing laundry is still my most dreaded house chore, but a bit more enjoyable now.