The Farmhouse Dining Chairs post contains affiliate links. We may receive a small commission if you make a purchase through one of our links.
Chair time friends! Get those voting fingers read. (To vote look for the CLICK TO VOTE in pink at the bottom of this post.)
So here we are again, back to another vote for something in OUR new home. This time the focus is chairs. Jesus, I mean chairs! Can't we pick out chairs without having to vote on it? I guess not! SO, for this vote, Kelsey and I have both selected chairs that we thought would fit in best at our dining table…you know, the one you traitors picked her color over mine? Yeah, well this time I am confident that once you see my side, you will have no other choice than to join me (read that in a Darth Vader voice…it sounds way cooler).
These dining chairs need to have a few key things in my opinion. They need to look nice, match with the farmhouse table we built and hold our big bottoms while we eat and spend time at the table. Since we don't have room for a desk I have already found myself doing a lot of work at the table. Kids will do homework there and who knows… we are raising animals. It isn't uncommon that I catch them literally walking on counters and tables.
Here is the table in our dining room right now. Excuse my not-so-great iPhone pictures. We are going to be replacing the chairs currently at the table with the chairs that win this vote! Honestly I love how sturdy the current chairs are but we only have two. Two chairs aren't enough for this family of six.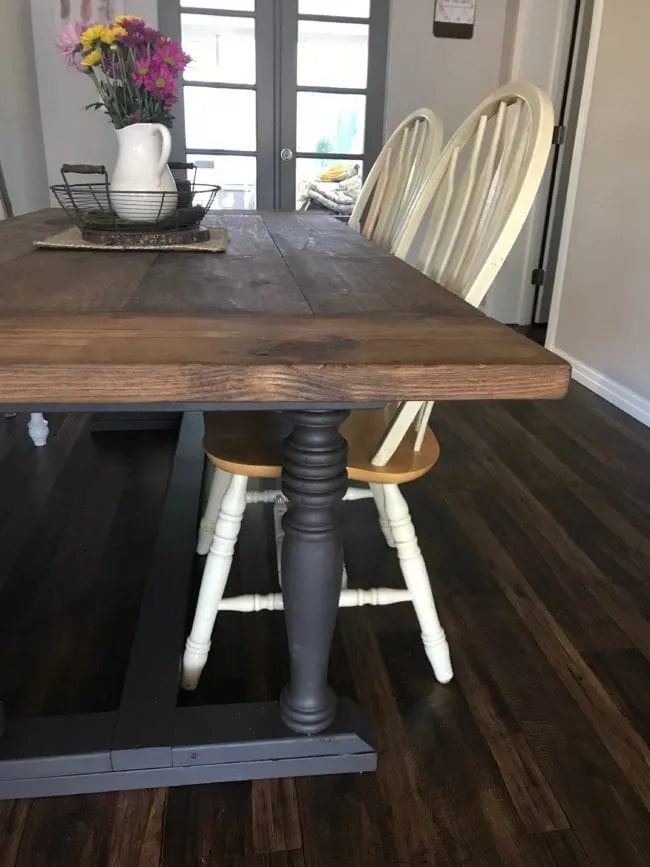 Kelsey's Dining Chair Choice
My chair choice are the Beachcrest Home Royal Palm Solid Wood Dining Chairs from Wayfair in black! I am the money manager in this relationship. I like to keep things affordable while not cheap. You know the role – I have to make sure we have enough money to eat and live on after Mike buys his man toys. I'd say I do a pretty damn good job seeing how Mike couldn't keep his bank account in the positive numbers when we met. Back to the chairs – They are currently on sale and come in sets of two. We need four chairs since we are doing two chairs on one side of the table and one chair at each end of the table. For the opposite side we are doing built in seating with storage… eventually.
I'm currently feeling a bit overwhelmed by all of the projects on my to do list. At least chairs seem to be an easy choice. You order them, they come and you're done.
These chairs are perfect in my opinion because it will tie in the dark base of the table with some of the black accents we have going on in the kitchen. Black accents from my ever growing Rae Dunn collection. They seem sturdy and overall I like the style of them. Even before we bought a house they were on my radar.
The Target Fail Chairs
Anything has to be better than the time I decided to buy dining chairs from Target and the legs started breaking like hot cakes. Literally – I bought four and after three of the four broke and I had to return them I took them all back to the store and told them I was over the chairs and wanted my money back! I was basically a 'regular' to that store and they probably started to recognize me as the broken chair lady after the first few returns. They did give us all the money back and I vowed never to buy another chair there again.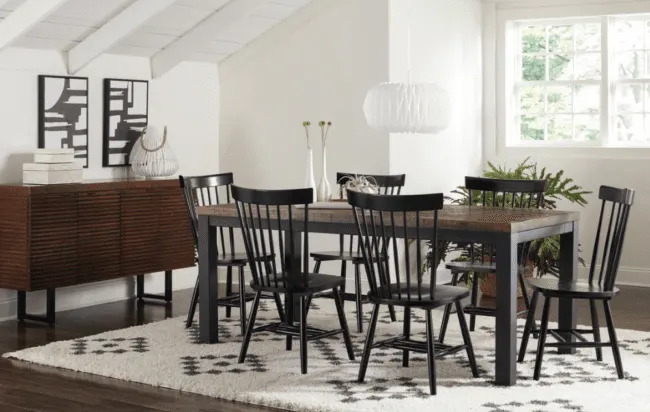 Normally I would have an argument about Mike's choice but honestly we saw his chairs in person and I wouldn't be mad if he won either! Should I have said that!?
Mike's Dining Chair Choice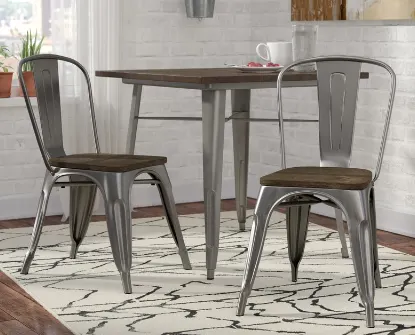 I'm leaning towards the Fortuna Side Chair from Wayfair
Honestly, this time around I think Kelsey didn't do too bad on picking her chairs. They have an older school feel and look like something that the forefathers may have sat in when they were signing the Declaration of Independence (cool fact, that was 7,629,552,000 seconds ago).
There are a couple of issues with her chairs that she "probably" forgot to mention. One, the color blows and wouldn't match anything and before you open your f'ing cake hole, NO I don't want to have to paint them to make them fit in. Two, I believe that I read somewhere that you have to put the chairs together on your own. Now you may be saying, "So what, big deal? That would be more fun to put them together on your own." Can I do it? Absolutely…would I do it? Sure. However, it is my experience that most furniture that you assemble on your own usually doesn't last too long…they remind me of IKEA shit or the chairs we once bought from Target…no thanks. The last thing this cromagnon wants to do is come home after a long day of work, sit down to eat my yummy curds and whey when WHAM! On the floor in shambles, sobbing while holding my fork in one hand and my dignity in the other. No thanks!
The Dining Chairs
Now for my choice of rump resters. By force, I was in Marshall's/Home Goods with Kelsey (I swear I was not there voluntarily) when I saw a really cool set of chairs in the furniture section. Not only did they have an older look, but also a very modern twist. The farmhouse dinging chairs themselves are constructed of heavy duty metal and the metal is painted a silverly greyishy color which matches all the other greys we have around the house. They are welded (nicely I might add) in the load bearing portions of the chairs and have no flex, play or give. They are sturdy as a Redwood tree. The part where you rest your tush is made of real solid wood. The wood is perfectly colored to already match our wooden floors which is what really made me like them the most. Now, at first glance they do appear to have a more modern feel than old school. Like I said the last time, I am all for the older look of things, but let's face it…it IS 2018 and having a touch of modern in a home decorated in farm house type junk bridges the gap.
The Plop Test
I even pulled them out and did the plop test. For those of you who are unfamiliar, the plop test is when I plop my ass down in a chair like I am a melting piece of chocolate the kids left in the backseat of the car. They didn't explode and I was happy with the thought of buying four of them for our home. The true test will honestly be once we get the chairs home and the kids use them as forts, Kelsey stands on them while hanging shit as a makeshift ladder and lord knows what else. But only time will tell. If you want to pick the detritus chairs Kelsey has chosen then go right on ahead. I can say that I actually laid eyes on my chairs and know exactly what I am getting. Kelsey's? Meh, probably made in China. The bottom line here folks is that you should see it my way and vote for what I want.
FARMHOUSE DINING CHAIR VOTING-
SORRY, VOTING CLOSED