The kitchen faucet post is sponsored by eFaucets but all ideas and opinions belong to Mike and I. This post also contains affiliate links to products and we may receive a small commission if you make a purchase.
Today we have a BIG vote and one I have been looking forward to since we moved in. We are changing out our kitchen faucet (and the sink). Hallelujah. The sink and faucet are going, going, GONE. We are putting in a Elkay black quartz single basin sink where we currently have an awful stainless steel sink. The ugly stainless steel faucet is going straight to the trash the minute the vote ends!
Mike – So up for your votes this time is one of the most important votes that we have had and probably will have in my opinion. This is for the faucet in our quaint little kitchen…but just a faucet is so important you say? Well, yes. Combined with the new sink the two will make a huge difference compared to the cheapo stainless we have now. Keep reading to get a look at new sink.
Current Kitchen Faucet and Sink
You know what I hate the most about our current sink setup? There isn't a dang sprayer to get the caked-on food off the plates. Our four kids like dippy sauce, as they like to call it. They bring me plates that often resemble a Picasso painting. A kitchen faucet with a sprayer would make quick work of their messes.
See what we are working with right now? I think the people who flipped the house before we bought it picked the absolute cheapest sink/faucet combo they could find. Then there are these water stains and what looks to be paint droplets on the sink that have been there since we moved in. We have scrubbed, scrapped and tried a handful of different cleaners without luck of getting it off. Even after a good cleaning this thing looks dirty.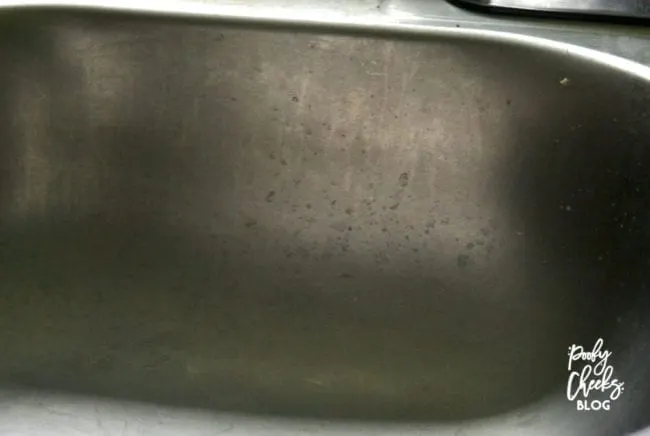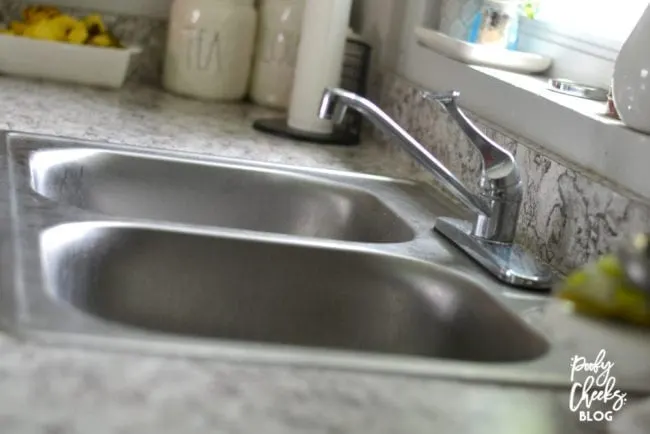 The NEW Kitchen Sink
I was leaning towards a white sink with a black faucet but you win some and lose some. Mike wanted a black sink so I let him have this win[. To be honest I wasn't sure if it would be too much black but I looked at some pictures of black sinks with black faucets and loved the sleekness.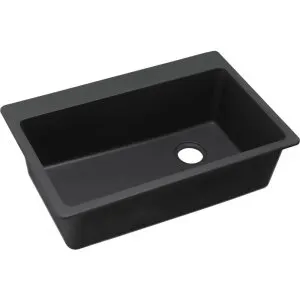 The Elkay Quartz Classic 33″ Single Basin Drop-In Kitchen Sink has been ordered and once we have a winning faucet we will work to get them both installed. This job will require help from my all-knowing dad. I'll be sure to share the installation adventure on our Instagram Stories for your viewing entertainment. Imagine this – four kids in and out, my husband and I who are clueless with sink and faucet installation and my dad bossing us around for tools. Toss my mom in there because she usually tags along with my dad and you have a regular ole' Full House episode with the 'F' word sprinkled throughout.
Kitchen Faucet – Mike's Pick
This is what? Our 3rd or 4th vote? I can't keep track because I feel like everything in my life has become a vote. I'll take the little victories though. As most of you could clearly see my dining chairs were the choice of choices. After Kelsey took photos of the winning chairs at the table you could finally see the method to my madness. Those chairs POPPED! They looked great with not only the table and floors but also the entire room…putting your votes to work and making you see what the power of your vote can do (when you pick the right one).
I have picked the Brizo Single Handle Pre-Rinse Kitchen Faucet
I'm going to be honest with you, one of my pet peeves since Kelsey and I have been together is her dish rinsing/washing skills and dishwasher loading skills…or lack thereof should I say. She seems to think that she can take the nastiest dishes, not rinse them, stick them in our dishwasher and expect for them to come out clean. That brings me to the first point of my choice of faucet. I NEED a sprayer on my kitchen sink plain and simple. Not having a sprayer is torture and for me, because I actually RINSE the dishes, BEFORE sticking them in the dish washer. The sprayer on this faucet is amaze-balls!
The Brizo Kitchen Faucet
It has a more industrial type feel but I love the mobility of the faucet. The main portion of the faucet detaches by way of magnet and has a long hose that allows you to stretch that thing out to use the sprayer for those grimy dishes (and every corner of the sink!). Plus, every now and again I can pull it out and spray the kids when they are climbing on the counters, kind of like bad cats do. If not using the sprayer, the longer hose simply keeps a natural bend giving the faucet a nice look in my opinion. Another great feature is that even with the sprayer attached, you can still adjust the length of the entire faucet as it relates from the front and back of the sink. Simply pull forward or push back to change the area of the water flow. Of course, this is a mobile-friendly articulating faucet so it moves side left to right and backwards and forwards.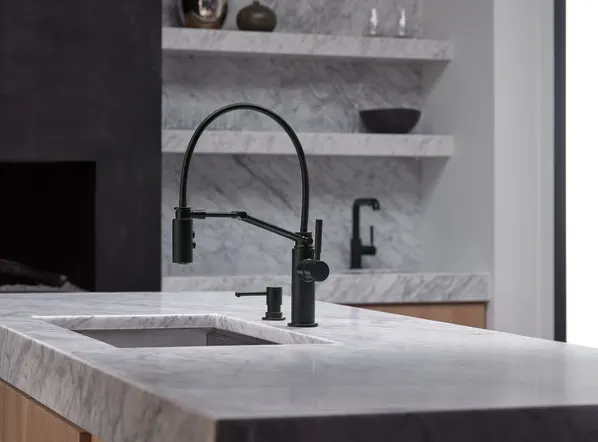 This time I can honestly say that I like Kelsey's choice as well, but it is not as focused on the usability of the sprayer like mine. I think the sprayer and the mobility of my faucet is why it should be the faucet of choice, especially in a single basin sink. Why not have an advantage? I think just like the chairs, you will be happy with your vote once you see my faucet on the black sink. See the clear choice and vote for mine!
Kitchen Faucet – Kelsey's Pick
I'm going with a black faucet as well. While I am loving the bronze trend happening I'm not much for trends. I'm not opposed to stainless but a few friends have asked us why black on black? Honestly, Mike and I agreed from the very start that the stainless look was getting old. I feel black is more timeless and matches in our kitchen. Therefore I picked the black Delta Single Handle Pull-Down Spray Kitchen Faucet.
Delta is a well-known and trusted brand and the sprayer is built into the head of the faucet. You can easily pull down the sprayer head, switch between stream and spray modes and when you're finished it locks back into place with a magnet. It is easy to clean and wipe down. Mike's faucet on the other hand has all these little arms and a hose that doesn't seem like it would be as easy to clean. I'm going for simplicity here. I'd rather spend less time cleaning in the kitchen with a toothbrush and more time at the beach.
The Delta faucet has Touch technology so it will stay WAY cleaner because if your hands are gross with crafting ick or from being deep in a turkey at Thanksgiving, you can use the back of your hand, elbow or even your nose to turn it on and off. Say what!?! Delta uses your body's naural capacitance – electricity – to operate the faucet with special sensors AND it's sophisticated enough to know the difference between a grab and a touch so it won't turn on and off willy nilly.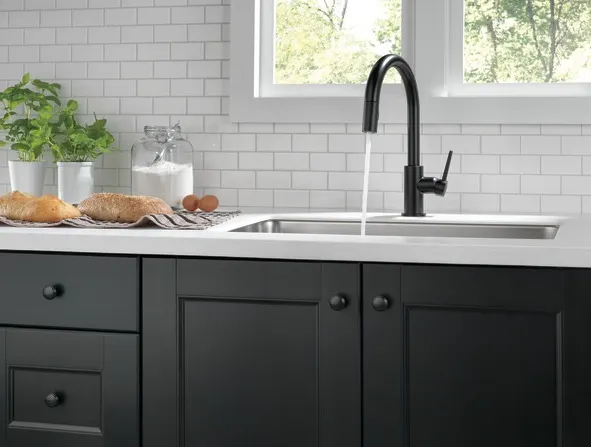 Sign up to know about all future votes –