The farmhouse dining room post contains affiliate links to items in our home that we are loving. I may receive a small commission if you make a purchase.
With two dining room votes for The House that Votes Built under our belts I wanted to check in with a dining room update. I spent last weekend at home working in the laundry and dining rooms. Saturday was all about the laundry room. My dad came over and helped me hang cabinets and build shelves for the laundry room. Keep an eye out next week for pictures and a laundry room vote.
Sunday I spent time in our farmhouse dining room decorating while Mike was at work. I have to decorate and think out my ideas without him home because I'm often overly compulsive. Take last Friday morning at 6am for instance. I couldn't sleep so I jumped on Pinterest. Then I was inspired to move a rug from the living to dining room all while trying to get myself and four kids out the door. Yep, that's me and that's how I roll.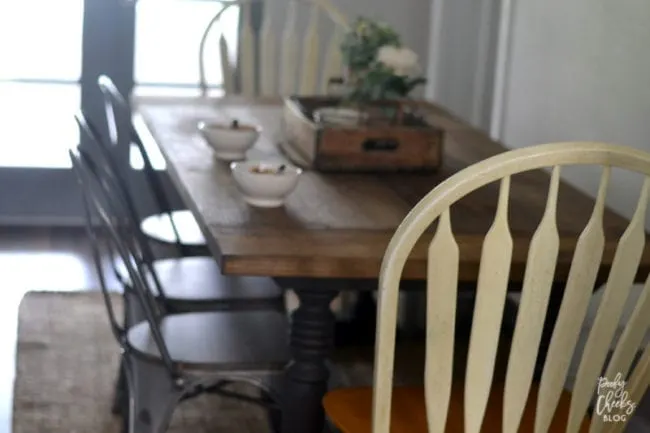 Farmhouse Dining Room Rug
Remember the rug I was up moving at 6am? I got it from Natural Area Rugs. It is the Calvin Jute rug and I love the texture it lends to the space. They recommend a rug pad and after moving it from one room to the next I am going to be investing in one. We have vinyl flooring and not only was there TONS of dust and dirt underneath we fear it could damage our flooring after a while. Mike was whining and crying that there was such a mess. There I was moping the floor before the sun was up. Me and my damn ideas!
Anyways the rug lends itself perfectly to our farmhouse inspired home. I'm going to be adding a few more of their rugs to our home before it is said and done.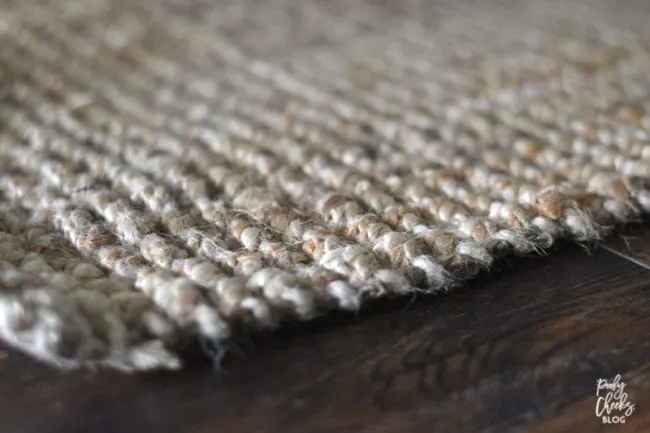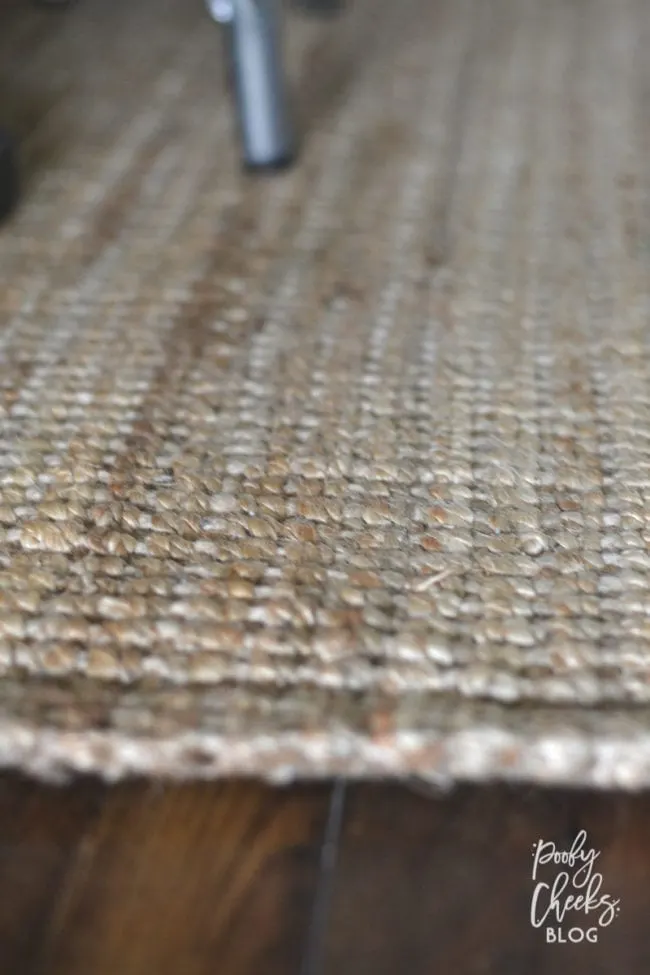 Farmhouse Dining Table
All I can say is that you guys did great by voting for a darker base. I'm in love with the farmhouse table. The only thing I've been putting off is fixing a little faux pas I made on the base. I actually have to redo the horizontal pieces on the very bottom. I didn't use washers to secure the lag bolts turned legs. Mike told me to buy them and use them so when I have to cut the lag bolts he will be giving me all sorts of hell. I thought a bunch of gorilla wood glue would do the trick – wrong!
The other thing the table needs is a coat of polycrylic to seal everything. I always use polycrylic because it can be cleaned with water. Some varnishes and sealers require mineral spirits. With the fact that it's a table where our family will eat daily I don't have time to pull out mineral spirits every day.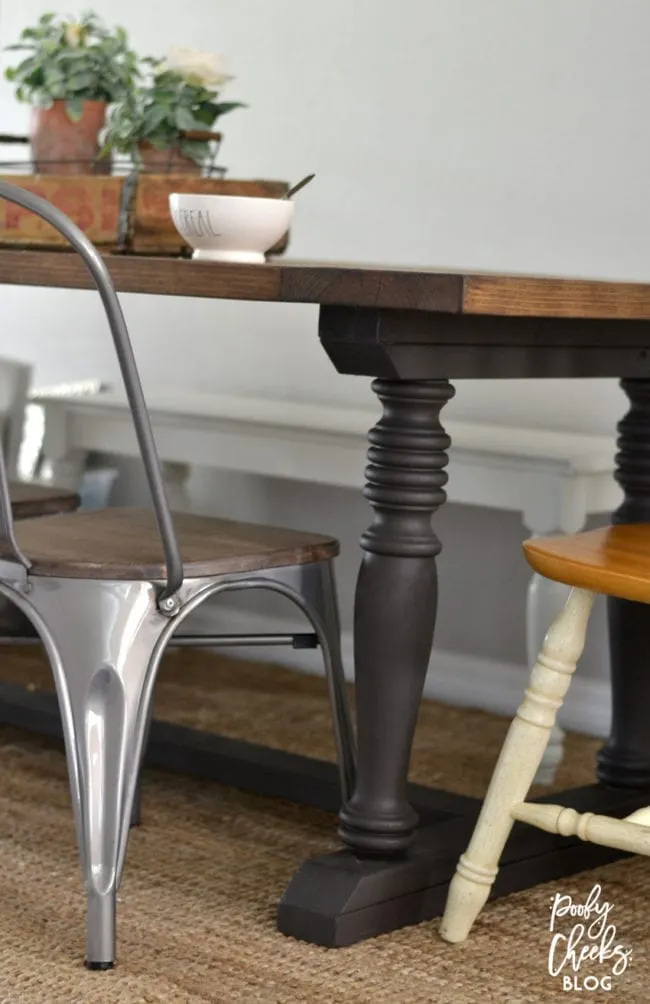 Dining Room Chairs
Again I commend you on the choice of dining room chairs. If you voted for the chairs know that they look amazing in our dining room at our table.
We painted the table base dark per your votes and we got the industrial farmhouse chairs in per your votes. I was originally planning four industrial chairs with two in the middle and one on each end of the table but the table was long enough to put three in the middle. Since we have a family of six and often have friends and family over I took advantage. I moved the chairs we were going to get rid of to the ends and with a little redo they will go perfectly.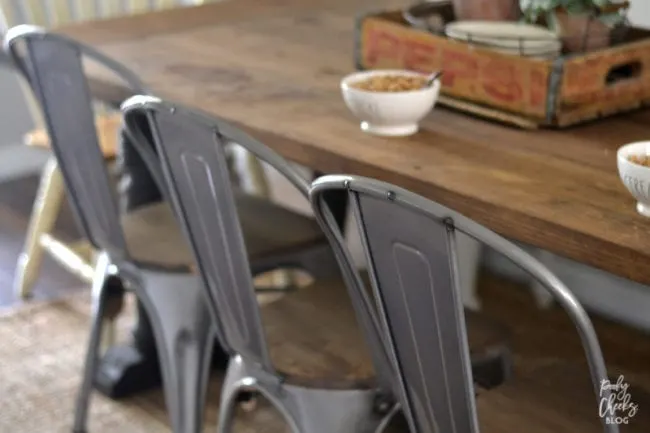 For now our kids are doing a magnificent job of making the table look rustic and worn.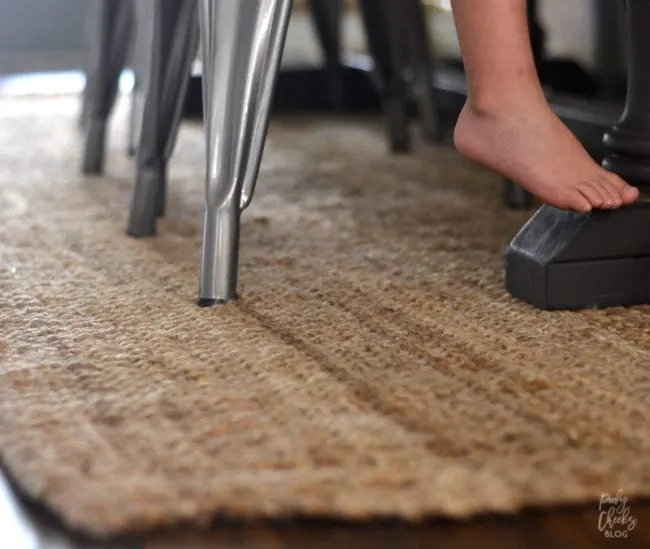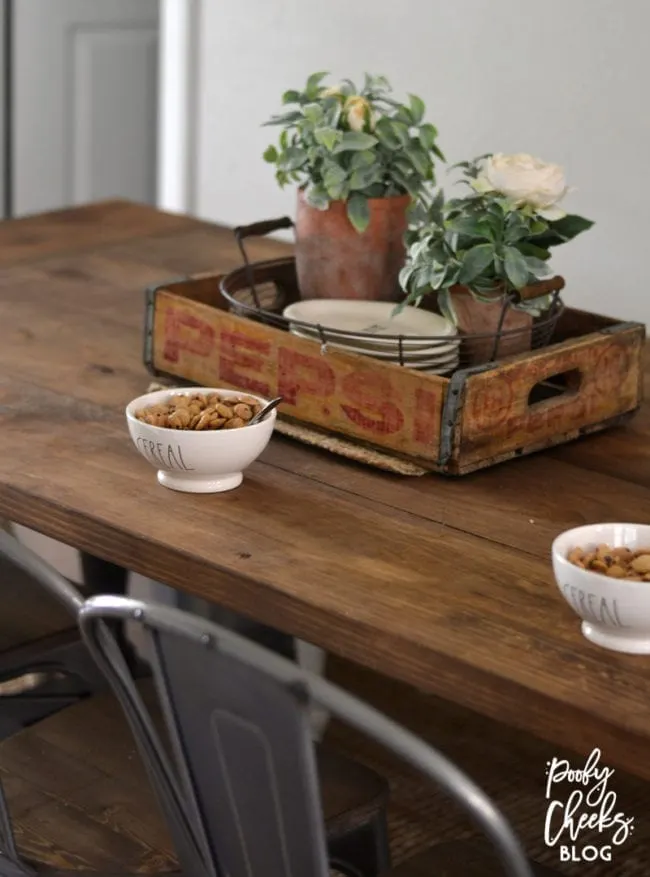 Do you want to vote on future decisions for The House that Votes Built? Sign up below.