---
I'm sharing 7 Kitchen Ideas to Copy. I have been saving lots of home décor ideas, home renovation ideas and basically anything home related that catches my eye. We are buying a house very soon and I can't wait to get in and renovate! I miss working on Home DIYs, master bedroom redos and updating furniture but soon enough I will be up to my eyeballs in it.
Do you ever have something in the works but you don't want to put it out into the universe yet? I have felt that way with having kids, blog opportunities, job offers and large purchases. Sometimes you have to sit on information until you know it is 100% going to happen or you feel you might jinx the opportunity. I'm doing that right now.
If you don't follow me on social media then you probably don't know that we are currently living with my husband's family while we buy a house. 10 of us under the roof of a (maybe) 1500 square foot home meant for a single family. I'm sure you can guess the news I'm sitting on but I can't let it out into the world yet so stay tuned.
7 Kitchen Ideas to Copy
1. Range Hood
I'm in love with the look of this range hood from Ten June. The shiplap range hood with the wood trim brings in a farmhouse feel with a bit of rustic charm.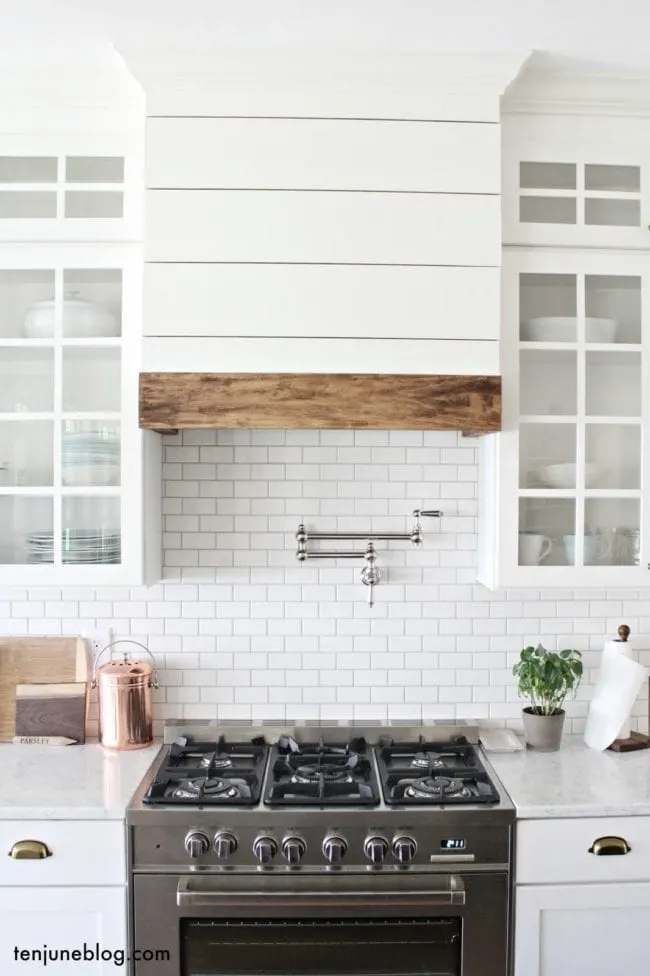 2. Microwave
A hidden microwave? Sign me up. Driven by Décor had the perfect idea! This is especially helpful if you are planning a beautiful range hood. I am not one for having a microwave taking up space on the countertop.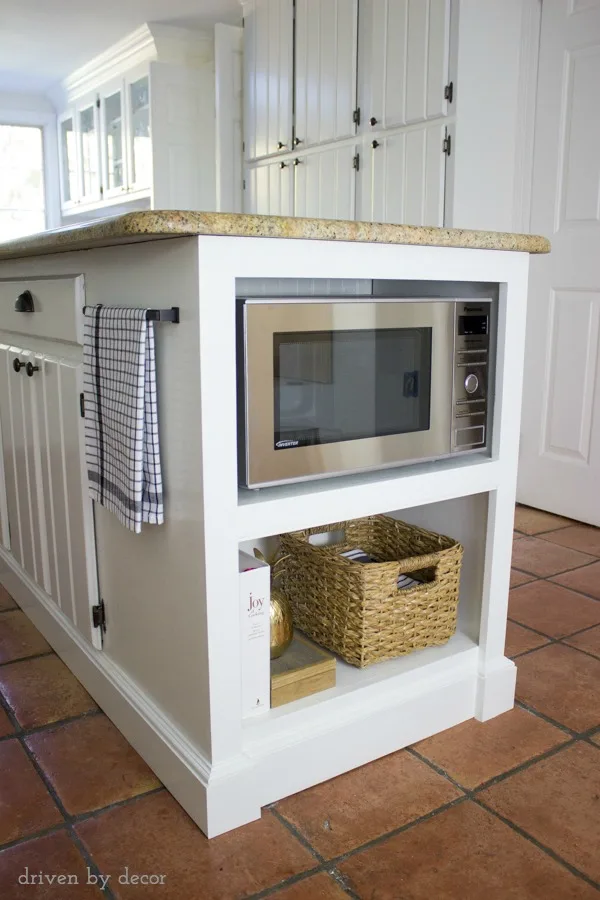 3. Single Basin Sink
Single basin sinks are in. I'm gushing over this farmhouse sink from Vreeland Road.
I have my eye on this farmhouse sink for my new kitchen. I have done some research and asked around and everyone says they don't know why they didn't do a single basin sink sooner. Others say they prefer to have a clean and dirty side. What are your thoughts?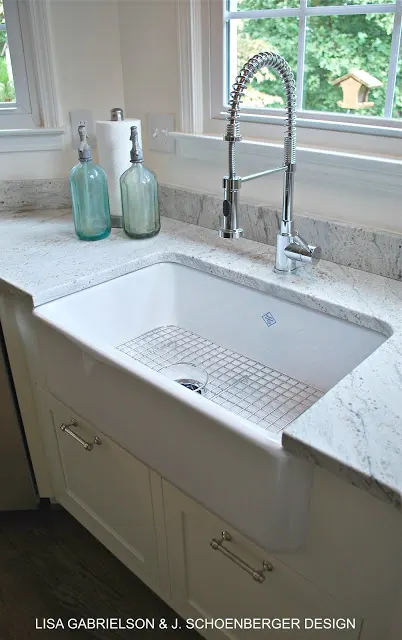 4. Hidden Cords and Electronics
Who else can't stand the cluttered mess of electronic cords and chargers littering their countertops!? The ideas from Kitchn are genius. My favorite is to install a power strip in the back of a drawer. All electronics and their cords are hidden. Wouldn't this be a great place for them to go during dinner too? If you are remodeling soon they make drawers with actual USB and electrical outlets built in.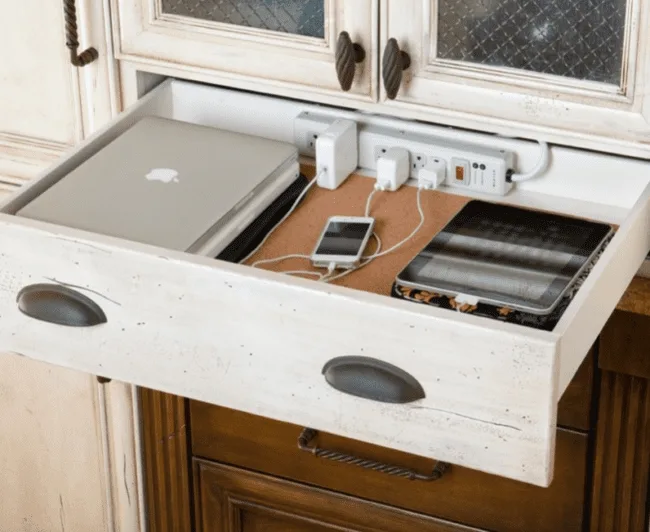 5. Refrigerator Cabinet
How about a spice cabinet or tall cabinet next to the refrigerator for brooms and cleaning supplies? The kitchen remodel from The Nato's is nothing short of breathtaking and her use of space next to the refrigerator has me adding to the 'must have' list.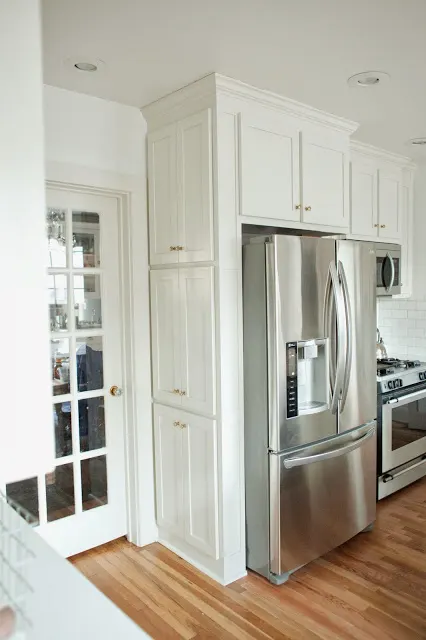 6. DIY Kitchen Island
I love the look of farmhouse rustic right now. No matter what your style preference is a DIY island is the perfect way to customize your kitchen to your lifestyle. The kitchen island below is beautiful and perfect for a family that sometimes eats and always spends a lot of time in the kitchen. Another great perk is that a DIY island allows you to create it to any size specification. I have even seen them with wheels.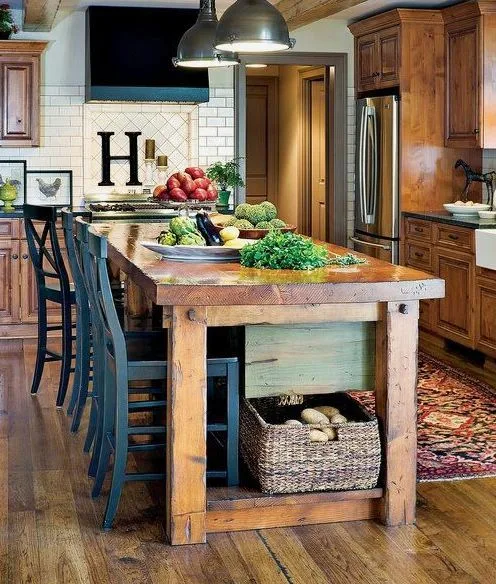 7. A Killer Pantry
Ditching the metal pantry shelves and boring (probably dirty if you have as many kids as me) walls for a pantry like Little Glass Jar. Yep, I'm going for it. I think you should too. Even if farmhouse isn't your thing the wooden shelves alone will do the trick!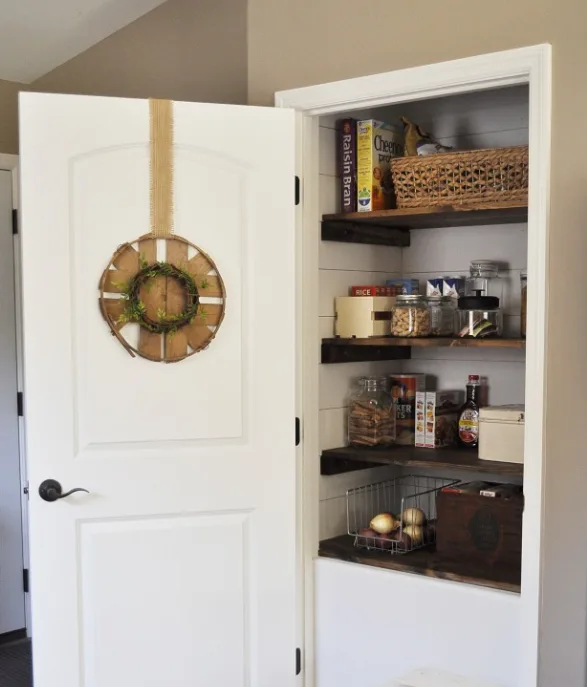 So tell me which of these 7 Kitchen Ideas are you going to copy in your own home?