By now you should all know I am always game for a good furniture redo and when given a chance to use my Wagner paint sprayer I jump up and down like a kid in a candy store.
Around our house we always seem to have company and often times we don't have enough chairs. We host at least two holidays a year at our house, and when both sides of our family are in attendance it can be hard to find a seat. When I saw this set of chairs on a Facebook sale group I picked them up.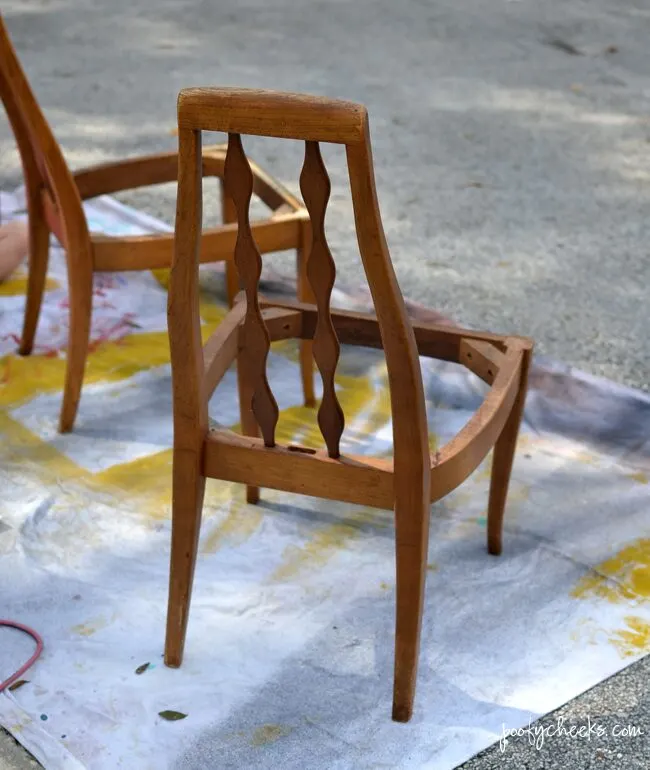 I pulled out the paint and my trusty paint sprayer. Guys seriously I am going to be honest. Using a paint sprayer makes these projects go much faster, but I am having trouble with overspray even on the lowest setting.
This paint sprayer puts out a little too much paint and I find myself having to go back over with a brush to reduce texture.


Wooden Furniture Painting Supplies-
Latex Paint (flat for chalk paint or semi-gloss for non-chalk paint)
BB Frosch (only if you want chalk paint)
Floetrol (for non-chalk painted furniture)
Hand Sander or Sand Paper
Lint free cloth or old tshirt
Wooden Furniture Painting Instructions and Tips-
Step 1 – Start by sanding your piece of furniture. If you are using chalk paint you can do a rough sanding all over and don't worry about sanding it down completely. If you are NOT using chalk paint you want to completely sand the surface down to the raw wood removing any stain or paint. For very ornate furniture you may need to use a sanding sponge or paper to get into the small details.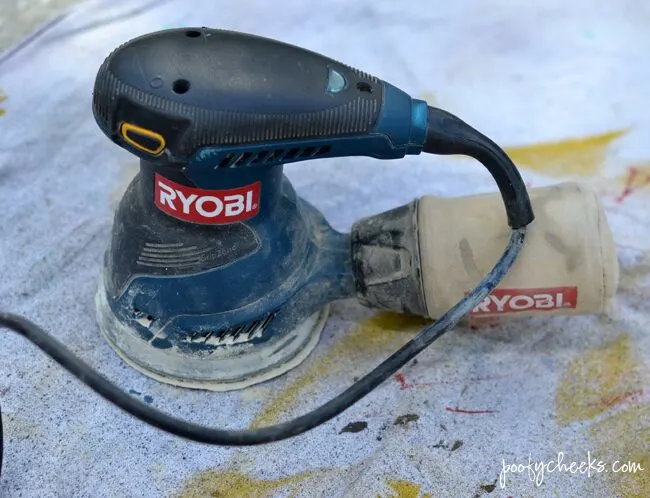 Step 2 – Use a wet, lint free cloth (I like to use baby wipes) to wipe down the piece of furniture removing any sawdust. Allow the piece to dry.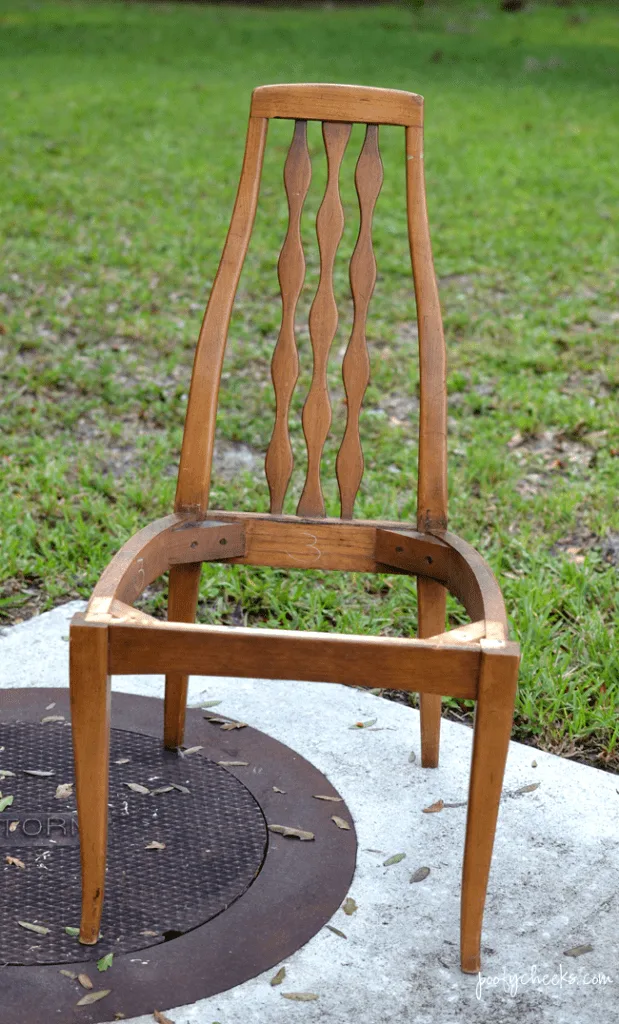 Step 3 – Fix any holes or imperfections in the furniture with wood filler. Apply it and let it dry. Then lightly sand to remove any uneven texture.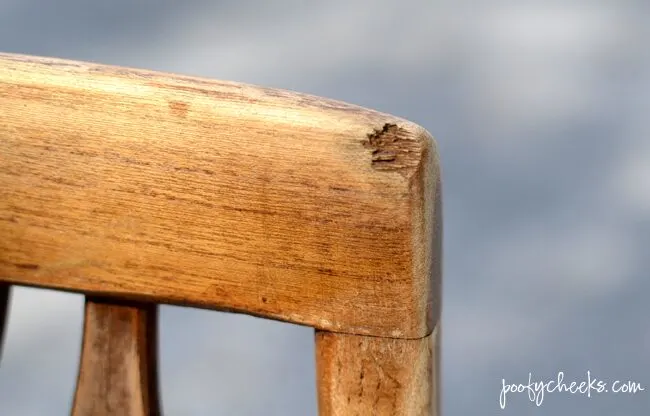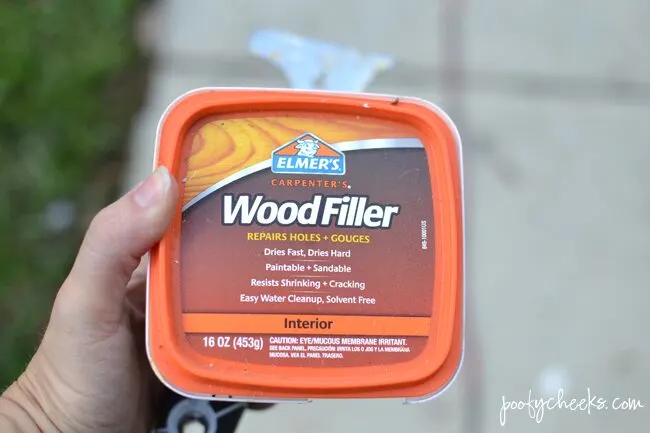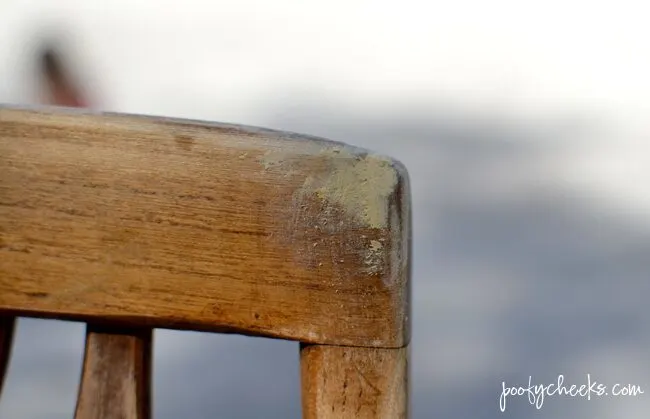 Step 4 – Lay down a drop cloth to protect from overspray.
Step 5 – Mix the paint with the BB Frosch mixture or Floetrol. I mixed mine directly in the paint sprayer canister. Mix well and then put the canister on the gun attachment. Plug the Wagner Home Decor Spayer in and start your painting!
Step 6 – Let the paint dry overnight and then give a coat of polycrlylic to the furniture using the sprayer. The polycrylic is an important step because it protects the paint from scratches and anything wet they may cause the paint to come off or peel.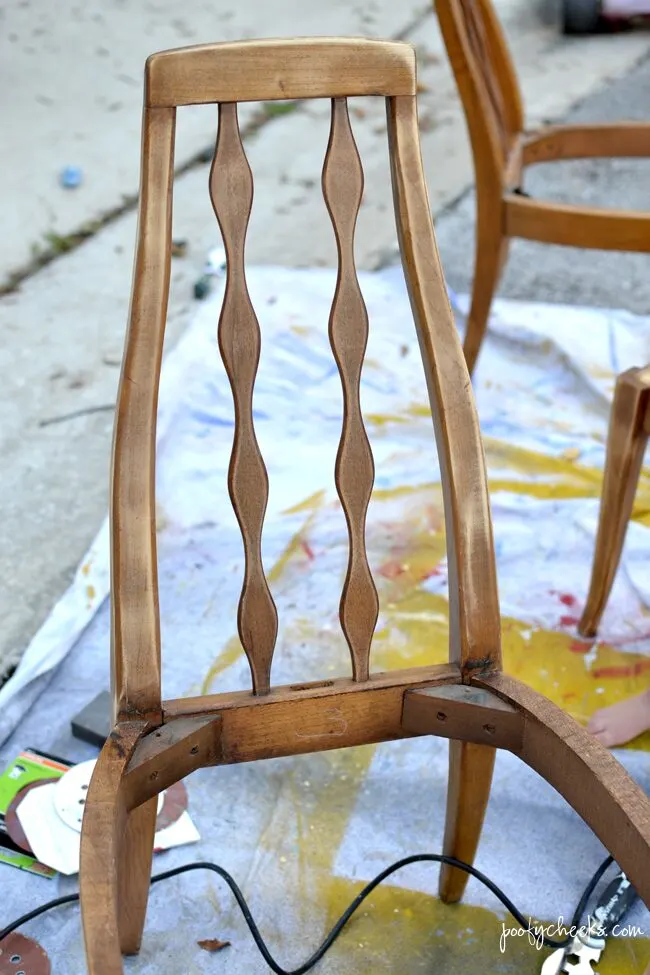 The home decor sprayer has four paint flow settings and you can use chalk paints in it. I mixed BB Frösch (this is what I always use to make chalk paint out of latex paints) into my latex paint and filled my sprayer up. I used the lowest flow speed. The nozzle on the sprayer turns so you can spray in a side to side or up and down motion and still get maximum coverage. I painted each chair in about 6 to 7 minutes with the help of my two littlest babes…. if you call them helpful.
My friend Kimberly came over the same afternoon and brought a large cabinet and hutch. She sanded and painted both of them within a few hours and then we loaded them back in her truck and she had them in our house that evening. She was in love with my little sprayer too.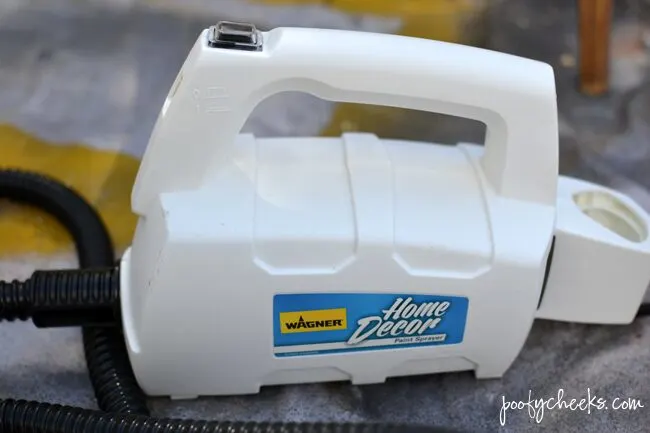 Another thing I love about this sprayer is the cleanup. With the house sprayer you have to pump warm soapy water through the line at least three times to get the paint out. With this bad boy you can rinse out the paint canister and the sprayer in the hose and then inside in the sink.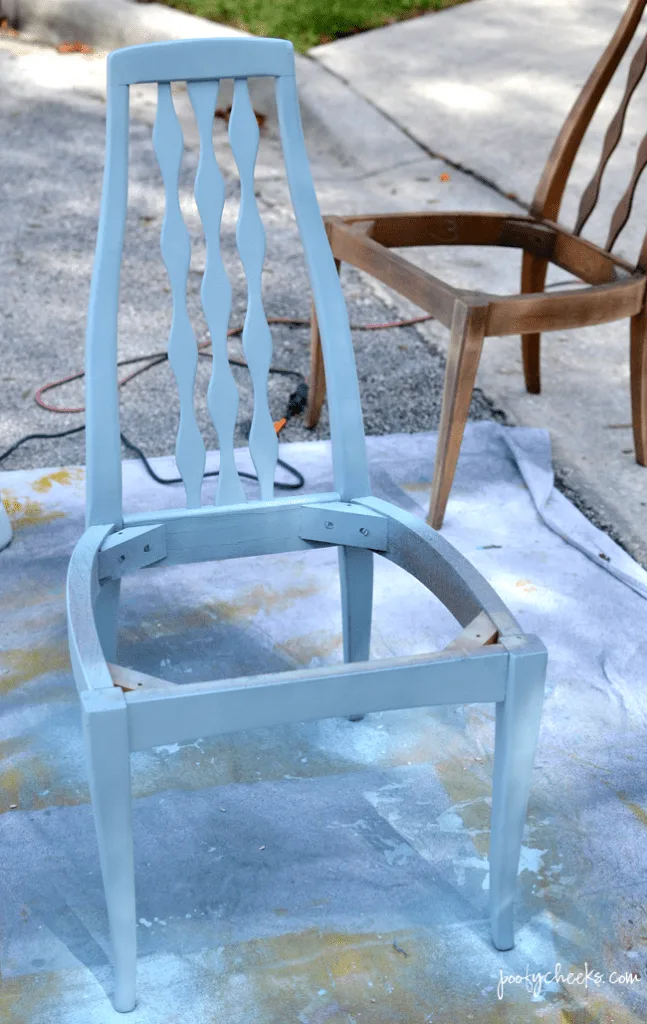 I let the paint dry overnight and then the next evening after work I filled the sprayer with polycrlic and started giving it a coat. I didn't pay attention to the paint flow setting and it was on 4. See the overspray going on there? This is my reminder to always check your spray flow setting or you are going to waste paint and have to pull out the rags. I had to quickly go inside and find my old lint free rags to start wiping the chair down.
I had to let it dry and sand it down then reapply another coat of polycrylic.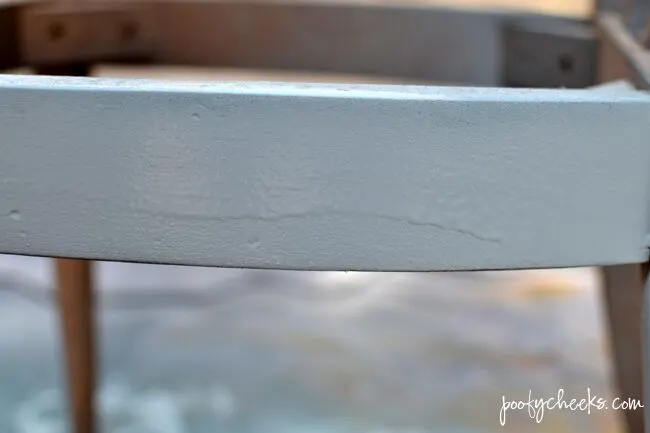 Thanks to my helpers for the photos!