36 Hours in Paris – Our travel experience and tips.
Last summer my husband and I left on the vacation of our dreams to celebrate our 10 year wedding anniversary. We traveled from the U.S. to Europe and one of the places on our itinerary was Paris, France. We also visited London and Munich, Germany although to be completely honest Paris was my favorite of the three. I have spent the last few days putting together a Chat Book from all of the photos we took and found myself longing to go back.
When we were planning our itinerary I wanted to see the Eiffel Tower and the Louvre but felt like the whole place might be too touristy and cliché. I was entirely wrong. Everything from the architecture to the people was addicting.
Our 36 Hours in Paris guide does contain affiliate links to products and services we used during our travels.
Entering Paris by Train from London
We traveled by plane from Orlando, FL non-stop to London. Once we landed in London we went straight to the St. Pancras train station to catch our train to Paris, France. We took the high speed Eurostar through the Chunnel which we booked through Rail Europe. So many people have asked about the Chunnel between the UK and France. I hate to disappoint anyone who is looking forward to the experience but it is a trip through a dark tunnel. There is nothing to see except darkness. Although the thought of being in a 35 mile tunnel beneath the English Channel is pretty amazing in itself. Before and after the tunnel you get to see glimpses of the English and French countryside.
When we got to Paris it was 3pm and we walked out of the extremely busy Paris Nord train station greeted by rain and signage in French. Besides for a few common words none of us knew any French. We quickly learned that 'Sortie' means exit in French as we navigated our way from the train station to the metro station. We arrived on Monday at 3pm in Paris and left Wednesday at 10am. Technically this could be called 42 hours in Paris but I thought 36 sounded better.
36 Hours in Paris
Local Transportation Options in Paris
While in Paris we used three forms of transportation; the Metro, Uber and our own two feet. We walked more than anything.
When we first arrived in Paris the Paris Nord station was about three miles from our first AirBNB so we hopped on the Metro. The Metro is an underground train running all over Paris. Luckily the ticket kiosks had an option for English which made purchasing our tickets easy. The kiosks take cash and chipped card. The Metro was cheap and is a very affordable way to get around. If you are going to be in Paris for a few days they have multi day tickets as well. If you have to take the Metro when you first arrive in Paris it is best to do your research. Know exactly what Metro line you need to take so you don't waste time trying to figure it out.
We used an Uber twice when we had luggage to haul around. When we booked our AirBNB for Paris we were originally only planning to stay for one night but then decided to stay two nights. When I tried to add a night to our reservation it was already booked so we had to book different spots each night. Honestly it ended up working out. We called an Uber to take us from our first AirBNB to our second. It was a few miles from one to the other and we had our luggage in tow. None of the Uber drivers we had spoke English but they did listen to English songs on the radio. We were really hoping they would be able to give us some tips but they couldn't due to the language barrier. The language barrier didn't matter when booking since it was all done on the app.
AirBNB Discount when you book through my link!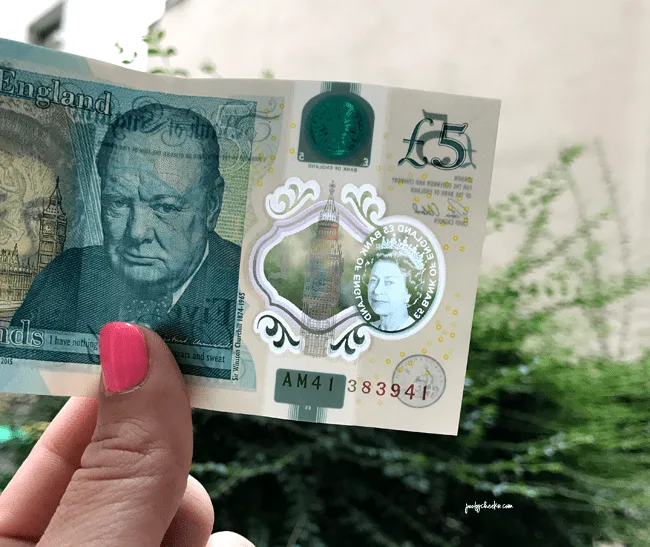 Walking was our top way of getting around Paris. I loved walking because we really felt immersed in our surroundings and got to see everything up close. We could stop to take pictures whenever we wanted. Paris comes with tons of photo opportunities thanks to the Eiffel tower and the architecture. Not to mention there are shops all over so you can easily stop in and look around or grab cheese and wine. On our only full day in Paris we walked many miles. We were able to see the Eiffel Tower, a section of the Louvre, eat a Royale with cheese from McDonalds, buy macroons from, pickup cheeses to try and so much more.
Food in Paris-
Oh the food. I could write an entire post on the food alone (and I will). I think out of the three places we visited, the food in Paris was my favorite. Since we only spent 36 hours in Paris we made it a point to try as many of the foods as possible.
The first afternoon when we arrived we dropped our bags at the AirBNB and found a crepe stand near the Arc de Triomphe. We stayed mere blocks from the Arc de Triomphe. That evening for dinner we met a co-worker who happened to arrive in Paris the same day. We made dinner reservations for Les Fables de la Fontaine and ordered the 7 course meal. We weren't really sure what we were ordering so ran up a hefty bill. The meal was upscale and superb. I ate things I would never have ordered for myself and I didn't have any complaints. I admit it was a meal worth the money and also our most expensive meal of the trip.
On our full day in Paris we ate a sit down breakfast, lunch and dinner but we also snacked through the entire day. While walking around we would stop into any place that looked interesting and grab something to try.
The final morning before heading to the train station we finally bought French baguettes. They were as delicious as everyone says! We tried to find baguettes the night before but everything closes up around 6pm and the nightlife begins.
If I can give any advice as far as food goes try things you wouldn't normally try.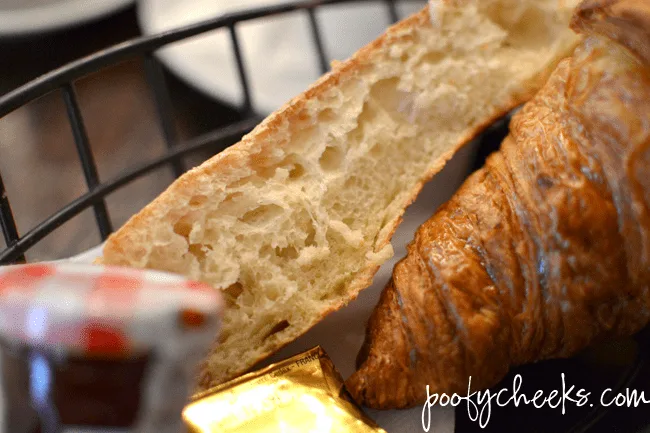 Random Things To Know About Paris-
This is more about Europe altogether but the sun is out much later than we are used to in the United States. Sunset was around 10pm so when we thought it was 8:30 it was really 9:30 or 10.
Maybe I read this somewhere but if so I forgot. All of the local fromageries, shops and locally owned stores close around 6 or 7pm and then the only things open are nightlife. We were looking for a fresh baguette to go with our cheese purchase and we walked for over a mile past many shops but found none. Restaurants and bars were the only things open.
There is no A/C… anywhere. Well maybe that is an exaggeration but I didn't find much while we were there.
In the summer it rains randomly. We weren't necessarily monitoring the weather channel but on the first night we went to dinner and then the skies opened up and it poured. The streets flooded and the kitchen of our restaurant even flooded and they couldn't serve our last course.
Our Two Amazing AirBNBs in Paris-
As I mentioned earlier we stayed in two AirBNBs while in Paris. The first one was a little over a block from the Arc de Triomphe. As a matter of fact when we got off the Metro at our stop and walked up to the street the Arc de Triomphe was towering in front of us. It was quite the welcome!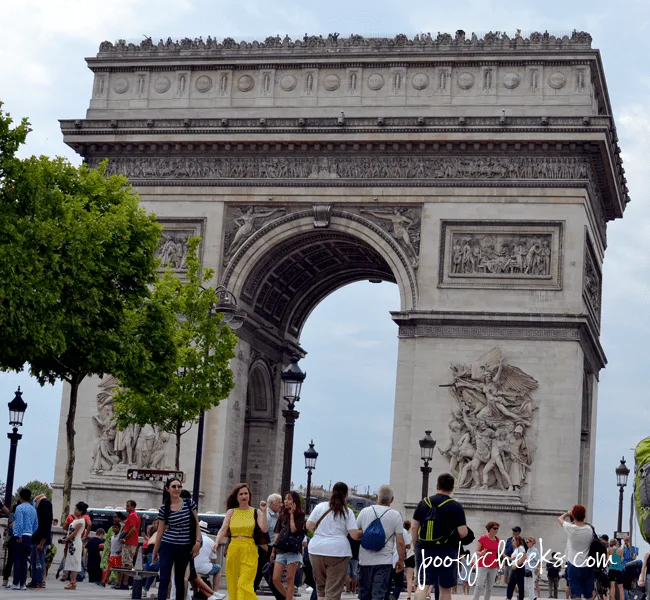 Our first AirBNB was a tiny ground floor flat the size of my living room. It had a queen bed, full size bed in the loft, bathroom with a shower and a corner kitchenette and table for two.
The second AirBNB was a fourth floor flat which was much more spacious. The area was also near a lot more nightlife. The ground level shops out our window were bustling during the day but when those shut down the restaurants and bars came alive. If we were to go again I would chose this area. It was about a mile from the Louvre and in the other direction a mile from Notre Dame.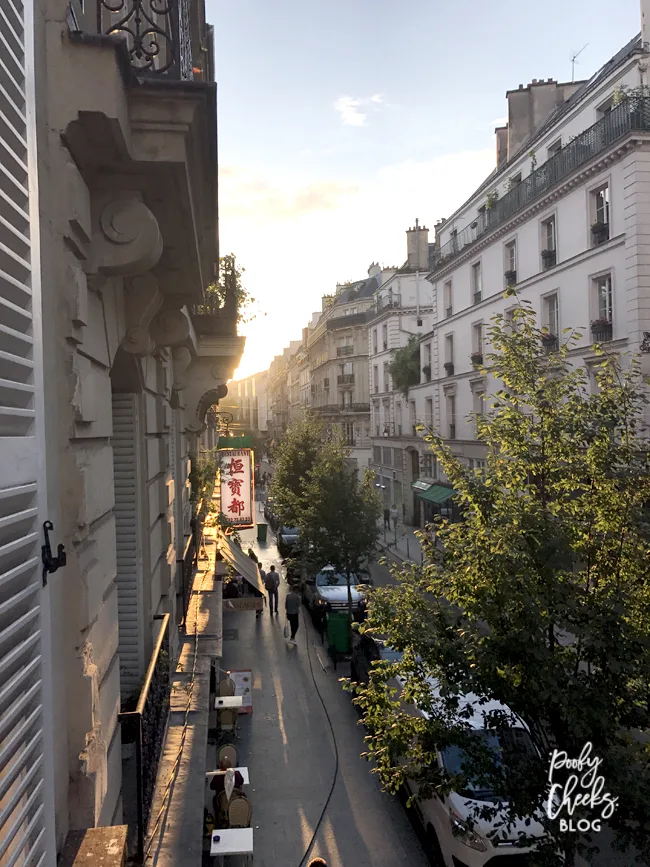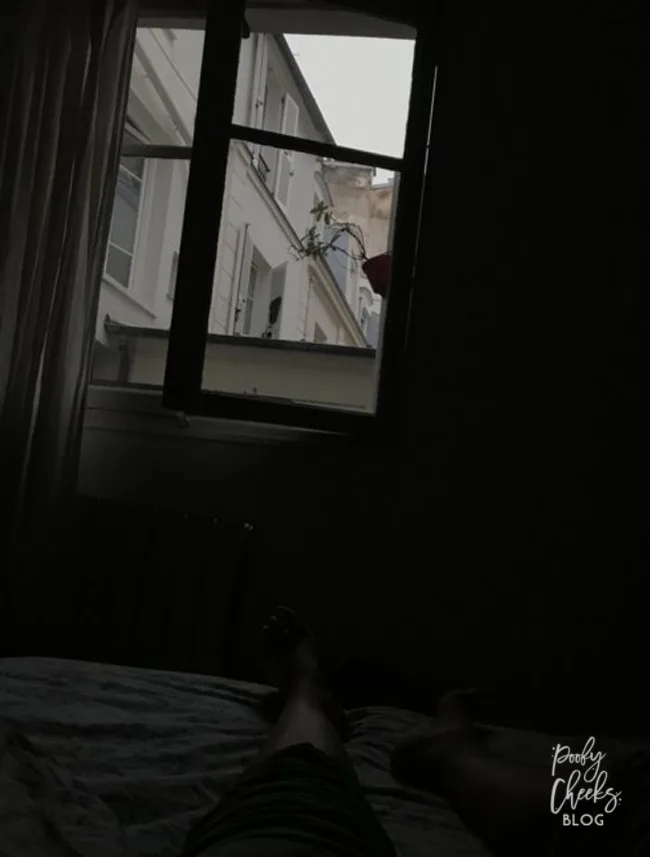 Hit me with any of your Paris related questions or help other travelers out with your Paris tips below in the comments!
Read 5 European Travel Tips for Americans