Master bedroom redo before and after pictures with BEHR Blue Clay
Over the past few months my parents have been redoing their master bedroom. They moved into their current house a few years ago and the entire house had stark white walls. They had repainted every room in the house with BEHR paints besides for their master bedroom. I know how that goes because we have moved quite often and my master bedroom seems to be the last thing I decorate and usually becomes the catch-all for the mismatched furniture.
When we lived with my parents for a few months last year my mom used to point out the color of the kitchen on the Trisha Yearwood cooking show and tell me she wanted her bedroom to be that color. We googled and searched for the paint color but never could find it. She bought a bunch of trial colors and painted them on their wall in big squares but didn't seem to like any of them. Then I saw the
BEHR 2015 Color Trend colors
and told her to find the color
Blue Clay
. She called me back a few days later and told me her and my dad both loved the color and that's what they decided to paint the room in.
My mom is one of those people who can't envision something until she sees it so their room was a long process. We just hung the mirrors on either side of their bed this past weekend and it was a long process getting them right. There are still a few things that haven't been finished yet but I will share updates. My dad is working on building a barn door to go between their bedroom and bathroom, my mom wants to take the hope chest by her side of the bed and put hairpin legs on it with a stained top and chalk paint bottom and they still haven't found the bedside tables they like yet.
Enough chit-chat I have tons of pictures below and the before and after pictures are surprising even to me! Paint and new accessories can make such a huge impact on the way a room looks!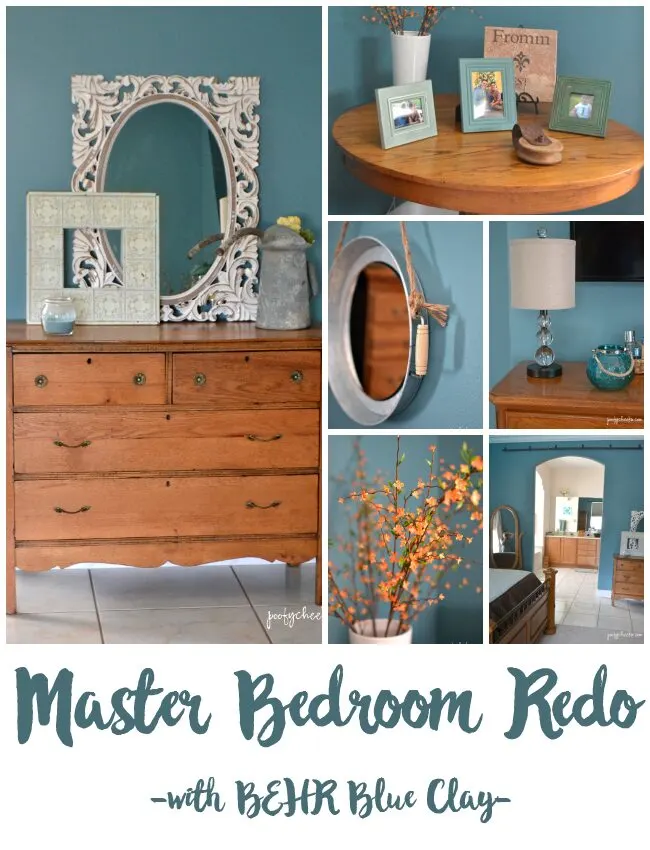 The picture below shows the opening from their master bedroom into their master bathroom. The track above the doorway is where the 'new old' barn doors will go when they are finished. Since their room is quite large it could handle such a bold color on all four walls. At first my mom wasn't sure if they should use it as an accent or the entire room but I can't imagine it any other way now.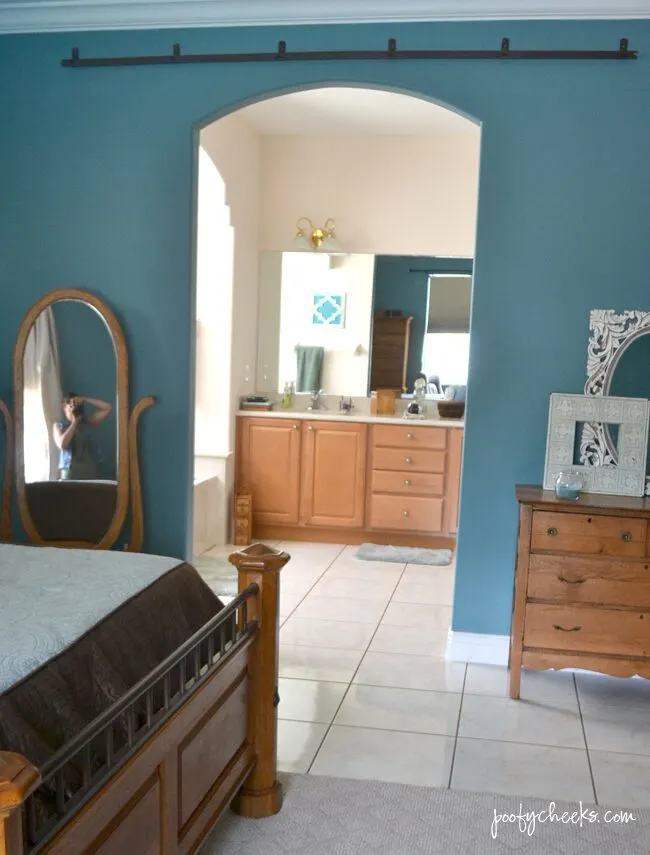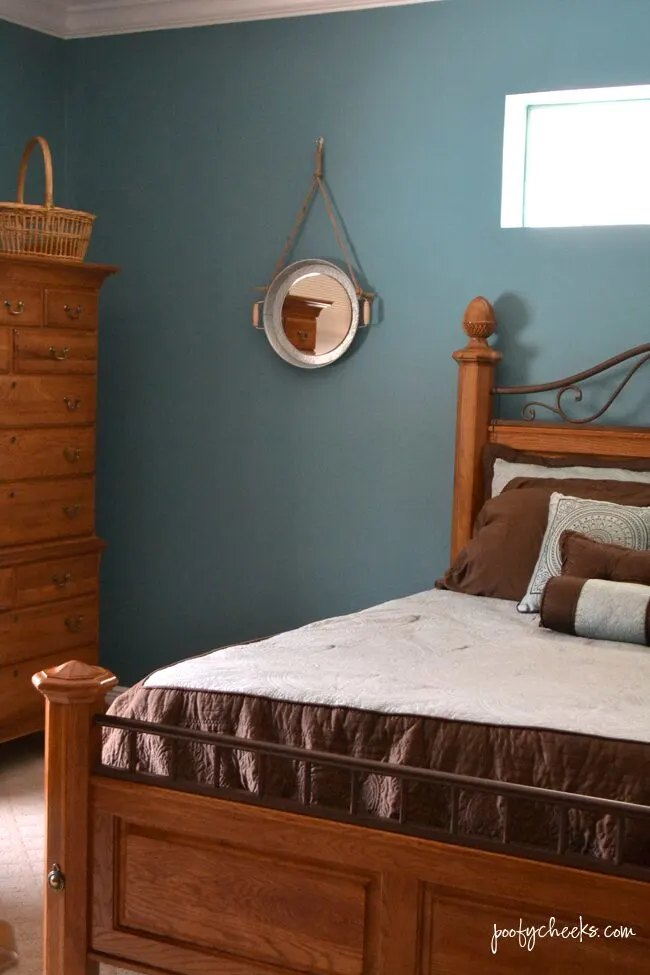 The mirrors on either side of their room was a DIY project I did. I paid about $25 to make the set. I will be sharing a tutorial for them soon!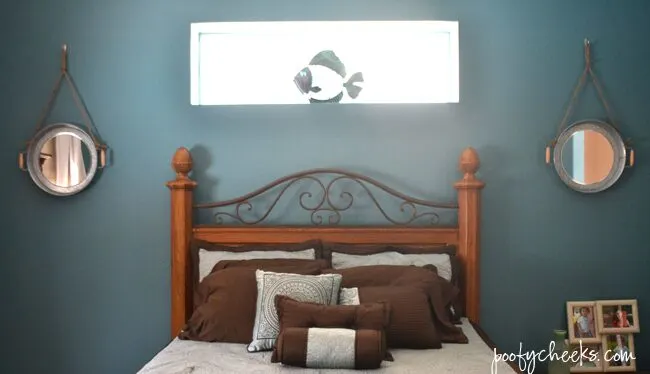 The biggest challenge for me in this room was the oak furniture because I love dark stains. In the end the oak furniture goes perfectly against this color. Possibly because they are almost contrasting colors!?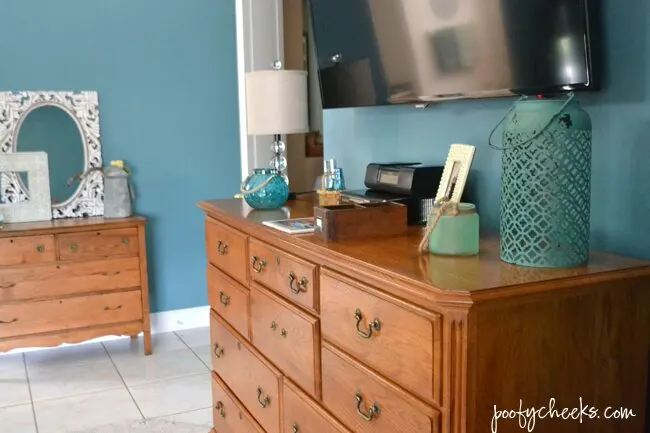 With the walls as dark as they are the white accessories pair perfectly. I love the scroll framed mirror we scored at Homegoods for $40. The dresser is an antique my dad redid and one of my favorite pieces of furniture in my parents home.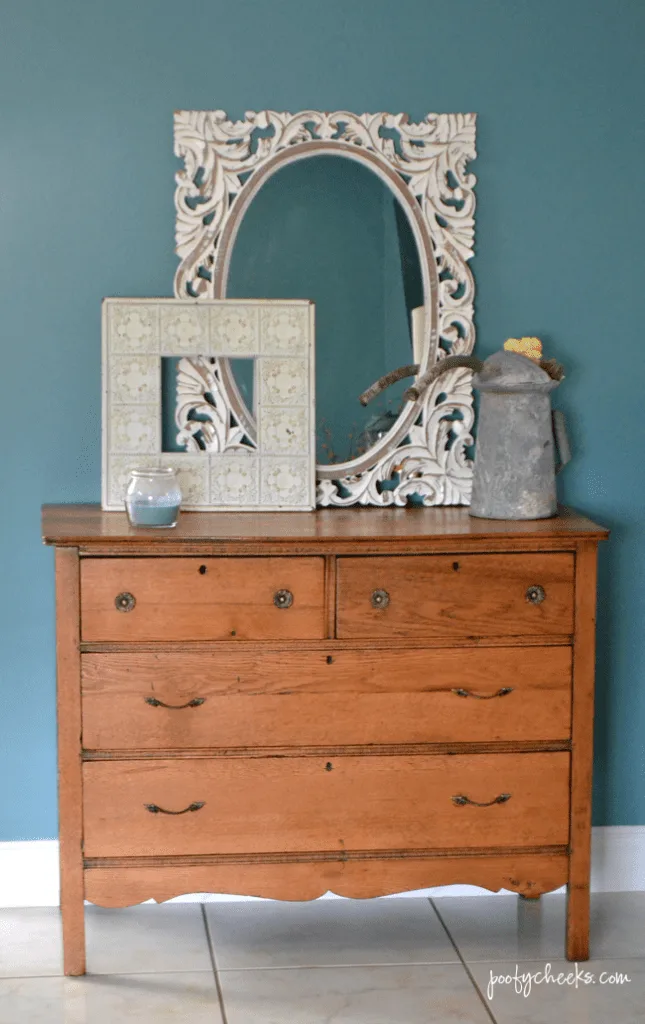 The table below is also another antique that my grandfather redid many years ago that my mom has always loved.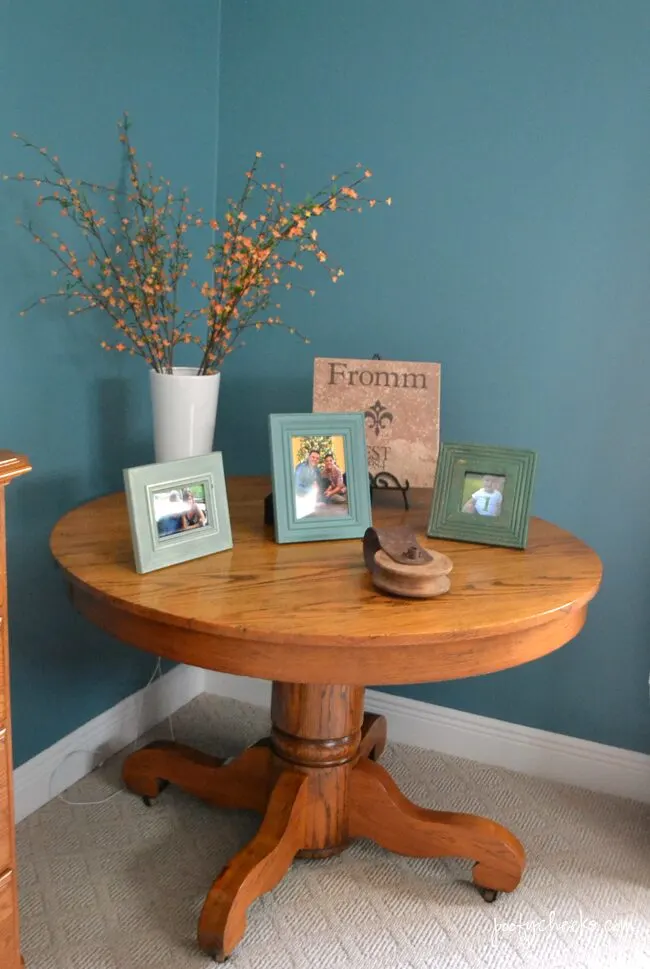 Overall the accessories, the colors and the overall change turned out beautiful. The room feels fun yet elegant at the same time. The pictures don't even do the look and feel justice. Once the barn door and hope chest are finished the room will be even more stunning.
The DIY projects in the room were
Painter drop cloth curtains – My mom had searched everywhere for curtains that were long enough and not a million dollars (okay so they aren't quite a million smacker-roos but close!) and couldn't find anything she liked. I told her to try the drop clothes and she was able to buy two panels + the rod + the hooks that clip right onto the curtain so she didn't have to sew anything for less than she was able to find ONE curtain panel anywhere else.
Hanging Mirrors – I purchased the round mirrors and jute string from a craft supply store and the metal backing from … you will never guess!! Full tutorial coming for these soon!
Barn Door and Track – While these aren't finished yet my dad is building the barn door from old wood on his friend's property and the track was from another friends property in North Carolina so it is genuinely aged and old. He cleaned the track up and used a clear seal to stop any further rusting.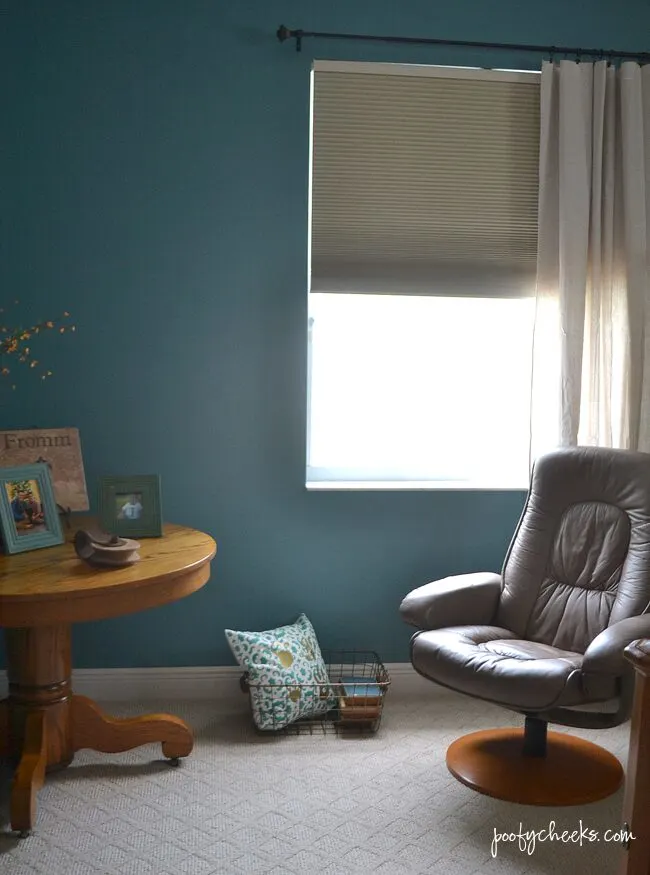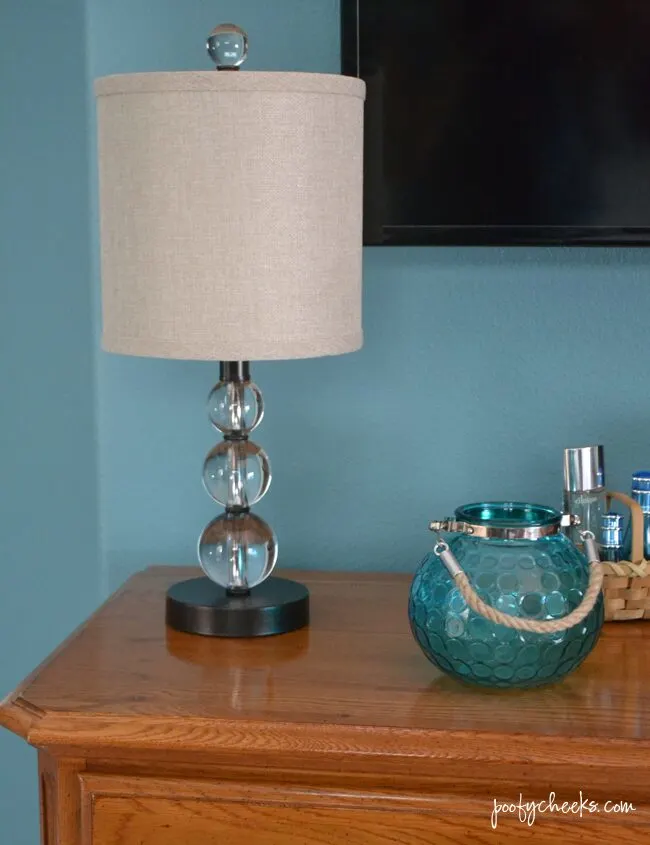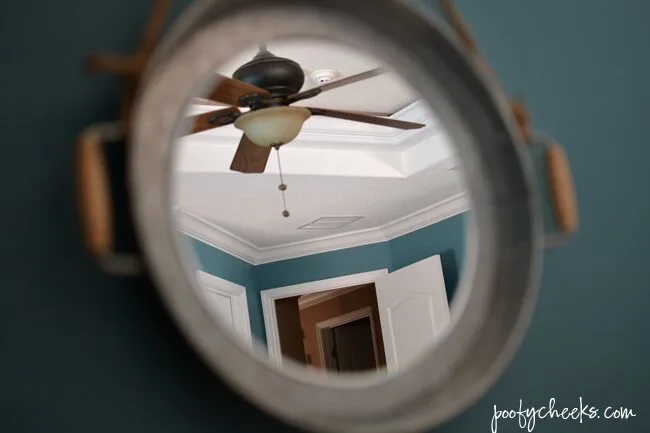 My dad painted the room with BEHR Satin Marquee Interior paint in Blue Clay. Painting is too hard but he is pretty good at it. He does all the trim without any tape and it's always perfect. Something you can't see too well from the pictures is the beautiful tray ceilings my parents have in their bedroom. The wall color is now contrasting more from the ceiling making the ceiling details stand out more.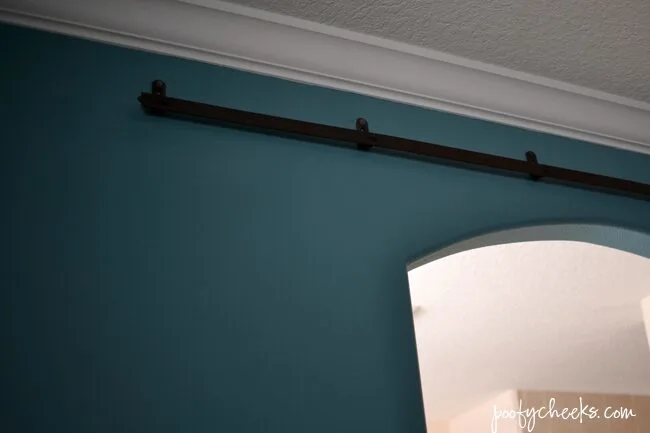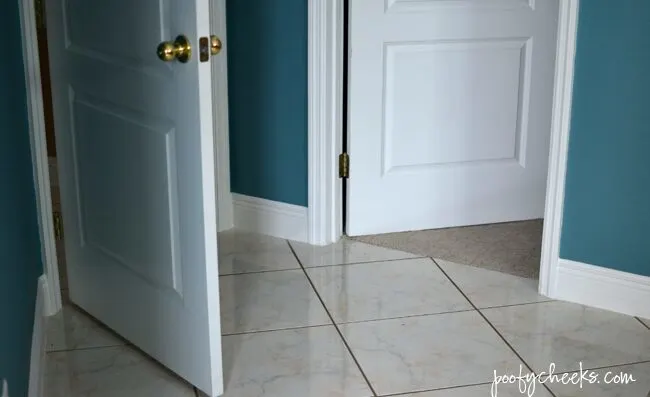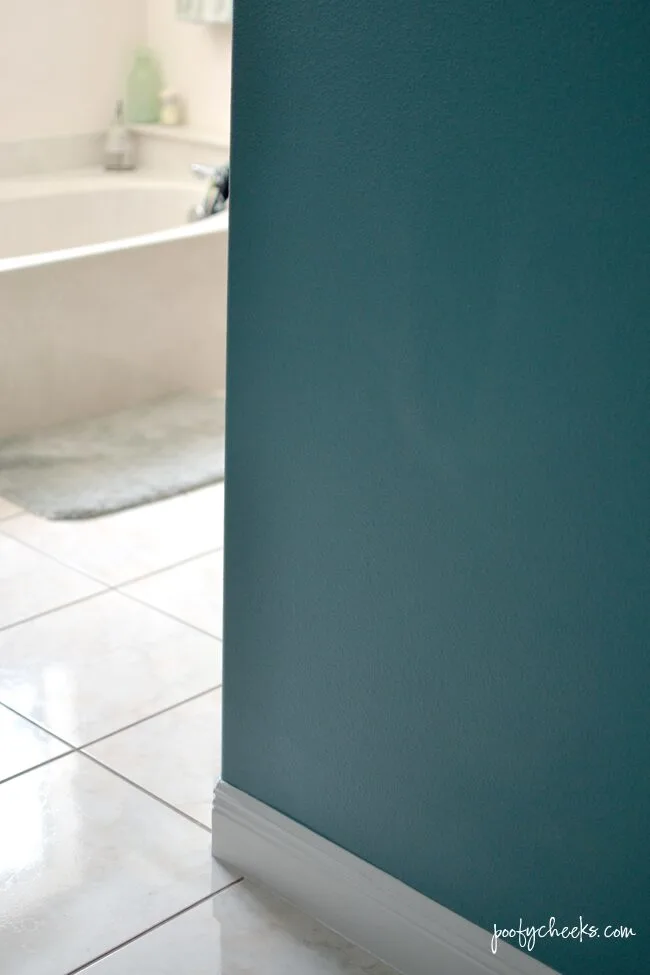 Now for some before and after pictures – this is always my favorite part!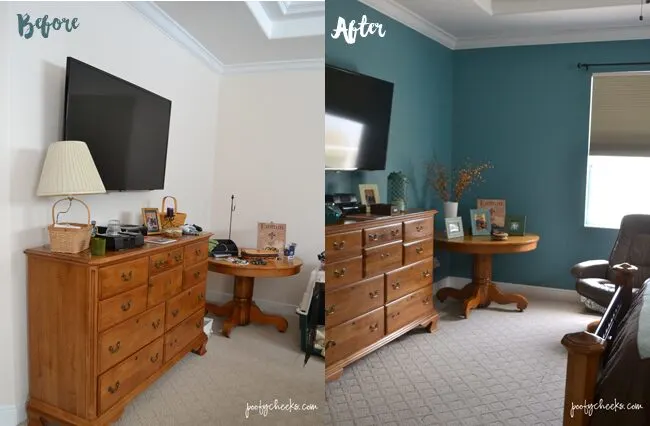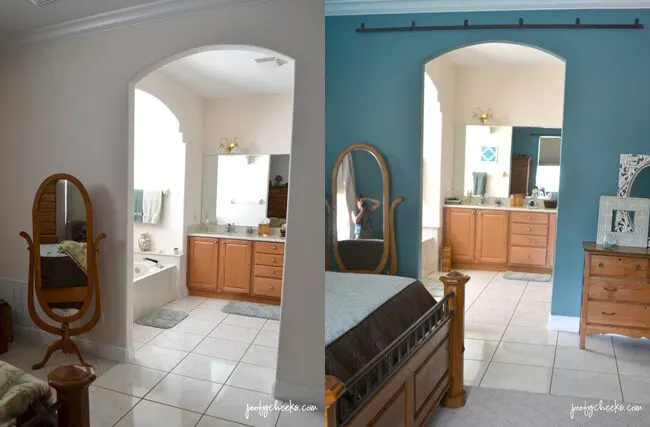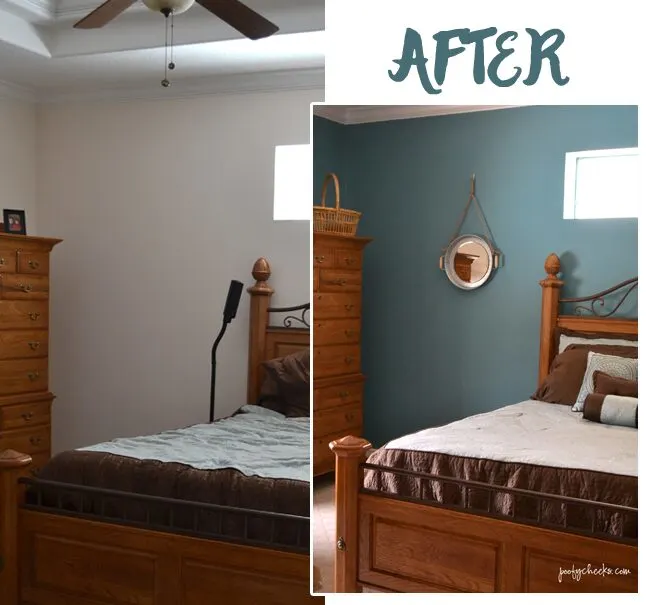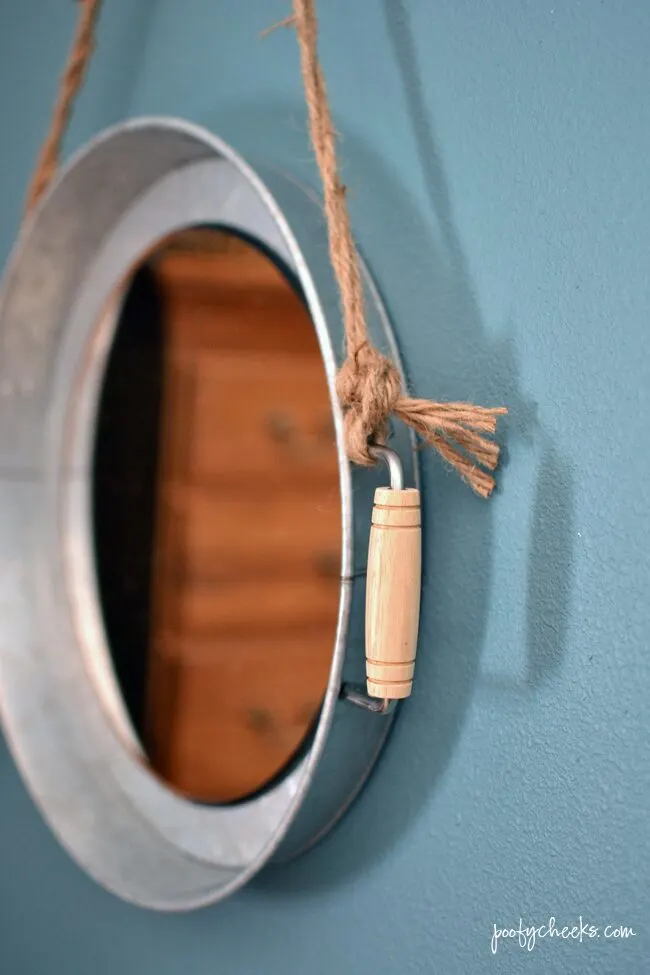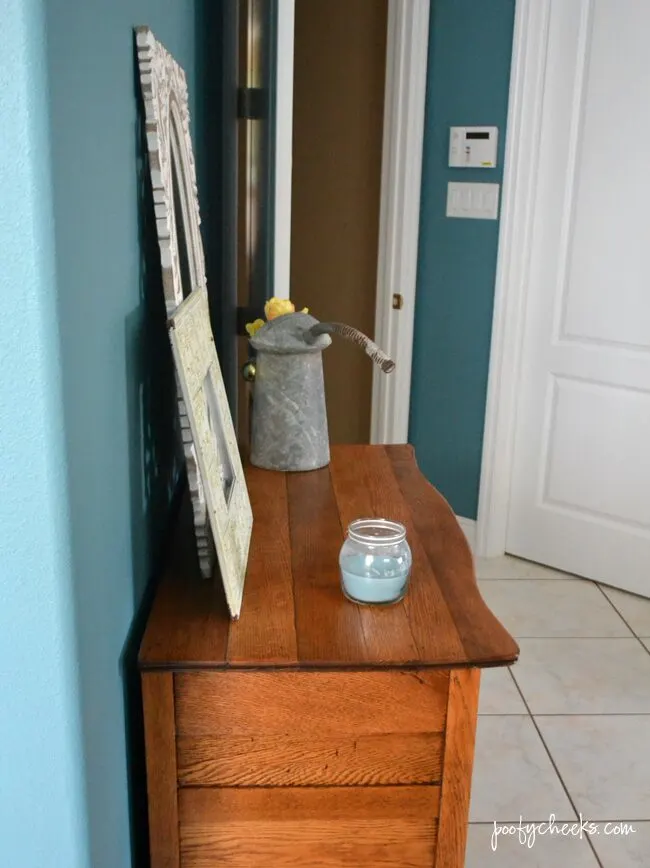 The next things to do in here are to redo the chest (the one under the hanging mirror in the photo below) and change out all of the fixtures around the room from gold to brushed nickel.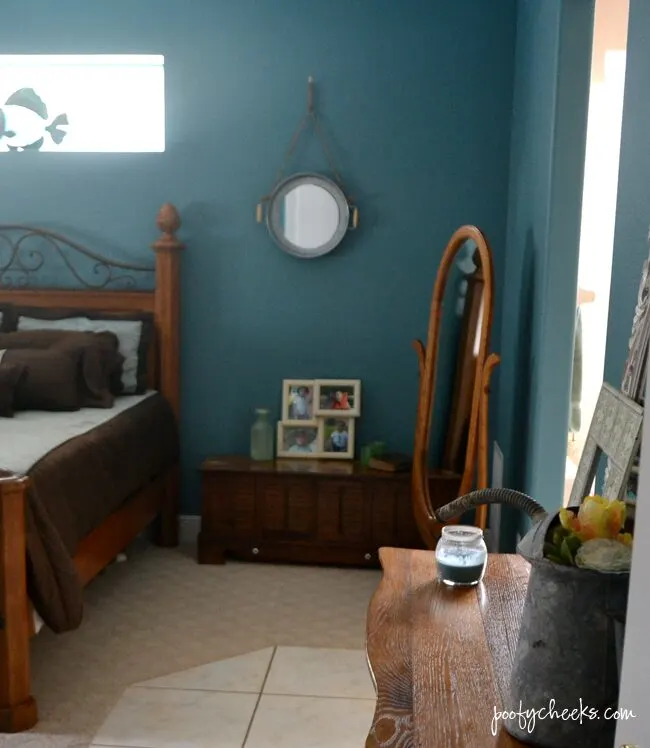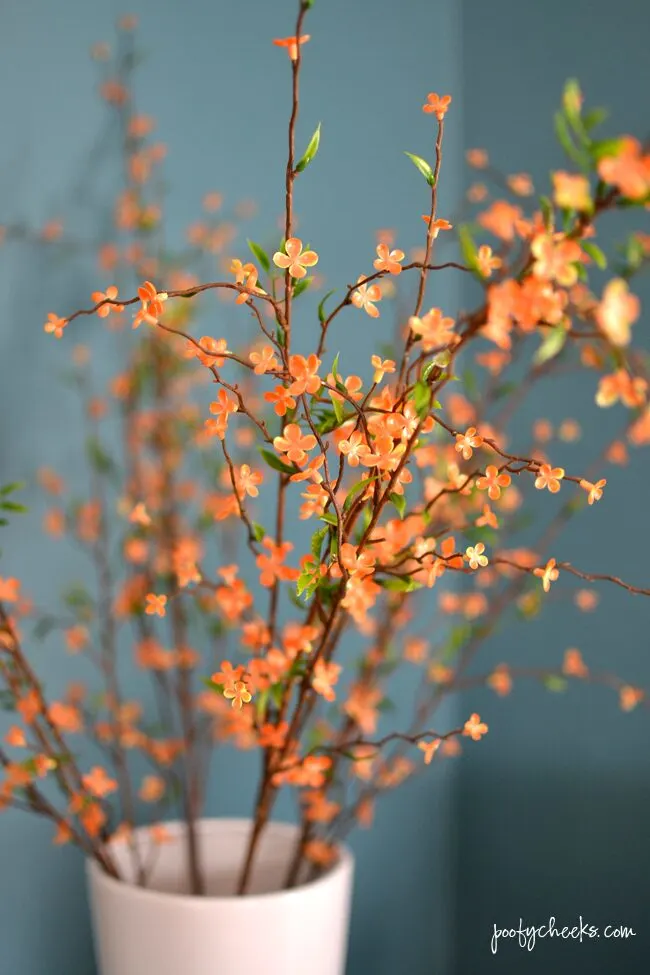 Enjoy,

I party HERE
Check out the Poofy Cheeks Blog Pinterest Board for other craft and recipe ideas!
Follow Poofy Cheeks's board Poofy Cheeks Blog on Pinterest.