---
Today we are talking about kitchen faucets under $300. We are in the market for a new kitchen faucet (and two bathroom faucets) and a whole list of other things. It is funny how you start planning a kitchen remodel with a budget in mind and then it quickly spirals out of hand. I started picking out and pricing things I loved, but now I'm going back with a budget in mind. This budget can't snowball because we have more projects to complete than just the kitchen. M'kay?
The sink must-haves for our family are a sprayer and disposal. In our old house we had the best disposal and it was super quiet too. Our friends gave it to us when our old one stopped working. We know we are going to buy the same one for our new kitchen.
The faucet sprayer is a life saver with a family of six. At our in-laws we have been without one, and it is a lot harder to get dishes clean. Meals with thick sauces or plates with ketchup or syrup are hard to get clean unless you use your hand. I'm not a huge fan of using my hand when I know a sprayer would make the job way easier.
Before I can pick a kitchen faucet I am going to have to pick the finish we want. I want all of the finishes in the kitchen and bathrooms to go together. I would love to be trendy with the bronze but I also want something that is timeless for resale purposes. I am really leaning towards the brushed black finish. Have you seen the black stainless? In a farmhouse white kitchen (the look I'm going for) I think the black stainless would really pop. Then there is the always popular stainless steel. Ugh see what I mean about picking all the finishes?
Kitchen Faucets Under 300 Dollars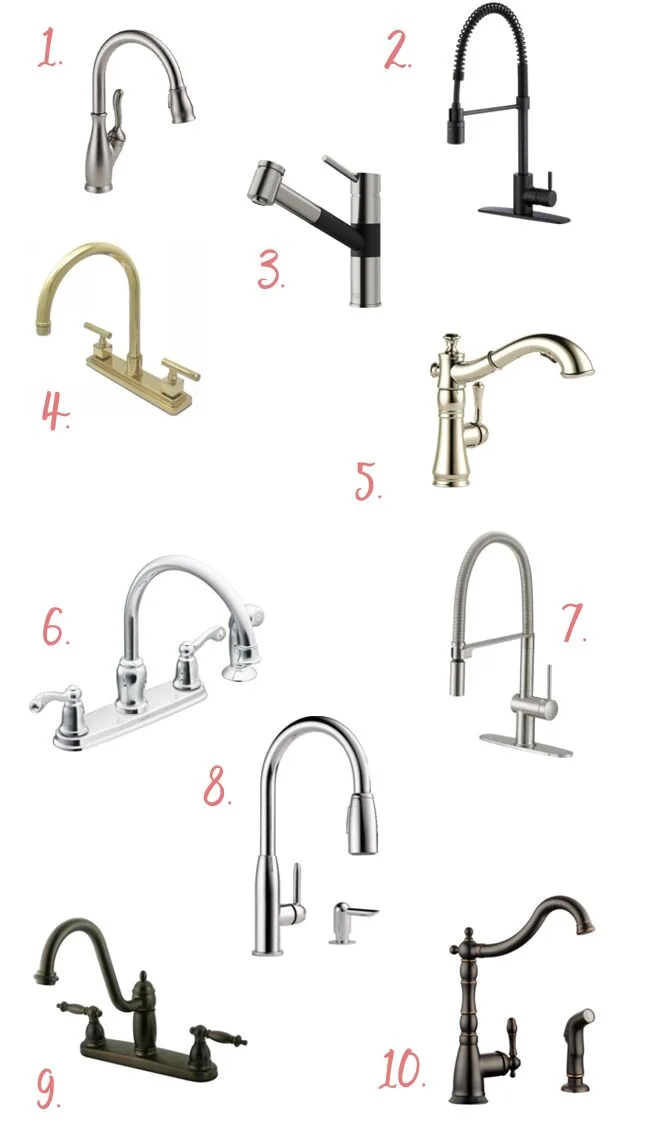 Links to Kitchen Faucets
Faucet 1 // Faucet 2 // Faucet 3 // Faucet 4 // Faucet 5