Wifey cut file.
Hey there fellow Wifey squad. I made myself a shirt with 'wifey' on it in gold glitter HTV a few years ago. Truth be told it has gotten a little snug so I am in need of a new one. I figured I would hand letter the design and then share it here as a freebie. This design not only works for the current wifey crew but also for the wifey-to-be.
To create this design I hand lettered it onto paper, scanned it into my computer and digitized it with Adobe Illustrator. It seems some of the SVG files aren't opening correctly in Cricut Design Space. There are extra parts blacking out spots within letters (the middles of e, a, d, b and other cursive letters). To get rid of these you need to hide those pieces or delete them.
Find where to buy the cheapest Silhouette and Cricut supplies and get crafting crafty friends!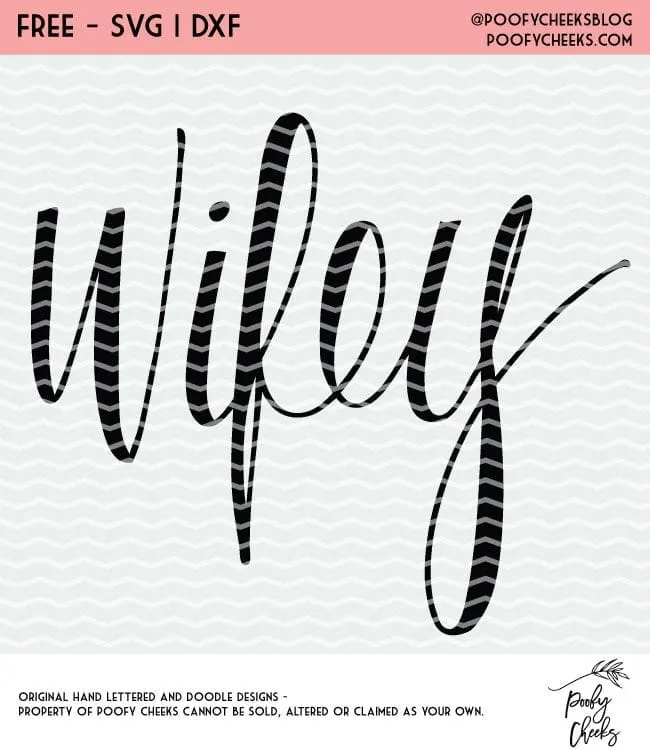 If you are using this for a bride-to-be you might also love the free wedding cut files.
Do you have a few questions? Read through the frequently asked questions.
Free Cut File FAQs
The cut file doesn't include the SVG file.
We get this inquiry through email a lot. The SVG file doesn't show up as an image on most computers. The logo looks like an internet browser icon (can change depending on your default browser, Internet Explorer, Firefox, etc). Hoover over the files to see the file info and file type.
Why won't these open on my tablet or phone? I'm trying to use with a mobile App.
You must be on a computer to get these files since they are all together in a ZIP folder.
Enter your name and email below and press download. The file will be sent to your inbox. Didn't receive it? Check your junk or spam folders.
You have to unzip the folder to be able to use it inside your software of choice.
NOW you can email the SVG, PNG or DXF to yourself and open the email on your mobile device to download and use in your mobile device app.
Do I have to input my email and name each time I want to download a new freebie from your site?
Yes, this is how we track cut file popularity and continue to put out cut files that appeal to you. Want to see something specific? Email me at [email protected] and tell me what you want to see next! We take your opinions and suggestions seriously.
Can I sell items I create with the free cut files?
Yes, the graduation cut file is for personal and commercial use. You may NOT sell the digital files themselves but you may sell items you create using the cut file designs. Please tag us with your creations on IG (@poofycheeksblog) and we may share on our own feed!
What files types do these come in?
These files come in DXF and SVG. The files are below and I have them labeled. I use DXF for Silhouette and it opens right up but I know Cricut users need SVG.
What can I make with these cut files?
You can cut these files onto any medium you prefer and make SO MANY THINGS! Make mugs, cups, shirts, onesies, tote bags or basically whatever your heart desires.
How do I open the files in Cricut Design Space?
The cut file will be emailed to you in a ZIP file. Save it to a place on your computer and unzip the folder. Go to your Cricut Design Space and follow the step-by-step instructions for uploading designs to Cricut Design Space.
How do I add the files to my Silhouette Library?
Save the ZIP file to your computer and then unzip the folder. Follow the instructions to save designs to your Silhouette Library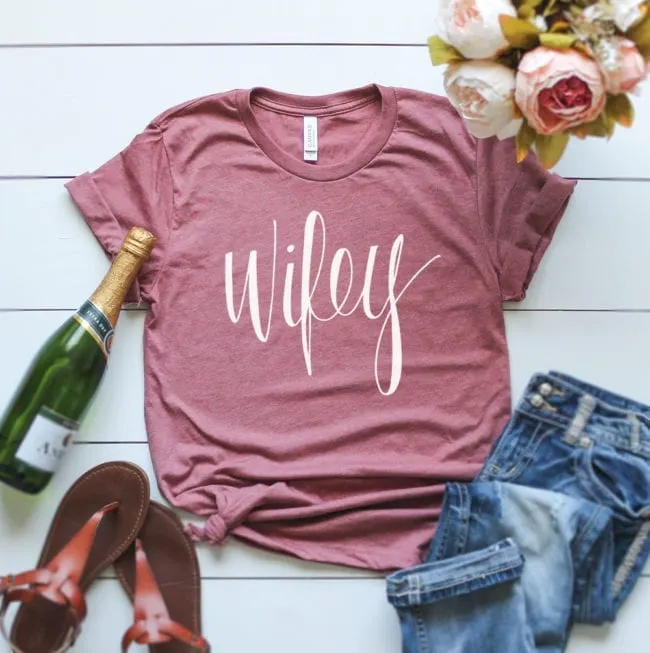 Download the Wifey Cut File Below