Hey friends! I'm talking about uploading designs to Cricut Design Space. I've had a lot of emails from new and new-ish users asking how to use the free files I share in the Cut File Library. Since I recently unboxed my own Cricut Explore and had to learn this, I know the struggle.
I am sharing step-by-step screenshots to make it super easy. I am personally a visual learner so pictures are my friend.
First things first, we need to get a free cut file! Go to the free cut file library, click on a design, and scroll to the bottom where you see a box like the one below. Enter your name and email then press the download button.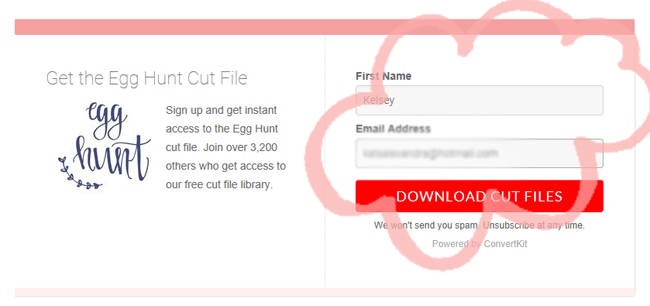 Once you press the download button the design will start downloading to your computer automatically. This may be slightly different depending on what type of browser you are using.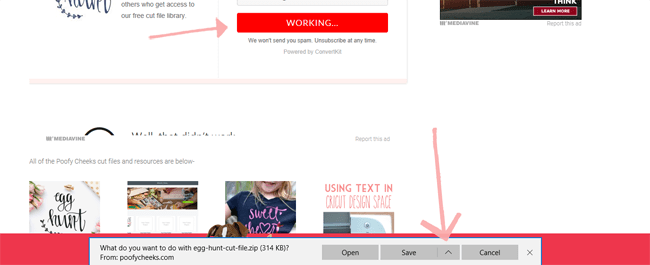 A new screen will popup and you can pick where on your computer you want to save the ZIP file. I saved mine in my general pictures folder.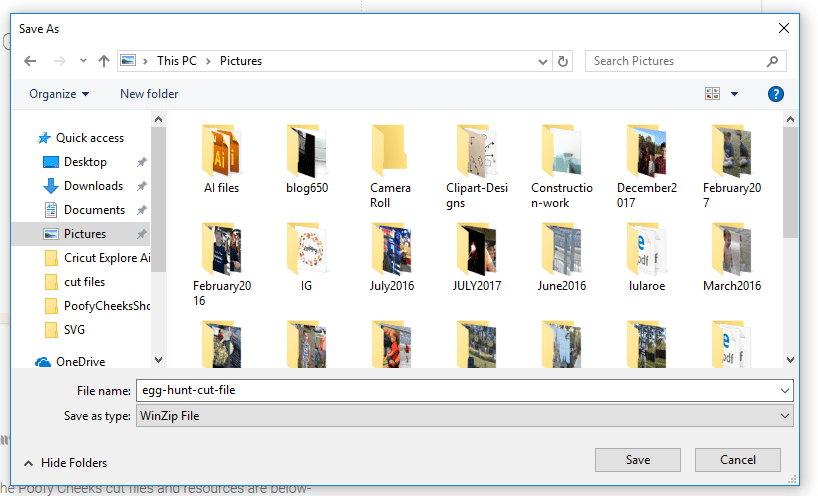 If you are using a PC (versus a mac): before you can open the file in Cricut Design Space you need to extract the SVG file from the ZIP folder. Go to the file explorer on your computer and find where you saved the ZIP folder. Right click on the file then choose 'Open With' and then Win Zip or Zip Opener. Then follow the prompts.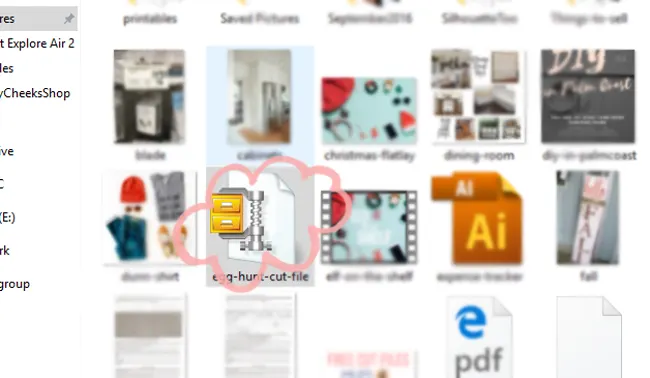 Step-by-Step Instructions
Now it's time to put the design into Cricut Design Space.
Start out by opening the Cricut Design Space and starting a new project. Click on any of the spots where you see the arrows in the below image.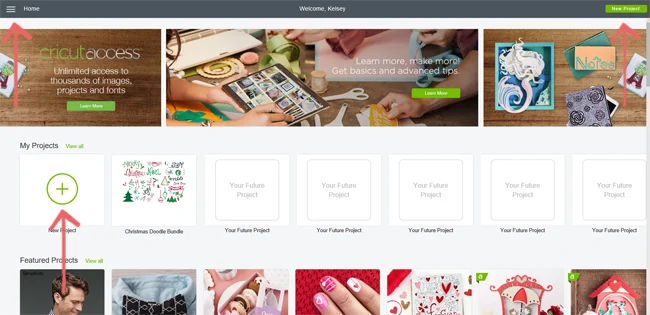 Once in the Cricut Design Space you will have a blank canvas.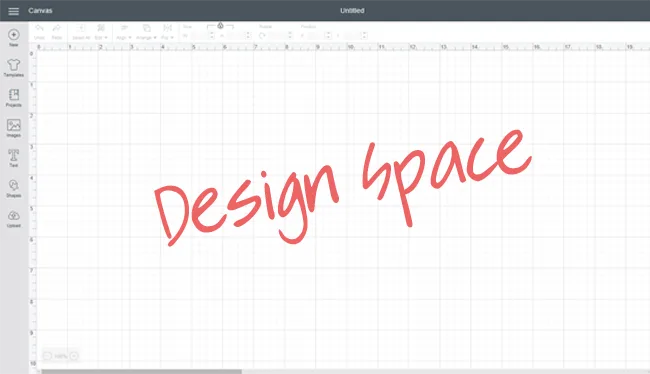 You will see a cloud and arrow icon on the bottom left sidebar that says upload. Press the upload button.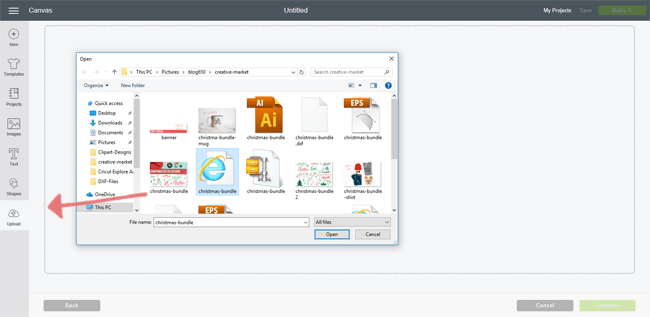 A new screen will open and you will press 'upload image' to open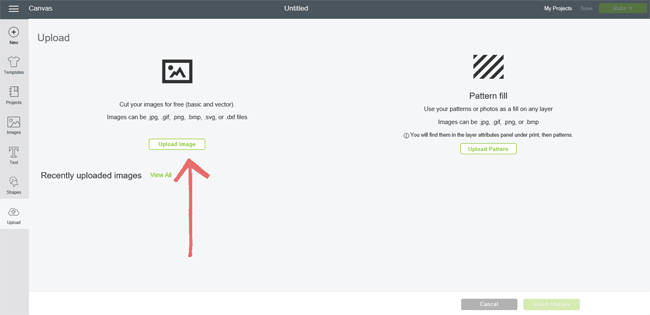 Then you can drag and drop a file onto the screen or press 'browse' and open the SVG file from the location where you saved it and press 'open'.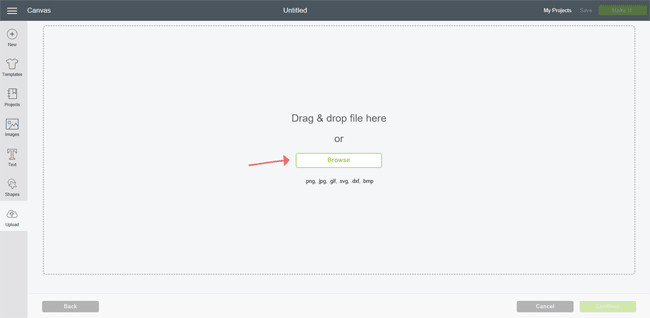 I opened the Christmas cut file bundle. It may take a few minutes to load but then a screen like this appears. Add tags to make the file easily searchable if you are looking for something later. Then press 'save' in the lower right corner.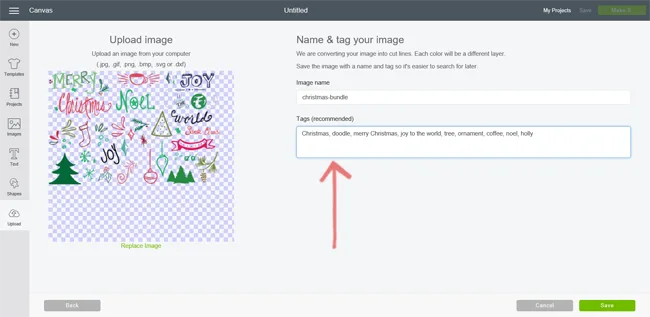 After you press 'save' you will be taken to a screen where you can upload another file or pick from the uploaded files. Click the file you uploaded and press 'insert image' in the lower right hand corner. Now your newly uploaded file will be added to your project. You can now resize, delete parts, duplicate parts or manipulate the design to your liking.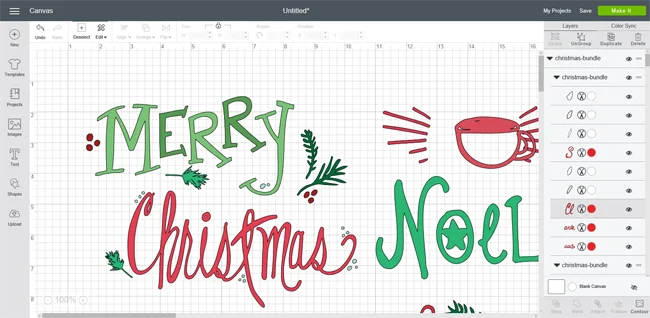 Happy Crafting! You might also find Using Text in Cricut Design Space helpful.