Quickly create a chicken wire pumpkin that can last from September through November. Are you ready for a super easy Fall decoration that can be transformed into a Halloween decorations with a change of embellishments?
I bought a raw wood and chicken wire pumpkin at Joann Fabrics last year, painted it and then used some stickers and embellishments to give it an extra dose of Halloween. This craft comes together in a snap and the best part is that it doesn't get much easier! If you aren't super crafty you can pull this off without a hitch. If you want a quick craft then this is the Halloween craft for you!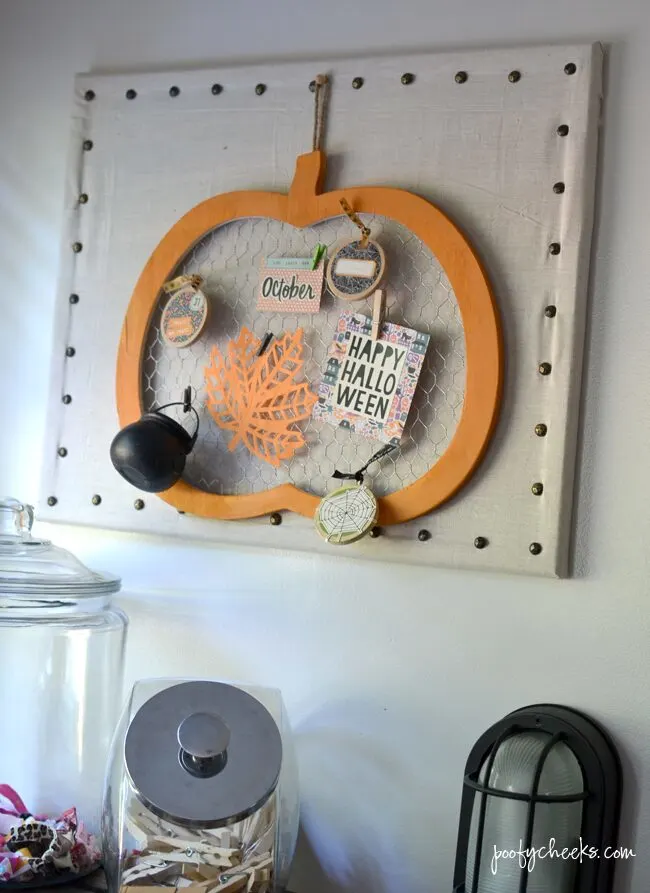 Are you wondering about the board the pumpkin is hanging on? That is actually a cheap framed cork board that I covered with muslin. I used a staple gun to secure the muslin to the back of the board. Then I used nail heads around the framed part. It makes the best message board!
Chicken Wire Pumpkin Supplies Needed –
Chicken Wire Pumpkin
Orange Paint
Paint brush (or foam brush)
Clothespins
Stickers and Embellishments
Step 1- Paint the wooden part of the pumpkin with orange paint. I used a sample size of BEHR Flaming Torch (PPU3-03) paint.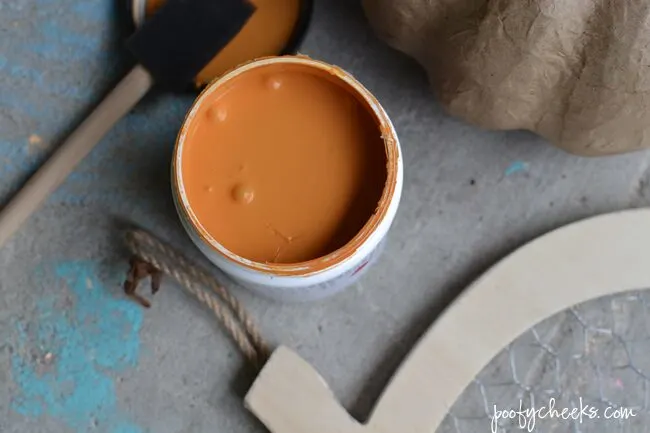 Step 2- Once the paint dries add embellishments using ribbon and clothespins to attach them to the chicken wire.
I used Halloween stickers, mini clothespins, ribbon, scrap paper, leave die cuts, and a mini cauldron. It took no time at all to make and when Halloween is over I will change out the Halloween embellishments with fall embellishments to last through Thanksgiving.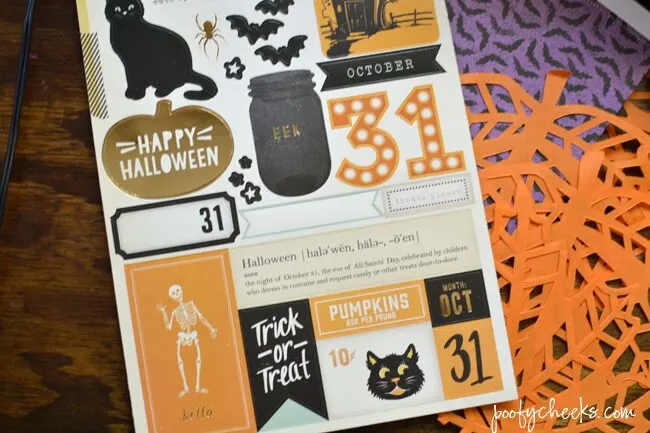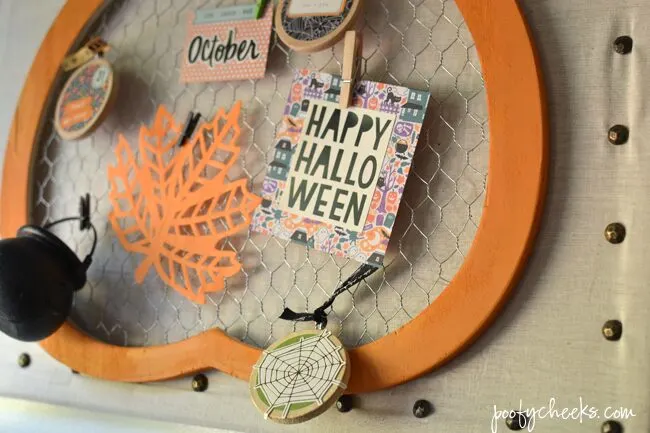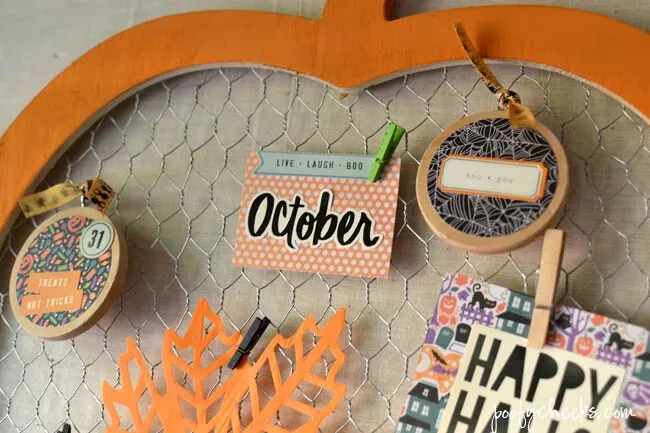 I have lots of Halloween decorations I have made and purchased over the years but this one is so fun. I love all of the colors, the pretty fonts and that I can change it out from year to year.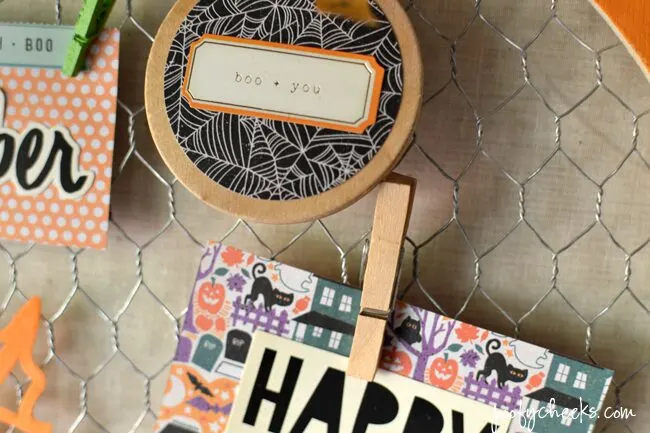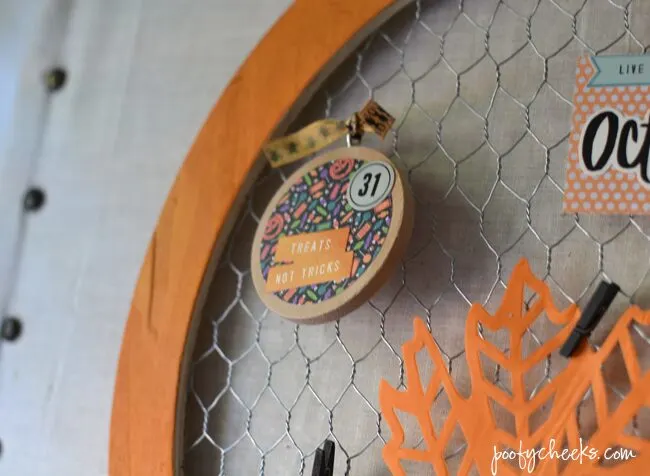 We are going to be moving in October so sadly I'm not sure we will pull out any decorations this year. My kids aren't too happy.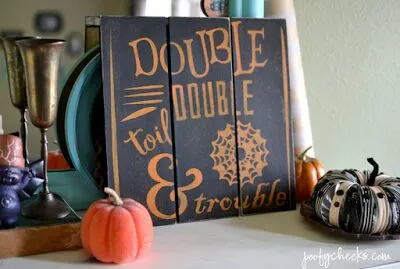 Glam Canning Jar Ring Pumpkin –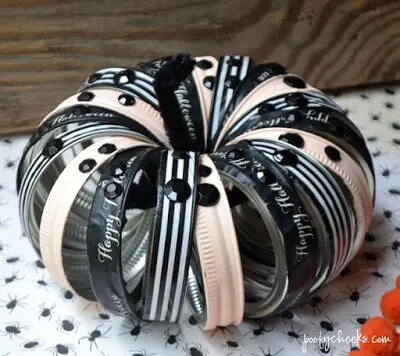 Enjoy,