This post is sponsored by BEHR Paints and Wagner. I did receive free product but the ideas and opinions are 100% mine.
Last year my in-laws put in a bunch of time and money redoing the inside of their home. They completely gutted and redid their kitchen and master bed and bathroom. They laid dreamy wood grain tile and even added a vintage door to barn door tracks that looks amazing. When you compare the before and after pictures it doesn't even look like the same place! With all of the work they did on the inside I wanted to help them with the outside.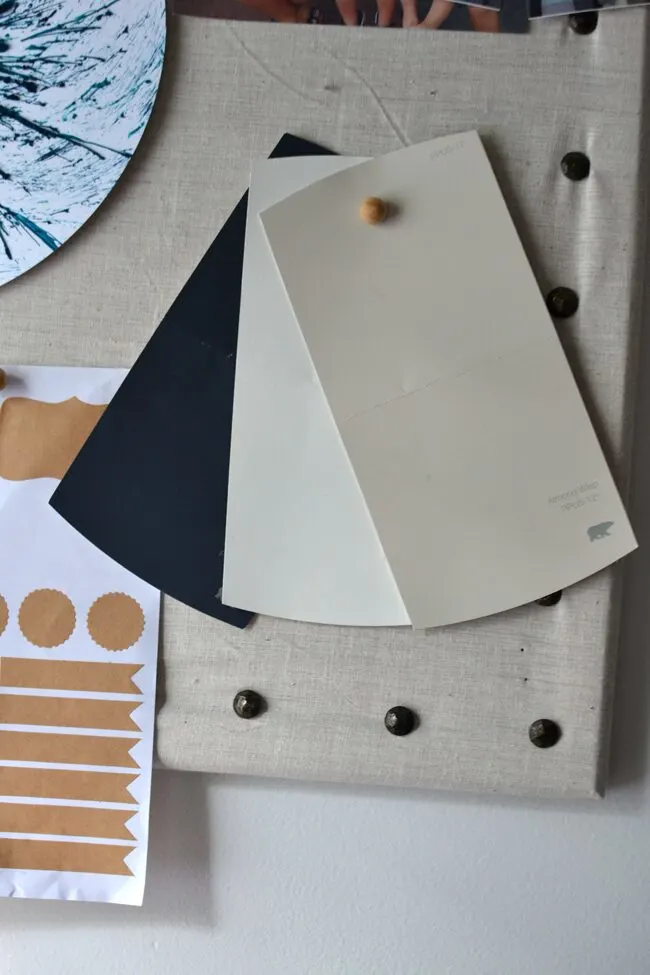 Every Spring my mother and sister-in-law work feverishly planting and growing flowers that make their front yard so inviting. Although their current paint job was a bit drab and dreary. I had them pick out paint, trim and a door color so we could give the outside a facelift to match the newly redone inside. A few weeks ago I had my dad come over and in a few hours time four of us painted half of the house using a
Wagner FLEXIO 990 paint sprayer
.
My mother-in-law picked out BEHR Almond Wisp (PPU5-12) for the main color, BEHR Ivory Palace (PPU10-14) for the trim and BEHR Poppy Seed (PPU15-20) for the door. We haven't painted the door yet, but when we do I'll be sharing a full reveal. I can't wait to show you the final reveal with the door painted and all of their plants in bloom! They are changing out their front lighting fixture and hope to paint the front steps as well.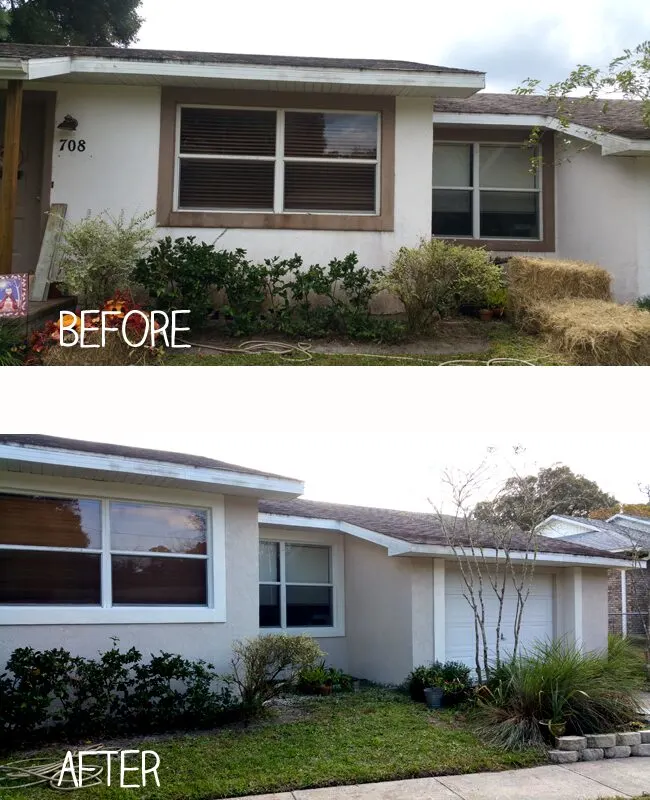 Finding the perfect day to paint has been difficult. We have been trying to paint since October but our Fall was so hot that most days it was in the 90s and then all of a sudden it was winter and more rainy than usual. Finally the perfect overcast but not rainy day arrived where everyone was able to get together to paint!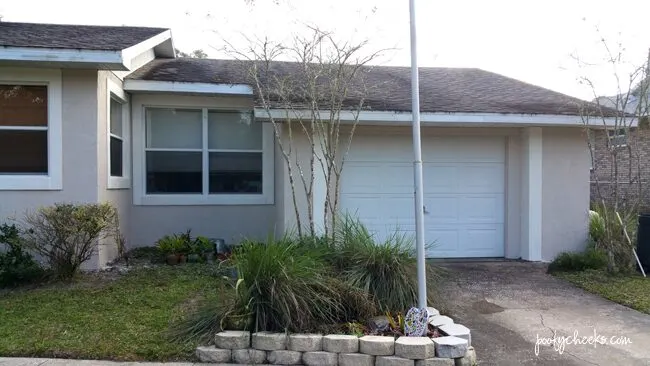 Painting Home Exterior with a Paint Sprayer
If you are thinking of painting your exterior with a sprayer, it's important to use an overspray guard around windows, doors and to protect the fascia and soffit. Spray first so you don't have to worry about overspray on the trim and then follow in behind to paint the trim.
We were able to get half of the house done using less than 5 gallons of paint in around 4 hours! We were all really impressed since this was the biggest job we had tried with the
Flexio 990
. At first the sprayer seemed to be putting out too much paint but with a quick adjustment we had it corrected.
The extended hose was great for getting the high areas that required a ladder and the pump worked great in the larger 5 gallon bucket. I'm not sure I will try using the sprayer indoors any time soon but maybe after getting more experience.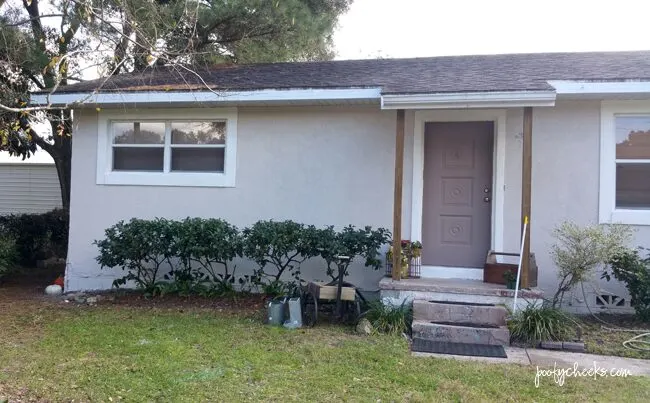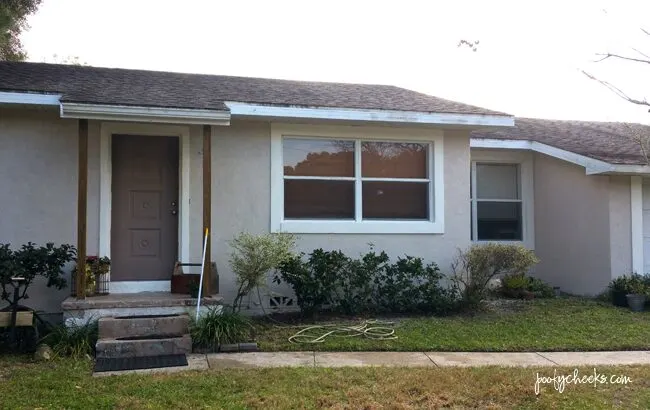 Cleaning the sprayer takes a bit of time and attention to detail since you don't want any dried paint left in the hose or on the spray nozzles, but in my opinion it is way better than cleaning out paint rollers and brushes any day! I can't wait to share more pictures after we finish painting the door, hanging the light fixture and make a few other changes!
Painted Front Door
See the painted front door before and after.