I see you guys are loving the latest post I wrote about the cheapest places to buy supplies for your Cricut and Silhouette cutting machines. I had plans of expanding on it because there are a lot of things to cover when it comes to the many things these machines can do.
I received a question about heat transfer vinyl so I decided I would tackle that first. I have used the glitter, foil and regular heat transfer vinyl and I have tried lots of different brands.
Did you know some is hot peel and some is cold peel? Yep and I'll talk about all of that too. I personally do not use a regular home iron to apply the heat transfer vinyl because I make anywhere from 2-50 things a day and sometimes more during the holiday season. My arm would be dead!! Lucky for you guys I talked to my sister and sister-in-law who both use their home irons and found out what they suggest.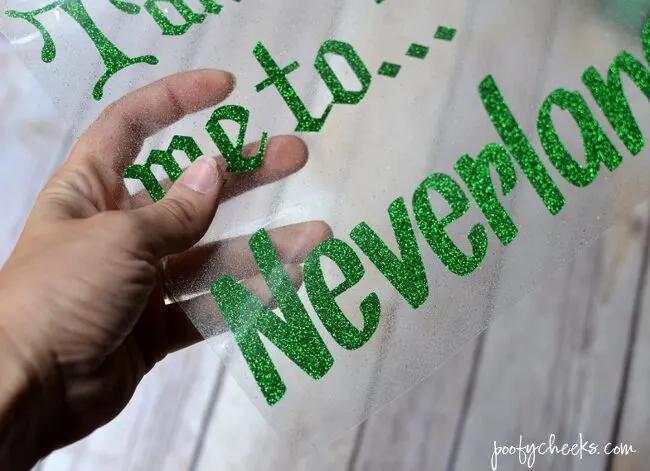 First things first – let's talk about Supplies for Using Heat Transfer Vinyl
Supplies For Using Heat Transfer Vinyl
Besides for a cutting machine and mat I suggest the following supplies
–YOU NEED A WEEDING HOOK!
I didn't even know what the pick was for and figured it was just something extra to waste money on. Then I started using heat transfer vinyl on a daily basis and figured I would try it. This thing is a life saver. I now own 8 of them (although I'm lucky if I can find 1 on a good day). The point on the end of these is great for getting tiny slivers of vinyl and pulling it away from the clear carrier paper. My point is that the weeding hooks are worth their weight in gold.P.S. Weeding is the process of removing the vinyl that is not part of your design.
YOU NEED HEAT TRANSFER VINYL
Sometimes referred to has HTV – This is a no brainer. In the cheapest places to buy supplies post I said I buy a lot from Happy Crafters. I really like that you can sign up to get coupons sent via email and text from them. For example they texted me a code to use for free domestic shipping today. I am a total sucker for free shipping. They sell 12×15 inch sheets and I used to get it and immediately cut the extra 3 inches off to save for a small project.
I either use a 12×24 inch cutting mat or let the excess hang off and flip and turn it as I cut pieces off. When buying vinyl read the description to find out what types of materials you can use it on, the heat setting and if you should peel the carrier sheet when the design is cool or still hot. No matter where you are buying it from make sure it is IRON ON if you are using a home iron. Some vinyl does not work with a home iron.
IF USING A HOME IRON YOU NEED PARCHMENT PAPER! Wax paper will not work!!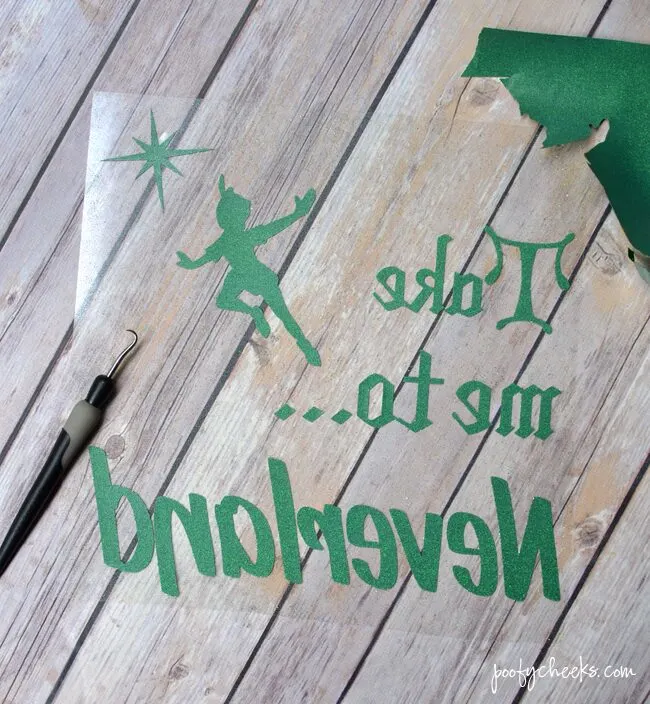 Cutting Heat Transfer Vinyl
Remember to mirror the image before cutting it so that it looks backwards on your computer screen and will look backwards when you are weeding it. Once you place it face down on your fabric it will be the right way.
With my Silhouette Cameo I cut smooth heat transfer vinyl at a depth of 13 and speed of 10. For flocked, foil and glitter vinyl I cut it at a depth of 33 and speed of 8. I use a regular blade for both.
If using a Cricut machine, pick the heat transfer vinyl type and it will do the rest.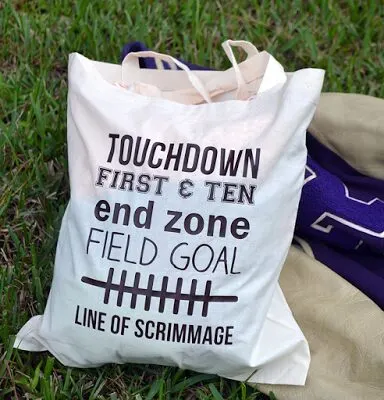 Before you apply the vinyl.Here are some steps to take to make sure your design comes out the way you want it without lifting or peeling.
If it is something that will be washed, it is a good idea to prewash and preshrink your shirt or garment. If you don't do this step two things can happen. Your shirt can shrink but the vinyl design won't causing puckering. The second thing that could happen is that there is a stain resistant spray put onto some clothing items and the vinyl won't adhere properly.
Double check your weeded design to make sure you didn't miss anything. There is nothing worse than ruining a whole shirt because you missed one tiny spot. Hold up the weeded sheet to a light source and it will help you see if you missed a cut.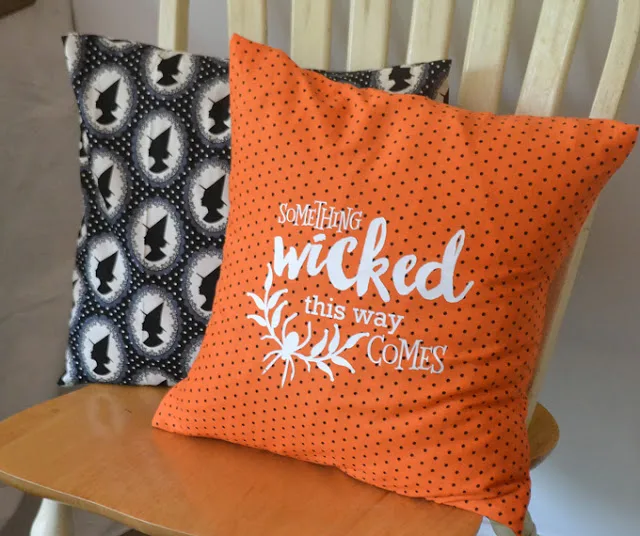 How to Apply Heat Transfer Vinyl
Using a heat press – I use a 15×15 inch heat press. I bought it a few years ago and use it on an almost daily basis. If you are thinking of starting a business and want your vinyl to adhere perfectly for long lasting wear that withstands the wash then this is the way you want to go.
With the heat press you can set the heat to the exact temperature and adjust the pressure. Start by placing the garment on the plate and pressing it for 1-2 seconds to get the moisture out. Then place your vinyl design where you want it and press again according to the application directions. Most vinyl suggests a temp of 320 for 20 seconds. Remove the carrier paper right away peeling at a 45 degree angle if it is hot peel or set the garment aside and remove once cooled if it is cool peel.
UPDATE –
Cricut recently released the Cricut Easy Press. The easy press is cheaper than any heat press I have seen. I have friends and readers that already have theirs and are in love!! See the image below from Circut? The home iron heat varies which is one of the reasons many people experience peeling after using their home iron to adhere vinyl.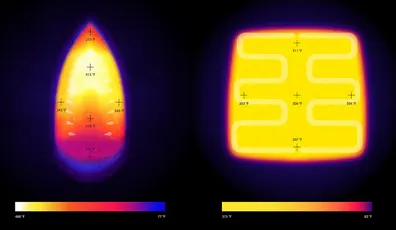 Using a Home Iron to Apply HTV
This process is a bit more tricky because there is no exact temperature setting and getting the pressure right can be hard. Here are my tips from my own experience and tips from my sister who always uses a home iron.
Set your iron to the linen setting with NO steam
Instead of using an ironing board use a hard surface such as a counter top or work bench and lay a towel down to protect it from heat.
Lay the garment out and iron over it without the vinyl design for a few seconds to eliminate any moisture
Place the design where you want it and then place a piece of parchment paper over top.
Press down with firm pressure over the design and hold for 20 seconds.
Start to peel slowly at a 45 degree angle and make sure the design is adhered properly. You may need to repeat this once or twice and even try heating from behind if you notice it doesn't look like it is adhering all the way.
My sister said she uses a tea towel instead of parchment paper and she has to repeat the heat process a few times.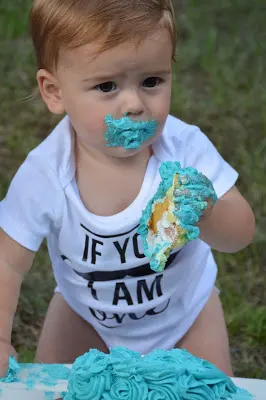 ONCE YOU ARE FINISHED – Do not wash the item for 24-48 hours! All the instructions I have read mention this and I have experienced it first hand. I made a shirt for Delilah to wear and washed it the same afternoon. When I pulled it out of the washer the design was half washed off.
I hope this helped and if I missed anything please leave a comment and I will answer as soon as I can.