A two toned chalk paint desk redo.
I don't know about your wallet but mine is still pretty empty from the Christmas season. I feel like it happens every year – we go overboard and then we're broke and trying to catch up all January long. I tried doing that whole money saving thing last year where you add $1 the first week, $2 the second week and so on up until $52 the 52nd week but that lasted about five weeks before I forgot about it and then had to rob the jar a few weeks after that. Being a crafty DIY type of person that doesn't stop me from shopping my house for supplies or projects. I have a list of things I want to do when we get a bit of extra money but for now I am trying to work on things that I put off during the holiday season. Last weekend was a three day weekend for my two older boys with Monday being Martin Luther King Day. I took advantage and started redoing a desk my mother-in-law bought for us at an estate sale.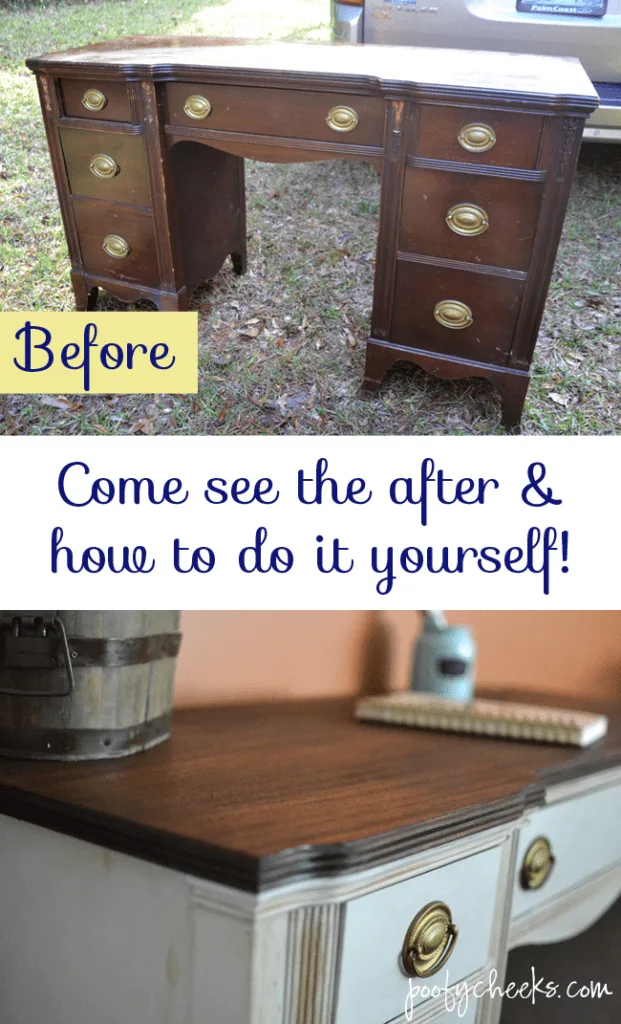 The desk was free to me. I had bought the chalk paint for it a while back so the only thing I had to buy was the stain for the top and another foam brush which set me back $12. I have plenty of stain left for a few more projects too.
This is what the desk looked like when I started. It was a bit beat up and the top had some scratches but otherwise it was in really good shape and most importantly the drawers were in perfect shape. If I had to give one tip on picking furniture to redo it would be to check all of the drawers. A lot of times the piece might look really nice but the drawers are broken or stuck and to me there is nothing more frustrating! A piece of furniture with broken drawers is like a drink with a broken straw.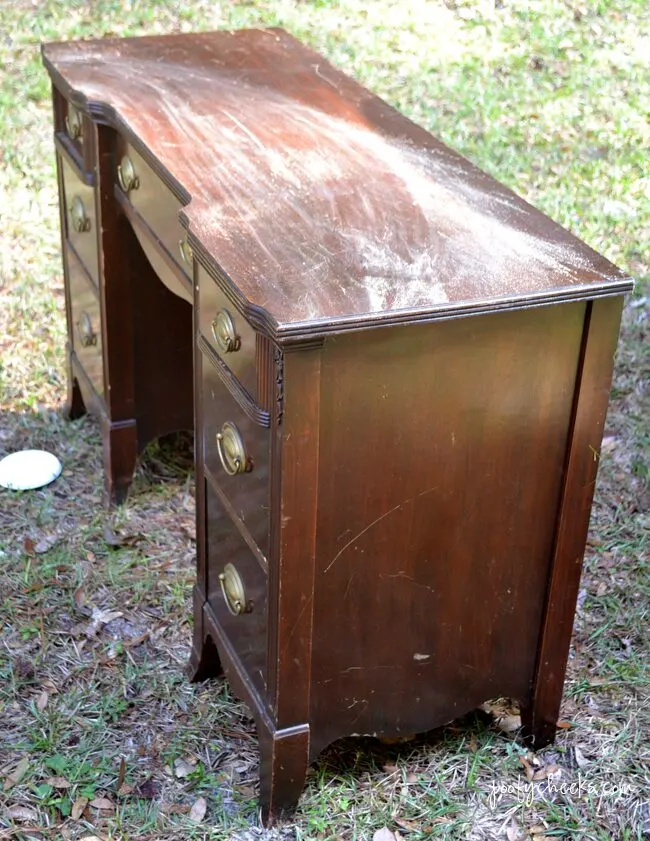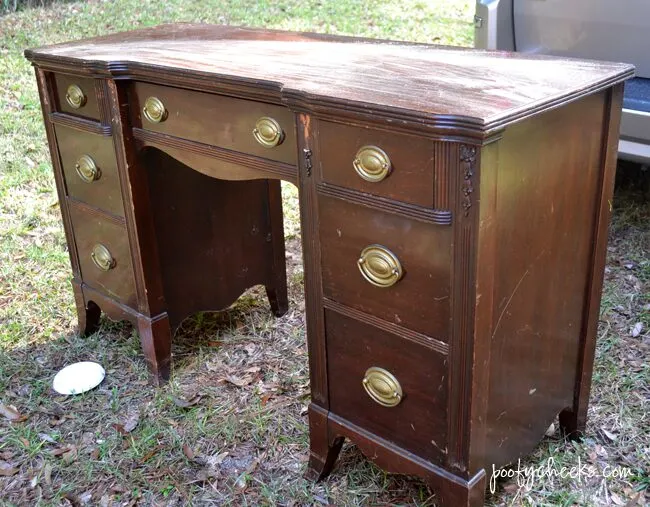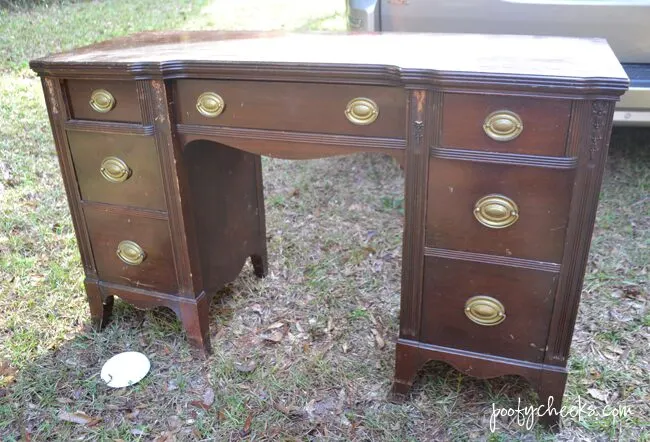 Normally I would be more organized by finishing one part before moving onto another but I went back and fourth with this desk. My husband had to work 3-11pm every day this weekend and with all four kids home I had to work in stages. The weather was super nice last weekend so I was able to let them play in the backyard while I did most of the work on the back porch.
Two Toned Chalk Paint Desk Supplies
(some affiliate links are included to Amazon products I used)
Ryobi Sander
Sandpaper for the sander
220 grit sand paper sheets
Minwax Stain (I used Jacobean)
FolkArt Chalk Paint (I used Parisian Grey)
FolkArt Wax Sealer (I used clear and dark wax)
Phillips head screwdriver
Old cloth (I save my children's stained clothes for these projects)
Painters tape (not required but suggested)
Foam brushes
I started out by removing the drawers and taking off all of the hardware with a Phillips head screwdriver. Then I painted the drawers using chalk paint and a foam brush. I used Folk Art chalk paint in Parisian Gray. The next day I sanded down the top of the desk with my Ryobi hand sander and hand sanded the top edges.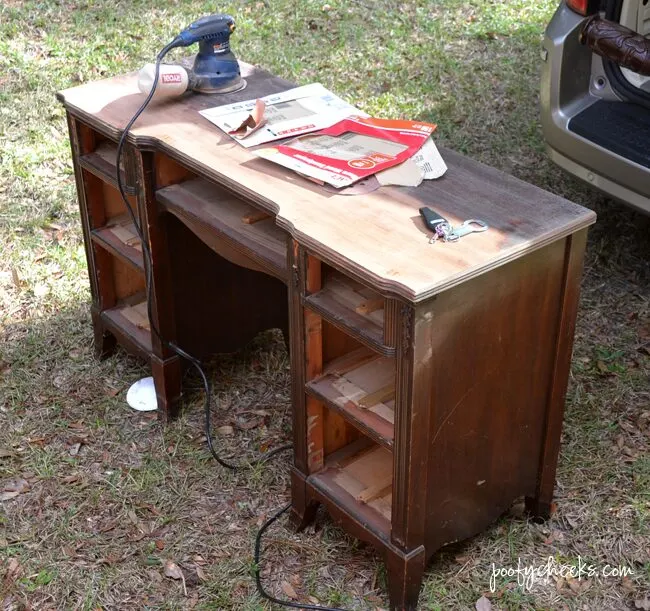 Here is a picture showing the desk before and after the top of the desk was stained. I used Minwax Jacobean for the stain and it turned out absolutely beautiful. To protect the bottom part of the desk (since I had already painted some it) I used painters tape to protect from dripping. If I would have waited to paint the bottom I wouldn't have needed the tape and could have just sanded off any area where it dripped down.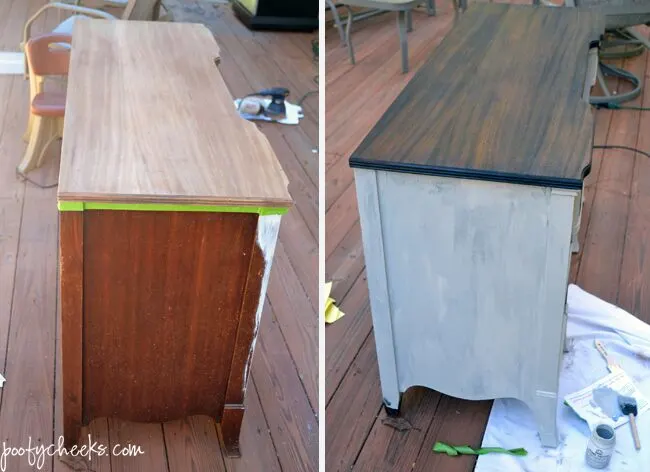 For the body of the desk and the drawers I used three coats of the chalk paint to cover over the wood of the desk. I'm sure if I had gone with a darker paint color or was covering a lighter surface two coats would have done the job. All in all I only used one container of the Folk Art paint for the desk and have a tiny bit leftover if I need it for touchups.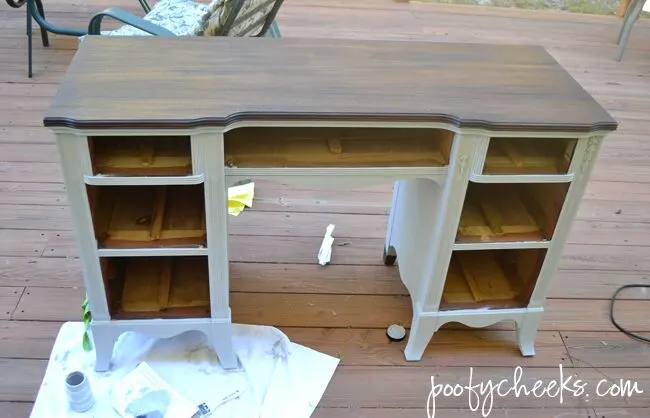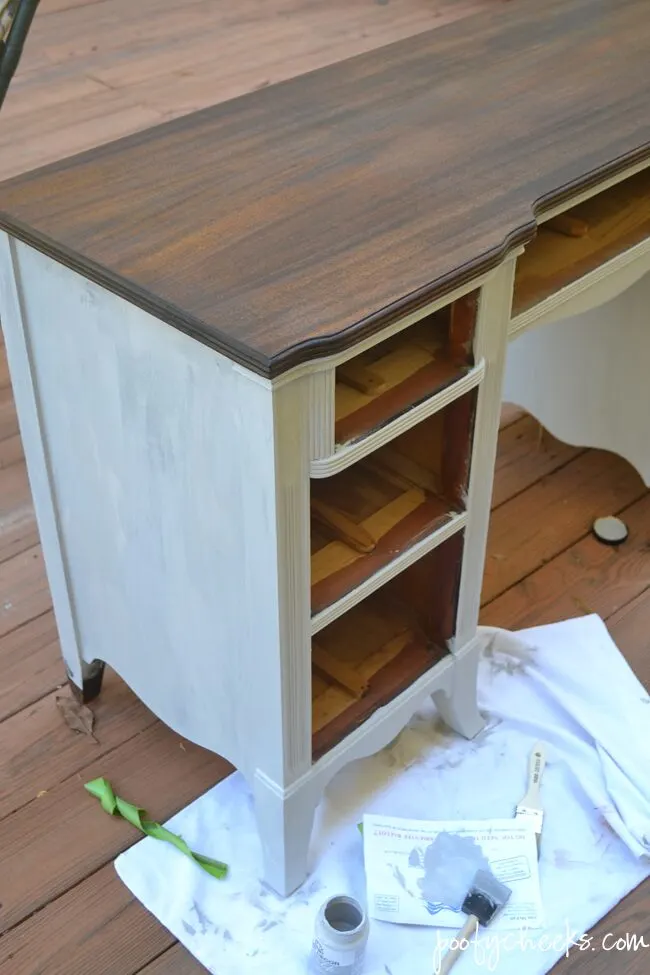 Once I finished painting with the Parisian grey I used clear wax and the dark wax on the bottom of the desk to give it a weathered and worn look. I used pieces of an old baby onesie to rub the wax on and off for the look I wanted. On the drawers I only used the clear wax to give them a bit of contrast.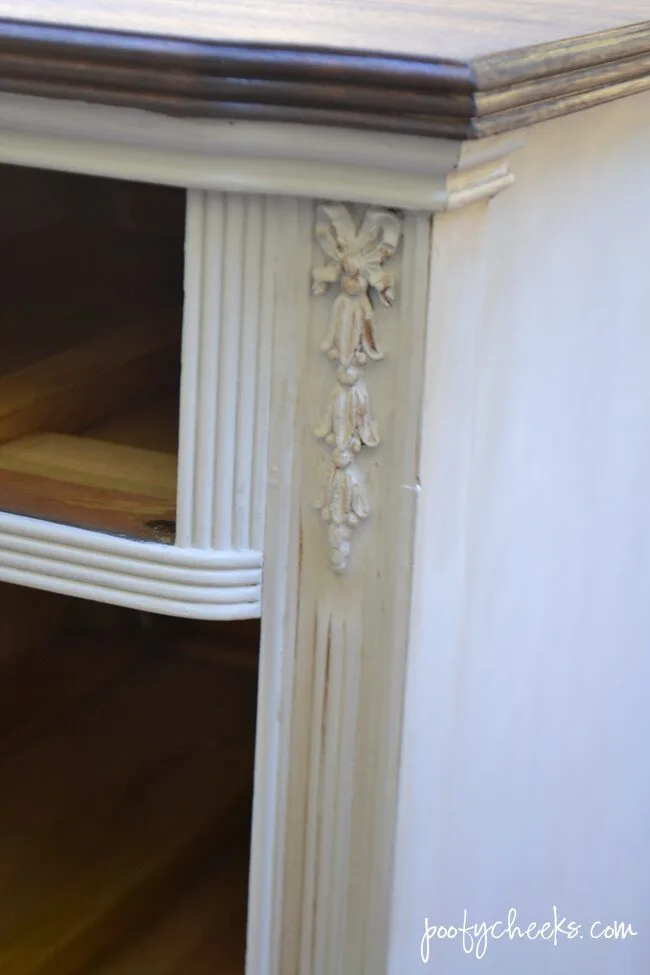 The Finished Two Tone Desk
The desk turned out better than I ever imagined. If it were a dress I would but it on and twirl around day after day. The two tone of the dark desk top and the lighter bottom with the original hardware make it fit right in with our other home decor.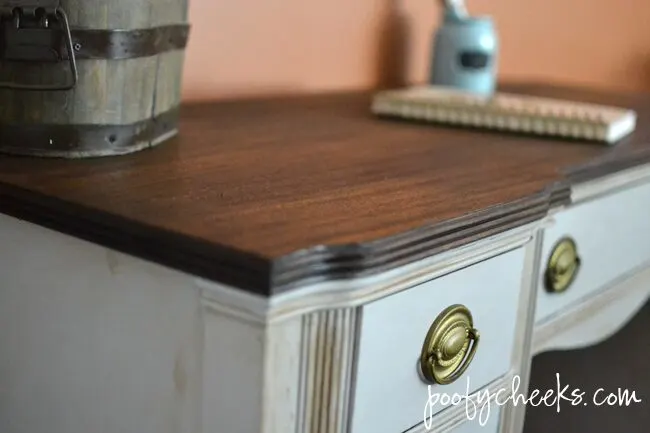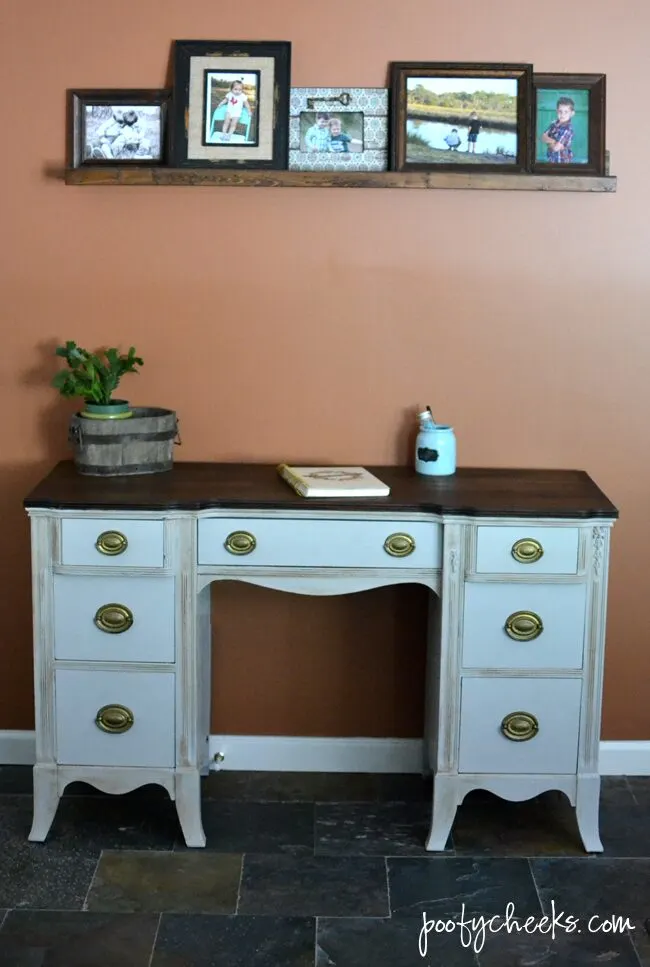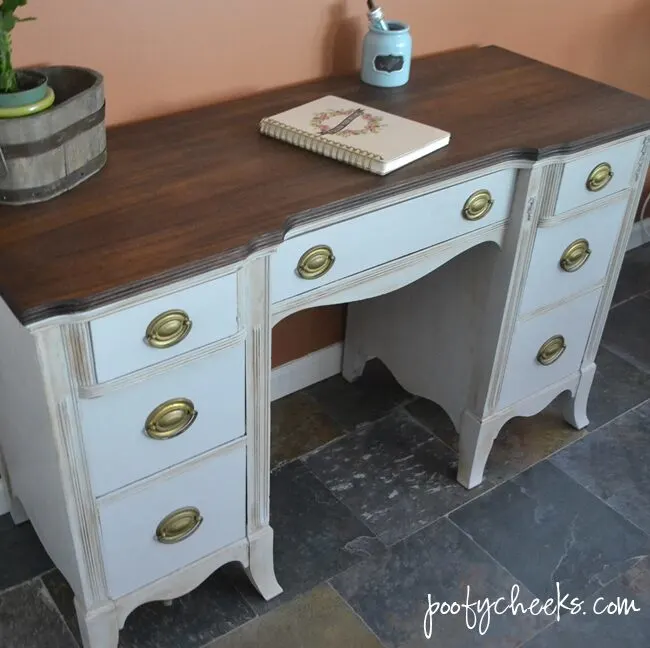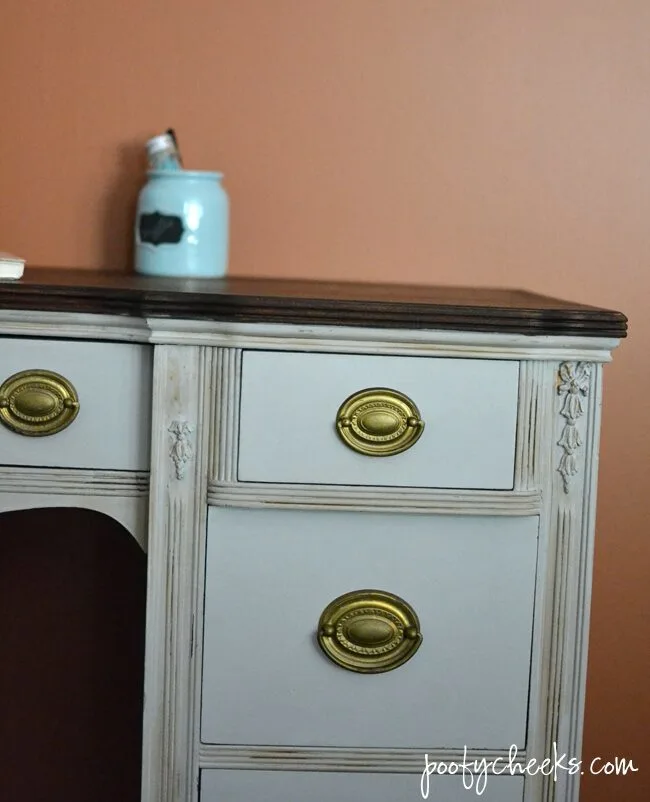 We don't really have room for a desk so this is going to be put underneath our family room TV. In the spot where a chair would go I am going to purchase some sort of basket or bin to hold our blankets. The drawers are the perfect size for DVDs and game cases. Right now we have a glass desk that was left behind by the homeowners which I HATE. I found out years ago that kids + glass don't go together. There are too many fingerprints left all over plus a glass desk has no storage. I kept it while I needed it but now it is being kicked to the curb!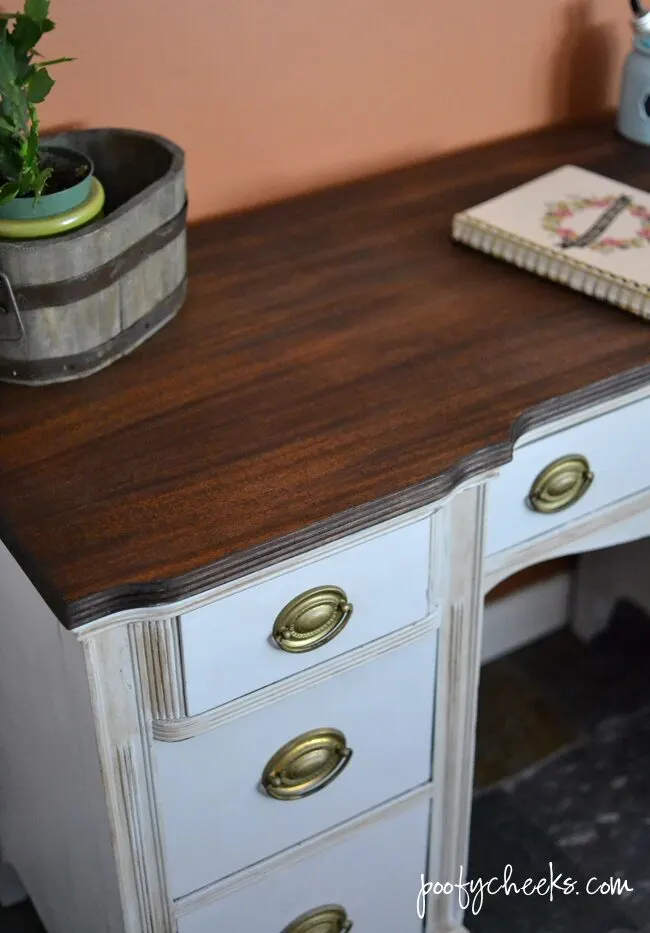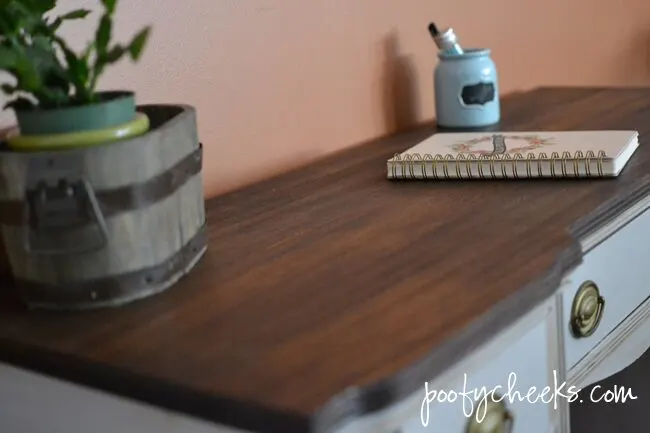 It seems like for each thing I finish on my to-do list I think of two more things to add. I want to build a sofa table to set frames on in our downstairs living room, a bar for Mike's man room and redo a shelf I bought at an antique extravaganza this past weekend.
You May Also Like –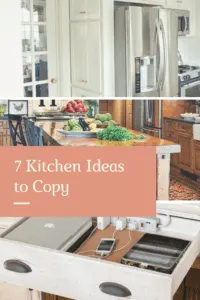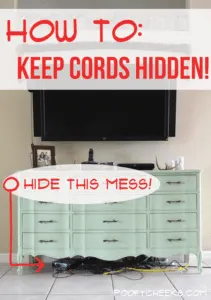 Enjoy,


Check out the Poofy Cheeks Blog Pinterest Board for other craft and recipe ideas!
Follow Poofy Cheeks's board Poofy Cheeks Blog on Pinterest.