Today I have an easy baby leg warmer tutorial for you. When I was pregnant with Delilah I made a few pair of leg warmers and I love how cute they are on her. Now that she is crawling and we have all tile floors I put them on her a lot.
They protect her little knees better than a thin pair of pants and keep her legs warm from the cold tile. With Halloween right around the corner, I wanted to make her some to match the Halloween onesies I'm making for her.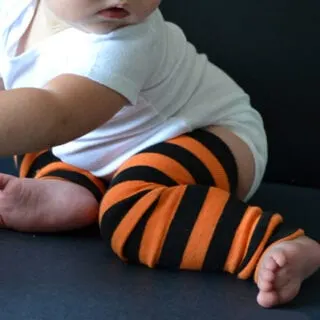 Baby Leg Warmers Sewing Tutorial
Turn adult socks into baby leg warmers.
Materials
Women's knee high socks
Coordinating thread
Tools
Rotary cutter or scissors
Sewing Pins
Sewing Machine
Instructions
1. Use your rotary cutter or scissors and make three cuts – one right before the ankle and heal (before where the sock curves), one after the ankle and heal curve, and one right before the toes.

2. Discard the ankle and toe parts of the sock and should be left with two long and two short pieces.

3. Take the two short pieces of the sock and fold them in so that the two wrong sides are touching and the raw edges are aligned. They will become the bottom cuffs.

4. Then take the long piece and sandwich it in between a folded short peice so the raw edges of the long part and the short, folded piece are aligned. (See image below)

5. Pin ends all the way around.

6. Take the baby legs to your sewing machine and sew along the raw edges. (Make sure not to sew the end shut, sew around the edges)

7. Remove the pins and fold the short edge down to reveal your finished pair of leg warmers.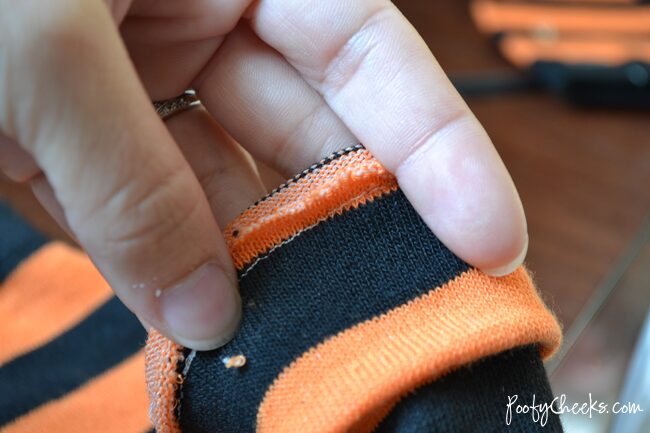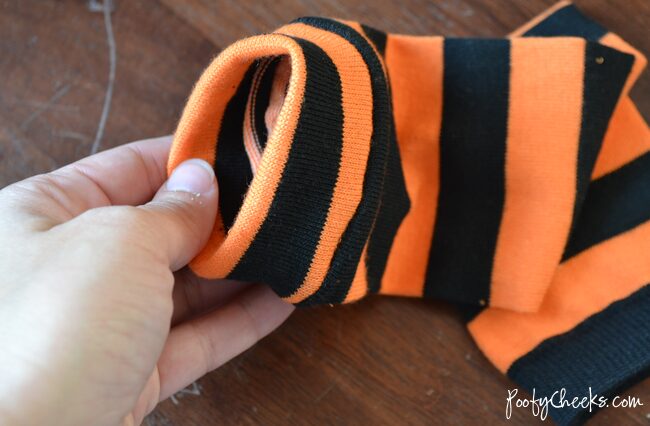 I have a few more pairs of leg warmers to sew, but doesn't she look so cute in her girl ghost onesie and leg warmers?