---
In an effort to improve our shops for holiday sales I am showing you how to make a QR code sticker with Cricut Print and Cut. I will explain all the ways you can use QR codes for your business, how to generate a QR code and how to create a custom QR code sticker for your small business.
I first started using QR codes for my small business when I was selling vinyl labels. I needed a way to share the application instructions with the customer so I used a QR code that sent them to a video tutorial. I used to be nervous that some of my customers wouldn't understand how to use QR codes, but after the pandemic many people became familiar with them since it was a way to share things digitally.
10 Ways to Use a QR code for your Small Business
As I was preparing to write this tutorial my husband and I were brainstorming all the different ways you can use QR codes for your small business. Creating a QR code to make QR code stickers is an amazing small business tool. The possibilities are nearly endless in the digital world we are living in.
Direct customer to a social media page
Direct customer to a landing page to sign up for your email list
Share a coupon code (on ETSY you can setup a sale and share via a URL – great way to try to get a repeat sale)
Ask the customer for their feedback
Direct to an instructional video or video of you creating product
Direct to a customer survey
Direct to a specific blog post, website or social media post
Share an image
Share contact information
Ask customers to sign up for SMS text notifications from your shop
If you have other ideas on how to use QR codes for your small business please share in the comments!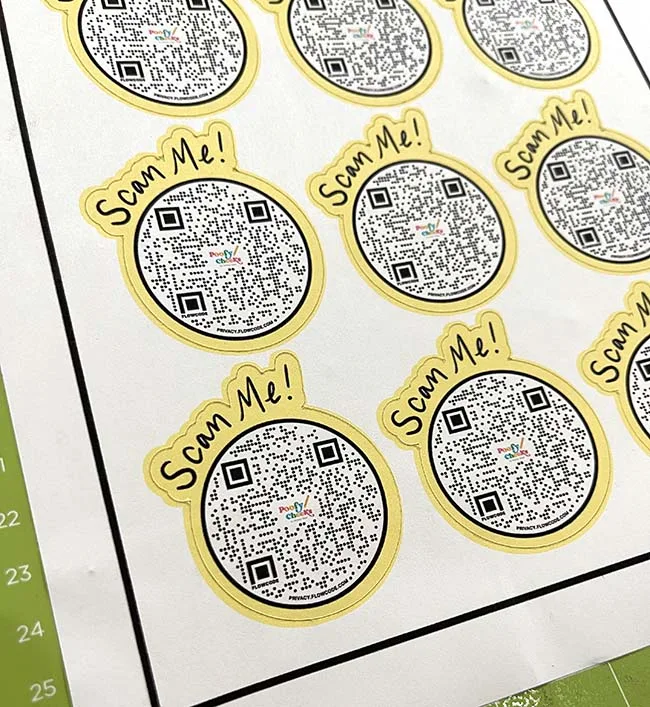 How to Create Custom QR codes
You can go to Google and type in QR code generator to find many sites that will help you create a custom QR code. I personally use Flowcode to generate free QR codes. They easily walk you through how to create your code and you can add some personalization.
Below is a screenshot of the Flowcode site. You can have your QR code direct the customer to many different destinations from a website to a YouTube video. In order to download the .PNG you will have to create an account, but then you can go back login and see the analytics on your QR code. It shows how many people scan your QR code and when they scanned it.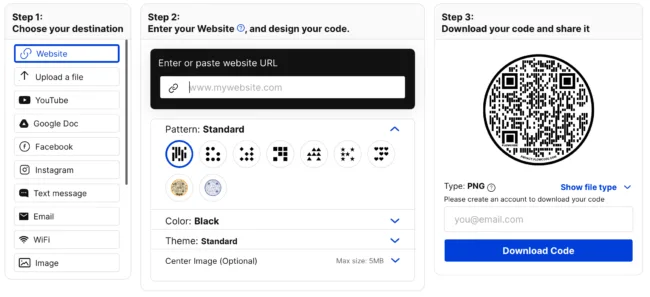 Want to test it out? Point your phone camera at the QR code below!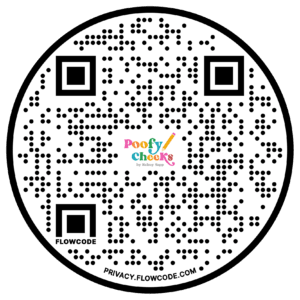 How to Create a QR Code Sticker in Cricut Design Space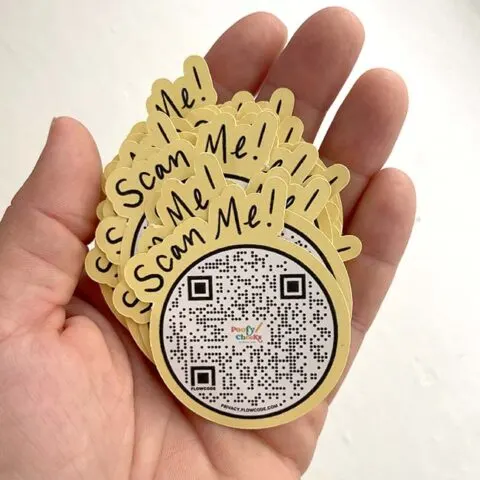 QR Code Stickers with Cricut
Create a custom QR code for your small business using Cricut.
Instructions
Open Cricut Design Space, start a new project and upload your QR code.
Resize the QR code image to be no smaller than 2cmx2cm.
Add call to action text, decorate around your QR code or customize the sticker however you like.
Attach your QR code and any other images together. Apply an offset and then flatten the entire sticker.
Duplicate the design to create mulitple stickers.
Click 'Make It' and check the sizing and layout. If needed press 'cancel' and adjust sizing. I adjusted multiple times to fit the maximum amount of stickers per sheet.
Follow the prompts on screen to print and then cut your stickers.
QR Code Sticker Video Tutorial
QR Code Sticker – BAM!
The stickers turned out perfectly. They look great on our packages and in a few weeks I'll follow up on the analytics.
If you don't already have Cricut Access, sign up to access even more designs to customize your stickers.
Mix things up by using Cricut Clear Sticker Paper or add QR code designs to your actual products using printable vinyl or iron-on.