---
Hey there mug maker! We are putting Cricut Infusible Ink to the test and using it to add a design to a ceramic coffee mug. The results of the infusible ink coffee mug are pretty stunning, if I do say so myself!
Supplies Needed for Infusible Ink Coffee Mug
Making infusible ink marker, HTV or sublimation mugs? I have a mug making supply list.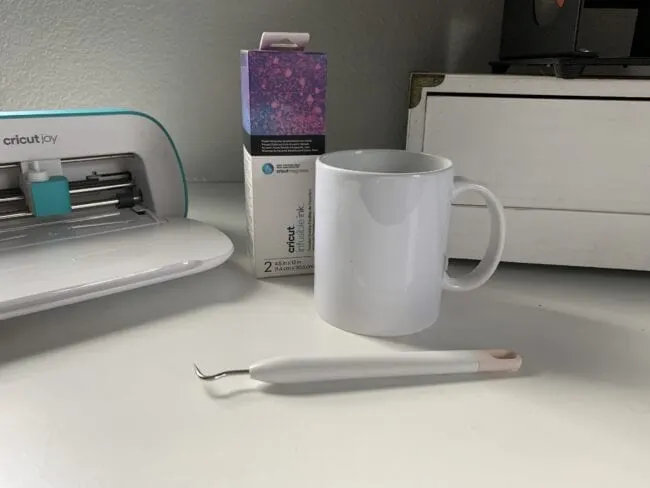 What is Cricut Infusible Ink?
The best way I can explain infusible ink is a full printed sheet of sublimation paper on a sticky carrier paper. Think of it as a combination of sublimation paper and HTV. Infusible ink is dye that infuses into specific materials. Cricut explains the material as,
Ink heat transfers [that] are permanently infused into your base material, they last as long as the project itself. No flaking, no peeling, no cracking, and no wrinkling – ever!

Cricut.com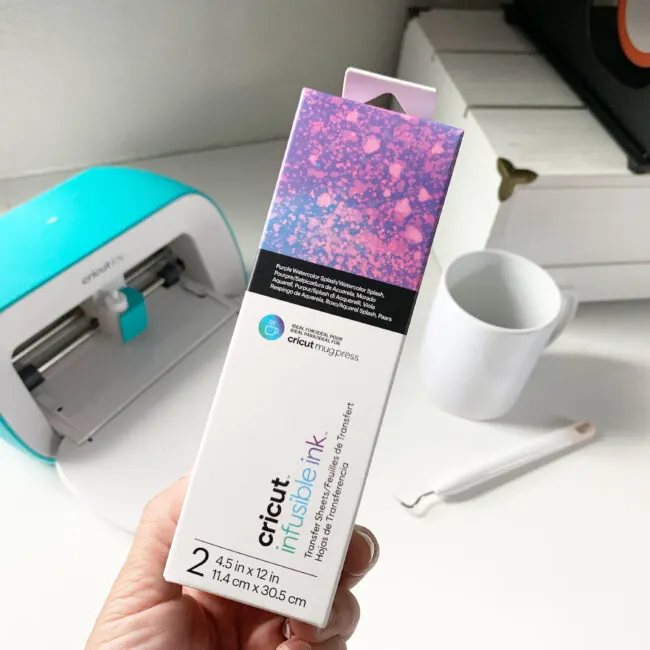 Infusible Ink versus Sublimation Transfers
Infusible ink and sublimation transfers are very similiar in that they are applied in the same ways. They both need the same heat, pressure and times to be applied to the approved materials. However infusible ink must be cut using a cutting machine whereas you can print your own sublimation transfers (with a sublimation printer) or purchase printed transfers. With printed transfers you don't need to invest in a cutting machine or sublimation printer.
I wrote an entire post about sublimation printing at home if it is something you are interested in learning more about.
Price-wise printed sublimation transfers can be found on sites like ETSY for a few dollars a peice. Infusible ink packs range in sheet size and price. Right now Cricut is having a sale on their infusible ink so if you need some get it now!
While infusible ink comes in an array of solid colors and prints, you're limited to making designs using those. Sublimation transfers can be printed with text, custom designs and cliparts (even photos) and any color combination.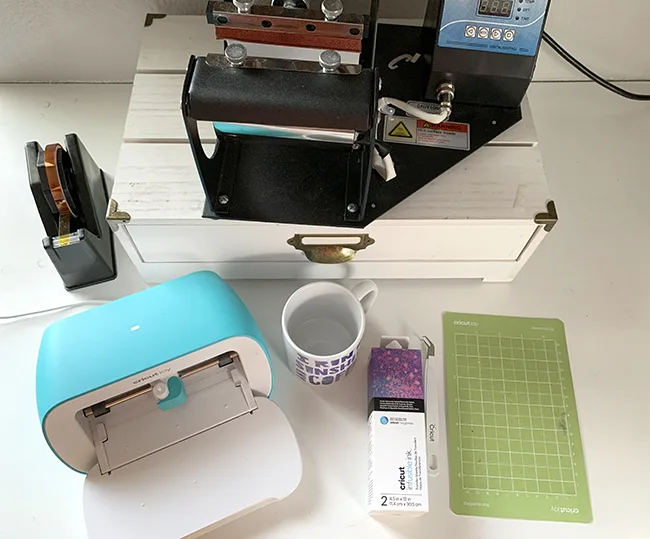 Cricut Infusible Ink Mug Video Tutorial
In this video I'm explaining how to cut Cricut infusible ink and apply it to a ceramic mug using a mug press. I used my Cricut Joy and show how to take the Cricut mug design and resize and rework it for a single or double sided mug.
Mug Press Settings for Infusible Ink Coffee Mug
I set my mug press to 375 degrees and press the infusible ink designs it at medium pressure for 3-4 minutes. I pressed this mug for just over 3 minutes and it came out perfectly!
HOT! BE CAREFUL!
375 degrees it what we set our ovens to so please be very careful when using a mug press and keep children away. I use a pot holder to remove my mug from the heat press and then a tweezer tool to remove the design. It usually takes 10+ minutes before the mug is cool enough to handle.
Have More Questions?
If there are any Infusible Ink Coffee mug questions you have please leave them in the comments below so I can answer them as soon as possible. I want your mug making experience to be a positive one.
Don't Forget to Share Your Mugs – #poofycheeksfeatures