I've been working on a big undertaking creating cut files for each of the 50 US States. I organized each state in it's own folder so they are easy to find once you download and unzip the folder.
In 2014, I received a message to my ETSY shop from HGTV magazine asking if they could feature my hometown state onesies in an upcoming issue. Of course I said YES! and sent them the onesie right away. That summer I got to purchase the issue with my onesie in it. It was one of my proud moments as a working momma balancing four kids and a business.
US State Cut File FAQs
What can I make with these cut files?
Cut these files onto any medium you prefer. The things you can make with a Cricut or Silhouette are endless. Make mugs, cups, shirts, onesies, tote bags or basically whatever your heart desires. I have put together a list of adhesive and iron-on blanks and 35 ways to use adhesive vinyl to give you more ideas. My Vinyl Direct has a whole bunch of vinyl blanks you will fall in love with.
Where can I buy vinyl?
I buy from a handful of different places to get my hands on new products when they come out. I love Happy Crafters because the girls are always so willing to help and they have quick processing time. Waiting around for items to ship is the worst! I also like to purchase from My Vinyl Directand Expressions Vinyl. Both of these places offer the typical colors and types of vinyls and both have an array of fun prints staying on top of new trends.
Can I sell items I make using Poofy Cheeks cut files?
the cut file is for personal and small business commercial use. You may NOT sell the digital files themselves but you may sell items you create using the cut file designs. Please tag us with your creations on IG (@poofycheeksblog) and we may share on our own feed!

**You may not use this design for sites such as Amazon, Café Press, Zazzle etc.
Do I have to I input my name and email each time I download a cut file?
Yes! This is how we gauge popularity of our cut files and track the number of times they are downloaded.
More Free Cut Files
Go to the Free Cut File Library to find more cut files you may want to download. We currently have over 100 ready for you to use.
How to Say Thanks for the Freebie
This bundle took up quite a bit of time. I would love to continue to share bundles like this but in order to do so I need your help. Pin the image below and help us spread the word about the free cut files and keep more free cut files comin'.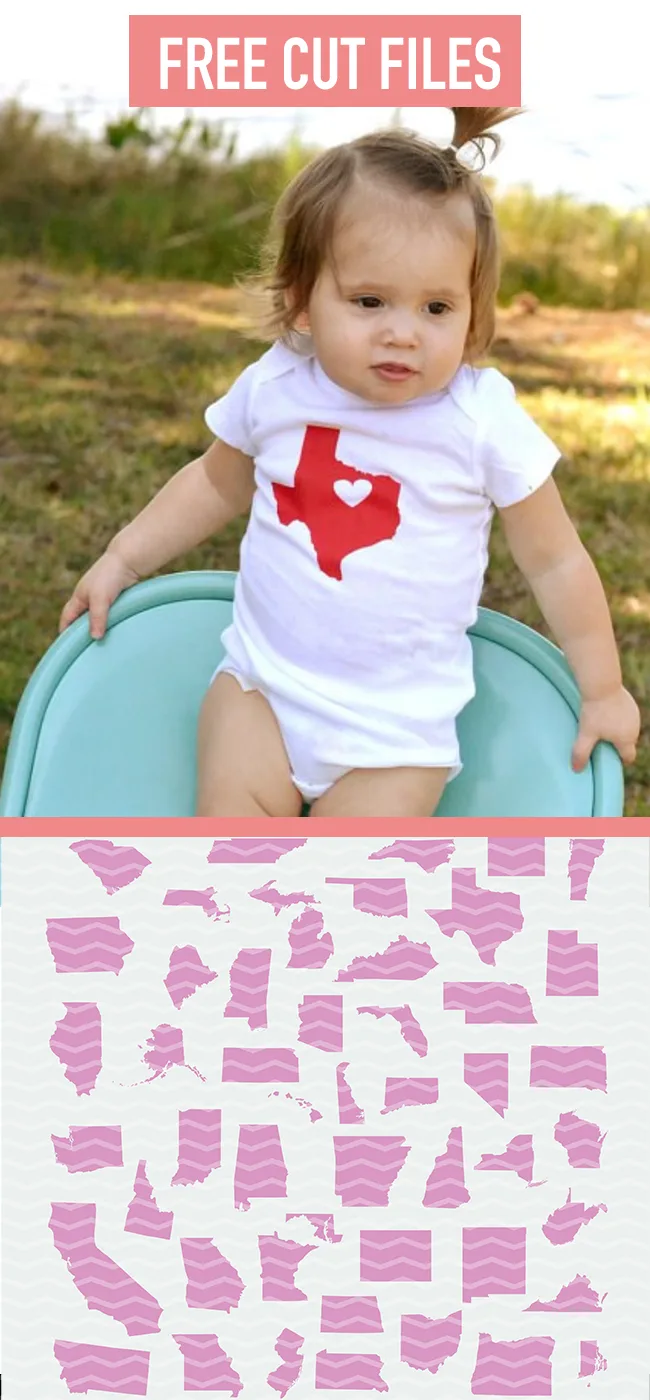 Download the 50 US State Cut Files
Scroll down and enter your name and email to receive the cut files to your email inbox. You will have to unzip the folder to get access to the SVG, PNG and DXF file formats. I have a YouTube video showing how to unzip the folder if you are using Windows.