Good Afternoon friends! Everyone seems to be loving the adhesive and iron on vinyl posts and questions keep rolling into my inbox. I have received quite a few questions asking where I buy blanks and what type of items can have vinyl applied to them so I decided to put a post together with all my resources.
If you missed the other vinyl related posts I've written lately you can find the following posts-
*Cheapest Places to Buy Cricut and Silhouette Supplies
*Vinyl & Heat Press Rolling Storage
*Tips, Advice and Troubleshooting Heat Transfer Vinyl
*Most Used Hand Drawn and Cursive Fonts
I will show pictures of the blanks and examples if I have pictures of how I have used them. All of the blanks will have links to the site where I purchased them. I buy most from My Vinyl Direct, Amazon or local stores.

IRON ON (HEAT TRANSFER) VINYL BLANKS-
Men's Gildan Shirts – I love the quality and thickness of these tshirts! Gildan is usually the brand I use for adult shirts sold through my ETSY shop.

Muslin drawstring bags are great for party favors –
Cotton tote bags – So many possibilities. Here is one I made for Halloween trick-or-treat bags last year.
Hats –
RTIC 30oz Tumbler or Yeti Rambler Tumbler
**The top set of YETI cups have black glitter vinyl which looks 100x better in person!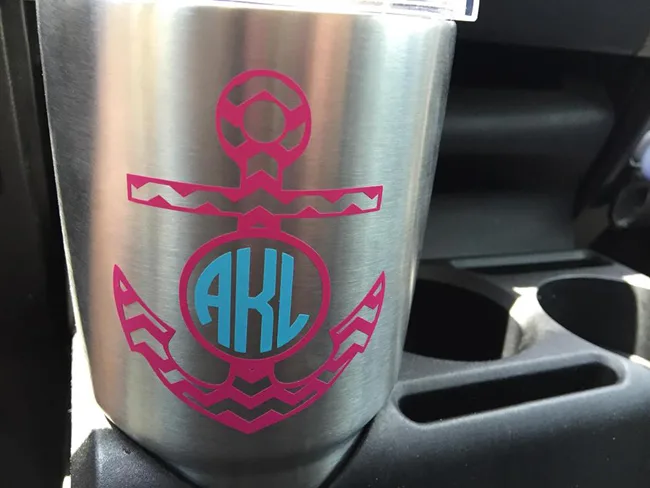 Chalkboards – Not so great at chalk art? Use vinyl!
Glass or Plastic Fillable Ornaments (glass works too but requires more caution when shipping to customers)
Acrylic Tumblers – These come in all sorts of shapes, sizes and colors making them perfect for lots of different events! Click on each tumbler style to be taken to their page on Amazon.
Wooden Plaques, Shapes and Boards – you can use wood to make SO many things. A few things I have made are hair bow holders, art display boards,
Wood Plaques (lots of shapes and sizes)