Using Printed Heat Transfer Vinyl.
Hey I know summer is over but excuse me for a minute because mermaids are in year round. My five year old daughter Delilah requested a mermaid shirt for our cruise vacation last month. Now she is requesting a mermaid birthday party. Mermaids are so magical and as a mom who grew up watching The Little Mermaid on repeat I love her mermaid phase.
I made Delilah a mermaid tale shirt with the words 'Mermaid Vibes' underneath. I'm sharing that cut file with you today so you can use it too. Stand by because as we jump into birthday party planning I'll have more mermaid cut files and projects to share.
Mermaid Shirt using Printed Heat Transfer Vinyl Shirt
After finding the perfect printed HTV to use for a mermaid tale I couldn't resist using it for Delilah's shirt. I paired the My Vinyl Direct Mermaid print HTV with easy mask, aqua glitter and electric purple HTV for her shirt.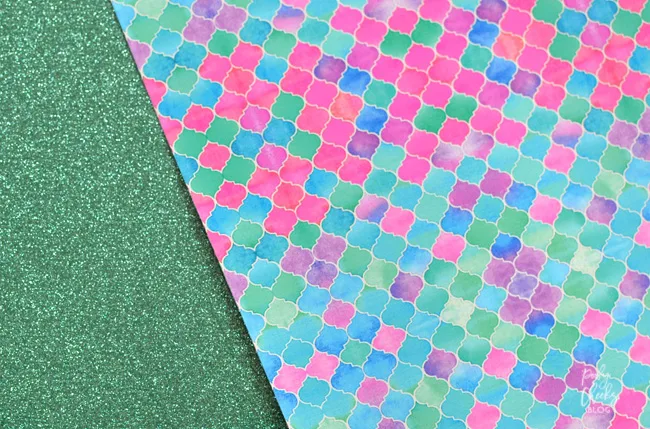 How to Use Printed HTV
Using printed HTV is a bit different than normal HTV which comes on the clear sticky carrier paper. Normally when cutting HTV you have to flip the design so it is backwards before cutting and you put the HTV wrong side up on your mat.
NOT WITH PRINTED HTV. With printed HTV you don't flip the design and you cut it with the right side up on the mat. After the design is cut and weeded you manually apply easy mask over top which is like applying transfer tape to adhesive vinyl.
The cut file is going to come with two shapes which you will cut and layer on top of one another. I used the solid part of the tale cut file to cut the mermaid printed HTV.

After placing the HTV right side up on my mat I cut it using the Heat Transfer Vinyl – Smooth setting with my Silhouette Cameo 3. Then I used my weeding hook to weed the excess vinyl off the lightweight paper backing.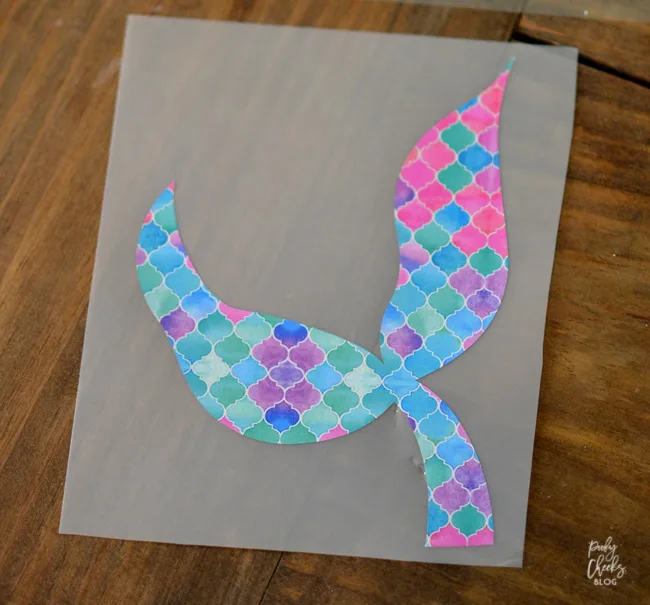 The next step is to manually put the easy mask over the weeded design.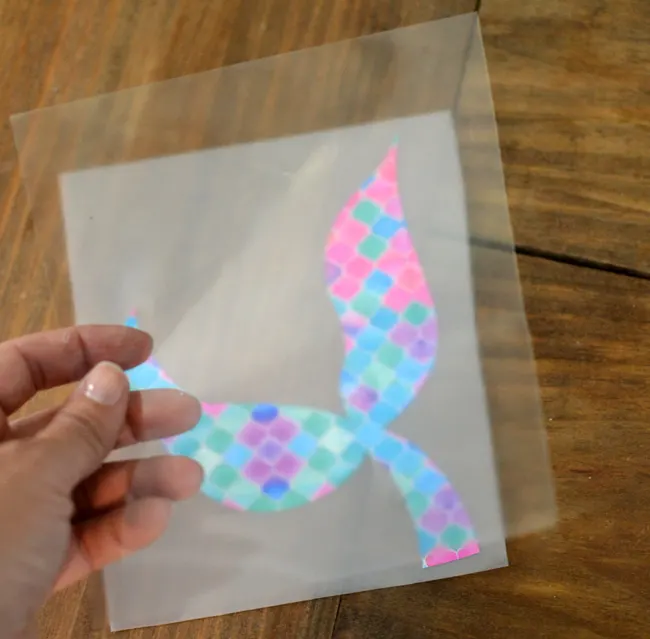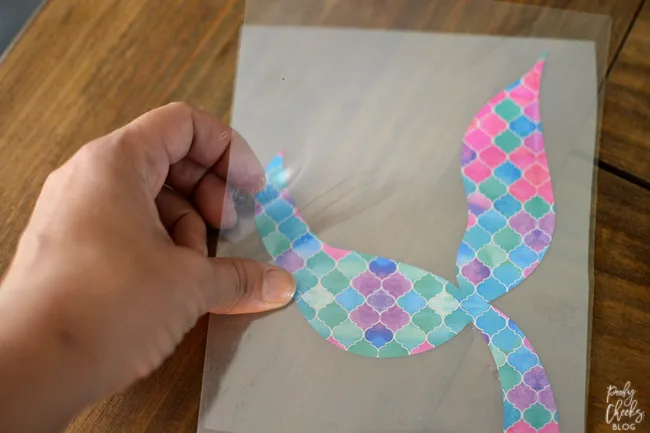 After the easy mask is applied and smoothed out flip it over and peel off the lightweight paper backing.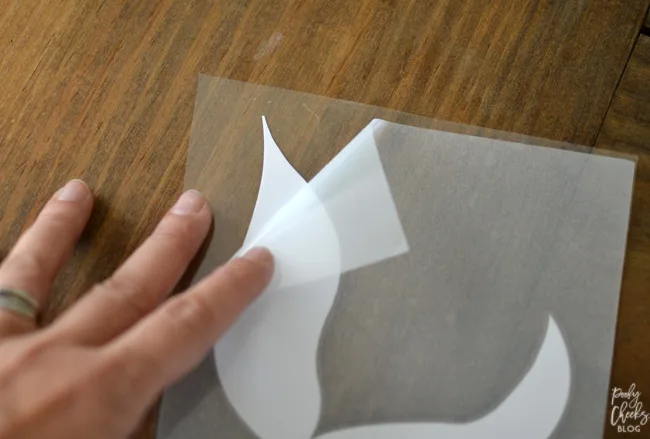 Now it's ready to be applied to your shirt using a heat press, easy press or home iron.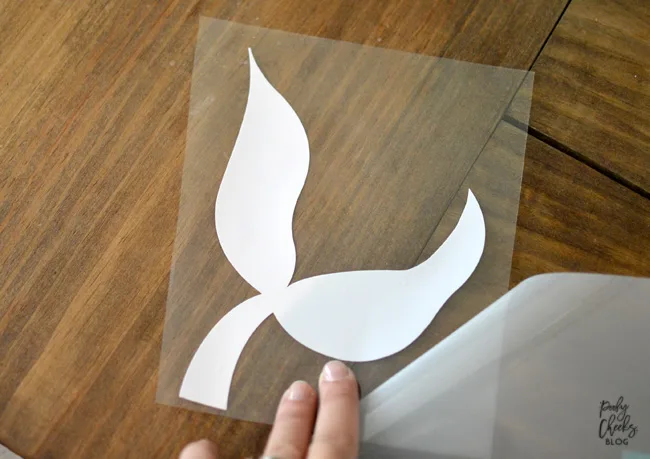 How about this aqua heat transfer vinyl? Isn't it the perfect glittery color to use with a mermaid design? It's even prettier in person.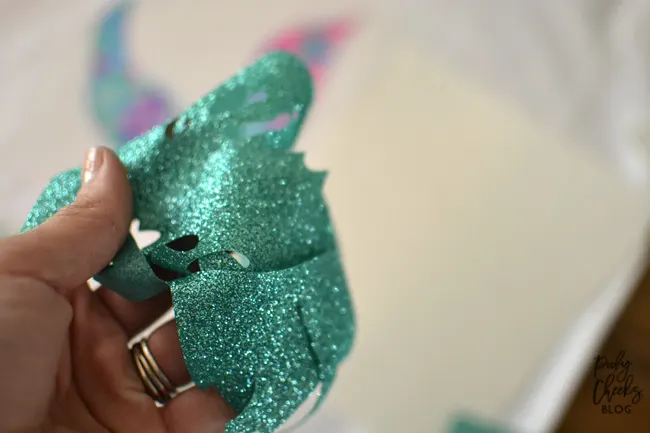 Once I had the printed HTV and glitter HTV applied I cut the second part of the mermaid tale cut file using electric purple HTV. I pressed that over the top of the printed vinyl shape and had a mermaid tale shirt Delilah loved.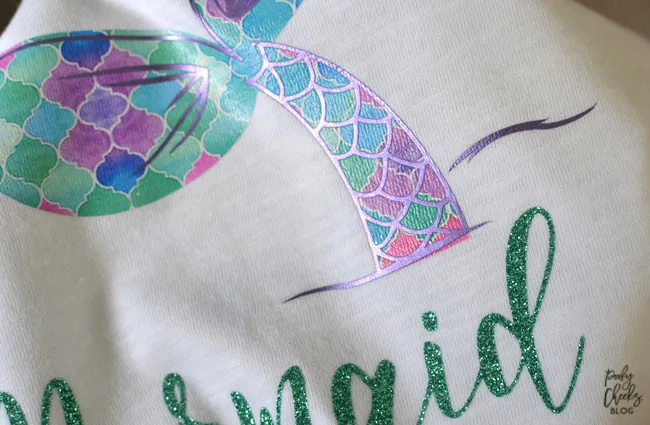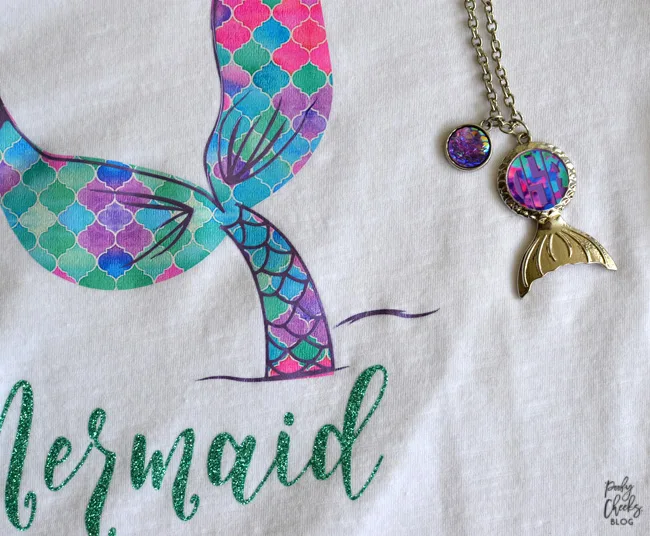 More Printed Heat Transfer Vinyl from MVD
My Vinyl Direct has lots of original printed HTV sheets as well as some pretty amazing glitter sheets. I haven't seen prints like these anywhere else.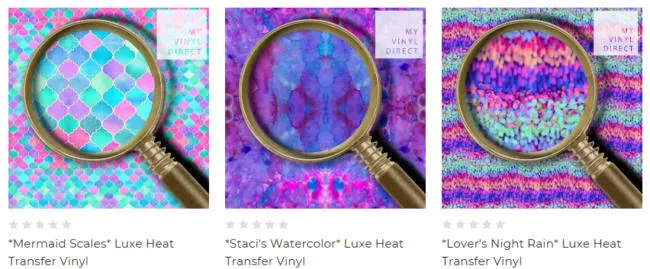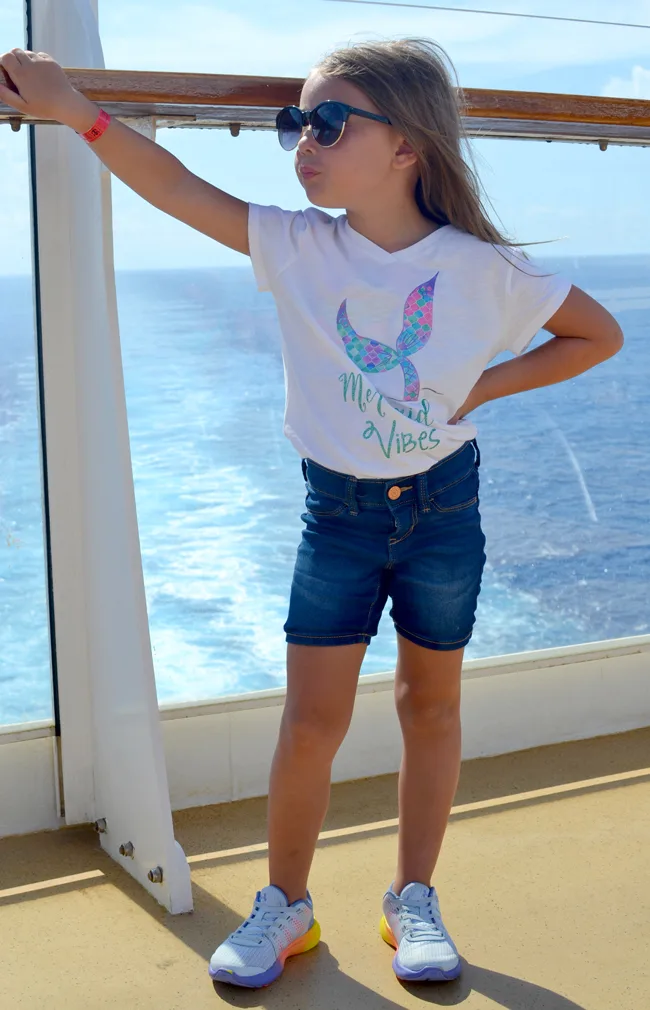 We are going to have our hands full with this girl when she's a teenager. Do you see this pose!? She loved sporting her Mermaid Vibes tshirt around the cruise boat. The tshirt was only a couple bucks from Walmart.
Mermaid Tale Cut File FAQs
What can I make with these cut files?
Cut these files onto any medium you prefer and make SO MANY THINGS! Make mugs, cups, shirts, onesies, tote bags or basically whatever your heart desires. I have put together a list of adhesive and iron-on blanks and 35 ways to use adhesive vinyl to give you more ideas. My Vinyl Direct has a whole bunch of vinyl blanks you will fall in love with.
Where do you get your vinyl?
I buy from a handful of different places to get my hands on new products when they come out. I love Happy Crafters because the girls are always so willing to help and they have quick processing time. Waiting around for items to ship is the worst! I also like to purchase from My Vinyl Direct and Expressions Vinyl. Both of these places offer the typical colors and types of vinyls and both have an array of fun prints staying on top of new trends.
Do I have to input my email and name each time I want to download a new freebie from your site?
Yes. The form tracks cut file popularity and how many times cut files are downloaded.
Can I sell items I create with the free cut files?
Yes, the cut file is for personal and commercial use. You may NOT sell the digital files themselves but you may sell items you create using the cut file designs. Please tag us with your creations on IG (@poofycheeksblog) and we may share on our own feed!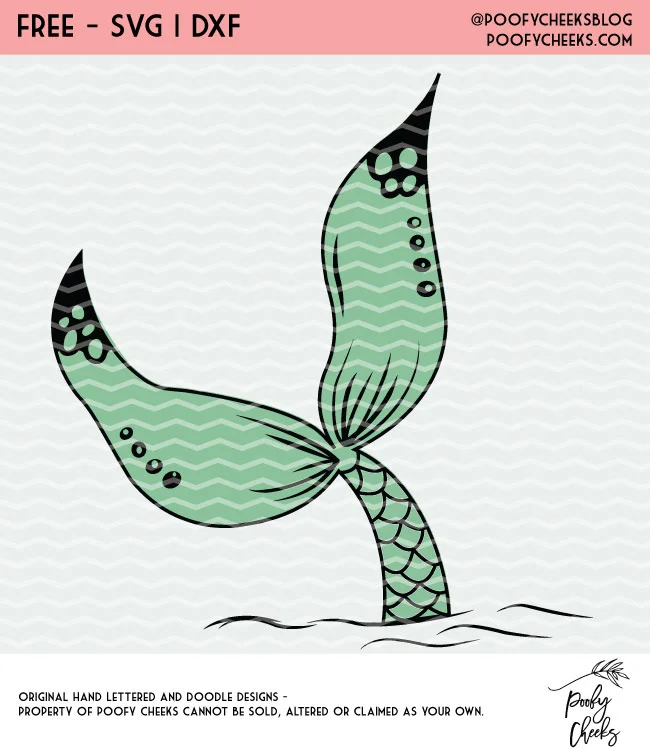 Download the Mermaid Tale Cut File