I'm sharing over 35 ways to use adhesive vinyl. Sometimes I catch myself buying adhesive vinyl because I like the print or color. Then the adhesive vinyl arrives at my doorstep and I'm not sure what to make with it. Oh the struggles of a vinyl hoarder. I decided to roundup all the ways I have used adhesive vinyl in hopes it will inspire you to try applying it to something new!
This post contains affiliate links to products I use and recommend. By making a purchase I may receive a small commission.
Get out your Silhouette or Cricut machine, read up on tips for using adhesive vinyl and let me help you get your creative juices flowing!
Until writing this post I didn't realize just how many surfaces I have applied adhesive vinyl to. I'm pretty impressed with this list and honestly it's inspired me to add a few projects to my ever growing list.
Wondering where I buy my adhesive vinyl without paying an arm and a leg? I mention all of that in the Cheapest Places to Buy Cricut and Silhouette Supplies.
35+ Ways to Use Adhesive Vinyl
Apply Adhesive Vinyl to Plastic
1. Mermaid patterned adhesive vinyl looks like perfection on a plastic wine tumbler.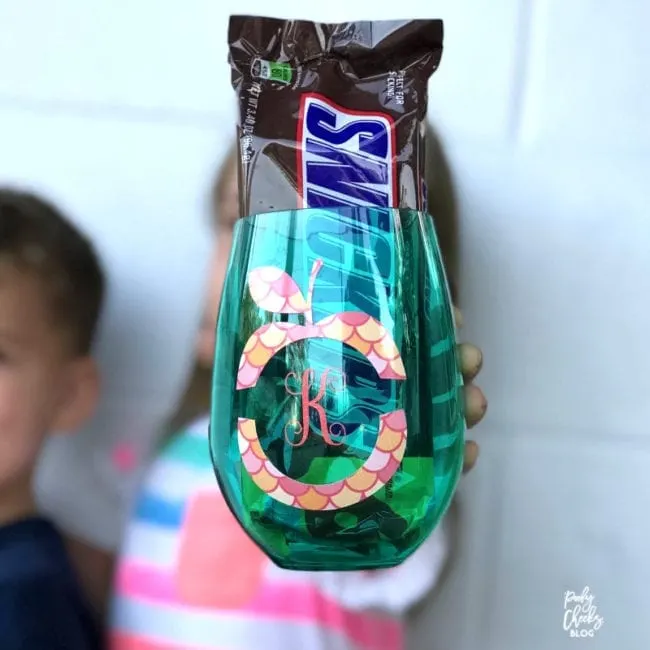 2. Apply adhesive vinyl onto beach spikers.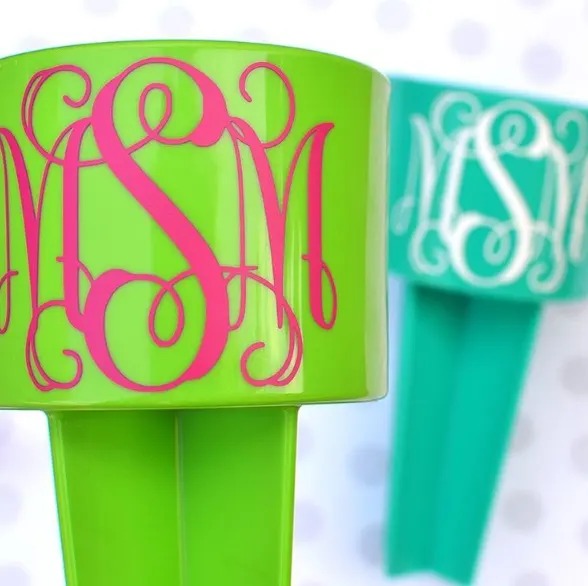 3. We decorated our daughter's play house with adhesive vinyl and put glow in the dark adhesive stars on the ceiling.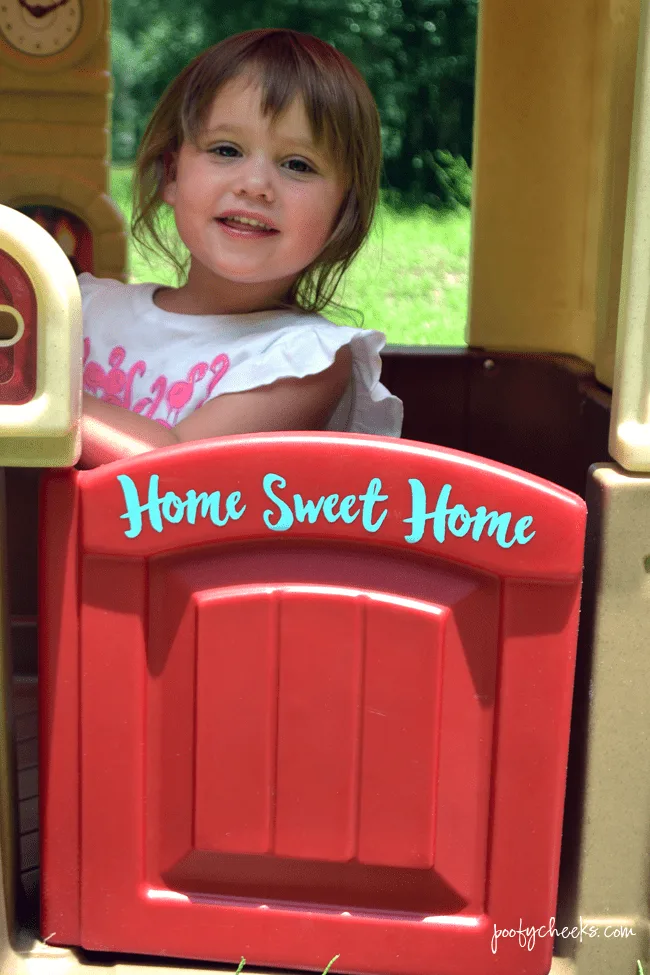 4. Label toy organizing bins with glitter adhesive vinyl. Keep all those little toys in their spot!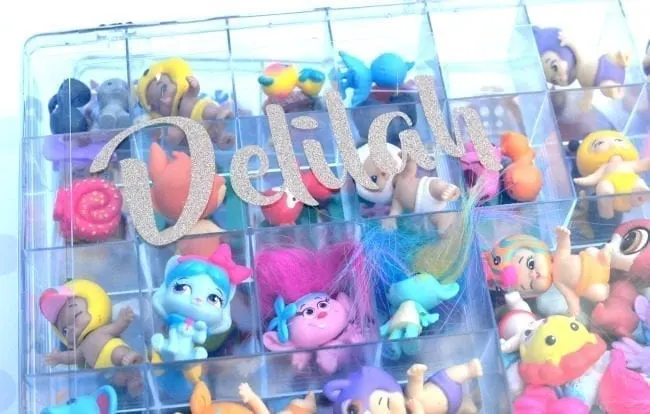 5. Make sure your wipes don't get lost at daycare anymore. Use adhesive vinyl to label the case with your child's name.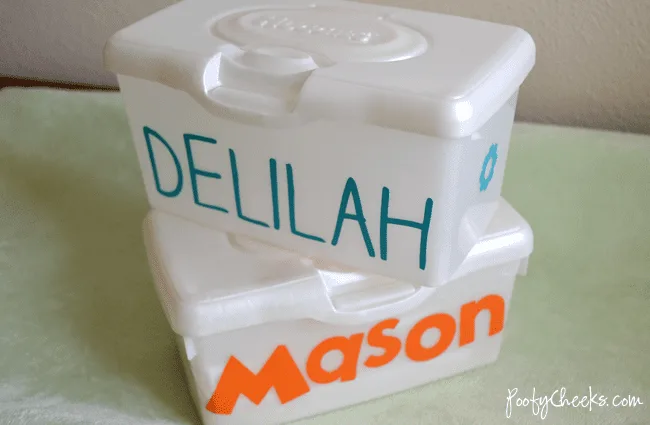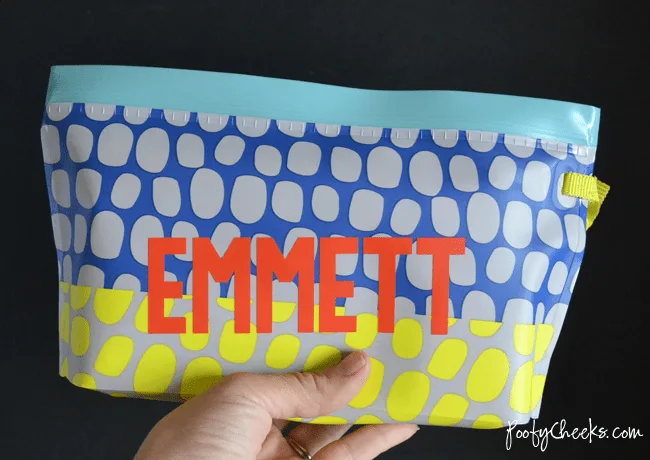 Use Adhesive Vinyl on Glass
6. Label all of your pantry containers with adhesive vinyl words. Grab our free script pantry labels.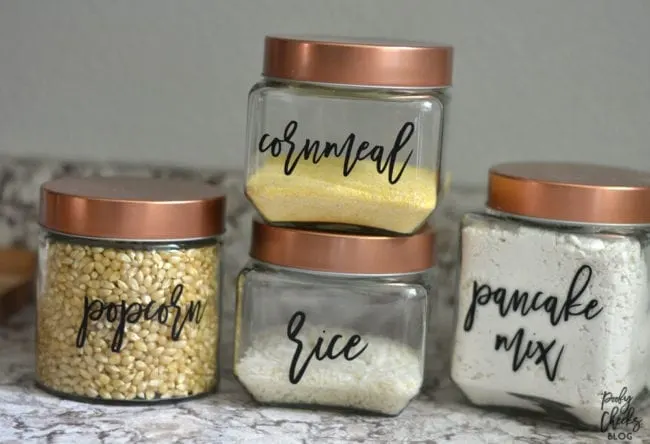 7. Apply adhesive vinyl to glass disc ornaments and decorate them inside and out! These make perfect gifts.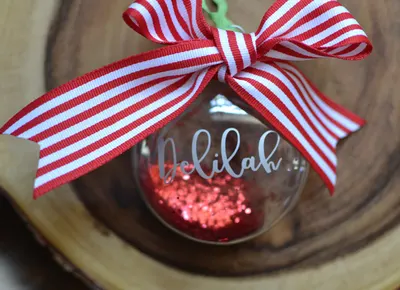 8. Our local Dollar Tree sells plain glass candles ($1) and you can decorate them with adhesive vinyl for any occasion.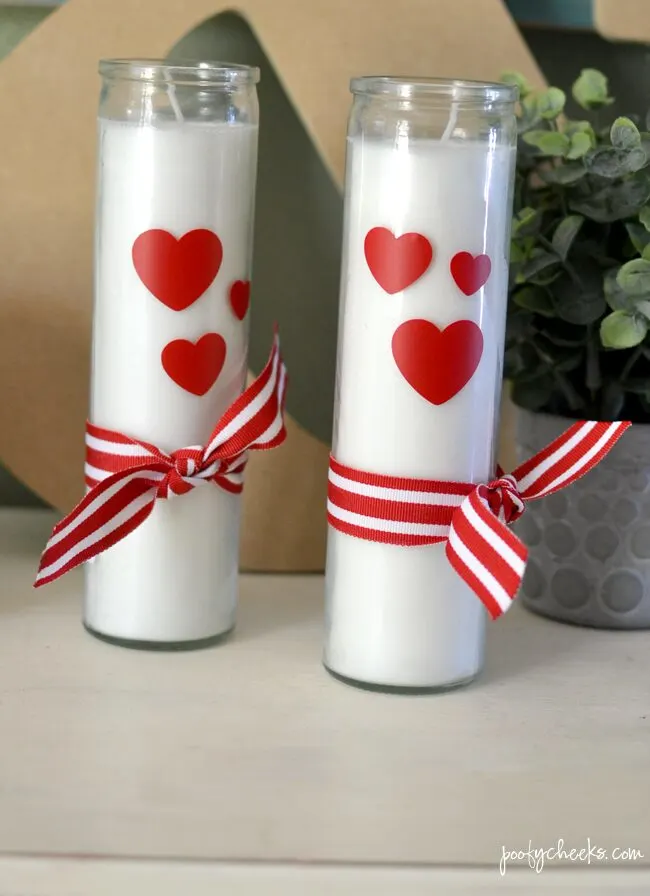 9. Use recycled glass bottles and put letters or words on them for holiday or home décor.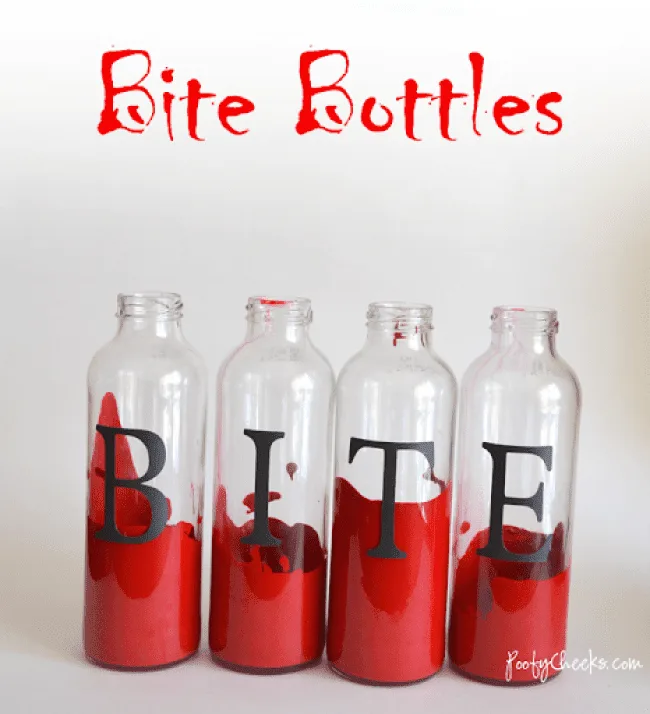 10. Apply adhesive vinyl to both sides of the glass from a picture frame – it makes a perfect wedding gift!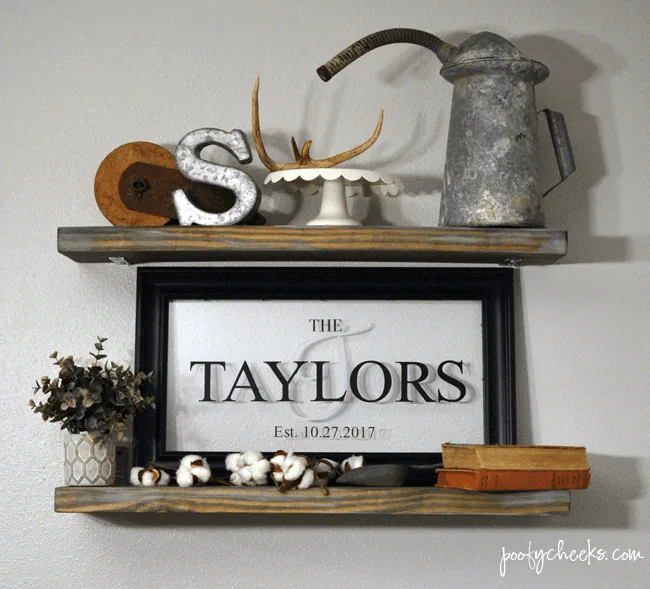 11. Adhesive vinyl makes the perfect car decal.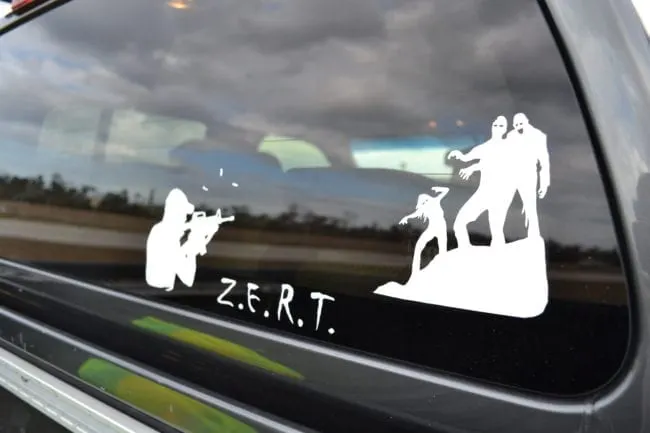 12. Label specialty jars – the Target Dollar Spot has lots of different jars throughout the year.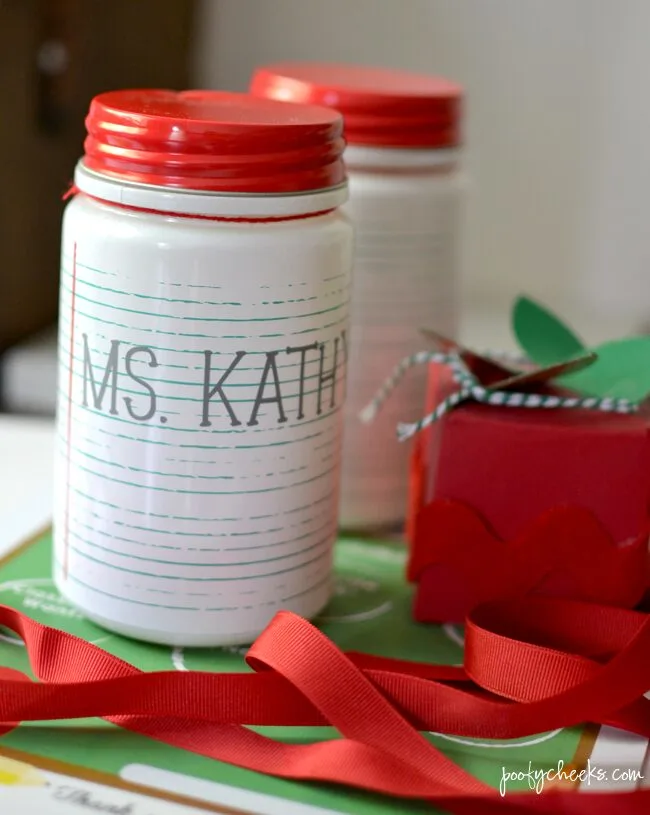 Use Adhesive Vinyl on Drinkware
13. Campfire mugs, coffee mugs and tea cups with adhesive vinyl are an easy DIY.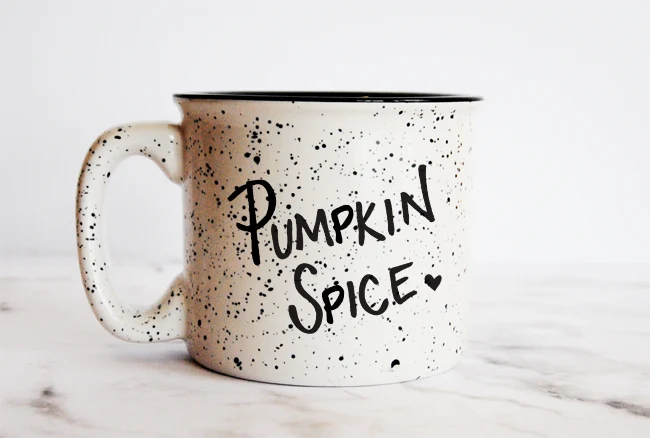 14. Put adhesive vinyl monograms on insulated ramblers. I'm especially loving the insulated double wall stemless wine glass tumblers.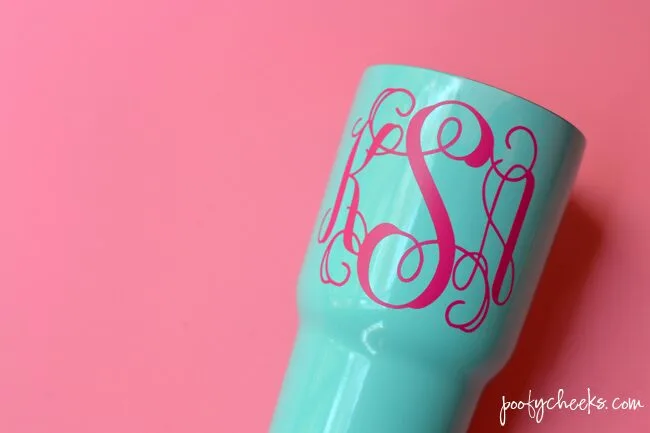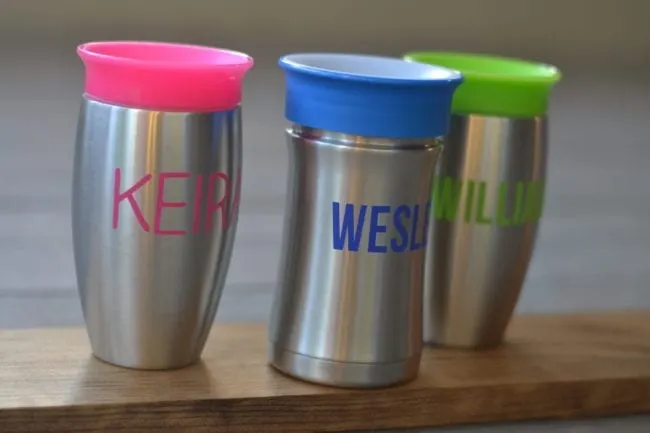 Adhesive Vinyl on Wood
15. Apply adhesive vinyl to wooden shapes and signs to make personalized home décor and front door decorations. I painted, glittered and applied blue glitter vinyl with white vinyl snowflakes to make this for our front door.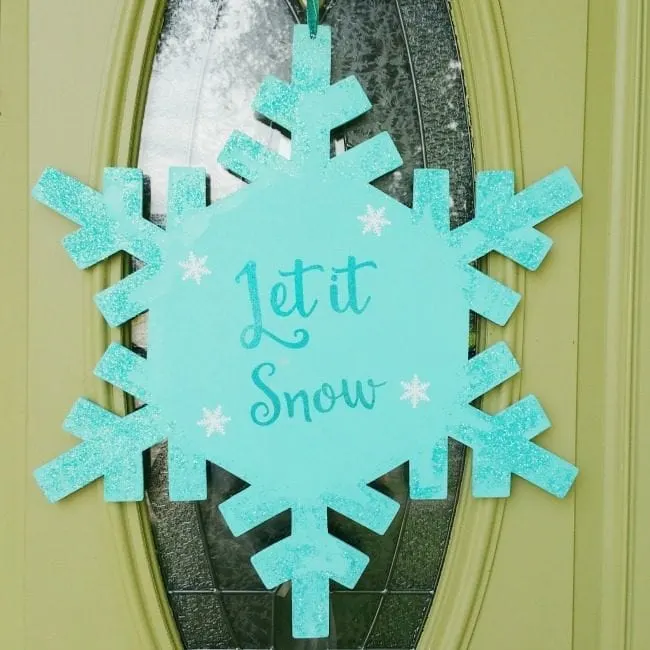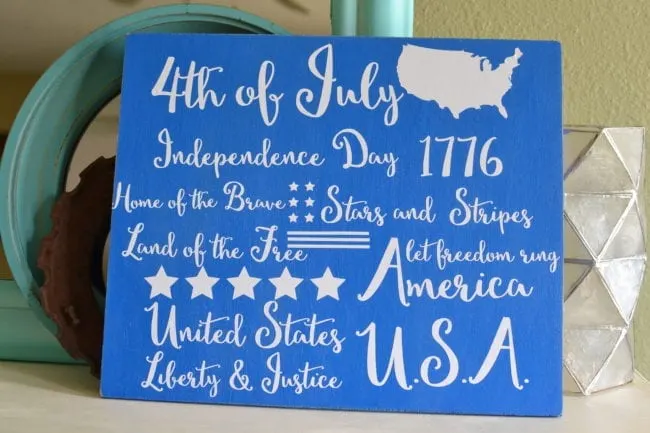 16. Use adhesive vinyl on wood discs to make Christmas ornaments.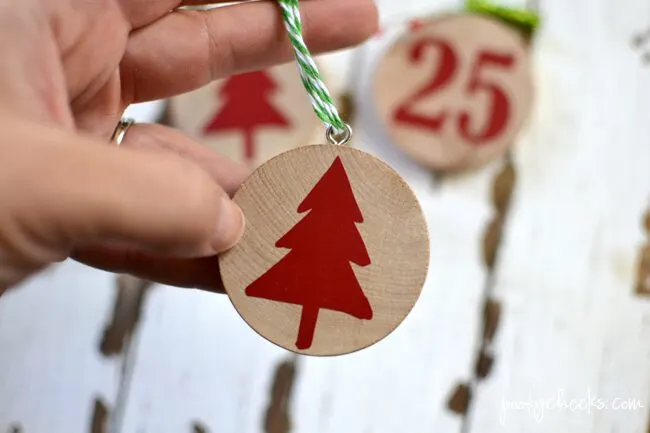 17. Have you thought about making a wooden sign? Use adhesive vinyl as a stencil. Apply it, paint and then remove.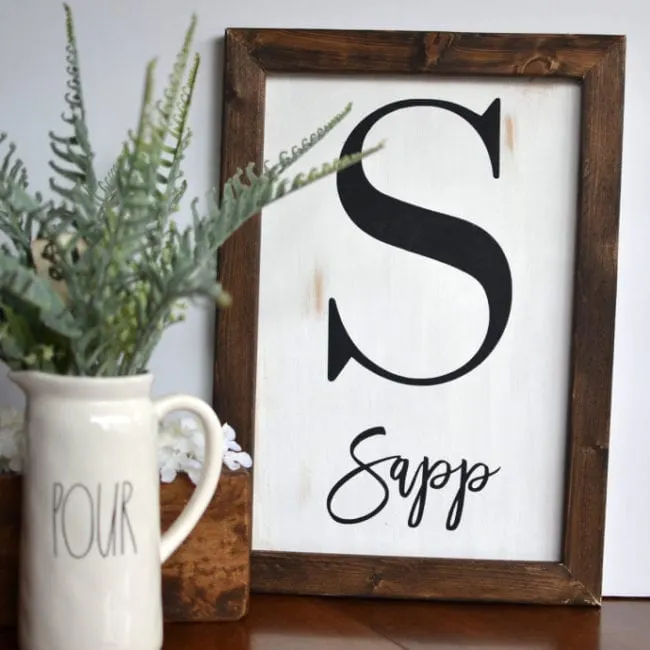 Use Adhesive Vinyl on Fabric
18. Use adhesive vinyl as a stencil on canvas. Apply the vinyl, spray paint and remove the vinyl.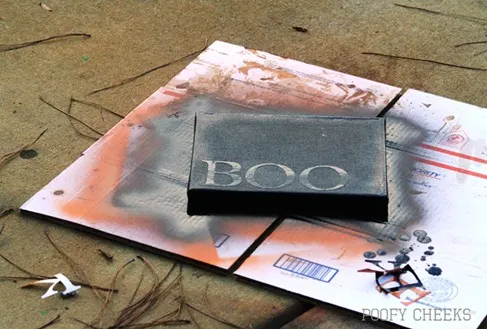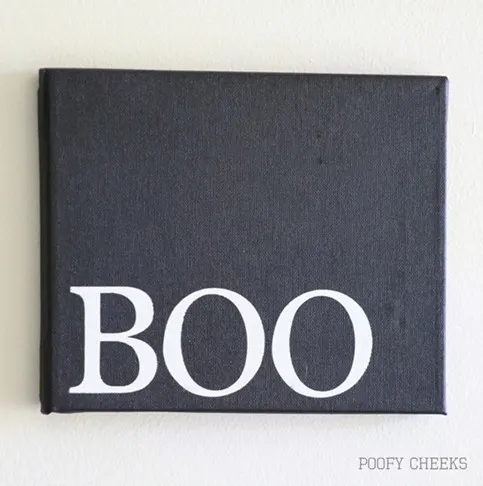 19. Put adhesive vinyl onto a burlap covered canvas (or other fabric) for wall décor. This takes a bit of experimenting as it is only temporary an can be easily be peeled off.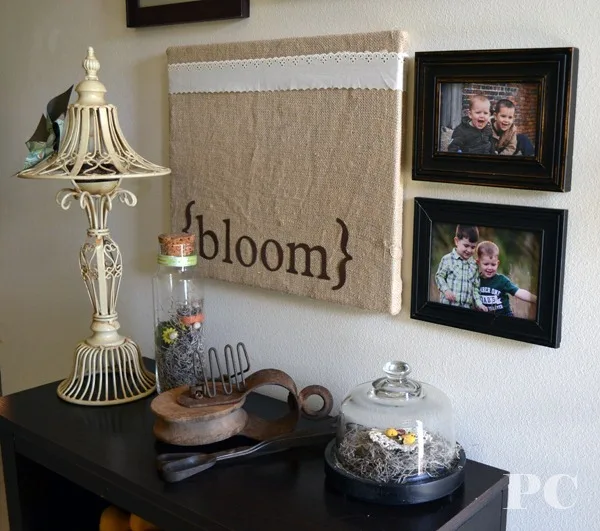 20. Put adhesive vinyl on fabric or clothing as a stencil. That's how I made my boys' skeleton Halloween costumes a few years back.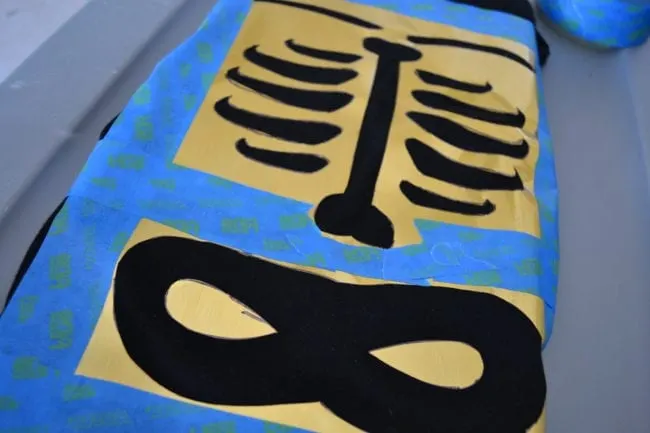 More Uses for Adhesive Vinyl
21. Create a memory box with adhesive vinyl names and dates.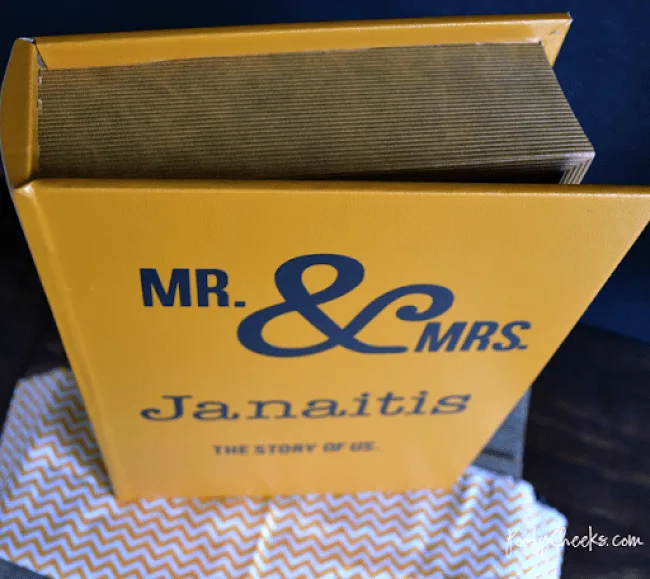 22. Apply small or large adhesive vinyl designs for wall décor. In my old craft room I had mint flowers and teal labels for my ETSY orders.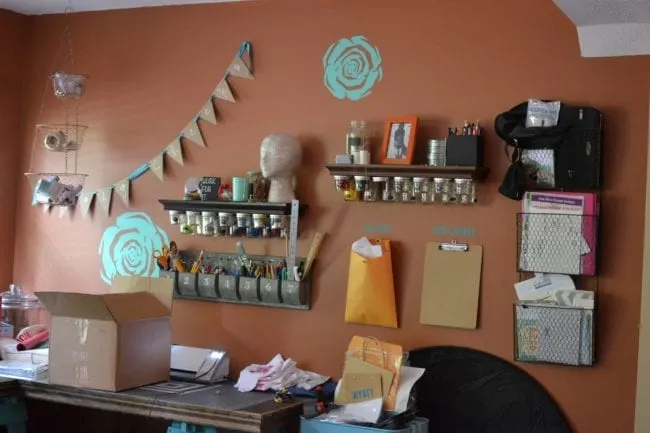 23. Apply to acrylic dishes, trays and more! There are lots of acrylic blanks at My Vinyl Direct.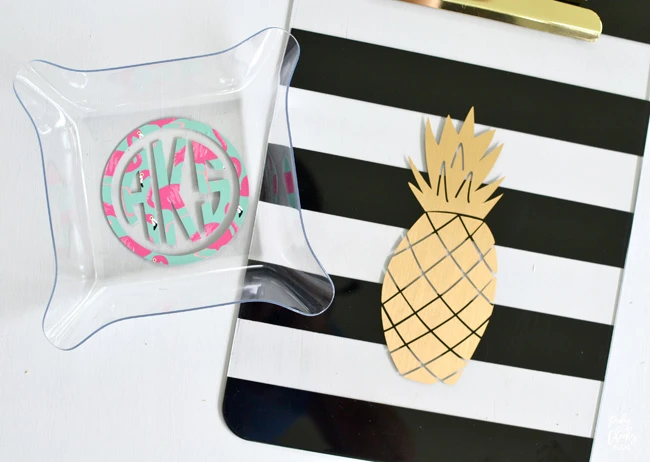 24. Plates, cake plates and dishes are easily decorated with adhesive vinyl.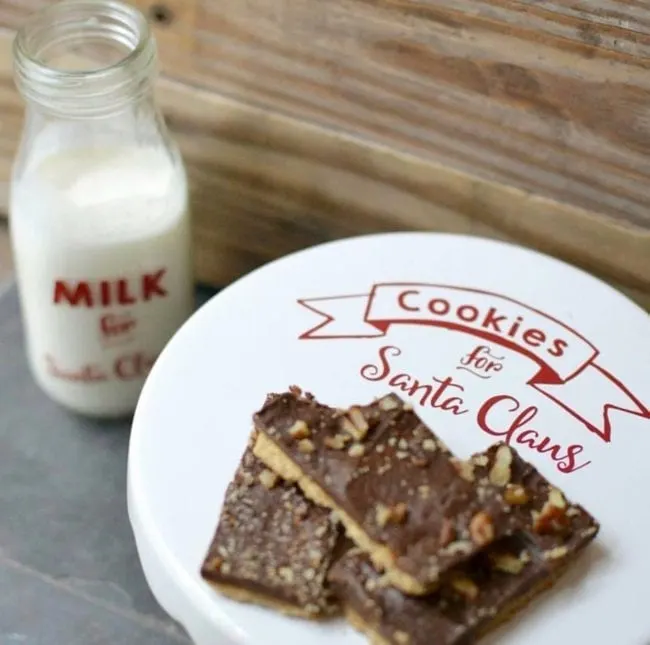 25. Put adhesive vinyl on fake and even real pumpkins.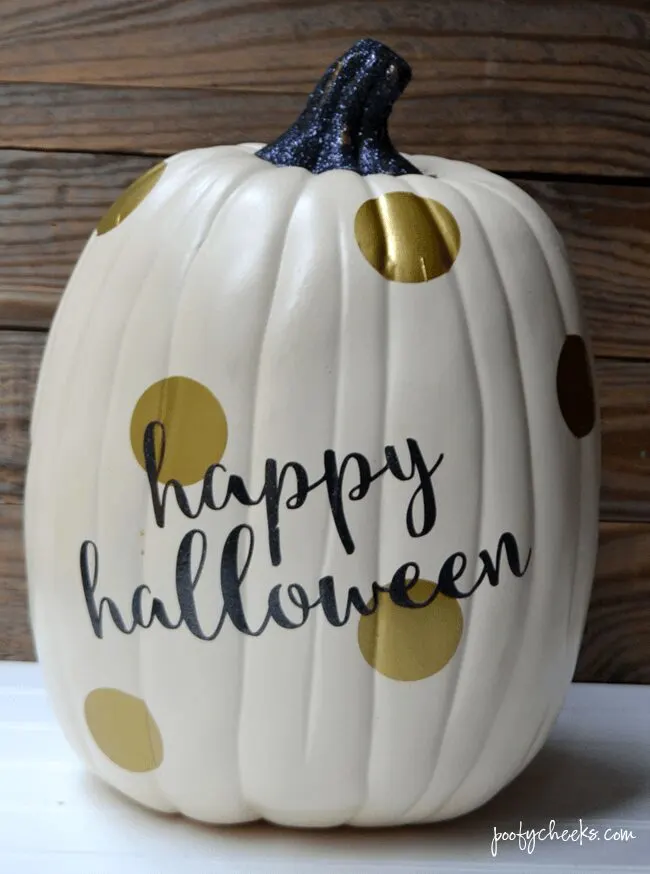 26. Buckets of all shapes and sizes!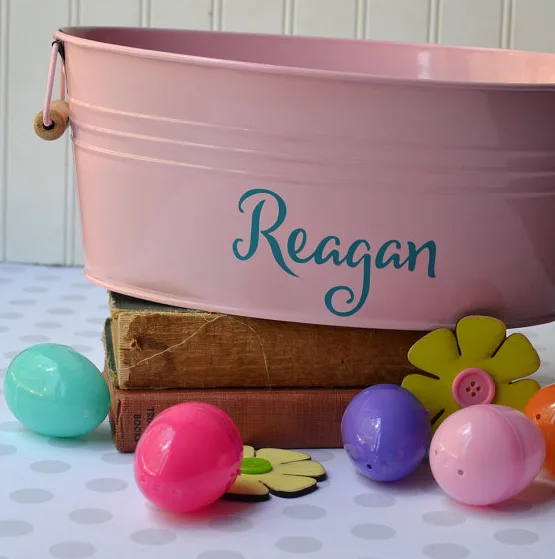 27. Chalkboard adhesive vinyl is great for labeling!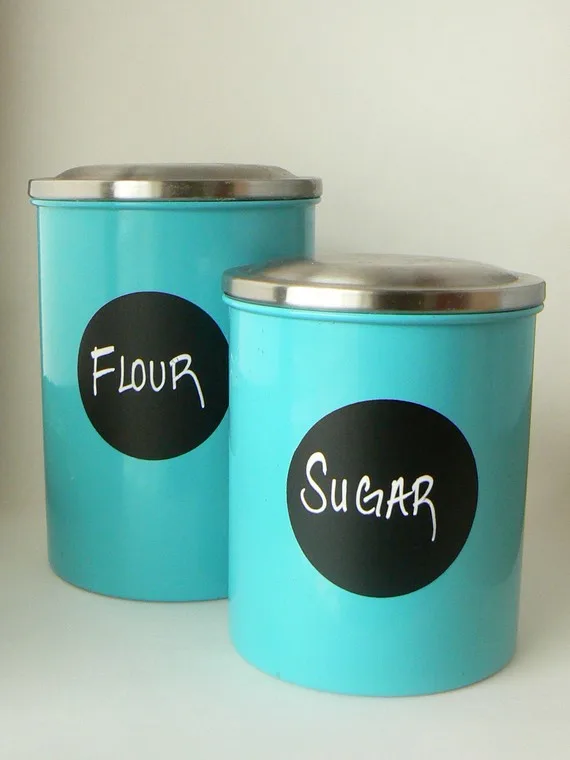 28. Chalkboard adhesive vinyl and regular adhesive vinyl can transform anything into a countdown! Erase the number and change it daily.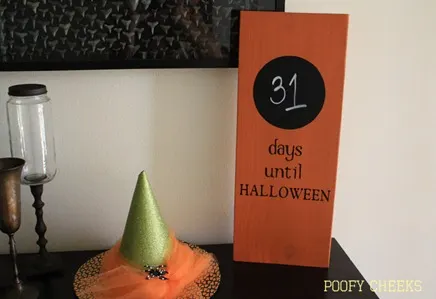 29. Put adhesive vinyl on chipboard shapes and banners.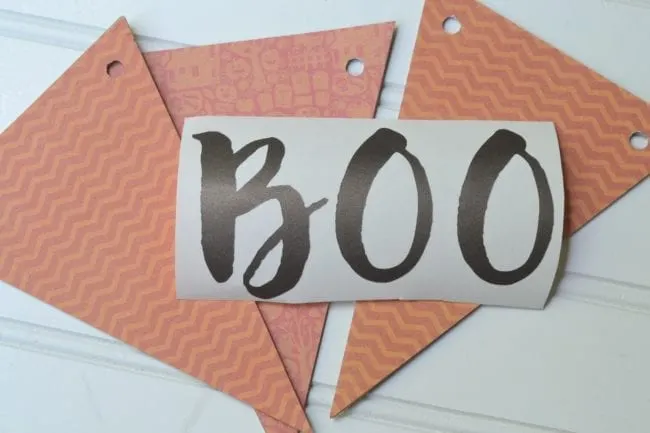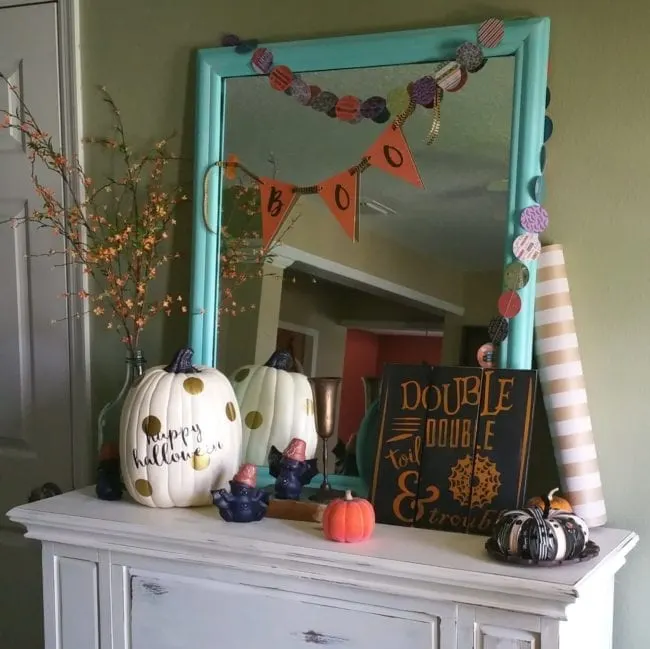 30. Apply to mod podged items such as this DIY bow holder.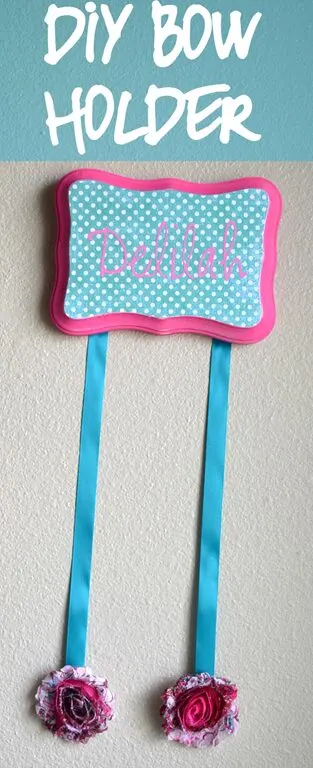 31. Adhesive vinyl can go onto paper (know it won't come off though).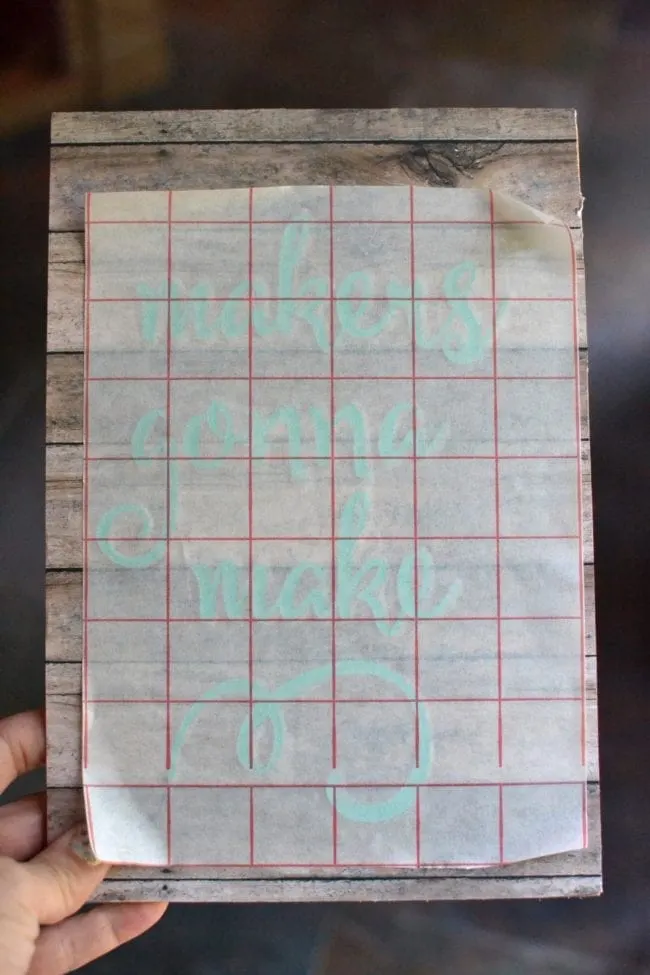 32. Put adhesive vinyl onto chalkboard surfaces.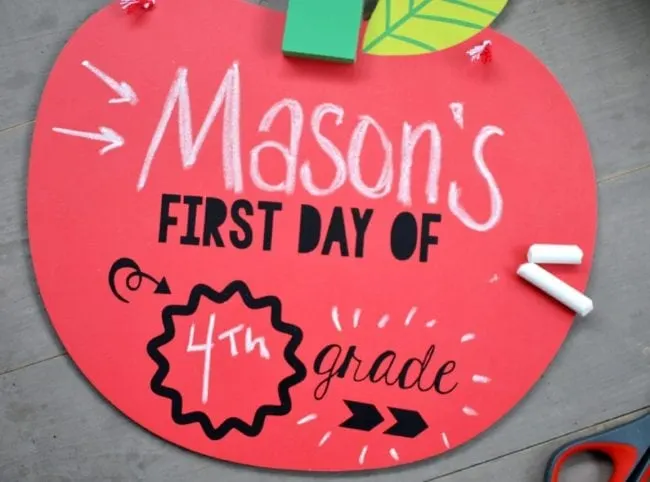 33. Also try vinyl on dry erase surfaces!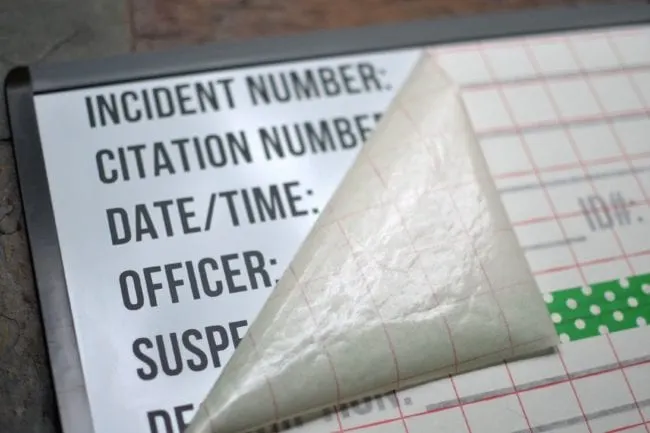 34. Decorate and label binders, folders and school supplies.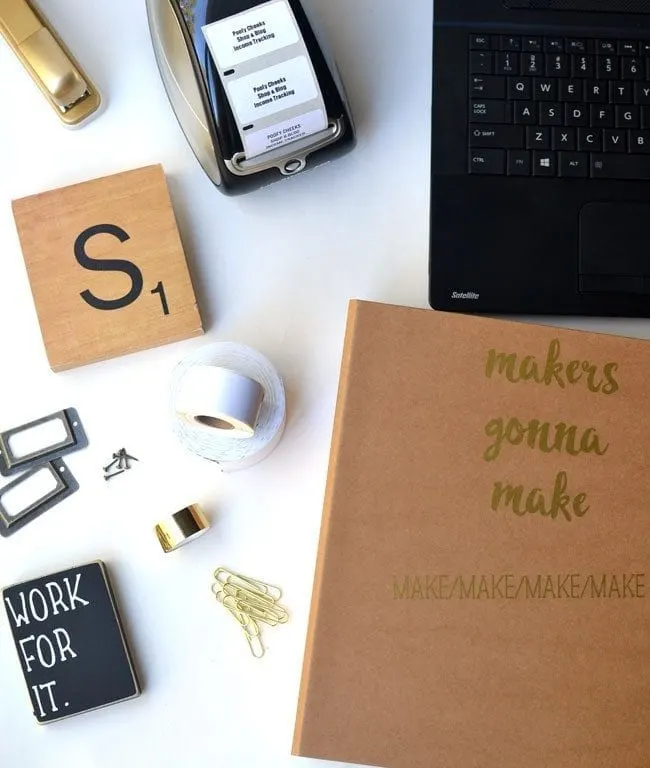 35. Adhesive vinyl is a great way to personalize and decorate clipboards.