Summer is here in Central Florida. The days are getting hotter and the humidity makes it hard to breath the second I walk outside. I designed this summer watermelon cut file after getting quite a few requests for a watermelon. Use the cut file with the letters or take them out and you have a plain watermelon ready to use for so many projects.
I used my Silhouette Cameo to put the cut file onto a Bella + Canvas muscle tank. Beware these tanks run on the small side! I learned the hard way with the chips and dip cut file tank.
The cut file will come in DXF format for Silhouette users, SVG for Cricut users and a PNG format for other graphic users.
This cut file is a little rough around the edges to give it the true hand doodles and lettered look. I made this design in my sketch book, scanned it into my computer and digitized it with Adobe Illustrator before saving in DXF, SVG and PNG formats. I like to create my designs this way to ensure you won't find them anywhere else!
Free Cut File FAQs
Why won't these open on my tablet or phone? I'm trying to use with a mobile App.
You must be on a computer to get these files since they are all together in a ZIP folder.
Enter your name and email below and press download. The file will be sent to your inbox. Didn't receive it? Check your junk or spam folders.
You have to unzip the folder to be able to use it inside your software of choice.
NOW you can email the SVG, PNG or DXF to yourself and open the email on your mobile device to download and use in your mobile device app.
Do I have to input my email and name each time I want to download a new freebie from your site?
Yes, this is how we track cut file popularity and continue to put out cut files that appeal to you. Want to see something specific? Email me at [email protected] and tell me what you want to see next! We take your opinions and suggestions seriously.
Can I sell items I create with the free cut files?
Yes, the graduation cut file is for personal and commercial use. You may NOT sell the digital files themselves but you may sell items you create using the cut file designs. Please tag us with your creations on IG (@poofycheeksblog) and we may share on our own feed!
What files types do these come in?
These files come in DXF and SVG. Use DXF for Silhouette and SVG for Cricut . I have also started offering these in PNG format.
What can I make with these cut files?
You can cut these files onto any medium you prefer and make SO MANY THINGS! Make mugs, cups, shirts, onesies, tote bags or basically whatever your heart desires. I have put together a list of adhesive and iron-on blanks to give you more ideas.
How do I open the files in Cricut Design Space?
The cut file will be emailed to you in a ZIP file. Save it to a place on your computer and unzip the folder. Go to your Cricut Design Space and follow the step-by-step instructions for uploading designs to Cricut Design Space.
How do I add the files to my Silhouette Library?
Save the ZIP file to your computer and then unzip the folder. Follow the instructions to save designs to your Silhouette Library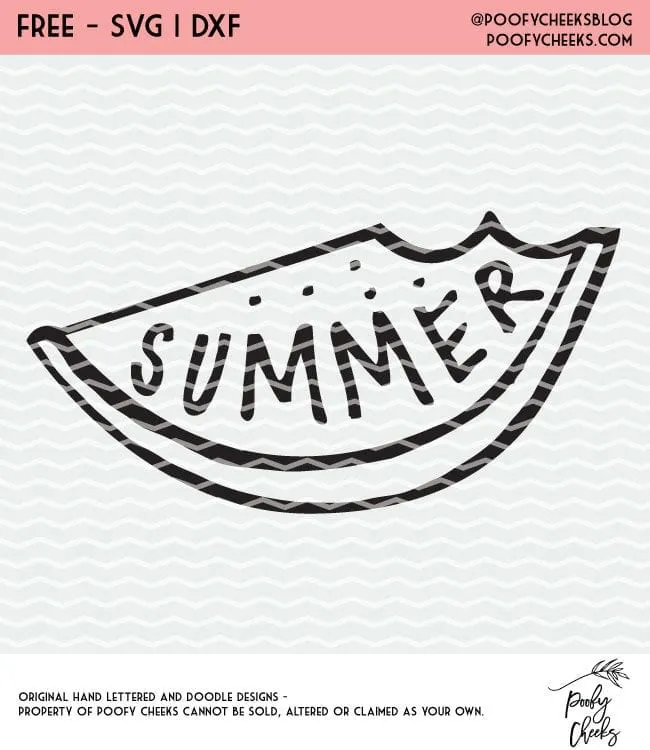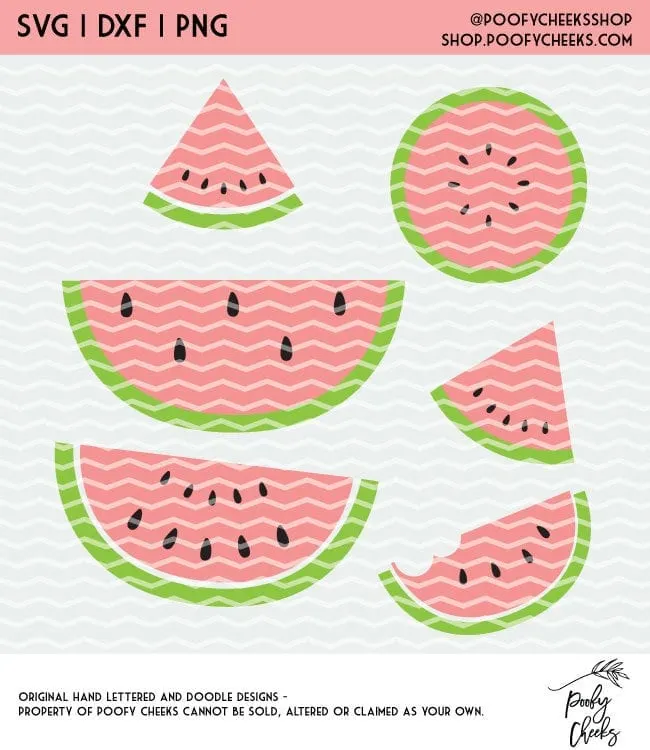 Download Watermelon Cut File