I have a confession to make. This personalized teacher gift clipboard is a teacher appreciation gift we made for the boys' teachers last year. I have been the epitome of last minute the past few months. I used to be so organized and on top of things but with work and getting the kids to their sports and appointments I have fallen off of the do-things-in-advance wagon. I am Miss Last Minute through and through. I tell people it is because I work well under pressure. Psh! I'll have a laugh at that one. I figured if I didn't finish and post this project up soon (the pictures have been sitting in my blog draft section for almost a year now) I might forget it until summer (again) when it would be too late to use for Teacher Appreciation Week.
Speaking of last minute I have been thinking of the days (last year) when I would walk my two oldest boys down to the bus stop in my pajamas. All the while my two littlest would usually be tucked away in their beds still sleeping. The days felt hard but looking back they were so care free. Then I started working outside the home and in entered the days of chaos and crazy. The days of my last minute life. There have been some days recently when I asked myself if I made the right decision. I basically begged my husband to agree it would be a good idea for me to get a job outside the home again. While I love my kids I felt like I wasn't accomplishing anything at home. I was so busy chasing the kids from getting into anything and everything I was finding it harder and harder to meet any of my own goals.
This post contains affiliate links. These links don't change the cost of the product however we do receive a small percentage which we use to keep the blog running and buzzing with new content.
When I stayed at home there were lots of days when my kids tried my patience and tested my sanity. Like the day Delilah got ahold of my nail polish while I was in the shower or the times when nobody took naps when they desperately needed them. Those days have given me new appreciation for teachers. Now all four of my kids are spending more time with teachers than they are with me. I have always said I could never imagine being a teacher to young kids. Personally I do not have the patience and by the end of the day I would probably wind up in some wine bar with a few bottles to myself. This year we a are doing clipboards again with a few goodies clipped to them including the
free teacher appreciation printable
I made.
Again I will admit at the beginning of the school year I was slacking. I have a
teacher survey printable
I like to give to teachers at the beginning of the school year so I know the kinds of things they like. I try to send those little items in throughout the year on their birthdays, holidays and for teacher appreciation. You will see when we sent these clipboards I added items the teachers indicated the liked, needed or wanted for the classroom on their survey.
Vinyl Teacher Gift Clipboard
Supplies-
Clipboard
Cricut or Silhouette Cutting Machine
Vinyl weeding hook (optional)
debit/gift card or scraper tool
Step 1- Use your Cricut, Silhouette or other cutting machine to cut out the teacher name and a few simple lines from adhesive vinyl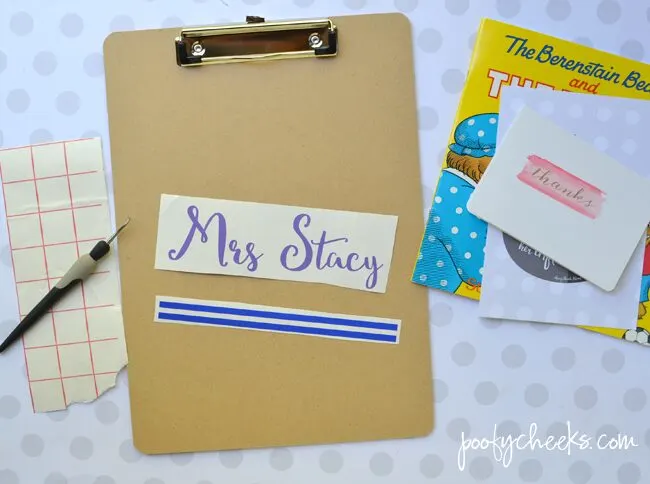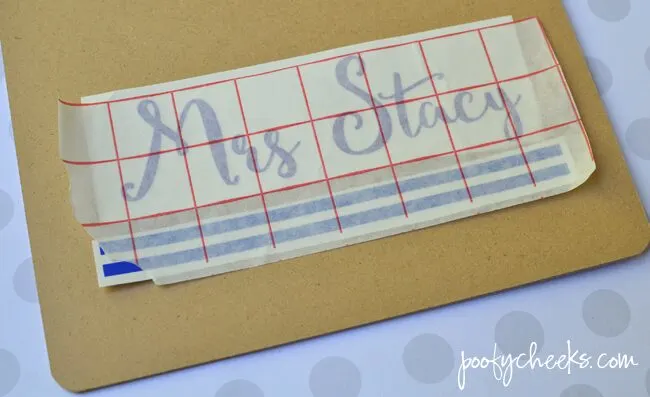 Step 2 – Weed the extra vinyl to leave only the cut design. Peel the transfer tape away from it's backing and press it over the vinyl design. Flip it over and rub the back with the edge of a credit, debit, giftcard or a scraper tool. This helps the vinyl adhere to the transfer tape. (I have a more in-depth tutorial for using transfer tape).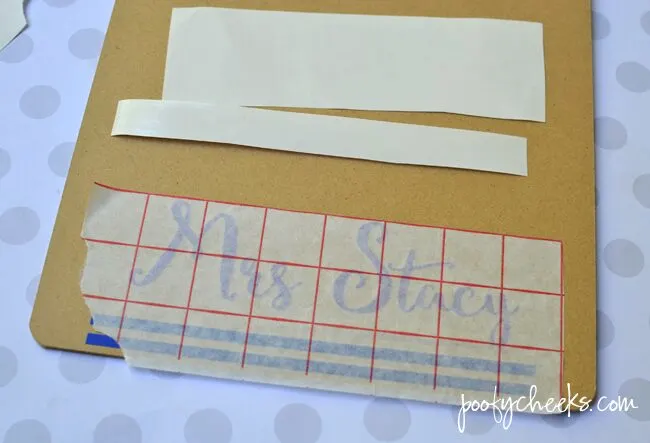 Step 3 – Peel the transfer tape at a 45 degree angle. Peel slowly incase the vinyl design doesn't adhere very well. If you peel fast you could rip the vinyl which is no bueno. Then place the transfer paper with vinyl where you would like it on the clipboard, press down and rub with your hand. Then use the edge of the card to smooth any air bubbles. Again peel the transfer tape away at a 45 degree angle leaving the vinyl behind.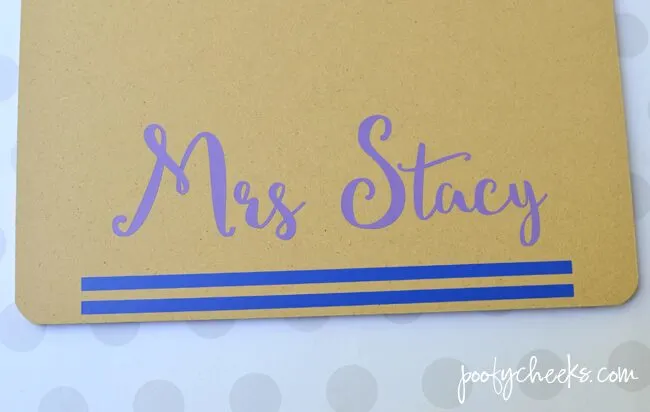 Attach a thank you card, candies, books or anything you think your child's teacher would enjoy. I had the boys give them the way they are. You could wrap them or give them in a gift basket or bag too. We use clipboards a lot in our house so I made these teacher gift clipboards in hopes they would get quite a bit of use.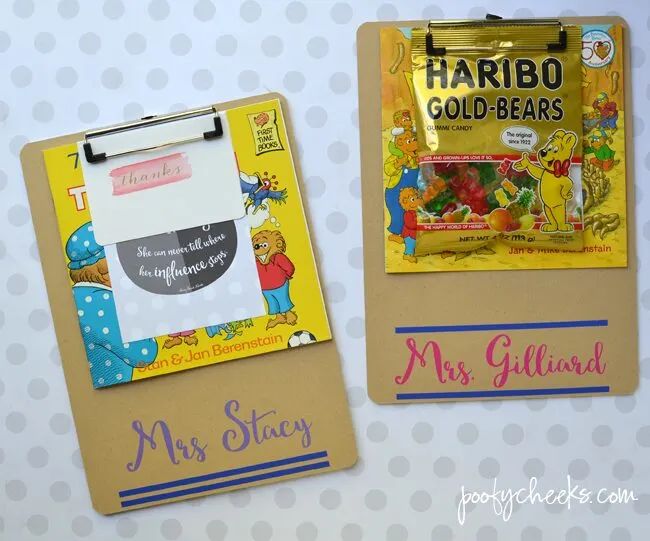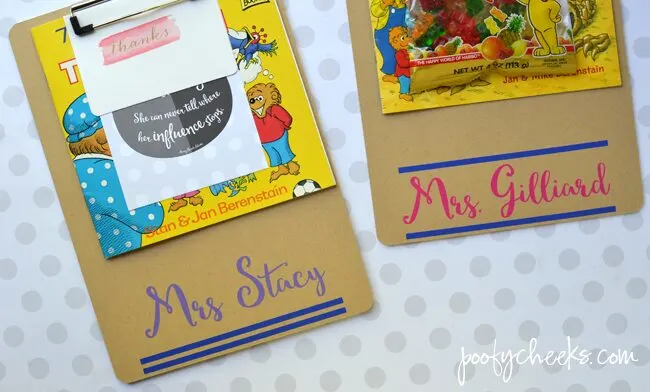 You may also enjoy –
Make Monograms with a Silhouette