Hey friends! I am sharing a free bloom spring printable right in time for warmer spring weather. As usual here in Florida we have gone from temperatures in the 40s straight to the high 80s. While I wish I had more time to be outdoors enjoying the weather I admit work puts a damper on that. To make up for lost time I spend evenings and weekends basically living outdoors. I have been working in my garden where we picked our first red tomatoes last week. It turns out I don't have a brown thumb after all. The kids and I have been to the beach for the first time this year and this coming weekend we have family visiting so we will be spending Saturday at Disney World. Two nights a week the boys have flag football and can I tell you how funny it can be to watch young kids learn to play a new sport!? It reminds me of watching ducklings wobble around chasing their mom.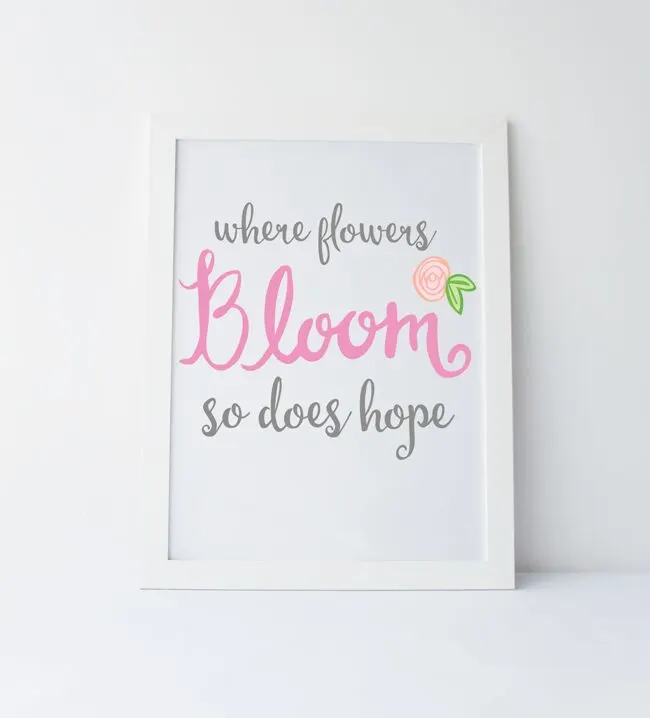 I wanted to get this printable up before Easter but then things got busy. Story of my life! Not to mention the past few days were a little interesting. I was summoned for jury duty yesterday and I reminded my husband last week not to let me forget. Of course we both forgot after having an eventful Easter weekend. Monday morning I woke up and went through my normal routine of dropping the big kids at school, the little kids at daycare and then heading to work. I walked in and my co-worker asked why I wasn't at jury duty. After yelling OH MY GOSH! I jumped in my car and flew to the other side of the county. My house is in between work and the courthouse so I completely wasted time and gas with my little mistake. Luckily I was only 10 minutes late. It was quite interesting and in the end I was picked for a jury on a criminal case. I have to report back tomorrow.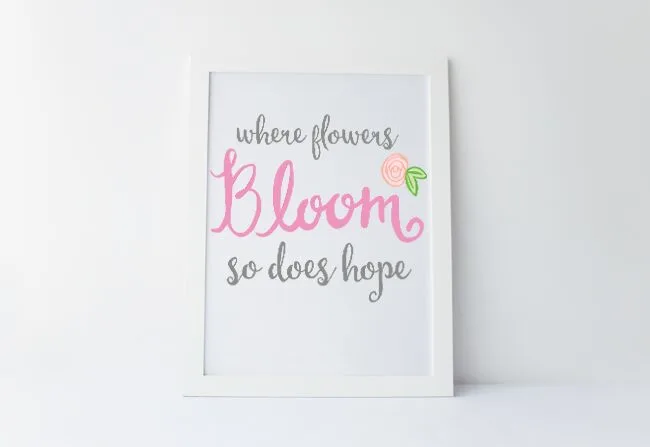 Planting flowers with the kids and working in my garden inspired this cute little printable. You can print the PDF by clicking the link below.
Where Flowers Bloom so does Hope free bloom printable 8×10
This post contains affiliate links. These links don't change the cost of the product however we do receive a small percentage which we use to keep the blog running and buzzing with new content.
If you are like I used to be then you might be thinking great but I'm out of ink! In October of 2015 I got an HP printer and signed up for HP Instant Ink. I pay $2.99 per month, my printer orders the ink and then it shows up at my doorstep so I never even have to think about it. Use my code INSTANT3 and get the first 3 months free. I print all my printables on white cardstock using my HP printer with HP Instant Ink. While you are at it stop paying a kajillion dollars for white cardstock – they sell 150 sheets of Georgia Pacific brand 110lb cardstock for $5.49 at Walmart! Don't say I never helped you save a few dollars.