A kid approved after school snack – Strawberry Parfait using Honey Maid Go Bites
I am guilty of letting my kids come home from school and raid the pantry for something sweet and sugary on more occasions than I would like to admit. By the time my two oldest boys get off of the bus I have spent an entire day watching after my two younger kiddos and my energy is gone. As soon as I get the boys off to school in the morning I usually toss in a load of laundry and start the dishwasher. Throughout the day I feed, rock, chase and pray that the babies will take naps only for me to work on filling orders. When 3pm rolls around I am doing everything possible to mentally prepare myself to cook dinner in a few hours time and the last thing I want to do is roll out some gourmet snack. Since I do believe in giving my kids healthy snacks and meals I have started making snacks ahead of time.
In the mornings when I am doing the laundry and dishes I make up a quick snack for the boys to grab after school. I like to keep the snacks super easy but make them look really yummy or serve them in a fun dish. Since they are both big fans of fresh fruit I usually base their snacks around fruits. Lately I have been making them fruit parfaits because they store well in the refrigerator and little do they know that the parfaits are packed with fruit, protein and whole grains.
Since both of my boys are HUGE fans of strawberries and they are starting to be in season locally I have been making Strawberry on-the-go parfaits a lot lately. Since trying the Honey Maid Go Bites (which all of my kids love to snack on!) I have been using those in their parfaits. The Honey Maid Go Bites have protein and are made with whole grains so it is a no-brainer.
Make a Strawberry On-the-Go Parfait!
Strawberry On-the-Go Parfait
Ingredients
1 cup of Honey Maid Go Bites, (you could use the vanilla or chocolate)
1 strawberry Greek yogurt, (5-7 ounces)
6-8 strawberries - diced
Instructions
Place Honey Maid Go Bites in a plastic storage bag and crush with your hand or a rolling pin. Layer a quarter of the crushed Honey Maid Go Bites into a cup or jar. (I use a jar so I can put a lid on it and store in the refrigerator.)
Then layer in a quarter of the yogurt, half of the strawberries, another quarter of the yogurt and top with another quarter of the Honey Maid Go Bites.
Repeat the layering in another cup or jar for two yummy Strawberry on-the-go Parfaits!
Nutrition Information:
Serving Size:

1 grams
Amount Per Serving:
Unsaturated Fat:

0g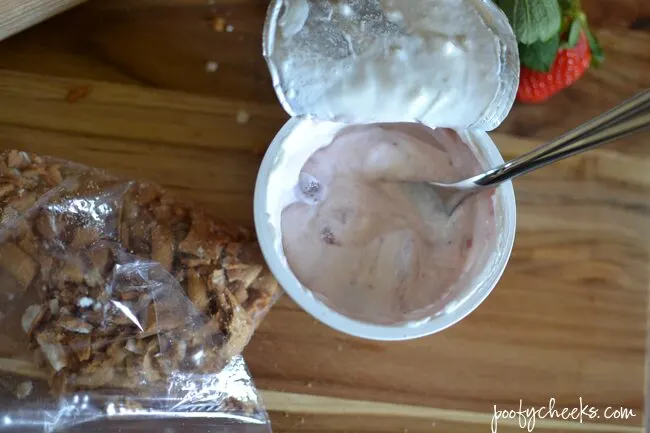 My boys eat these parfaits up super fast. After they finish they know the routine. They clean their room and then we meet back in the kitchen to do their homework. After homework they are free to play or draw until dinner. I think creating a routine is so important for my own sanity and it also helps them to know what is expected of them.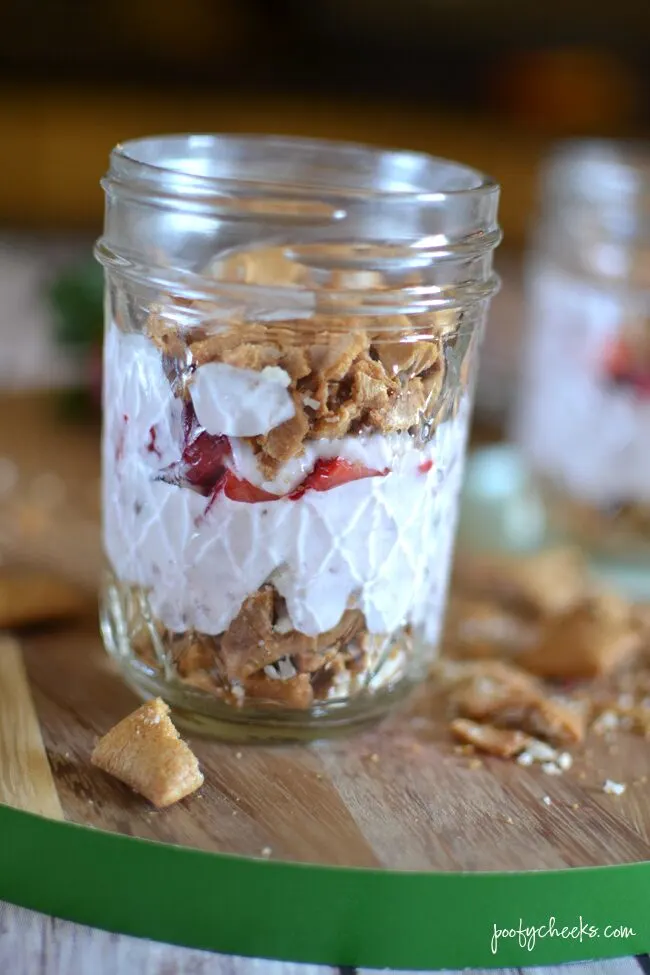 We are signing the boys up for little league this Spring and I know these On-the-Go parfaits are going to be perfect snacks between school and practices. If I don't get a chance to whip up the parfaits I simply open up a yogurt and crush the Honey Maid Go-Bites right over the top of the yogurt. When it comes to my kids I want them to have the best and my old ways of allowing sugary sweet snacks after school are over.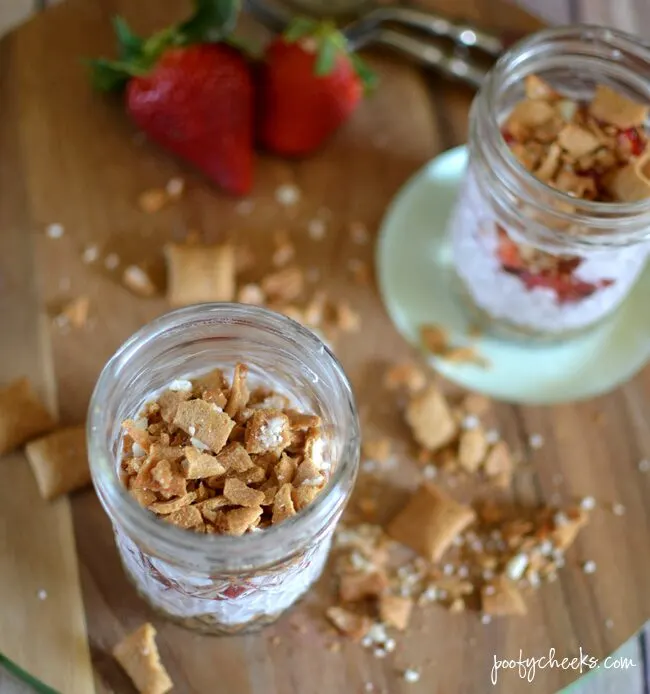 Oh, and hey mom – try the Honey Maid Go Bites for yourself. I find them to be super addicting and usually walk off with a handful of them for myself!
I was selected for this opportunity as a member of Clever Girls and the content and opinions expressed here are all my own.
Enjoy,

Check out the Poofy Cheeks Blog Pinterest Board for other craft and recipe ideas!
Follow Poofy Cheeks's board Poofy Cheeks Blog on Pinterest.