How to Hide Electronic Cords – this post contains affiliate links and if you purchase through the link we may receive a small commission.
Do you ever notice yourself living with something that is broken or hideous and even though you know it is a quick and easy fix you avoid the job? The cords under our TV have been starring at me for months now and I have been putting off the job of organizing and hiding them. Maybe I put it off because I didn't have the right supplies (the supplies that cost me a whopping $5) or maybe because I didn't want to face the dust bunnies I knew would be waiting for me. Either way today I tackled the job and it took me less than thirty minutes to hide all the cords that were spewing out from underneath the television dresser.
Last August we got rid of our cable and right before Christmas we replaced our TV. (The ledge with the jars is even with our kitchen cabinets on the other side and my husband put something on top of the cabinets hitting a jar which fell and broke the screen on our TV! It wasn't a cheap accident!) So literally FOR MONTHS I have had those pesky cords stare at me every time I sit on my couch.
I guess the thing that finally motivated me to organize the cords was the fact that Delilah is in that exploring stage where she gets into anything and everything. I have been doing a lot of baby proofing and picking up loose cords seemed logical!
In order to organize and hide the cords you will need zip ties and small command hooks. Depending on what you use as an entertainment center and how many electronic devices you have you might have to be creative! My husband is a gamer so we have a TV, Playstation and an XBOX. He also has a controller charger and headphones. Not to mention we used to have cable and internet hooked up over here too – CORD OVERLOAD!
Hide Electronic Cords
The first thing you need to do is ease your entertainment center slowly away from the wall. Make sure to do this slowly incase something has a short cord and becomes unplugged or falls.
Then start unwrapping and sorting through the cords. I was able to get rid of quite a few cords that were no longer connected to anything and consolidate everything we have from two power strips down to one.
Use zip ties to keep cords for each device together making one thick cord. I placed my zip ties about every 6-8 inches. Since we have multiple cords for each gaming system I zip tied them separately.
In order to keep the cords from being seen attach small command hooks near the top of your entertainment center to hang the newly zip tied cords to so they can not be seen once you push the entertainment center back against the wall.
I was able to get rid of ALL of these cords plus about one pound of dust and crumbs. GROSS!
Now I can sit on my couch and not have to see the ugly cords poking out from underneath, I don't have to worry about Delilah grabbing or pulling them and I can easily clean underneath! It is a total win-win for $5 and 30 minutes!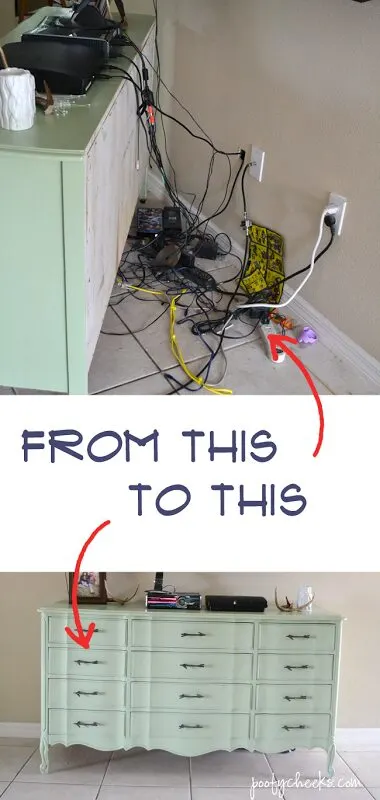 Enjoy,