$7 French Provincial Goodwill Dresser Redo – Before and After pictures.
I have shared my $7 Goodwill dresser redo on the blog before. If you have followed me for a while I am sure you have seen my dresser many times because it makes a regular appearance. The other day I was going through some old pictures off of one of my phones and came across pictures of it the day I bought it. When I first wrote my redo post I couldn't find those pictures and thought I had lost them for good. She was in rough shape – I mean rouggghhhh. Homegirl had stickers all across the top, a broken drawer face and after taking all the drawers out to sand and repaint I found treasure in the form of a thong hidden inside like a nice little present just waiting for me. Better than a cockroach… I guess.
Here are the before pictures –
Almost all of the hardware was missing or broken so I had to replace it. Luckily I found some drawer pulls I loved at Lowe's on clearance for $0.30 each.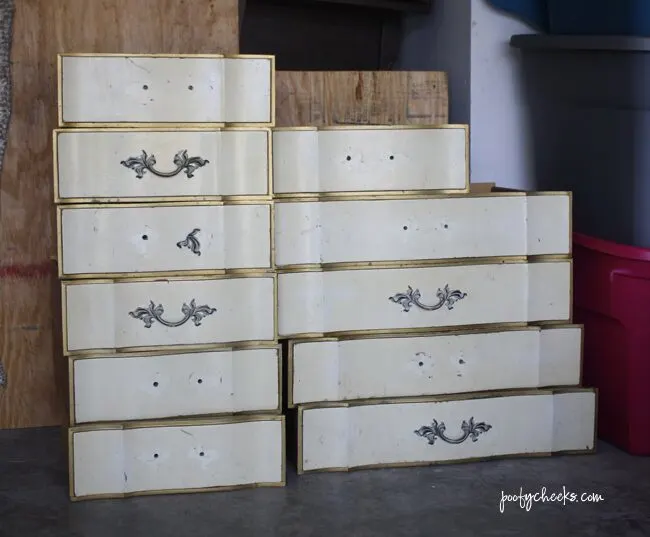 The longest part of the whole redo was taking off the sticckers that had clearly been stuck to the top for a longgggg time. I used Goo Gone and ended up sanding the last of them off.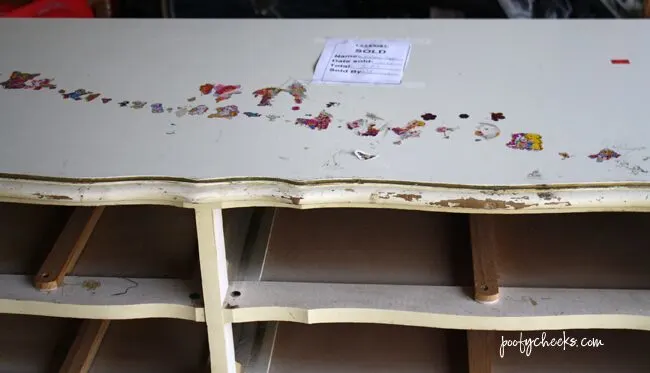 Here she is now – her current home is in my
mom cave
.
For the dresser redo I used the following supplies:
Laytex paint (No paint color because I mixed two colors I had on hand)
Flotrol
Paint brush
Ryobi sander and sand paper
Wet wipes
Drawer pulls
Polycrylic
How I did the redo:
For the redo I first removed all of the drawers, drawer pulls and stickers on the dresser. I sanded down the entire dresser and drawer faces with my hand sander. The dresser is all wood besides for the top which is formica. I sanded the top so the surface was a bit rough and would take the paint better. I wiped down the entire surface with wet wipes (you could use a wet cloth) to clean it up after sanding. I mixed my laytex paint with flotrol (flotrol helps eliminate brush strokes which is important when painting furniture) and painted the dresser and drawer fronts. I did two coats of paint allowing it to dry completely in between coats. The final step was painting on two coast of polycrylic to seal it and protect it. For me using the polycrylic is an important step because now I can wipe the dresser with a wet cloth to clean it and if someone leaves a drink on it I don't have to worry as much.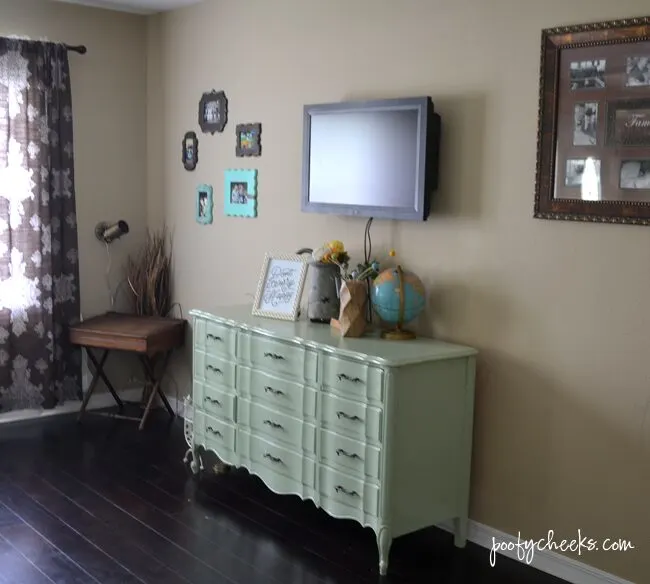 In our last home the dresser was in the living room under the TV fall, winter, spring and summer. I love having a dresser as an entertainment center because there are drawers to hide the DVDs, games and controllers in. There is also room on top to decorate so the cable and game consoles don't steal the spotlight.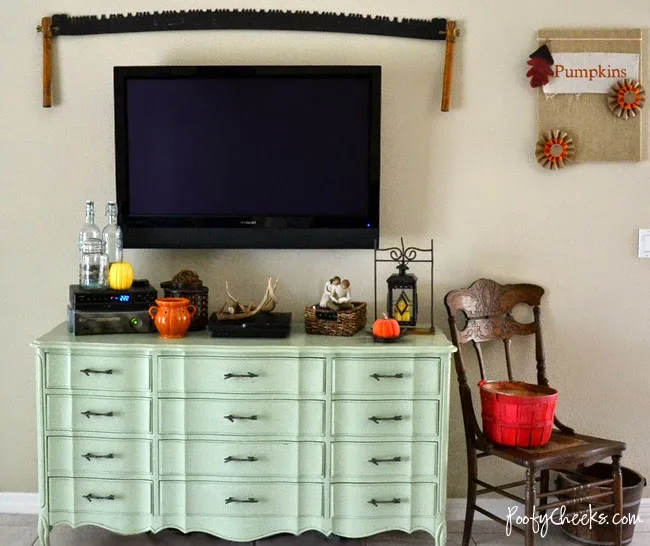 Even when we did a bit of a redo to our last living room the dresser stayed as it was. I love how the muted green color and the right accessories can go with any color palette.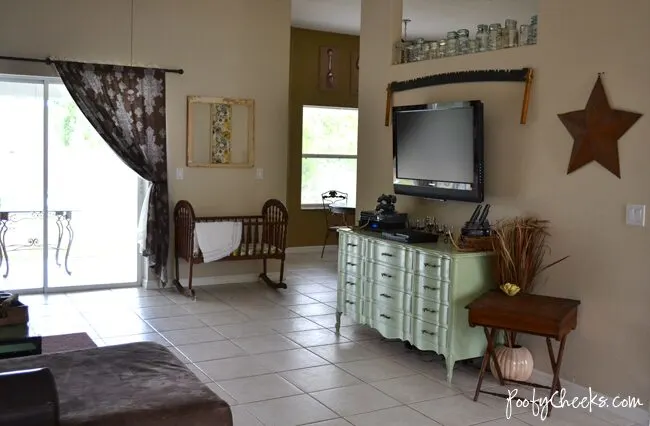 During a post about hiding electronic cords I showed how I hid all of our cords behind the dresser. If it looks like this under your entertainment center maybe you should read it – wink, wink!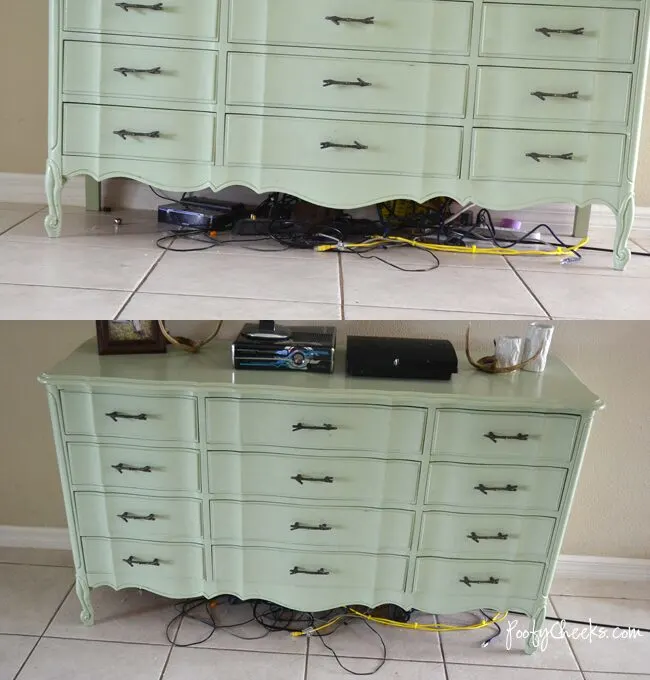 Even in our first house with the dark green walls the dresser looked perfect. To think that I almost sold the dresser when we moved this past+ fall! The dresser cost me about $20 total. I bought it for $7, bought new drawer pulls for about $4, painted it with a mix of paint and flotrol I already had and put on a coat of polycrylic. I have had the dresser for almost five years and she could use a few touchups here and there but it was a purchase well made!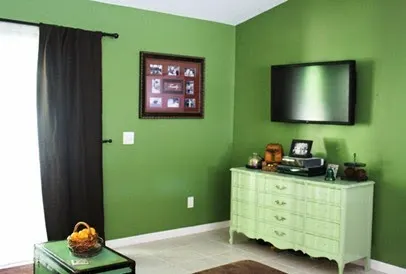 Do you have a favorite piece of furniture? A piece that you just can not part with? I'm not sure if it is the French provincial style or the sweat I have into the dresser but she is with me for the long hall.
Enjoy,


I party HERE
Check out the Poofy Cheeks Blog Pinterest Board for other craft and recipe ideas!
Follow Poofy Cheeks's board Poofy Cheeks Blog on Pinterest.