---
Today kicks off our 12 Ornaments of Christmas series. Remember when I shared the Christmas ornament cut file bundle a few weeks back? I'm showing you how to use that bundle to make a DIY reindeer ornament.
I used a glass ornament for this tutorial, but a plastic ornament would work just as well. I've seen these ornaments at all of the craft stores including Michael's, Hobby Lobby and Joann Fabrics. Sometimes closer to the holidays they start to go out of stock and then you can grab them on Amazon.
If you are planning to do this craft with friends or kids it is important to note that the paint needs to dry overnight. You can either do the paint ahead of time or do it last and send them home to dry with your family and friends.
DIY Reindeer Ornament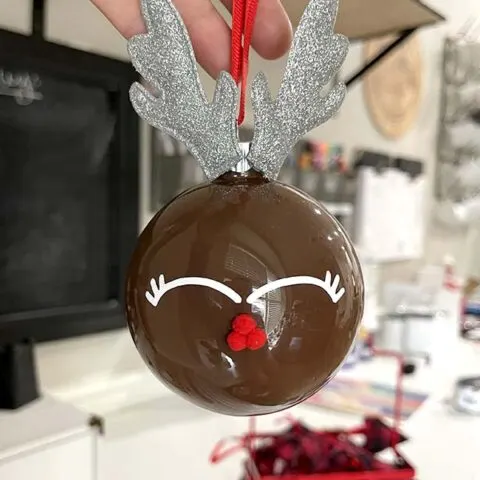 DIY Reindeer Ornament
Materials
Instructions
Start out by painting the ornament. The paint does need to dry for 12-24 hours. Remove the ornament top and squeeze small amounts of paint into the top of the ornament and roll around until the entire ornament is covered with paint.
Set the ornament upside down in a disposable cup for a few hours to let the excess paint drain out.
Meanwhile use your cutting machine to cut out the eyes you want to use for your reindeer ornament. [Christmas Face Cut File Bundle]
Once the ornament paint is dry, put the top back on and apply the vinyl eyes using transfer tape.
Hot glue the pompoms for the nose and the antlers onto the ornament.
Use ribbon of your choice to hang the ornament and you have the cutest little reindeer ornament.
Notes
**Note that the paint will need to dry for 12-24 hours before decorating and embellishing.
DIY Reindeer Ornament Video Tutorial