For the past three months we have been doing a wine tasting party with a group of our friends. My husband and I hosted a party in October and then everyone decided to rotate and host at a new house every month. The first time we hosted I created free wine tasting printable for us to use and rate each wine. Now that printable is at every party.
I'm sharing all the details on how we have hosted the party each month, the items that we all bring and the free printable.
The Party Host
The party host is in charge of sending out the invites to everyone. We create a Facebook Event and each person invites a few of their friends along with the people from the original party group. Everyone that we invited to the first party go to the same gym, so we already knew each other.
The host gets to pick the date, supplies the party spot (their house) and the serving ware. By 'serving ware' I mean plates, cutting boards, wine glasses and setup for everyone to display their wines and cheeses. The hosts also supply most of the crackers for cheese and some of the other cheese board items such as nuts, honey and mustard.
Items the Host Supplies
Serving ware (plates, glasses, etc)
Crackers
Brown Bags
Cheese board extras
Wine tasting cards (Free Printable at the bottom of the post)
Guests Help the Host
Nobody in the group except for a couple were true wine drinkers before we started our monthly wine nights. Therefore, most of us don't have 16+ wine glasses or 5 cutting boards in our kitchen. We all bring whatever we have to help the host – extra wine glasses, small dishes, cutting boards and whatever else the host needs.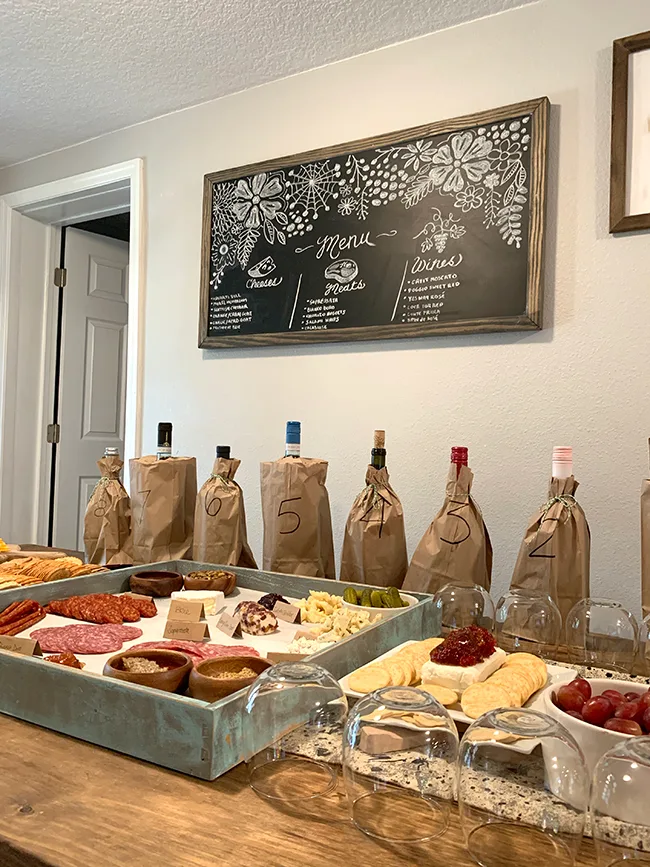 What the Guests Bring
Each guest brings
A bottle of wine
A cheese or two
Optionally we bring a few more items such as grapes, olives, pickles and meats.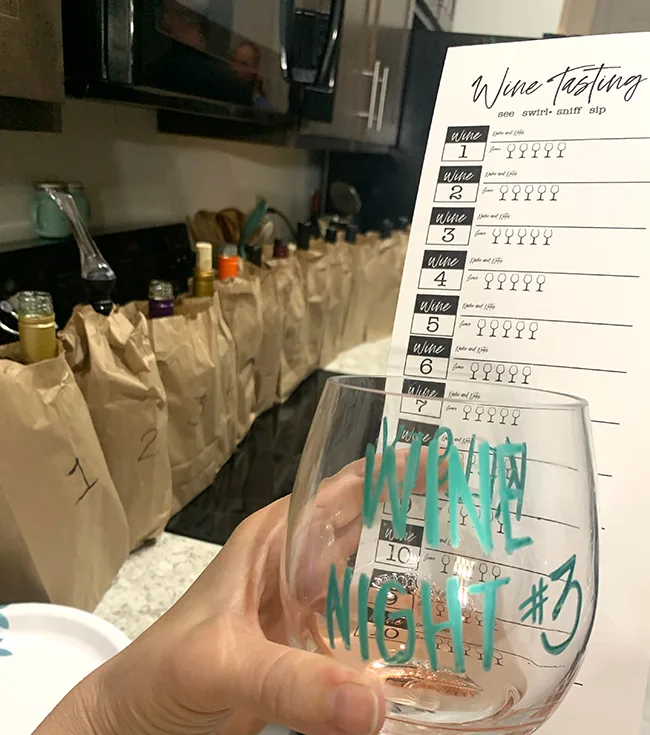 Brown Bag the Wine
The one thing that makes the party is that we brown bag the wines and number them. As each guest arrives it is put in a brown paper lunch bag and before we start drinking someone goes through with a marker and numbers them.
After three months it is funny how we have started to learn the type of wine we all drink. I'm a fruity wine drinker and anything I don't like is something my husband DOES like.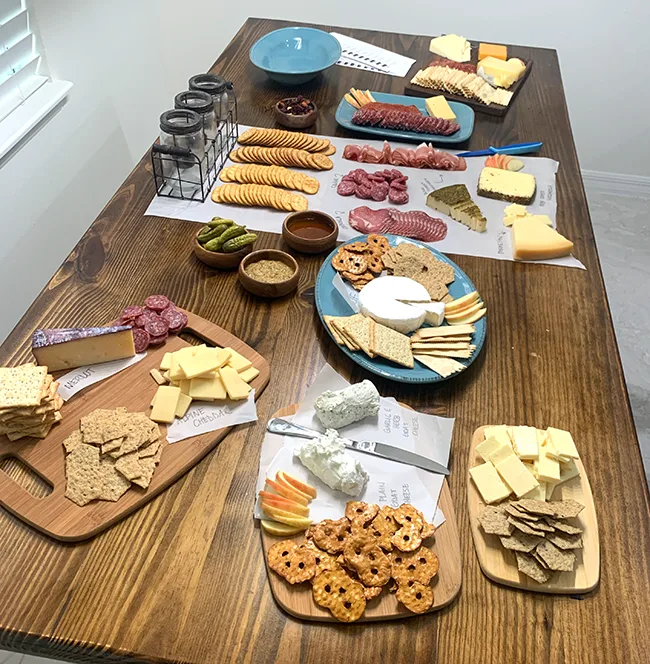 For our parties nobody brings anything crazy expensive, but by all means host your party the way you like! Here are some things we like to use..
Download the Free Wine Tasting Printable