Let's talk about stocking stuffers. I have purchased all of the gifts for three out of my four kids and purchased all of the family gifts besides for a few gift cards. I haven't purchased one thing for stocking stuffers yet. I'm a little behind but the good news is that I have ideas of what I'm going to buy this year. I don't know about you but I hate the tchotchke things because I find them stuffed in corners, spread out over the floor or broken two seconds after my kids dig into the stockings. I made a decision to not let that happen this year since it feels like I am basically throwing away money.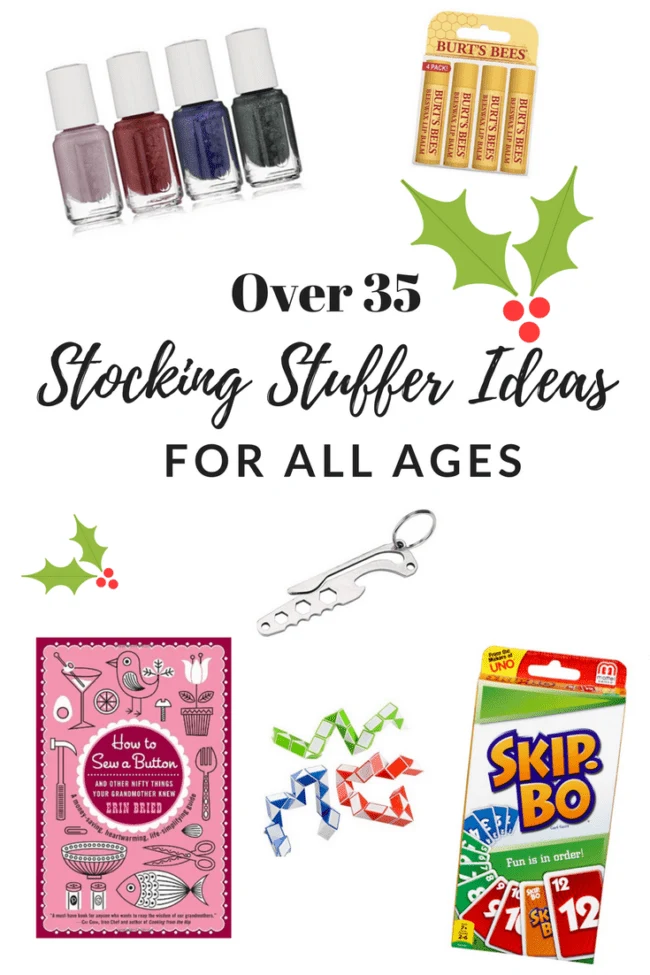 I have gathered some ideas by age group to help if you are still in need of stocking stuffers. As I look at the age breakdown our family of 6 has at least one person in each category. I am using affiliate links to some items and if you make a purchase we may receive a small commission.
Stocking Stuffers for All Ages
Socks
Underwear
Toothbrush
Toothpaste
Chocolates
Candies (our family is a huge fan of Haribo candies in stockings)
Toddler Stocking Stuffers
Hot Wheels
Washable Crayons and Coloring Book
Bedtime Books
Kids Stocking Stuffers
Crayons and Coloring Book
Fidget Spinners
Uno
Phase 10 Card Game
Barbie Clothes and Accessories
Tween/Teen Stocking Stuffers
Headphones
Charging cords for electronics
Lip Gloss and makeup
Cologne or Perfume
Biore Strips
Adult Stocking Stuffers
Razors and Shaving Gel
Finger nail clippers and Tweezers
Cotton Balls
Q-tips
Jewelry
Lotto tickets
These are just some of my ideas. Of course depending on each person's interests there are so many more things you could add! I can think of a million and one ideas for the crafter. Get more ideas in Gift Guide for the Disney Lover, Stocking Gift Guide for Her and Gift Guide for the Crafter.