This 'stocking gift guide for her' post contains some affiliate links to products suggested in the gift guide. The price does not change by using these links but a small percentage will be given to me which I use for blog upkeep.

My husband always does a great job at stocking stuffers. The stocking stuffers he gets are usually almost as good as the gifts. He puts little things he knows I like along with thoughtful items he knows I will use. Growing up stockings in our family were for candy and maybe a toothbrush or a book. When he was growing up stockings were a big deal with lots of goodies, toiletries and fun surprises. His family still does awesome stockings and I suppose Mike got the skills from them. I need to brush up on my stocking stuffer skills a bit but if I were shopping for myself or a friend these are the items I would go for.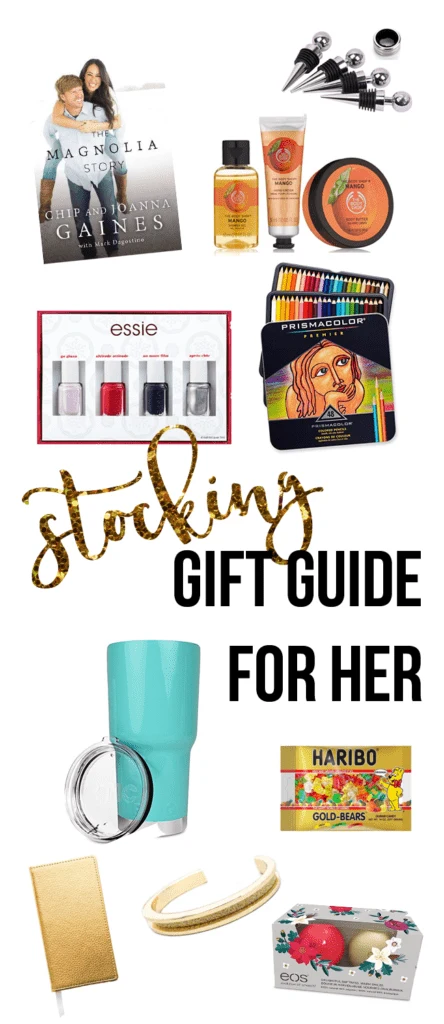 My parents were going to go to Texas this month to watch the Dallas Cowboys game and visit the Magnolia Market Silo. They had to cancel their trip last minute. I think I might get my mom The Magnolia Story book as part of her gift since she wasn't able to visit. Get the direct links to all of these items below and comment with anything you would love to find in your stocking this year!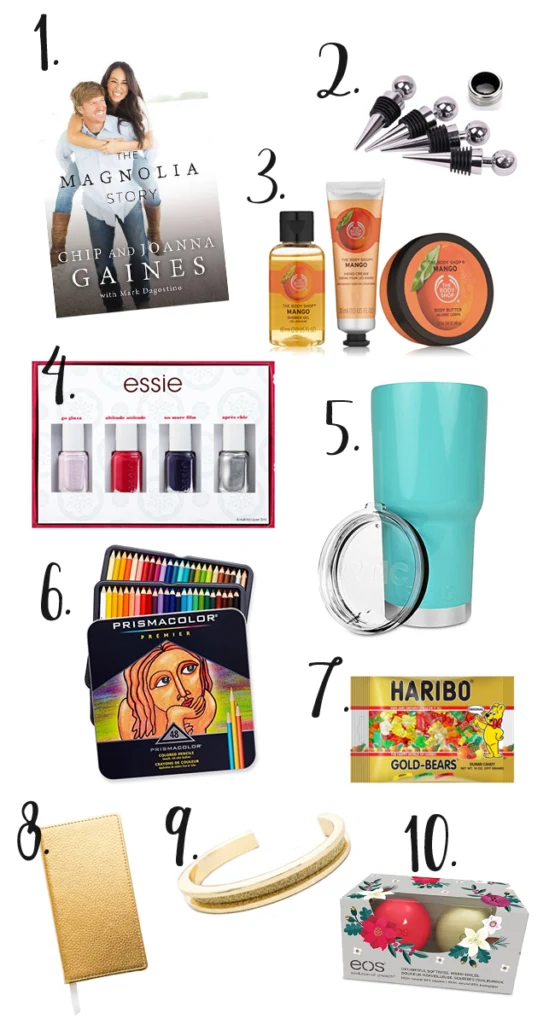 Stocking Gift Guide for Her Links
1. The Magnolia Story: Chip and Joanna Gaines | 2. Wine Bottle Stoppers | 3. The Body Shop Mango Beauty Bag | 4. Essie 2016 Holiday Kit | 5. RTIC Aqua Stainless Steel Tumbler | 6. Prisma Colored Pencils | 7. Haribo Gummies | 8. Gold 2017 Weekly Planner | 9. Hair Tie Bracelets | 10.EOS 2016 Limited Edition Lip Balms
I hope you get everything you want under the tree and in your stockings this year. I am hoping for a new camera lens, some new clothes and possibly a new Cricut or Silhouette!
Enjoy,