The list was put together by myself and my crafty sister-in-law.
My sister-in-law and I gathered items from our crafty wish lists to create the Ultimate Crafter's Gift Guide. I know there are a handful of items from this guide on my own Christmas list this year. I would love to get my hands on the newest Silhouette or Cricut this year. I love the Silhouette I have but an upgrade is always nice since I use mine on a nearly daily basis. Then there are smaller items like the cordless glue gun and calligraphy pen which would make great stocking stuffers! Scroll down for the links to all the items here in the gift guide.

Do you see something on this list that interests you!? Do you notice something missing? Add your ideas to the comments so we an gather an even better list for the crafters coming to find the perfect gift for themselves or their crafty besties.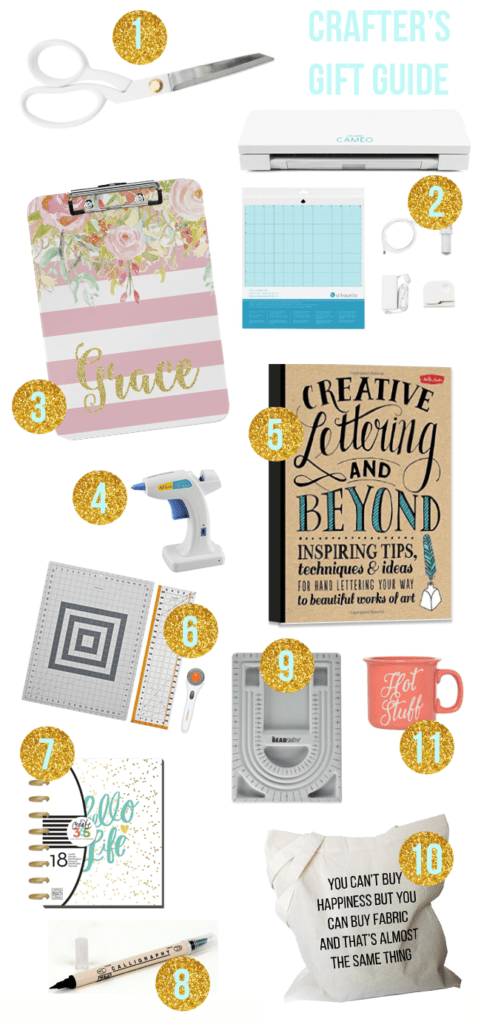 Crafter Gift Guide
1. White Scissors | 2. Silhouette Cameo 3 Bundle | 3. Personalized Clip Board | 4. A cordless glue gun and glue sticks | 5. Creative Lettering and Beyond Book | 6. Rotary Cutting Bundle | 7. 2017 Big Happy Planner | 8. Dual Tip Calligraphy Pen | 9. Work in Progress Beading Tray | 10. Crafting Tote | 11. Mug
What else would you had to your crafty little Christmas list or suggest to another crafter? Drop your ideas in the comments!
You May Also Like –