Life has been one crazy thing after another lately. I feel overwhelmed by all of the things on my to do list and have been looking for shortcuts and easier ways to get things done. Like most moms I am drowning in dirty laundry, dirty floors and frozen dinners. If only my days had a few extra hours. Last weekend I made a delicious and easy Tortellini Pasta Salad that was a hit. It lifted my spirits to spend time in my kitchen. I took it to my parent's house as a side dish for our family dinner.
I love my kids to death but I admit I have even felt overwhelmed even by them lately. I drop them at school and daycare then head straight to work. I leave work ten minutes early to get back to daycare in time to pick them up. Although I have lots of quiet time at work I don't get any 'ME' time. While we were at my parent's house I relinquished all kid duties to them. I felt bad afterward but I needed that little break. The next day I felt refreshed and ready to kick some housecleaning butt.
I have added some of my favorite fresh ingredients into the pasta salad but you can add or remove ingredients that you think would work. I have had a version of this salad with feta cheese and black olives instead of the mozzarella cheese and it was also delicious. Get creative with ingredients you have on hand which is how I came up with this recipe in the first place.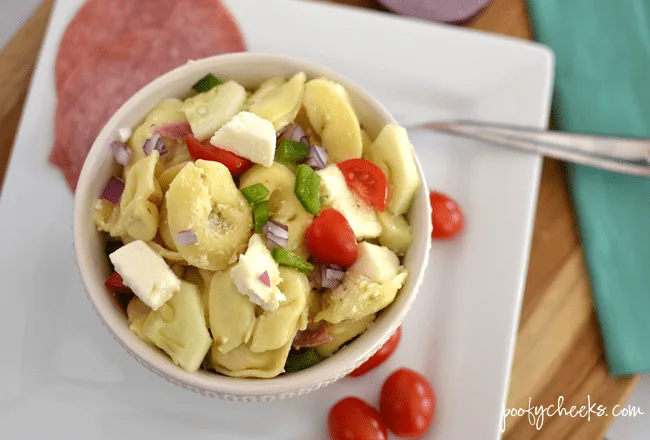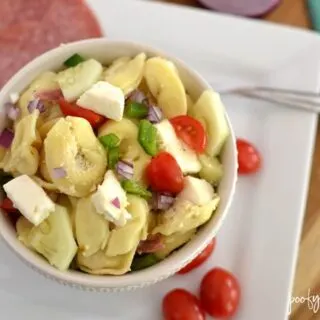 Tortellini Pasta Salad
A delicious, easy pasta salad made using tortellini, cheeses and fresh veggies.
Ingredients
2 19 oz bags of frozen tortellini
1 cup italian dressing
1 cup mozarella cheese, cubed
1/3 cup parmesan cheese
1/2 cup diced red onion
1/2 cup diced green peppers
1/2 cup grape tomatoes, quartered
1/2 cup diced cucumber
1/2 cup diced salami
Instructions
Cook tortellini according to package directions. Drain and rise with cold water. Allow to cool completely.
Once the tortellini has cooled mix in all of the remaining ingredients. Refrigerate for at least 3-4 hours before serving.
Nutrition Information:
Yield:

8
Serving Size:

1 grams
Amount Per Serving:
Unsaturated Fat:

0g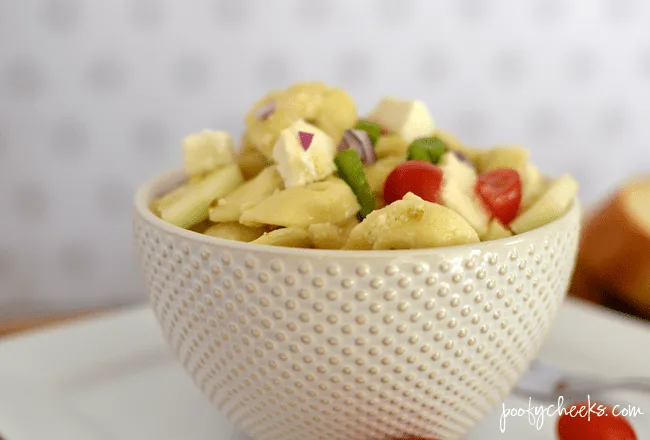 Depending on how far ahead you prepare your pasta salad you might want to add a little bit more dressing before serving. We devoured the pasta salad the first night and then finished up all of the leftovers the next day.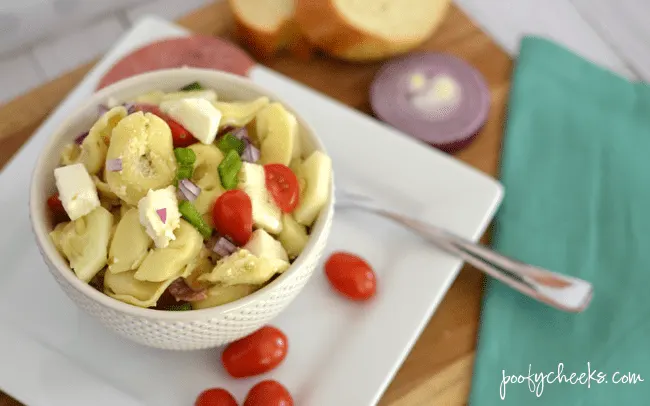 My boys are starting flag football tonight and it will be a twice a week commitment. I can see that this pasta salad is going to become a popular dish on those busy nights.
YOU MAY ALSO LIKE-