Okay ladies and gents I have some confessing to do. June 12th I returned to a full time job outside of the home. I have put blogging on the backburner as I tried to adjust to the 40 hour workweek, family time and household duties. Things have been hectic to say the least but luckily my husband has stepped up and been super helpful making sure we balance the household chores. I think I am finally to a point where I have found a way to work 40 hours, continue to run my home business and blog. It involves getting up a few hours before work and setting up my personal laptop on my lunch breaks but it works.
As a mom of four young kids things are about to amp up and get even more crazy. My two boys start school next Monday, my two youngest are starting daycare for the first time next Monday and soon after that fall baseball will begin. I'm already planning dinners up until the end of the month and adding this Chicken Ramen Stir Fry to the rotation. When I am pressed for time in the kitchen dinners need to be something quick. Chicken Ramen Stir Fry has become one of my go-to dinner ideas on nights when I only have a short time to get dinner on the table. This meal is quick, easy and full of flavor! (Oh, did I mention it is fairly cheap too!?)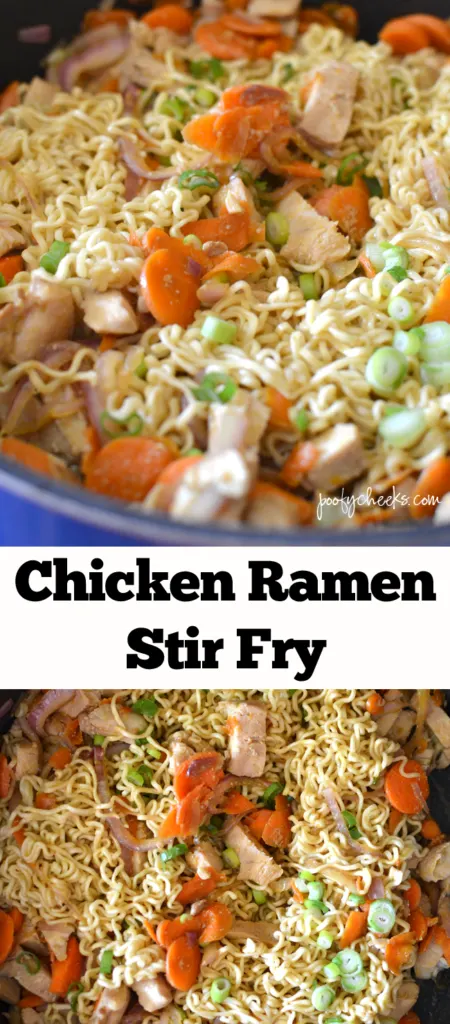 My kids are big fans of carrots so I add plenty of them to the stir fry but you could always use other vegetables that are popular among your family. Best of all with lots of mouths to feed this dish feeds all of us and can easily be adjusted to feed more or less.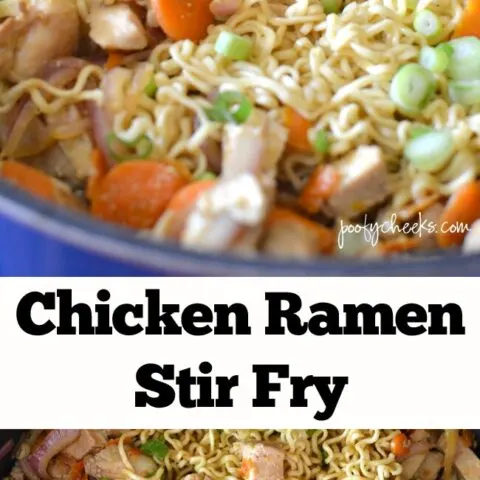 Chicken Ramen Stir Fry Recipe
Ingredients
1/3 cup soy sauce
1 tablespoon honey
1 tablespoon white wine vinegar
1-2 tablespoons minced garlic
2 tablespoons canola oil
2 boneless, sliced, skinless chicken breasts
2 carrots, thinly sliced
1 cup yellow onion, sliced
1 green onion, sliced
3 packages of ramen noodles, discard 2 seasoning packets
Instructions
In a medium bowl, whisk together the soy sauce, honey, vinegar, garlic and 1 tablespoon of the canola oil. Add the chicken and let marinate for 15 minutes or longer if desired.
Bring a medium pot of water to a boil, remove from the heat and add the ramen noodles; let sit for 2 minutes, then drain all but 1/2 cup of water. Stir in one packet of chicken ramen to the reserved water and noodles.
Heat the remaining 1 tablespoon canola oil in a large skillet or wok. Remove the chicken from the marinade, reserving the marinade. Stir-fry the chicken in the hot oil until cooked through, about 5 minutes; transfer to a plate and set aside.
Add the onion and carrots to the skillet and stir-fry for 30 seconds. Add 1/4 cup water, scraping up any browned chicken bits from the bottom. Add the cooked ramen noodles, cooked chicken and reserved marinade to the skillet along with the green onion. Stir-fry until everything is heated through and uniformly combined, an additional minute.
Nutrition Information:
Serving Size:

1 grams
Amount Per Serving:
Unsaturated Fat:

0g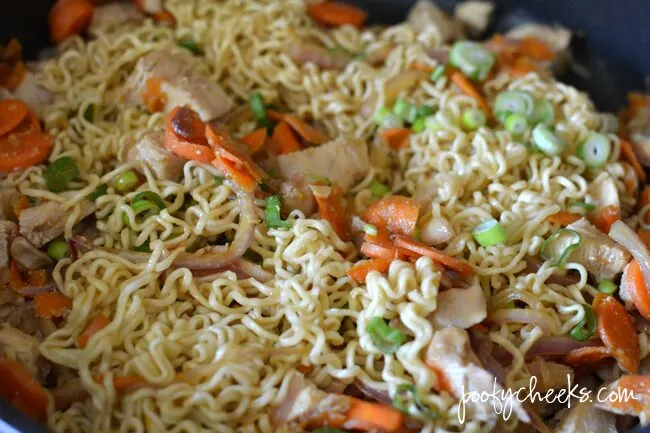 I try to get the chicken sliced and marinating before I even leave for work so when we get back home I can whip up dinner in around fifteen minutes. This meal has been a lifesaver and has earned itself a thumbs up from everyone! I hope you enjoy this quick dinner recipe! Let me know if you try any other variations! In the meantime I'm the one over here trying to remember how I ever balanced everything when I worked full time before… seriously the laundry mountain is growing bigger than ever!
Enjoy,
I party
HERE