Last week both of our boys brought home positive referrals from their teachers and Mike and I were so pleased with them. A positive referral is a note from the teacher specifically pointing out good behavior.
Wyatt's said he had excellent manners and was a role model to his peers. Mason's said he always has a positive attitude and stays focused on finishing his assignments. Mike and I wanted to make a big deal out of their good behavior to encourage it in the future.
To celebrate we all went out for ice-cream and invited the grandparents along. The next afternoon when the boys got home from school we had a family movie night party planned. I ran out to Walmart and picked up the new movie
The Boxtrolls
, Pop Secret popcorn with candy mix-ins and supplies to make them some fun movie accessories.

Since moving in the middle of the school year Mason, our kindergartener, has had a lot of trouble adjusting to his new classroom setting. Mason is Mr. Social and has an outgoing attitude but before we moved he was in an all boys class where the boys were encouraged to turn to their neighbor and problem solve together instead of raising their hands to answer teacher questions. He was coming home with little notes that he was not standing nicely in line, was talking out of turn and I could tell by the way he was coming home a bit quiet that he was having trouble adjusting. Wyatt our 1st grader is more reserved and shy so I knew from the get-go that he might have trouble making new friends. Since going back to school after Christmas break I have noticed a difference in both of the boys' demeanors. Receiving the positive referrals from their teachers was not only something we are proud of but something that put me at ease. For me it is the worst feeling to know that your kids are having trouble making friends or are having trouble in school!
I wanted our family movie night to have a
party
feel so I made the three oldest kids 'boxes' out of paper grocery bags that they could wear and mini 'boxes' out of paper lunch bags for their popcorn.
To make the boxes for the kids to wear I got my groove on with acrylic paint, my paintbrush and washi tape while the boys were at school and painted box designs from the movie onto the grocery bags. I cut straight up the middle of the back of the bag and then an oval out of the top for their heads. Then I cut a circle from the side of each bag for their arms so once everything was cut they put them on and I taped the slit down the middle of the back of the bag. I wish I would have recorded how excited they all were once they got their 'boxes' on. I'm sure you can tell their energy level from the pictures I have!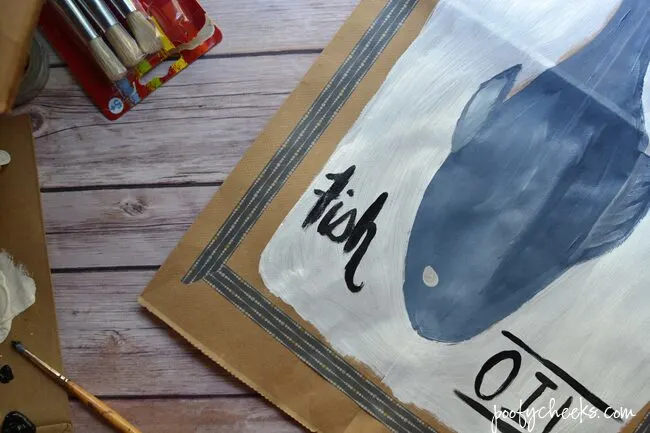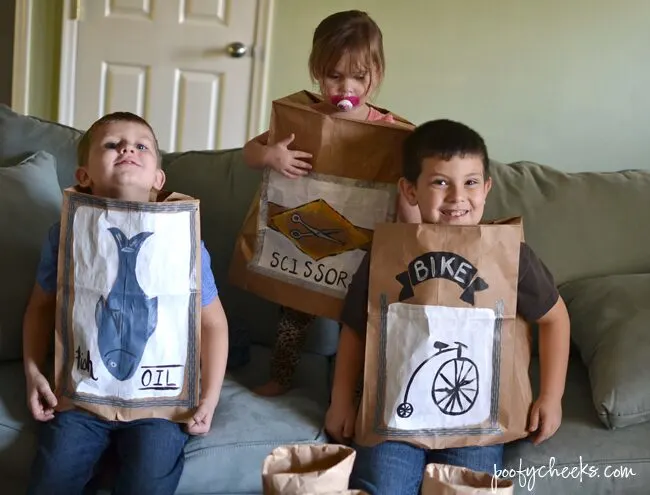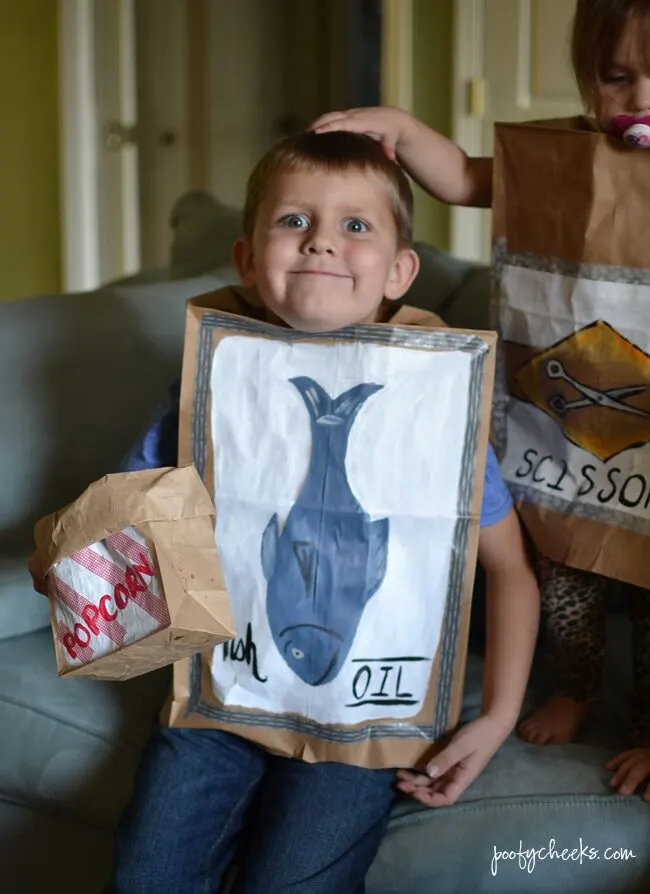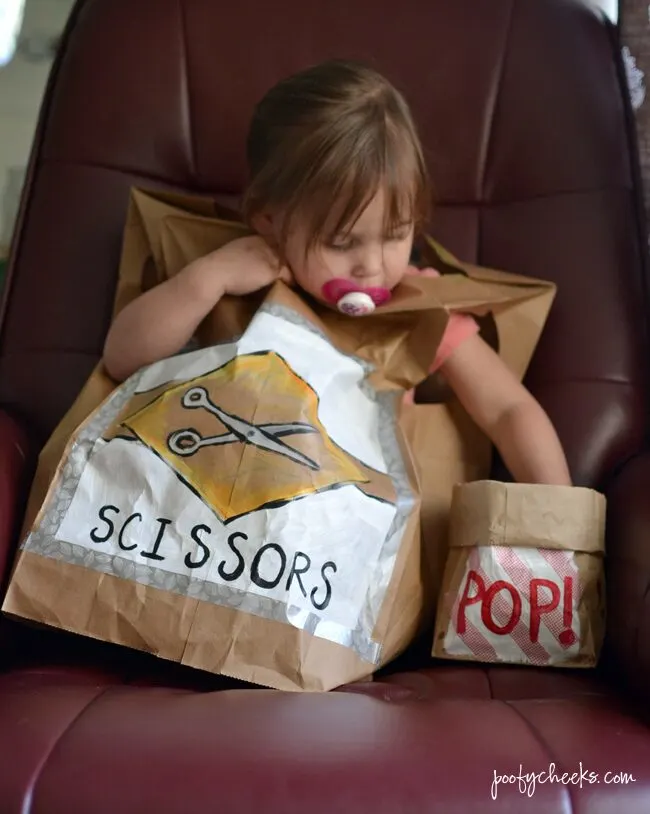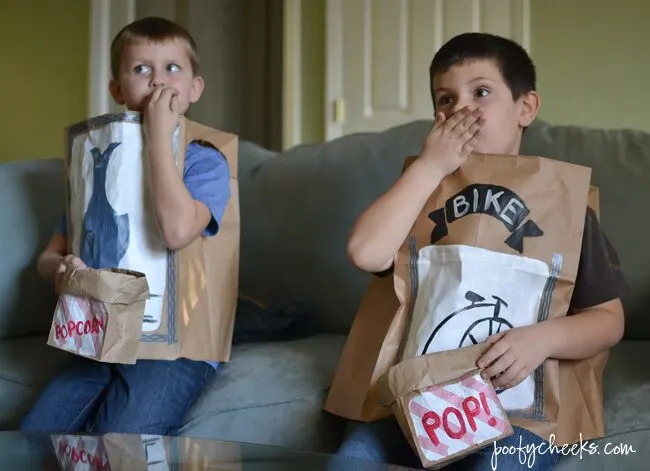 For the popcorn 'boxes' I painted white rectangles on the bottom 1/3 of brown lunch bags. Once the paint dried I used red printed washi tape to make lines across and then painted POP! and POPCORN across with red paint. Once all the paint was dry I folded the bags down a few times and let the boys fill it with their own Pop Secret popcorn and chocolate candy mix-ins.
The Boxtrolls
really was the perfect movie to watch for the occasion because it gave us a minute to sneak in a lesson afterwards. We talked to the boys about making good decisions and resisting peer pressure in relation to the movie – a way that they could understand. I am so glad we have The Boxtrolls DVD now because the kids have been watching it non-stop.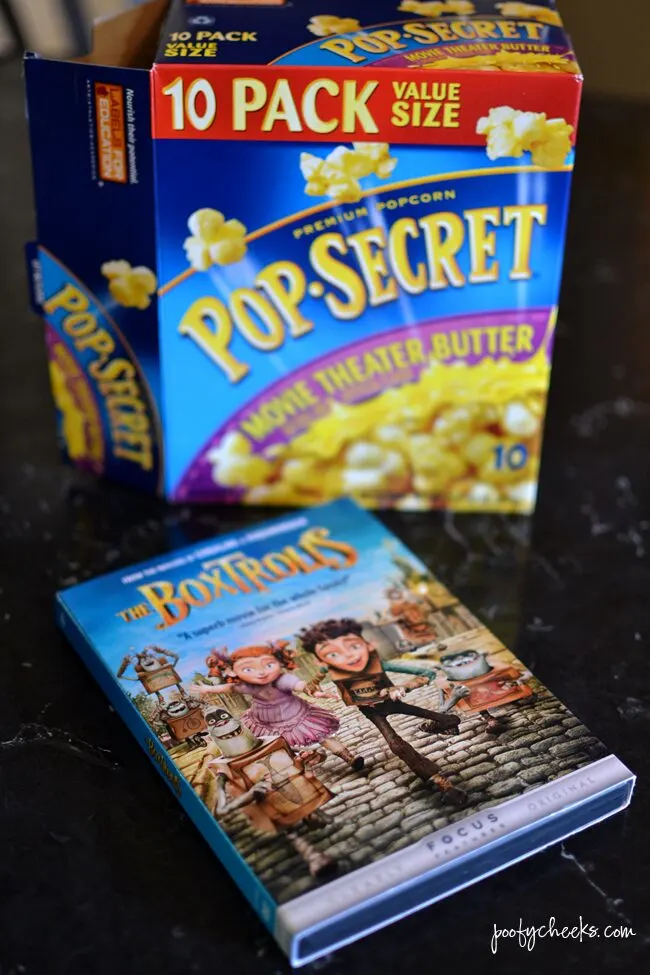 What are you waiting for? Head to Walmart to pick up
The Boxtrolls
(while supplies last of course), Pop Secret 10ct Movie Theater Butter popcorn (because there is nothing better than butta') and have a fun family movie night at YOUR house!