Hot Cocoa Cut File.
My favorite cold weather drink is hot cocoa. The best hot cocoa has extra whip cream and a cherry on top… at least in my opinion. What's your favorite hot drink on a cold day?
I am sharing a Hot Cocoa cut file and an idea of what you can do with it. Below you can see I made a shirt that says 'Fueled by Christmas Cheer and Hot Cocoa.' I used the free font Bebas Neue and fonts from the Hanley Font Collection for the 'Christmas Cheer and' wording. Then I put the Hot Cocoa cut file below that to finish. The Hot Cocoa cut file would be great by itself on a sign or canister too.
How I Created the Hot Cocoa Cut File
As with a lot of my cut files I create them using my own handwriting and doodles then digitize them in Adobe Illustrator. I have been getting a lot of questions about making cut files lately.
I draw, doodle and hand letter my designs on Georgia Pacific white cardstock with a fine point sharpie marker. There is nothing fancy or expensive about my supplies. The cardstock has the least amount of texture which you want to avoid when creating cut files. I also use the black and white because of the heavy contrast between the two colors which makes it easier to digitize.
After I'm done with the design I take a picture of the paper with my iPhone. I edit the photo and turn the brightness and contrast way up. Then I save and email the image (JPEG file) to myself. I personally use Adobe Illustrator to digitize the design at the point so I can save it in DXF, PNG and SVG formats.
Adobe Illustrator can be hard to learn and expensive so if you are doing a cut file for yourself open the file in Silhouette Studio or Cricut Design Space. With a Silhouette go to Silhouette Studio, open the image and use the trace feature. For Cricut users open Cricut Design Space, open the image and following prompts to select and erase parts of the design you don't want to use.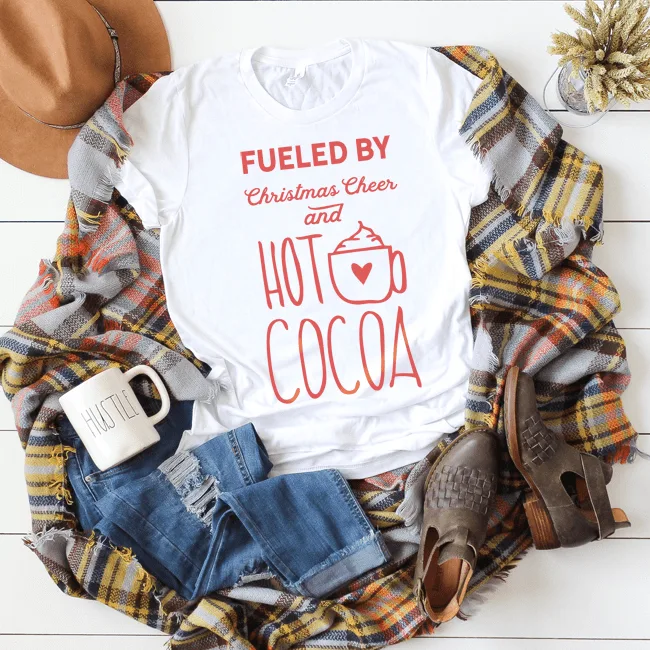 Hot Cocoa Cut File FAQs
What can I make with these cut files?
Cut these files onto any medium you prefer and make SO MANY THINGS! Make mugs, cups, shirts, onesies, tote bags or basically whatever your heart desires. I have put together a list of adhesive and iron-on blanks to give you more ideas. My Vinyl Direct has a whole bunch of blanks you will fall in love with.
Where do you get your vinyl?
I buy from a handful of different places to get my hands on new products when they come out. My favorite is Happy Crafters because the girls are always so willing to help and they have quick processing time. I hate waiting around for items to ship ya' know!? My next favorite is Expression Vinyl. Both of these places offer the typical colors and types of vinyls and both have an array of fun prints staying on top of new trends.
Do I have to input my email and name each time I want to download a new freebie from your site?
Yes, this is how we tell what is popular and how many times each cut file is downloaded.
Can I sell items I create with the free cut files?
Yes, the cut file is for personal and commercial use. You may NOT sell the digital files themselves but you may sell items you create using the cut file designs. Please tag us with your creations on IG (@poofycheeksblog) and we may share on our own feed!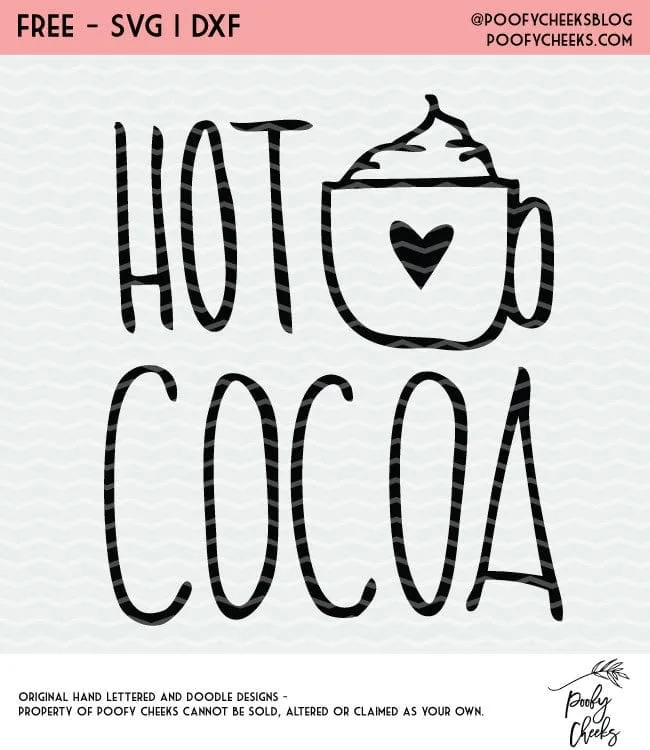 Download the Hot Cocoa Cut File
Hey – before you press that download button do me a favor and follow Poofy Cheeks on Pinterest. Consider it a way to say thanks for the freebie. I am constantly pinning cut files from Poofy Cheeks and all over the web!