Cheer moms and cheerleaders alike will enjoy this cut file. I used parts from the football mom design and added 'cheer' in hand lettering to change it up. My own five year old daughter is begging to be in gymnastics. Growing up a lot of the girls that did gymnastics ended up cheering. I wasn't one of them. LOL.
When you download this file you will get the Cheer version and the Cheer Mom version in a .ZIP folder.
This post contains affiliate links to products I use and recommend. If you make a purchase we may receive a small commission.
The cut file below shows the cheerleading cut file on a V-neck Bella+ Canvas brand shirt. Bella + Canvas is my favorite brand of shirt because of how soft they are. I use my heat press to press the HTV onto the shirts I sell because the pressure and heat ensure a design that will last through many washes and wears. Before when I was using a home iron I found my designs seemed to start peeling after a few washes. New to HTV? I wrote about all my tips and tricks for using heat transfer vinyl.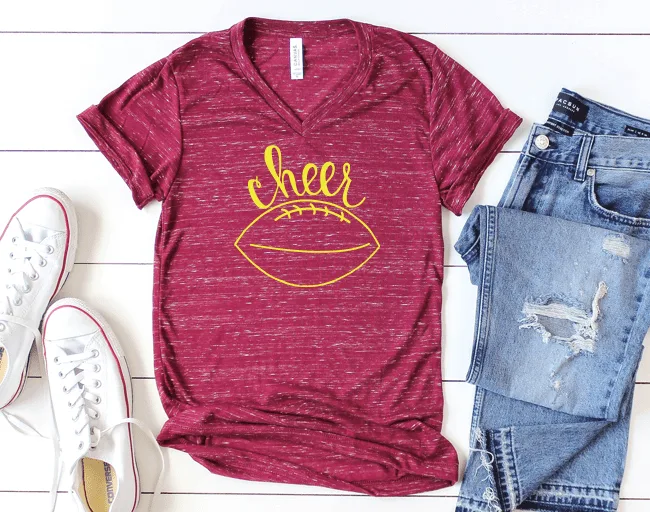 Cheerleading Cut File FAQs
What can I make with these cut files?
Cut these files onto any medium you prefer and make SO MANY THINGS! Make mugs, cups, shirts, onesies, tote bags or basically whatever your heart desires. I have put together a list of adhesive and iron-on blanks to give you more ideas. My Vinyl Direct has a whole bunch of blanks you will fall in love with.
Where do you get your vinyl?
I buy from a handful of different places to get my hands on new products when they come out. My favorite is Happy Crafters because the girls are always so willing to help and they have quick processing time. I hate waiting around for items to ship ya' know!? My next favorite is Expression Vinyl. Both of these places offer the typical colors and types of vinyls and both have an array of fun prints staying on top of new trends.
Do I have to input my email and name each time I want to download a new freebie from your site?
Yes, this is how we track cut file popularity and continue to put out cut files that appeal to you.
Can I sell items I create with the free cut files?
Yes, the cut file is for personal and commercial use. You may NOT sell the digital files themselves but you may sell items you create using the cut file designs. Please tag us with your creations on IG (@poofycheeksblog) and we may share on our own feed!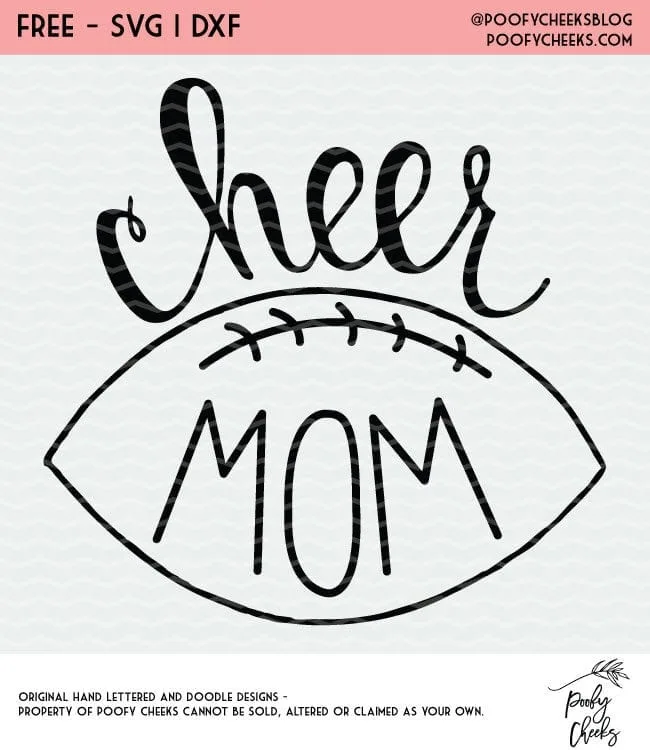 Download the Cheerleading Cut File