Free Be the Light Teacher cut file. This post contains affiliate links to products I use and recommend. I may receive a small commission if you make a purchase.
Teacher appreciation week is the first full week of May. Since I'm a momma of four I try to gift something small to each teacher to show my appreciation. After all, my kids spend a lot of time with their teachers. They learn so much and of all the jobs in the world I am NOT cut out to teach kids! Personally I would loose my shi* if I had to be with a classroom full of kids all day. #truth This makes me appreciate teachers that much more.
I have a free hand lettered and doodle teacher cut file which would go perfectly on a shirt or tote bag. I personally find this wording appropriate for other occasions. You may have read my take on be the light on my IG post a few weeks ago.
Download this file below in SVG format for Cricut machines, DXF for Silhouette machines and PNG format.
Free Cut File FAQs
The cut file doesn't include the SVG file.
We get this inquiry through email a lot. The SVG file doesn't show up as an image on most computers. The logo looks like an internet browser icon (can change depending on your default browser, Internet Explorer, Firefox, etc). Hoover over the files to see the file info and file type.
Why won't these open on my tablet or phone? I'm trying to use with a mobile App.
You must be on a computer to get these files since they are all together in a ZIP folder.
Enter your name and email below and press download. The file will be sent to your inbox. Didn't receive it? Check your junk or spam folders.
You have to unzip the folder to be able to use it inside your software of choice.
NOW you can email the SVG, PNG or DXF to yourself and open the email on your mobile device to download and use in your mobile device app.
Do I have to input my email and name each time I want to download a new freebie from your site?
Yes, this is how we track cut file popularity and continue to put out cut files that appeal to you. Want to see something specific? Email me at [email protected] and tell me what you want to see next! We take your opinions and suggestions seriously.
Can I sell items I create with the free cut files?
Yes, these are for personal and commercial use. You may NOT sell the digital files themselves but you may sell items you create using the cut file designs. Please tag us with your creations on IG (@poofycheeksblog) and we may share on our own feed!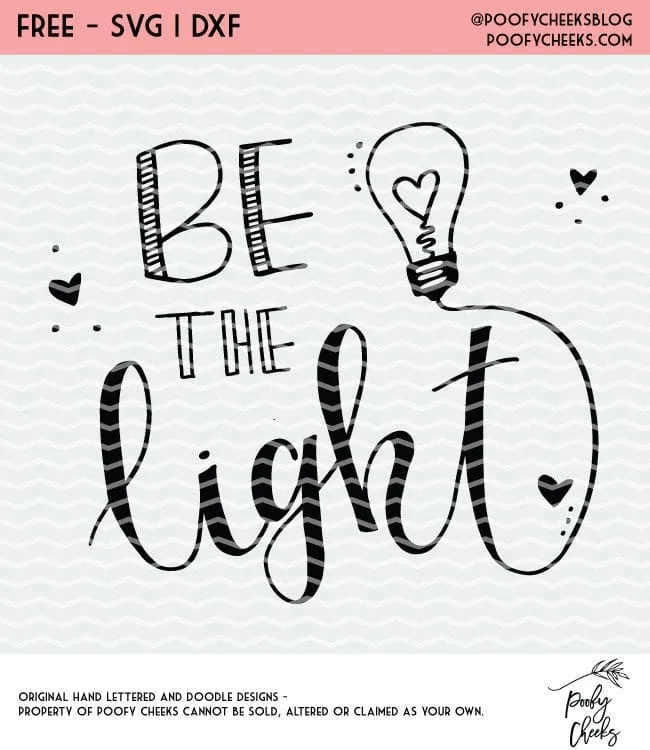 Download the Teacher Cut File – Be the Light
Grab the free Be the Light teacher cut file be entering your name and email below. The file will then be emailed to you in a ZIP file.