I hope everyone had a great Thanksgiving. We sure did. We traveled around to see our families and then ended up spending the evening with friends. I am enjoying the four day weekend and have had the chance to do some crafting including making this sign.
One of my friends had her birthday on Wednesday and was celebrating by doing an adult trip to Disney World. My husband and I weren't able to make it since we didn't have a sitter, so we came up with a way to surprise her. After they left to see the mouse her husband texted us and we headed over to their house to decorate for Christmas. When she comes home she will be surprised by having her tree up and some new signs and décor from us.
I made her a 'Cocoa' framed sign and a 'Christmas Tree Farm' sign using the free cut file I'm sharing today. By cutting adhesive vinyl I was able to use it as a stencil for the paint. If you haven't already stop by the Cheapest Places to find supplies for your Silhouette and Cricut.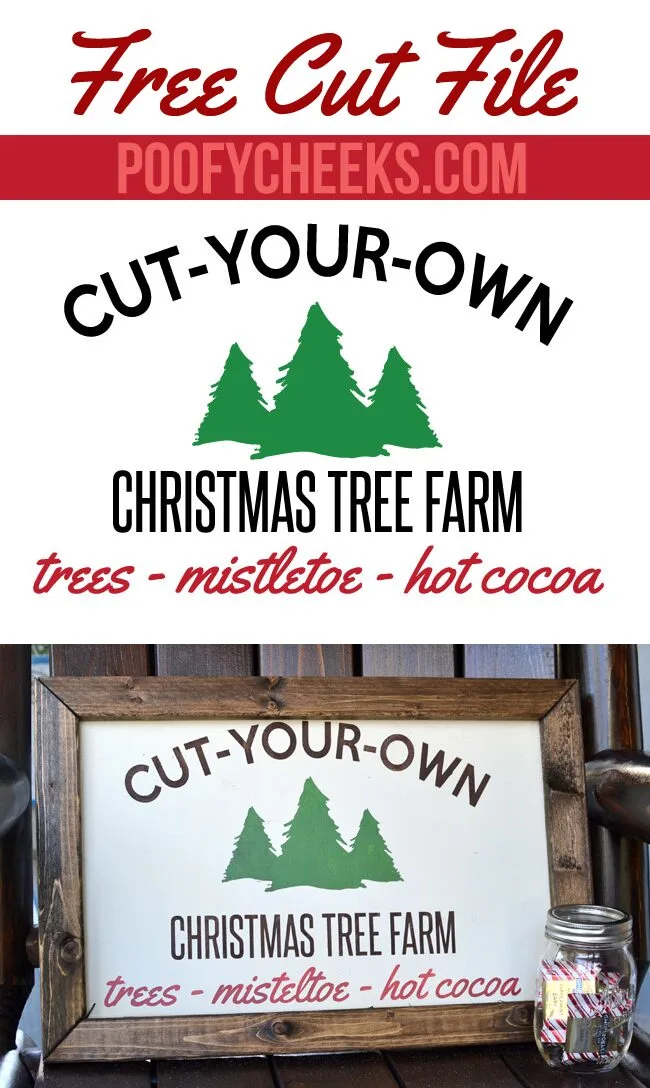 Can anyone catch the typo in my painted sign? Face to palm. I didn't even realize I spelled mistletoe wrong until I was prepping the cut files for this blog post. The funny part is that last year for Chritmas I made her dad a shirt that had the word 'finest' in it and spelled it 'finiest' and didn't notice until she pointed it out. I swear I am good at spelling!
I had some leftover 1/8 inch ply board and 1×2 boards from the last DIY I hosted a few weeks ago so I made her a few new signs. I didn't take step-by-step photos because I was crafting late in the evening but these signs are SO easy.
Supplies Needed for Christmas Tree Farm Sign
1/8 inch thick ply board (cut into the size you want)
1×2 pine (cut to fit around the ply board)
cutting machine (cricut or silhouette)
acrylic paint (cream, brown, red, green)
lint free scrap fabric (I use old tshits cut into scraps)
paint brush
Christmas Tree Farm Sign Instructions
My dad had already cut the 4×8 foot ply board from Lowe's into 12×18 inch pieces with his circular saw. Most stores like Lowes and Home Depot will cut it for you if you need.
I painted the board with a cream acrylic paint. Mine needed two coats.
While the paint dried I used my miter saw to cut the 1×2 pieces for the frame using a 45 degree angle. I cut two pieces for the top and bottom 17 inches long and two pieces for the sides 11 inches. I cut them smaller than the board so I would have a spot to glue them onto the board. The frame pieces were stained using Dark Walnut stain.
I cut my design (design cut file found below) using my Silhouette on removable adhesive vinyl and weeded the design. Since I was using it as a stencil I weeded the tree and letters leaving the background. I applied the vinyl to the 18×12 inch ply board using transfer tape. Make sure to pay attention to the edges of the letters. I used my fingers to apply firm pressure as I traced around the vinyl so paint wouldn't bleed underneath.
Using a foam brush I dabbed brown, red and green paints to create the design. Once dried I peeled the vinyl off to reveal the painted sign.
Since I couldn't find my nail gun I used wood glue to glue the frame onto the board. If you are using the Gorilla brand from experience I can tell you a little goes a long way and it dries pretty quick.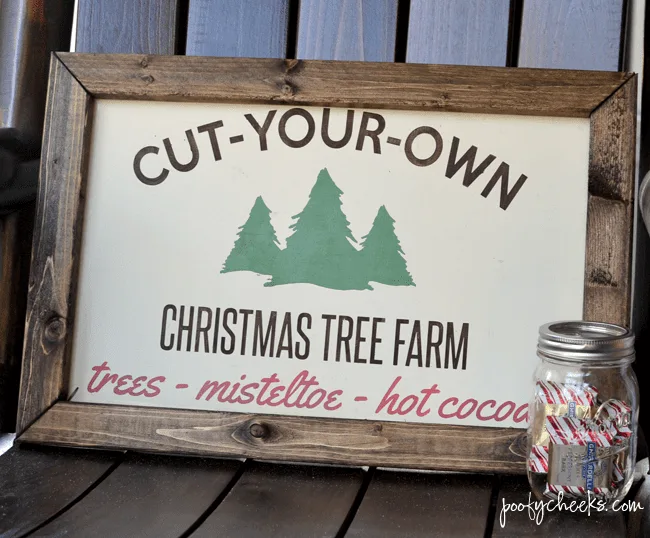 Download the Christmas Tree Farm Cut File
Here is the Cocoa sign I made using a smaller scrap of ply board. I used the font Chunk Five for the lettering. I set this on their kitchen counter with a jar of candy canes and a mini Christmas tree.