Witch Hat Cupcakes recipe.
Hey friends! Raise your hand if you are ready for spooky Halloween recipes and fun. I have a witch hat cupcake recipe that is spooky, fun and easy to do with kids.
My kids have been pulling clip after clip from our Fall Bucket List and we have been having lots of fall fun. We decorated the house, made candy apples, had chili and cornbread for dinner and baked a pumpkin pie. The one thing we have yet to do is figure out Halloween costumes for this year.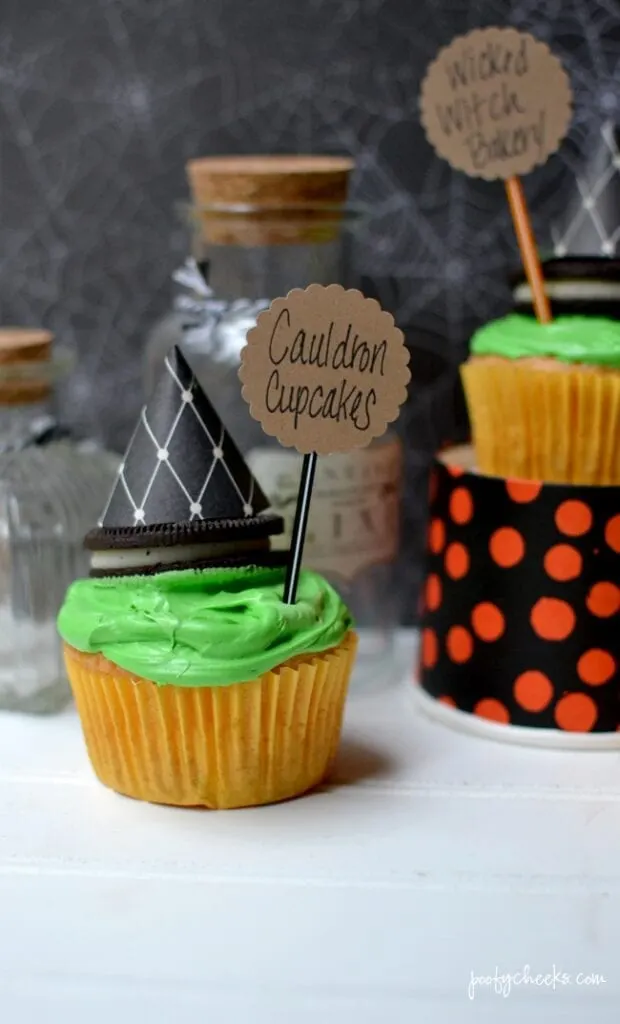 These witch hat cupcakes really could not be any easier. They look complicated but I assure you they are not. I used Fanta, OREO cookies, a cake mix and premade frosting. Scroll to the bottom to get the full recipe.
It is that easy! The cupcakes are ready to eat! I let my kids write some fun spooky notes on the paper pieces and they enjoyed making witch hats with the paper and OREO cookies.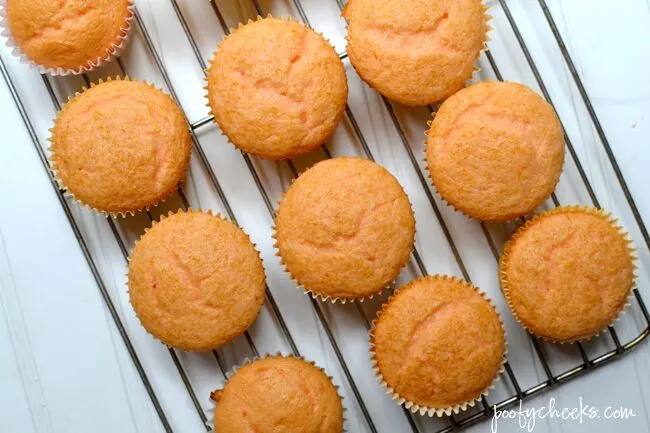 Since I had purchased a 2-liter of Fanta for the recipe I had enough left over to pour into test tubes as 'potion' drinks. My oldest boys thought the potion was the best part and were using their imaginations to come up with different things each potion did. There was love potion, toad potion and superhero potion.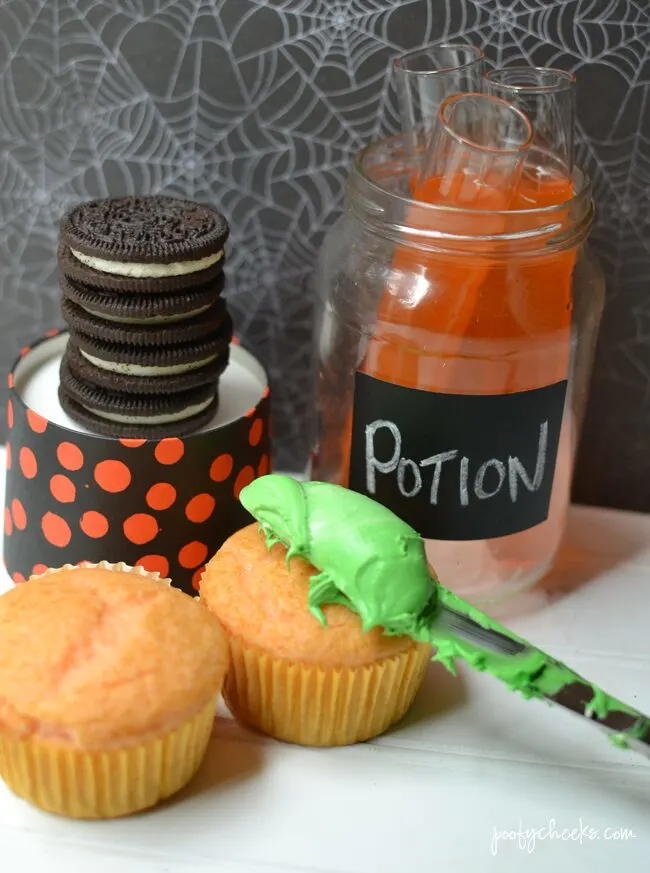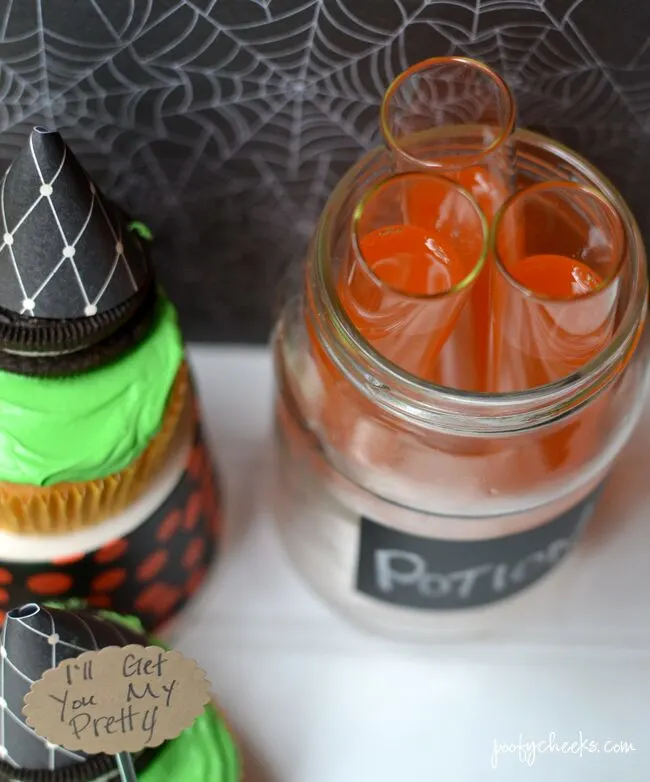 We turned the cupcake making into a fun after school Witch and Potion mini party. I was thinking of whipping up a few more batches the boys can take to school on Halloween. In a few weeks I am surprising them by planning a mad scientist mini party after school. They had so much fun with the test tubes that it sparked the idea for more.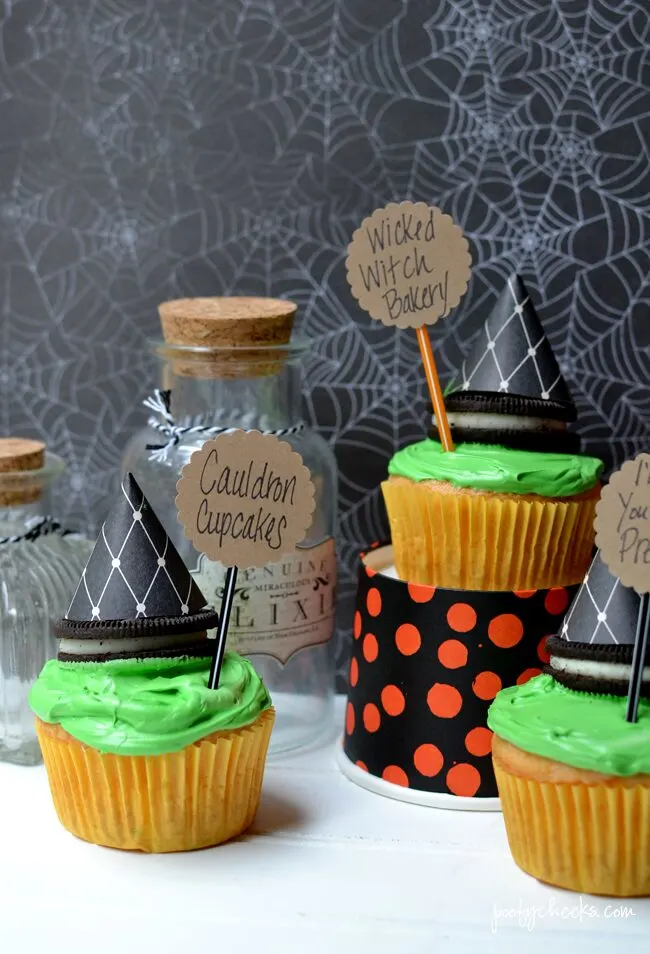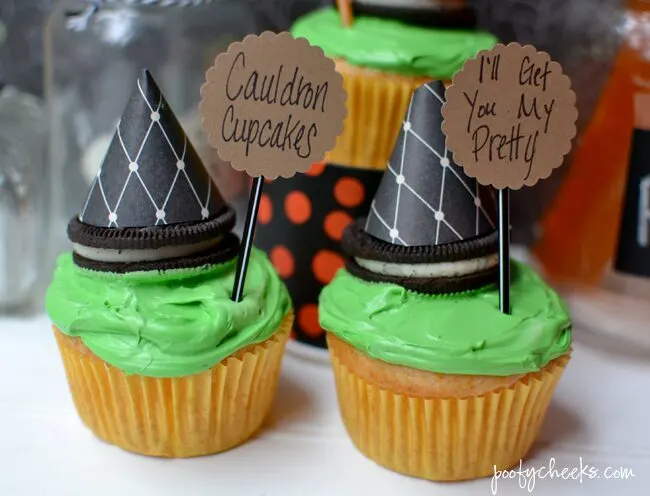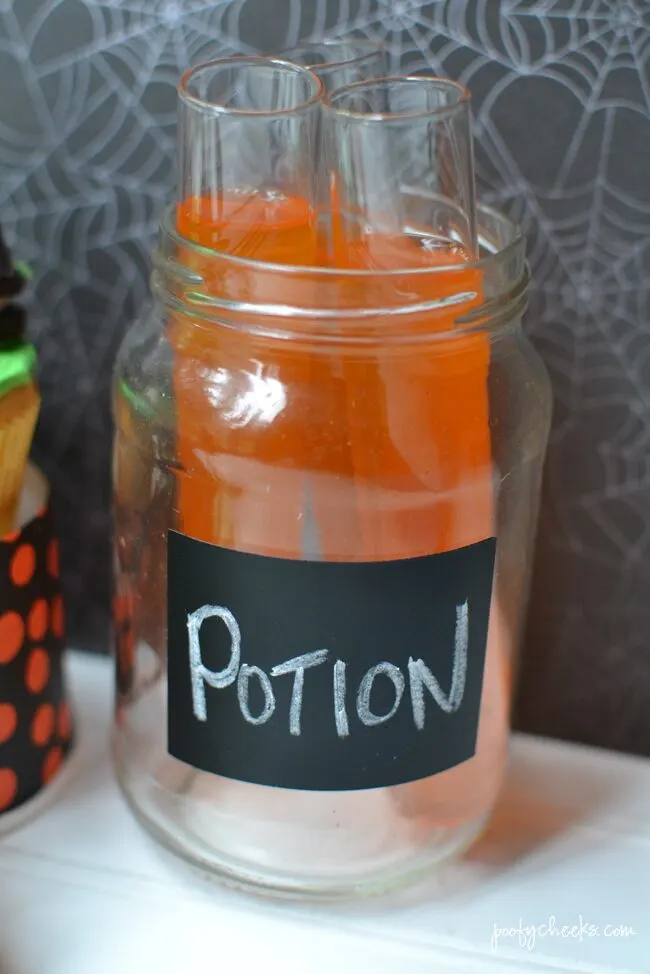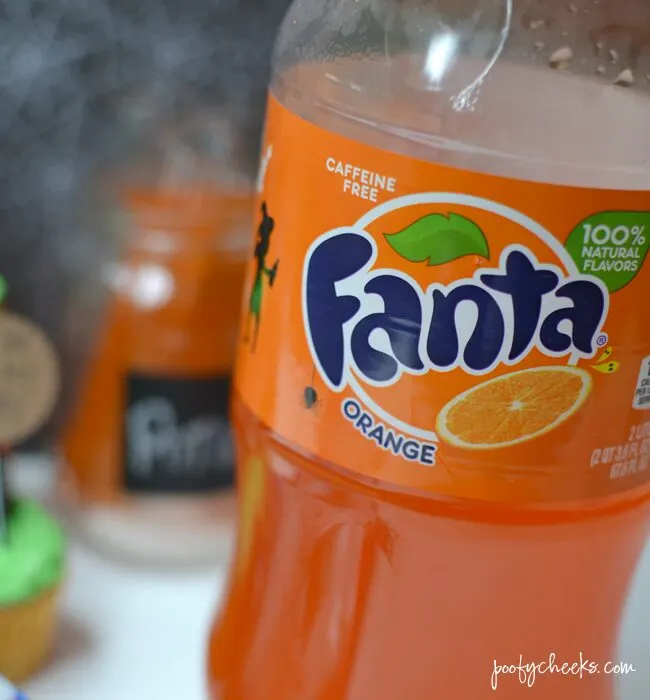 Witch Hat Cupcake Recipe
Witch Hat Cupcake Recipe
Ingredients
(1)Vanilla Cake Mix
1 1/2 cups Orange Fanta
OREO Cookies -, (we used OREO cookies from the fun Glow-in-the-Dark packs)
Frosting
Green Food Coloring
Instructions
Preheat the oven to 350 degrees.
Mix the vanilla cake mix and Orange Fanta together to make cupcake batter. Stir until smooth and then pour into cupcake pan lined with cupcake liners.
Bake the cupcakes for 18-20 minutes and then remove and allow to cool completely.
While the cupcakes are cooling mix frosting with green food coloring.
Once cupcakes are completely cool frost them and add a cookie onto each cupcake.
Use scissors to cut a half circle three inches in diameter and wrap it to create a hat shape. Secure the two ends with a dab of glue. Use a dollop of frosting to keep the pointy part of the hat in place on the cookie.
Cut a scallop or circle from a sheet of paper and write spooky witch things on them. Then glue them to a mini straw and stick into the cupcake.
Notes
Other supplies needed:
Cupcake Liners
Paper for the Hat
Hot glue gun or other fast drying glue
Scissors Mini Straws (toothpicks would work too)
Kraft paper
Scallop paper punch
Black pen
Nutrition Information:
Serving Size:

1 grams
Amount Per Serving:
Unsaturated Fat:

0g
What fun Spooky Halloween plans do you have in the coming month?