Hey friends! Come on in and take a look around my first ever home tour. Our home is decorated for Fall and I'm excited to welcome you in. I don't pick up after my four kids for everyone, so that goes to show how special you are to me.
What are you waiting for? Step on in and take a look around. Greeting you at the door is a tulle and leaf wreath I made a few years ago. We don't have many trees with changing leaves in Florida so I have always loved this wreath and continue to get lots of compliments on it.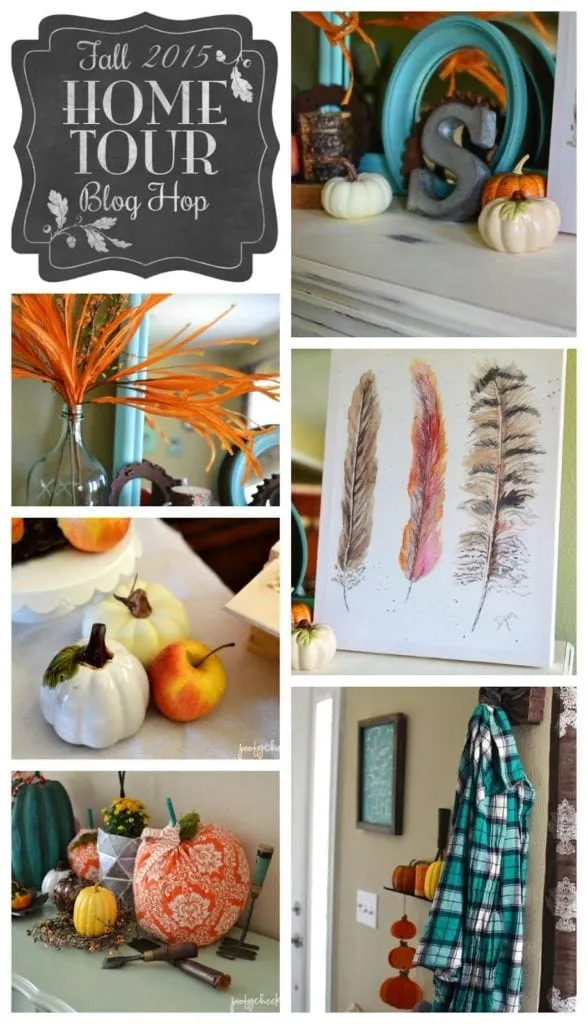 I can remember the first few years Mike and I were together and we would take what little extra money we had around the Fall and Winter holidays to buy a few new decorations. As time went on and I became more creative with crafts AND our budget I was able to fill our home with decorations to fit our style.
The past couple of years I have unpacked our holiday decorations and felt appreciative of the years when we didn't have it money for all the Pinterest worthy decor. Those years taught us what we really wanted. Things mean so much more when you work hard for them.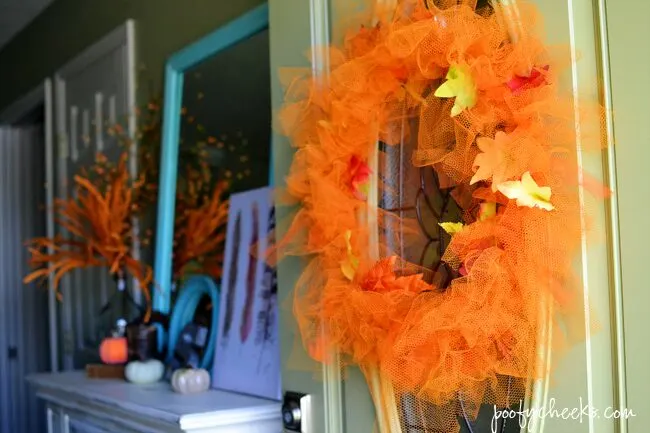 Every fall I buy mums for our front porch because I can't resist their fall colors. I think mums are beautiful with all of their tiny petals. Truth be told they die before fall is done every year too. I always forget to water them as often as I should. LOL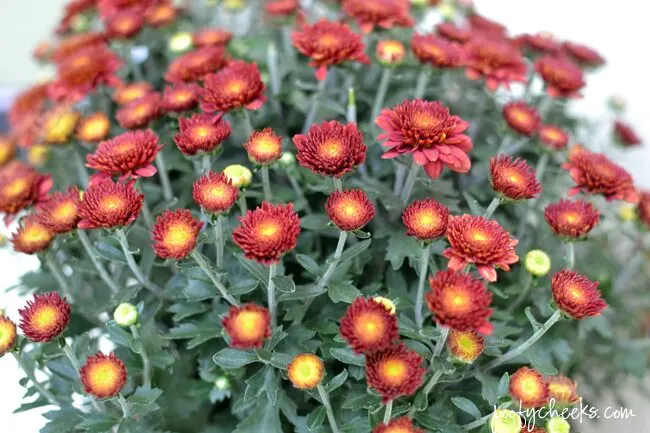 I changed up the decorations on our faux mantel this year. I combined oranges and creams with the aqua framed mirrors. The complimentary colors make for an eclectic fall color scheme that catches my eye every time I walk into our living room.
Once my young babes are older I am excited to be able to add more decorations to the bottom shelf of the mantel, but with little grabby hands it doesn't make sense to do it now. I tried putting a few empty baskets on the shelves and even those were tossed about every time they laid eyes on them.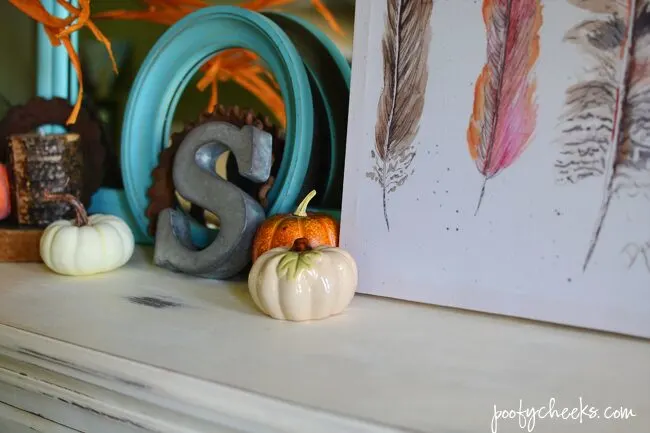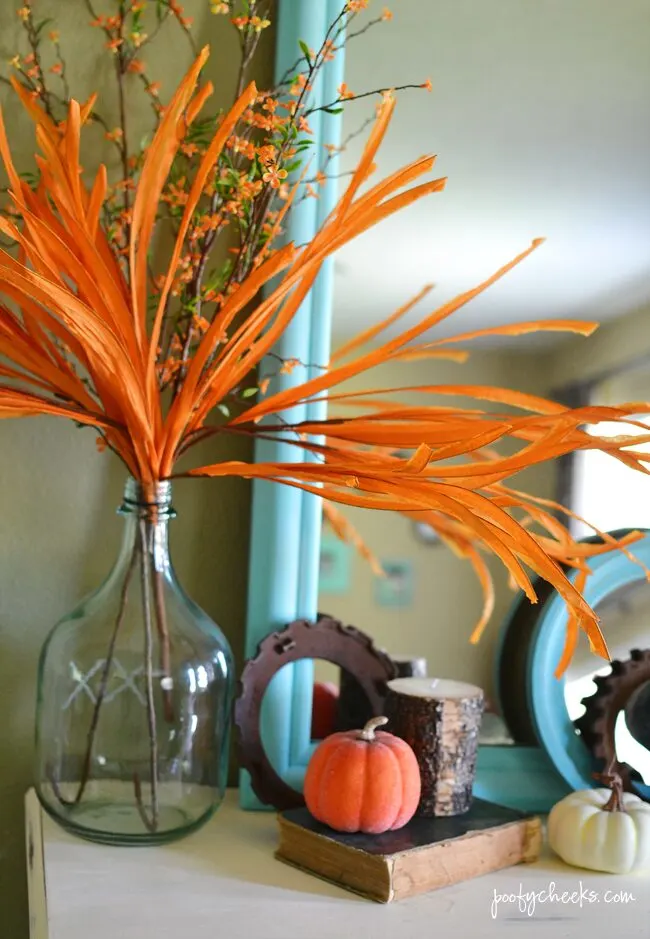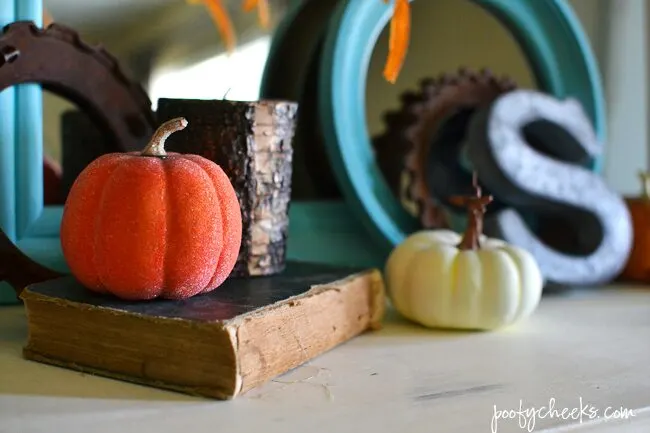 Over the years I have purchased small pumpkins from Walmart, dollar stores and craft stores. I don't like spending more than $1 on them. I can't see spending hundreds of dollars on fake pumpkins which will only be on display a few months of the year. I shopped my house for some other rustic accent pieces and rearranged. I am a notorious for shopping my house – a cheap way to make a difference.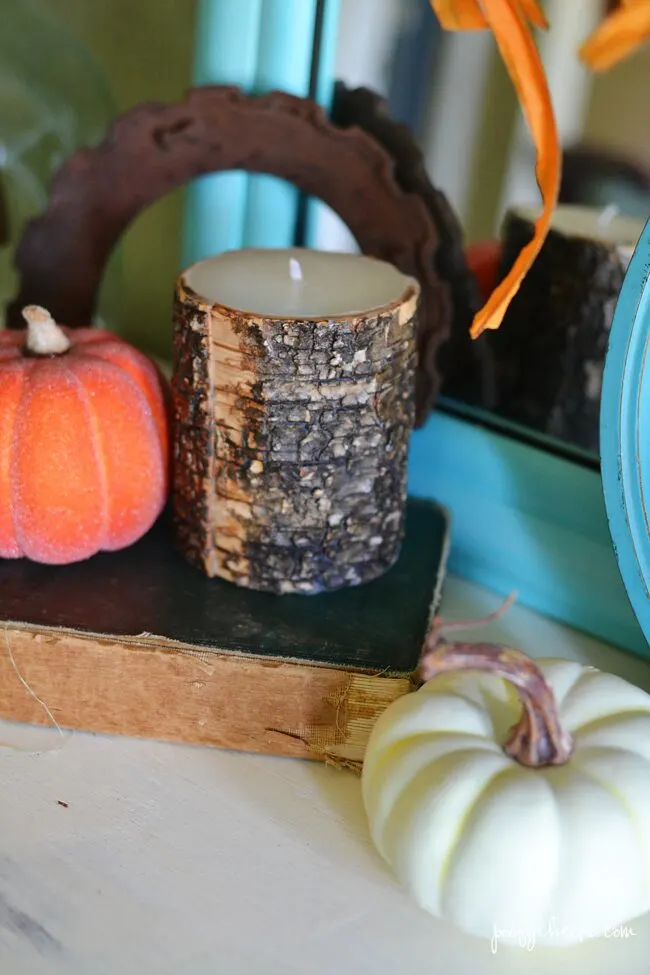 I found this feather canvas at Ross for $10. It was the perfect size and tied in all of the colors in the room. I went back and fourth in my head over buying it ,but in the end it came home with me and I am glad it did. I think it ties everything together perfectly.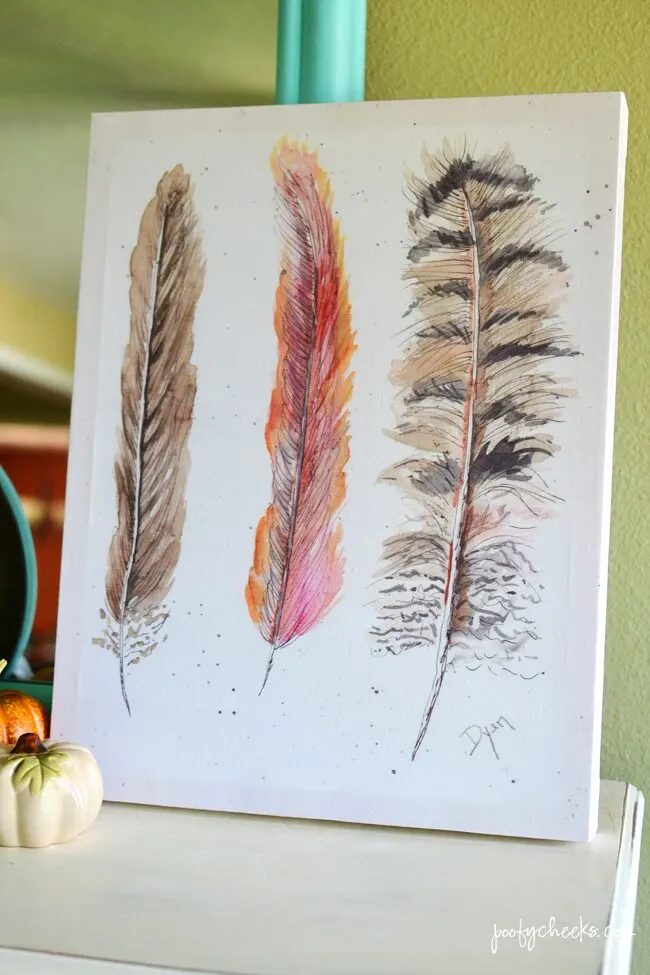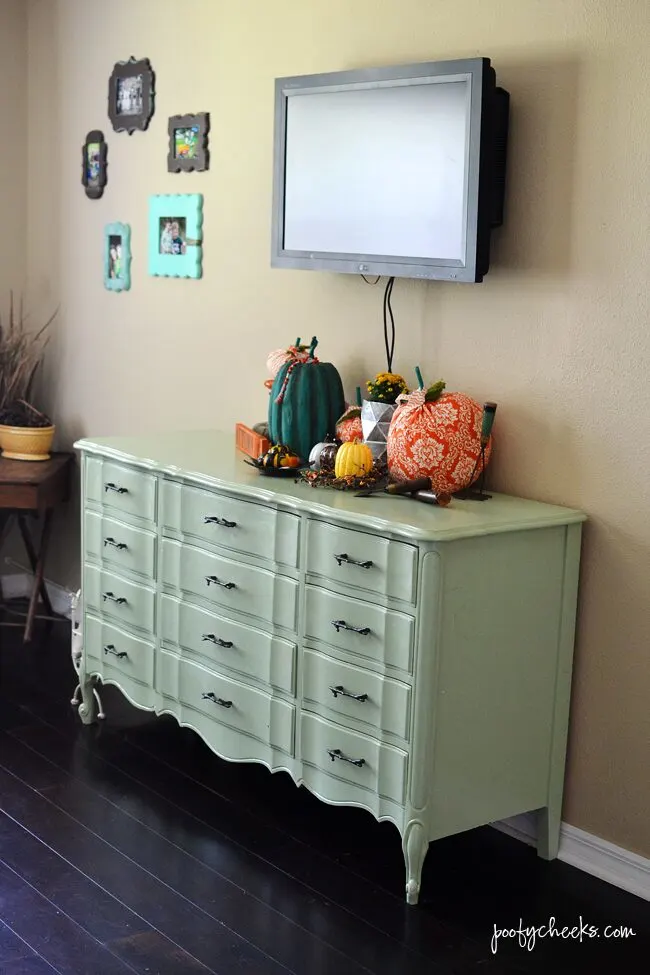 On the dresser under our TV I made an eclectic little pumpkin patch. I gathered all of my little pumpkins, my fabric pumpkins, chalk painted teal pumpkin and vintage tools and utensils.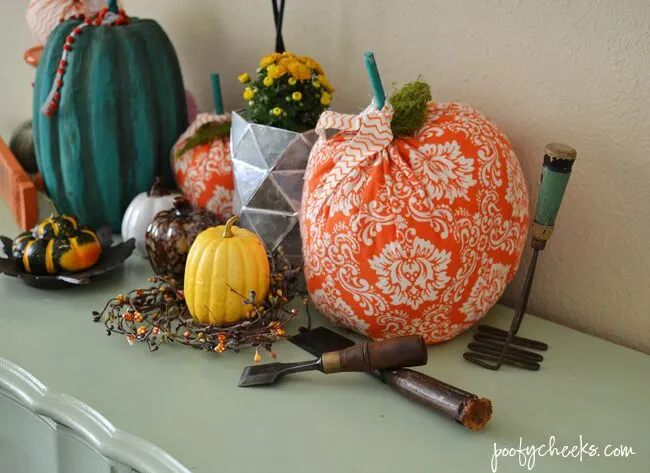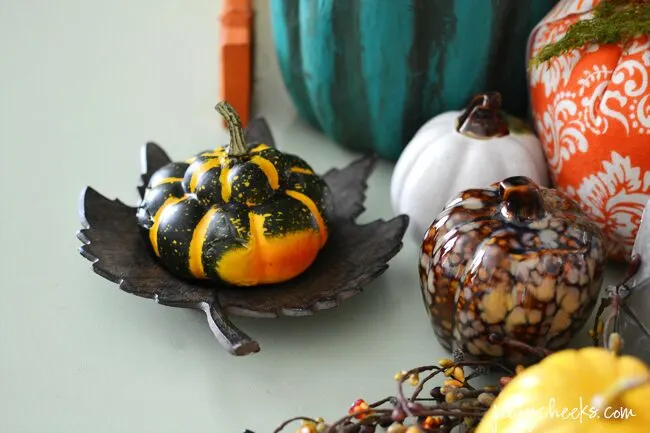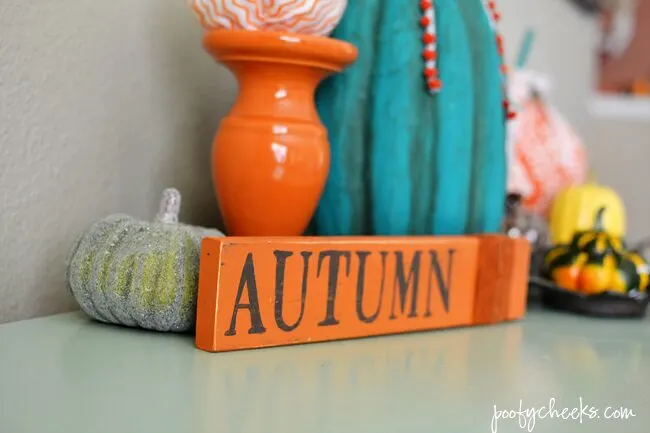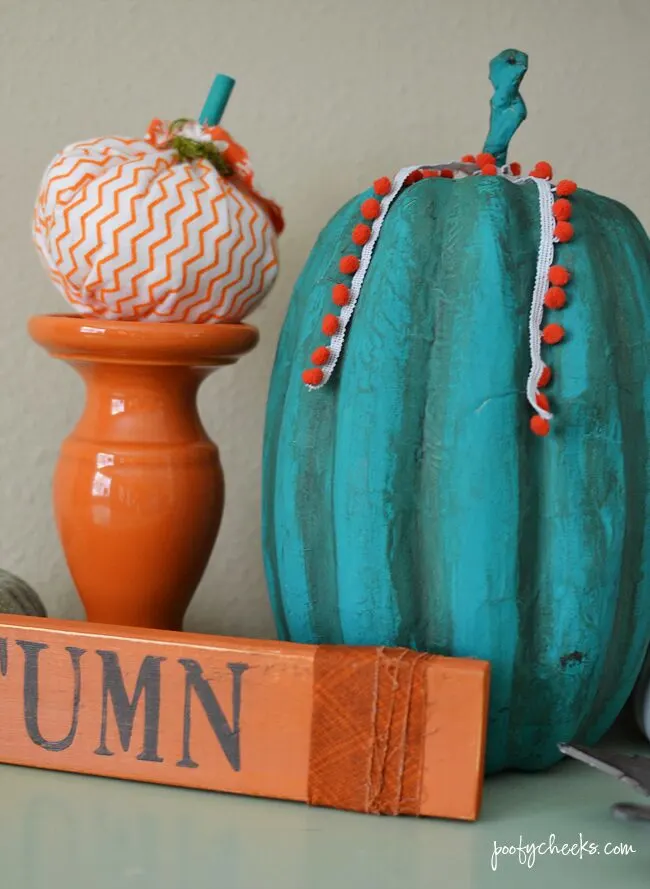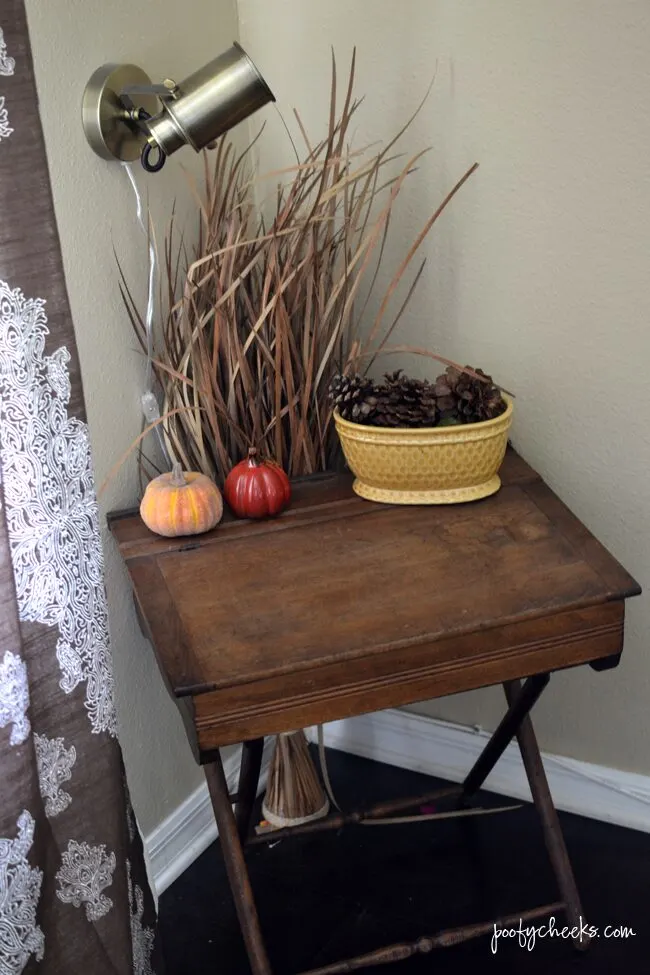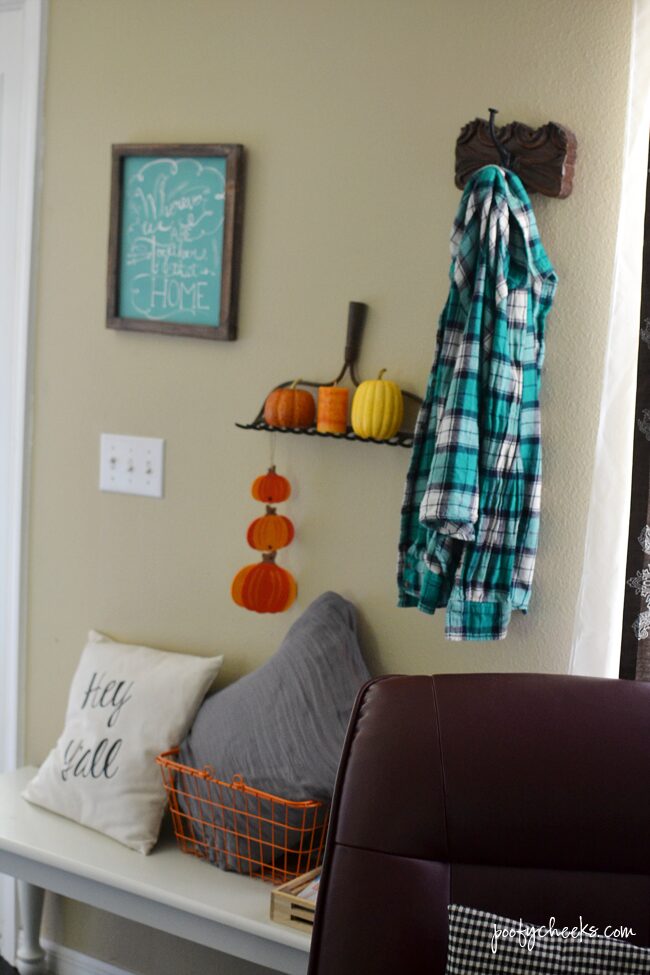 When I pulled out the decorations I felt like a pumpkin fairy waving my want and adding pumpkins everywhere I went. Adding a few small pumpkins and a candle to the hanging rake we have gave it a whole new wow factor. We usually use it to hang our keys but right now it is holding much more precious cargo. I hung my flannel shirt on the hook next to it for cool morning when I need long sleeves to walk my boys to the bus stop. The shirt once again tied in the pops of teal and aqua.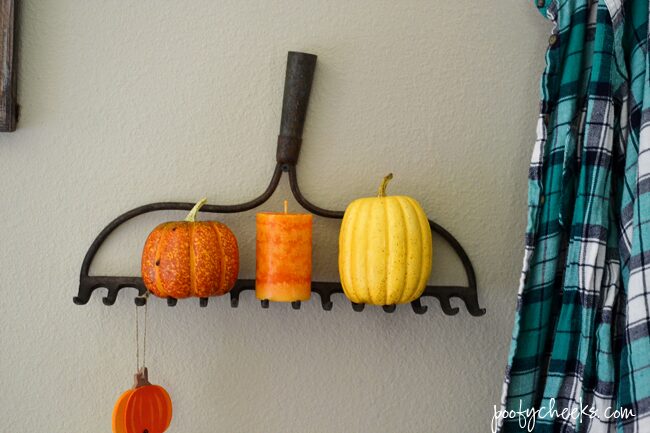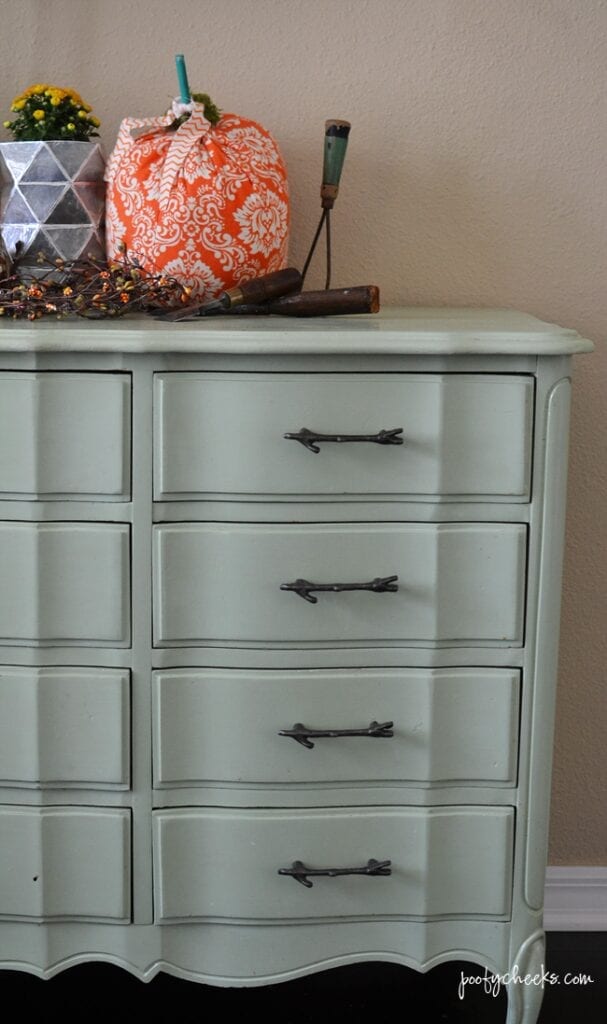 Yellow mums speak my love language. Those delicate little petals opening into perfect blooms.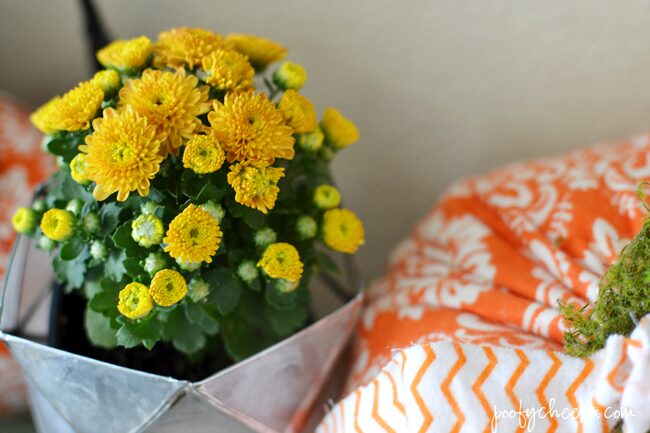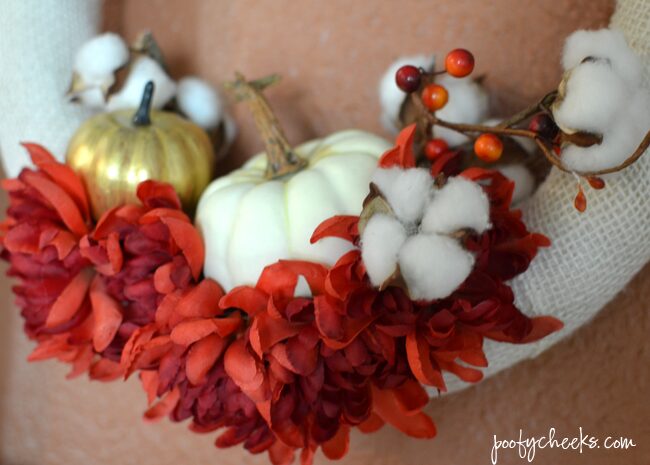 In the small somewhat awkward alcove we have along the wall leading from the living to dinning rooms I added more Fall décor. I hung a simple burlap wreath and added in a wooden painted 'harvest' sign I made a few years ago.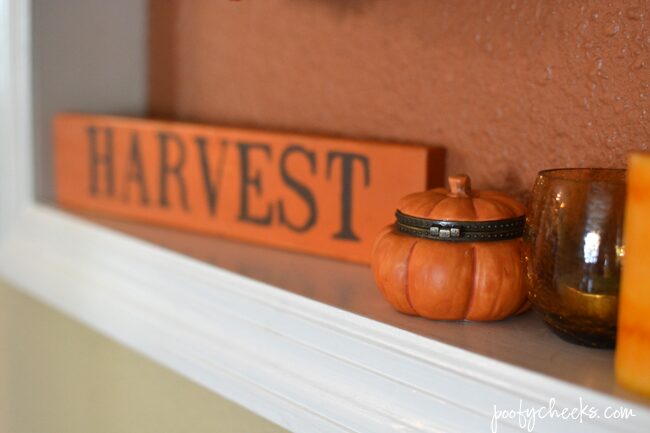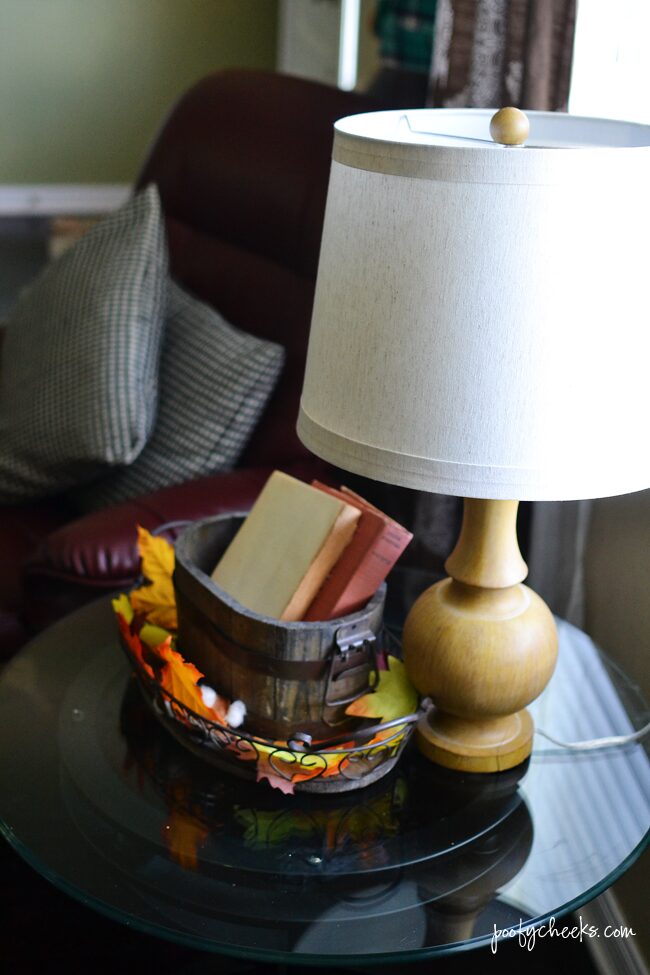 Once again fake leaves at their finest. I picked a large pack of fake leaves up at the Dollar Tree last year or the year before that have a glossy look and really do look real. I filled a wooden bucket with vintage books from a garage sale and placed them along with the fake leaves on a wooden tray.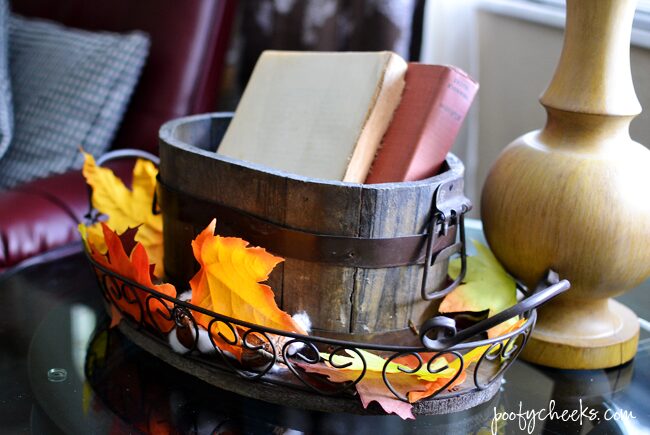 Remember that pumpkin paint color I changed in my craft/office area? Well guess what!? Our dining room is painted in the same color and I haven't found the time to change it yet. The good thing is that it lends itself to Fall and our tablescape so I am not in a rush to change it for a few more months.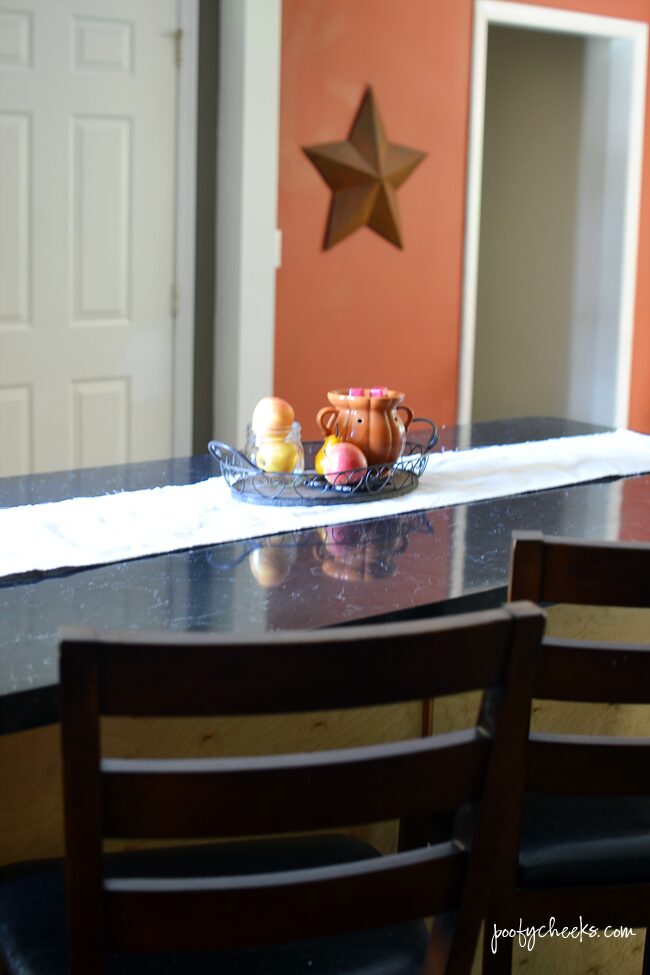 I bought a bag of apples and paired them with more pumpkin orange decorations in the kitchen and dining room. With the orange walls I kept our tablescape and kitchen island light by using burlap runners and white pumpkins. I recovered two throw pillows in black and cream plaid flannel and tossed them in an unused chair at our table for a cozy Fall feel.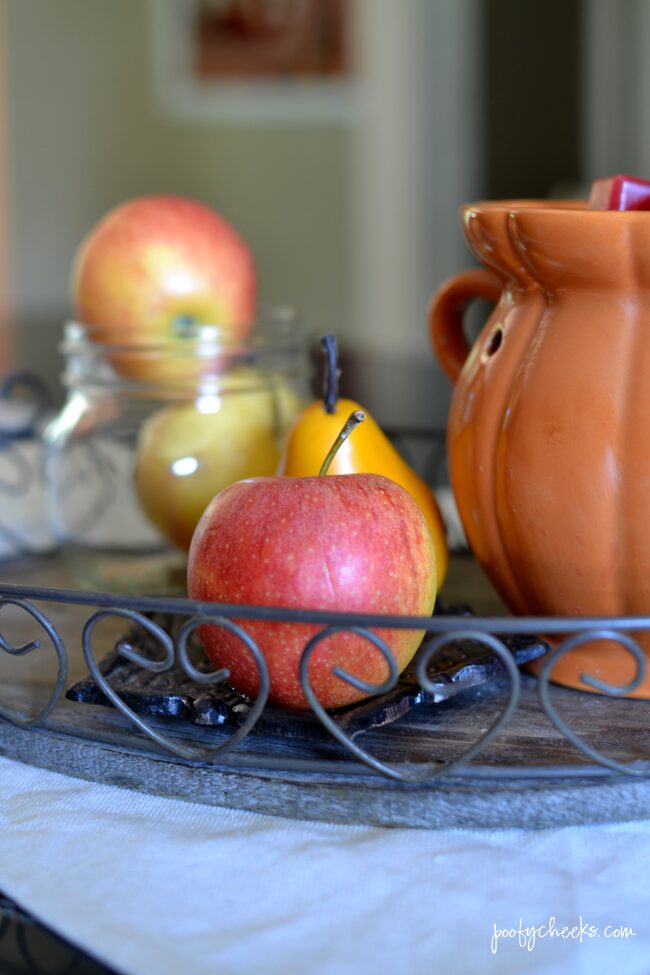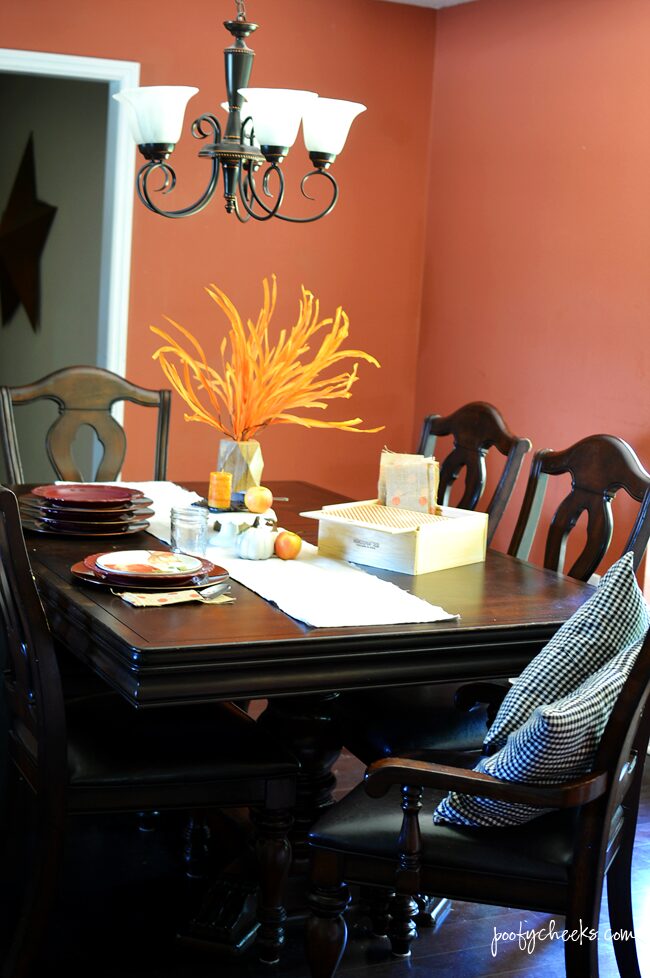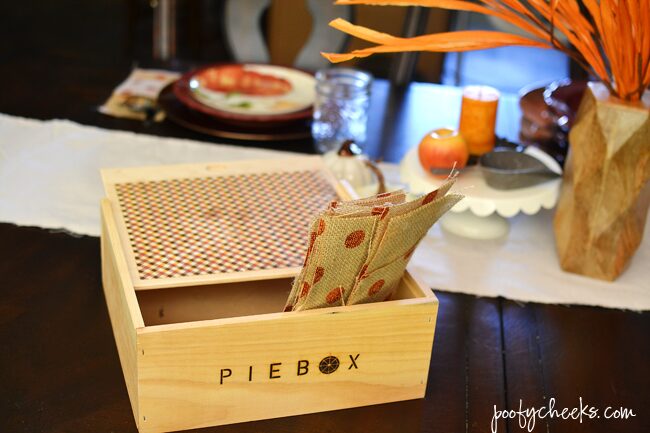 How perfect are these pumpkin plates? I found them at Walmart and couldn't resist. They were only a few bucks each and I bought four.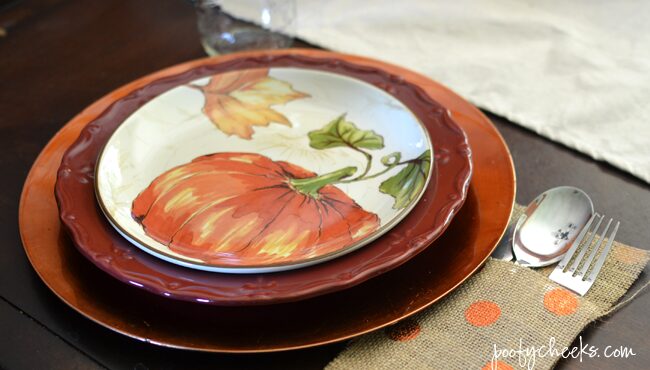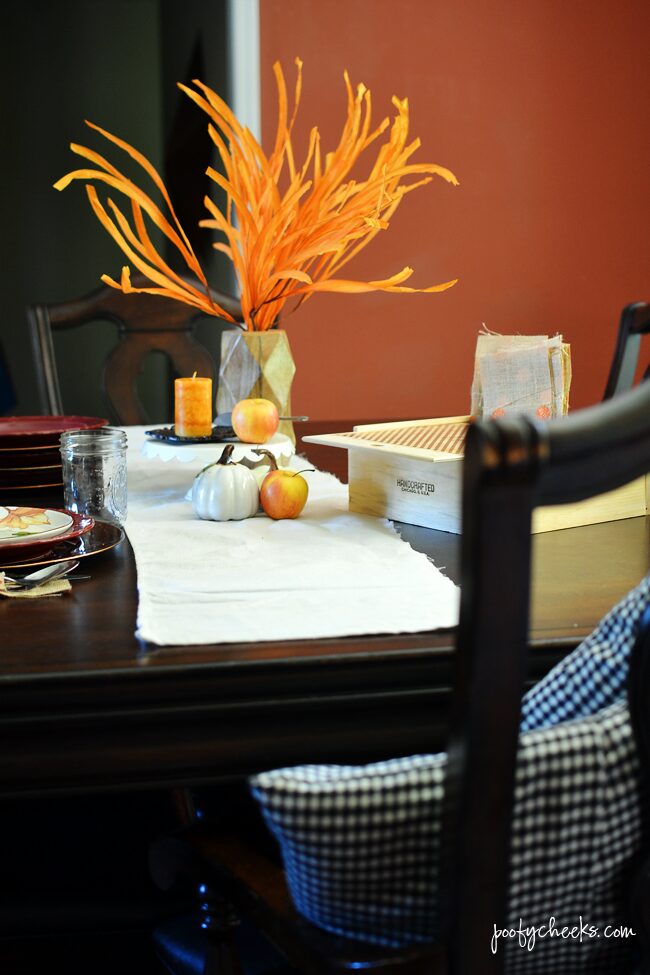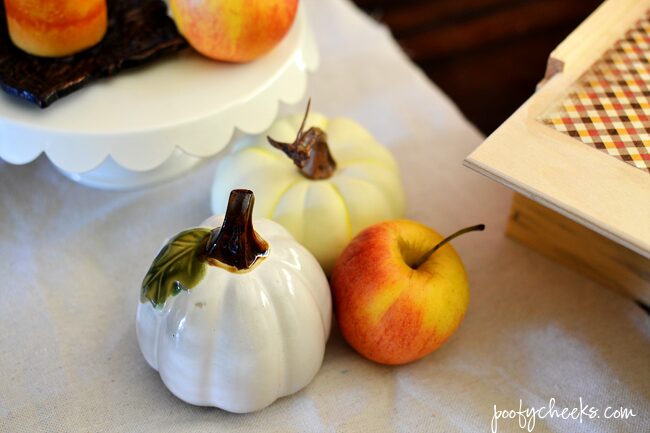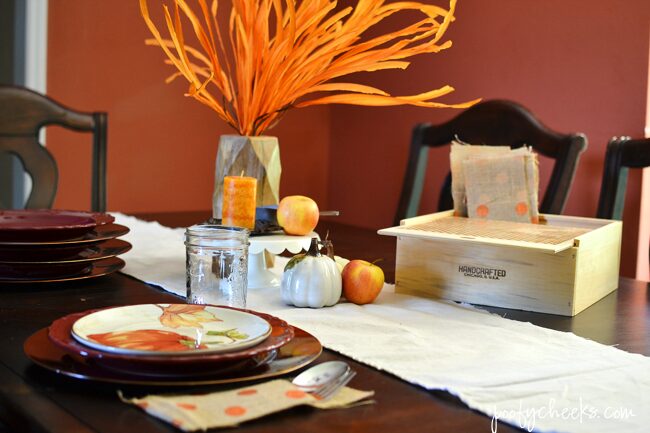 Fall is a season of reflection and thankfulness for many. I am no exception. I tend to reflect back on everything that happened throughout the year and feel thankful for all the good. I am always most thankful when our home is filled with family and we are joined around the table in laughter.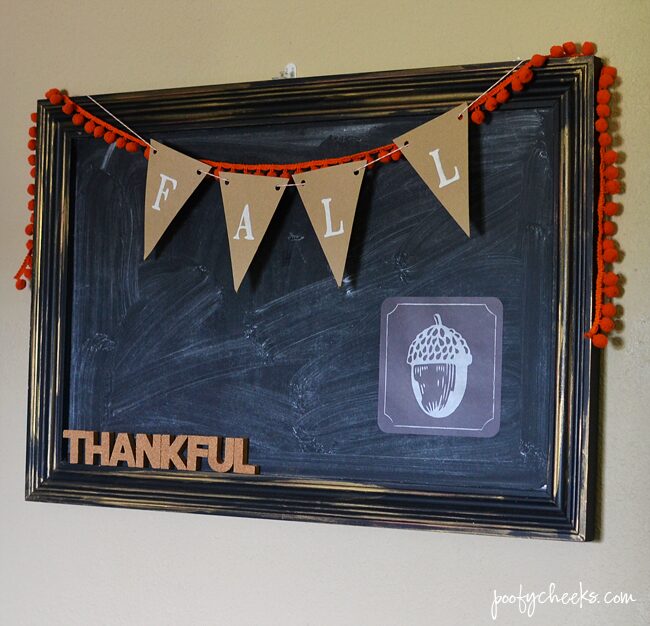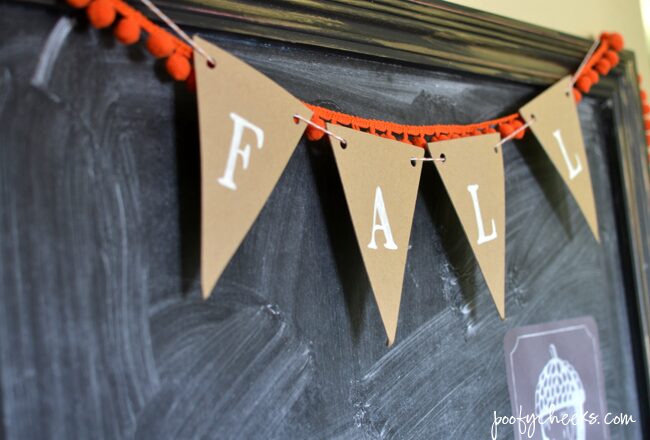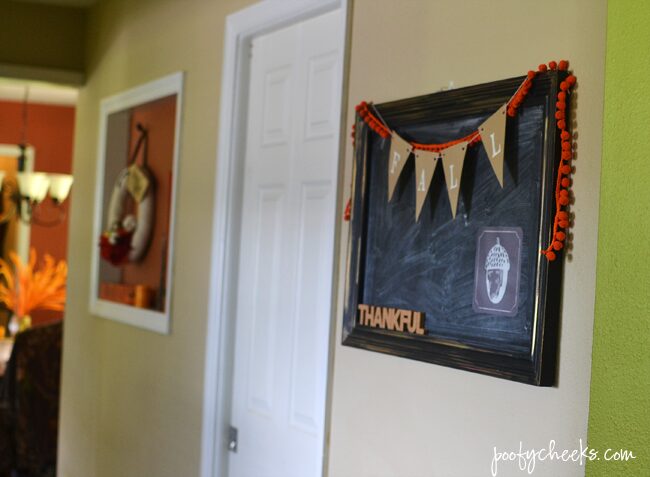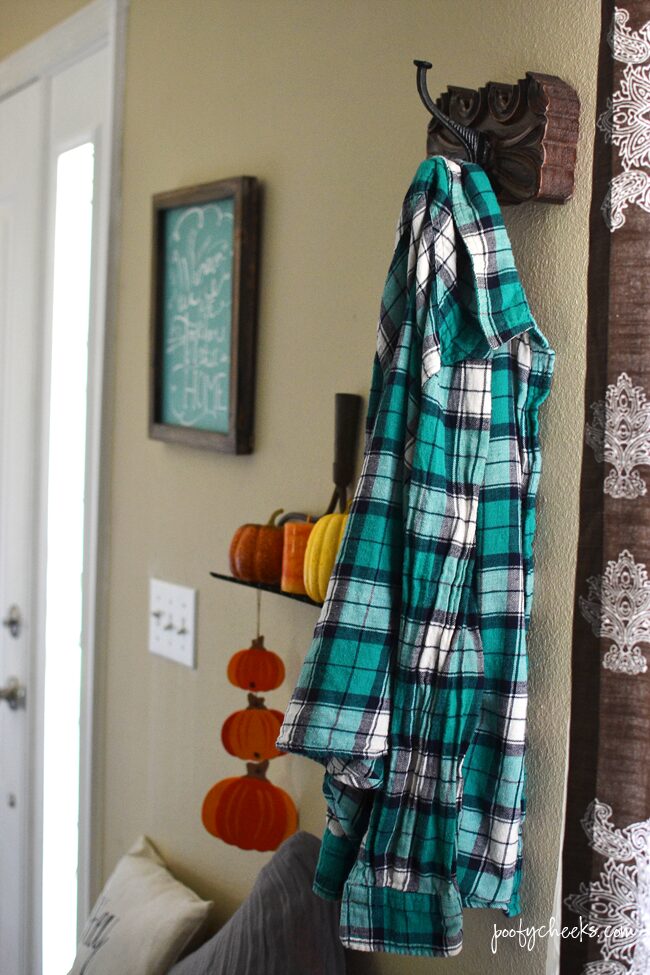 Thanks for stopping by and joining me through a tour of our home. Next time I will have everything decorated for Christmas and show you around a few other rooms in our home. Have you started your Fall decorating yet?
Fall Porch Decor Inspiration
Need more fall decor inspo? Check out this Fall Porch Inspiration post…