I am so excited for today! I have been working on our master bedroom redo since we moved in November. Here is my master bedroomwith BEHR Penthouse View paint.
Giving our bedroom a revamp was a slow process of redoing furniture, painting the walls, and buying things here and there as we had extra money. I didn't have a lot of money to put into the room so almost everything is a DIY or a clearance purchase. Finding the time to do some of the bigger projects was a waiting game in itself. Emmett and Delilah are at the age (15 months and almost 3) where they want to get into everything and the truth is that they make more work on me.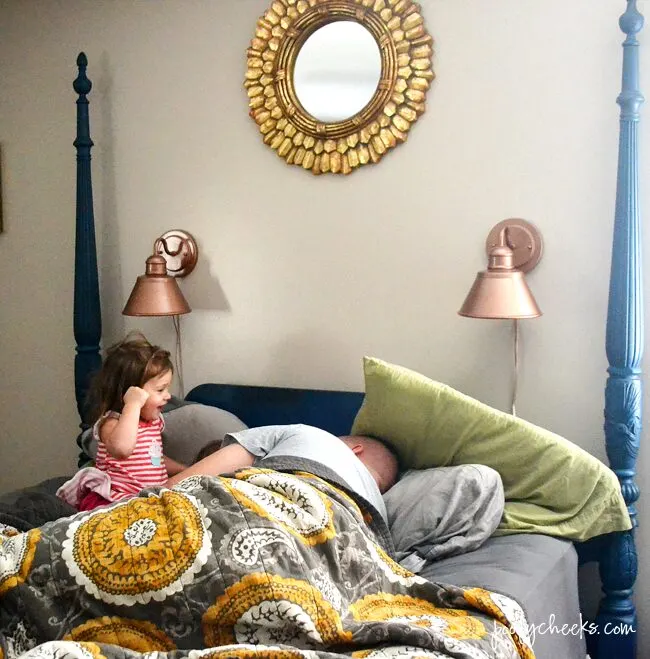 I will warn you this isn't going to be your typical 'everything perfectly in its place' type of reveal. My big boys are back in school and my husband is on an evening shift,so I have the two littles and Mike home with me during the day. As soon as I was getting ready to take pictures of our room Mike and the kids decided it was play time… where else but on the bed IN OUR BEDROOM. I continued to shoot pictures with plans to kick them out and make the bed, but then our sweet Emmett fell asleep in Mike's arms and I couldn't bring myself to wake them.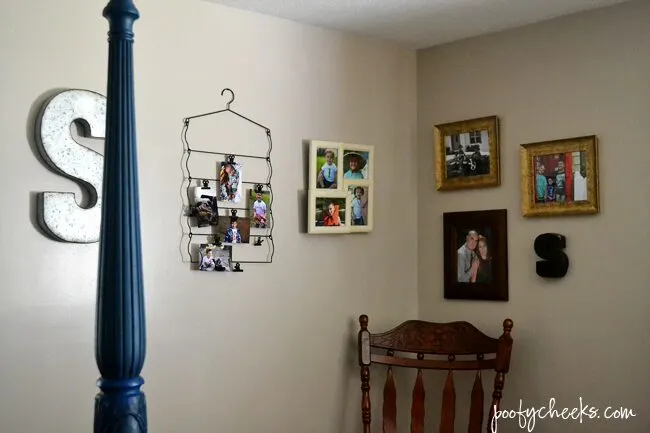 Some of the pictures I captured like the one above are candid real life moments I cherish. My husband is such a good daddy. He is the calm to my storm and we compliment each other in so many ways. When I am stressed or overwhelmed he is my dose of reality and reminds of the things that are truly important. When he is worked up or hard headed I don't put up with his crap. Like any marriage we argue and disagree from time to time but at the end of the day we are not only husband and wife but best friends. As I went through editing these photos I stopped and stared at the ones of them in the bed taking it all in. I am so thankful for my family and the joy they bring.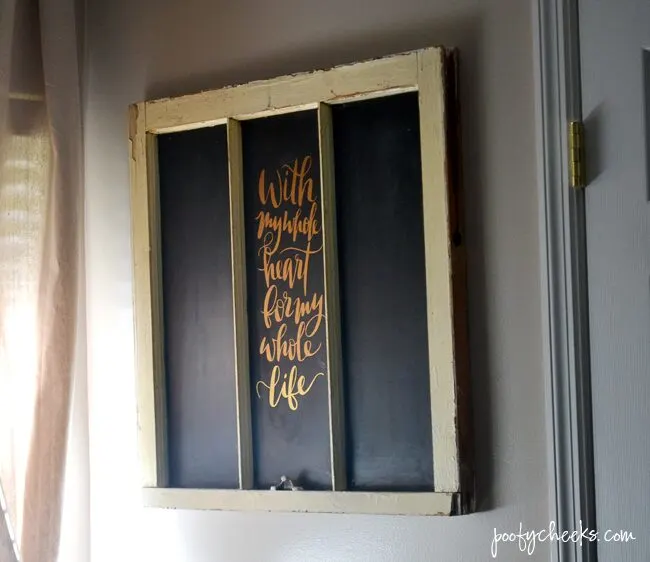 In the chaos of life I don't always stop to be thankful or appreciative of what I DO have right in front of me. I am often rushing from one thing to the next. I have been trying to live a more intentional life taking time for the moments I won't get back. If there is one thing I struggle with in life it isn't confidence, self esteem or motivation. I struggle most with finding balance and making time for the truly important things.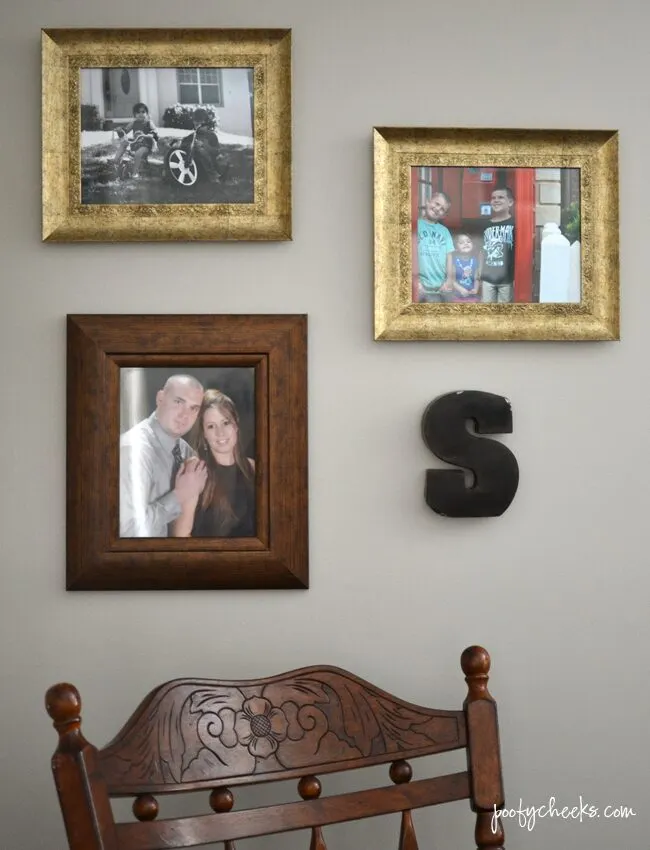 Enough of my sappy reflecting – I'm sure you want all the juicy details about our bedroom. I'll try to cover everything but if I forget anything ask me in the comments or I hope to do a periscope showing our room in the next couple of days and you can always pop in and ask me there! Yes, the app Periscope. Have you heard of it? I feel a bit awkward on it still but it is fun tuning to watch some of my favorite bloggers, friends and handmade mommas LIVE. Wow… I am totally getting off track again. It must be what happens when I try to blog late into the night fighting as hard as I can to keep my eyes open with two snoring babies next to me.
The Walls:
I painted the walls with BEHR Penthouse View T16-06 from the
BEHR 2016 Color Trend
line. It is a Greige (Beige/Gray) color that I fell in love with. I wanted something neutral and on the gray side to go along with the quilt we already had. The quilt is the ONLY thing we had to start with. As a matter of fact before we moved we sold our bedframe and mattress and we slept on an air mattress borrowed from my mother-in-law for the first six weeks we lived in this house.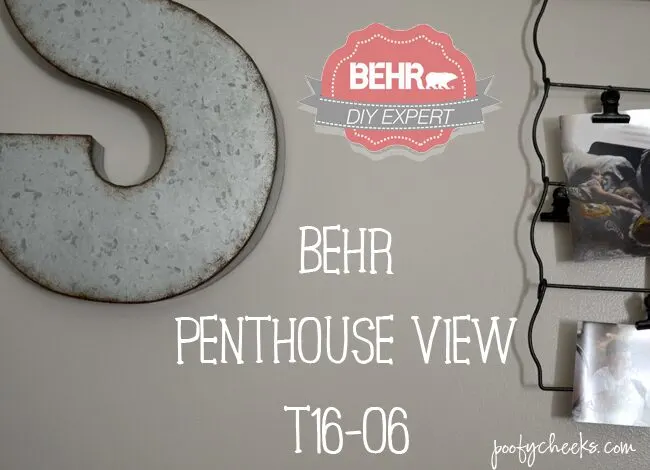 Ready to shake to the beat? Then press play and watch this momma paint! Don't judge my painting attire either!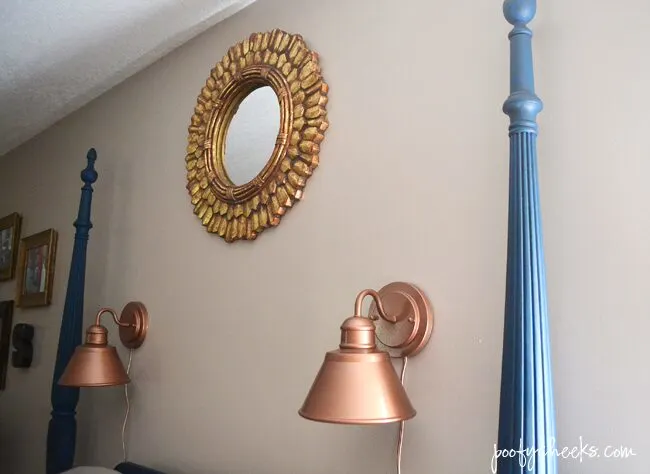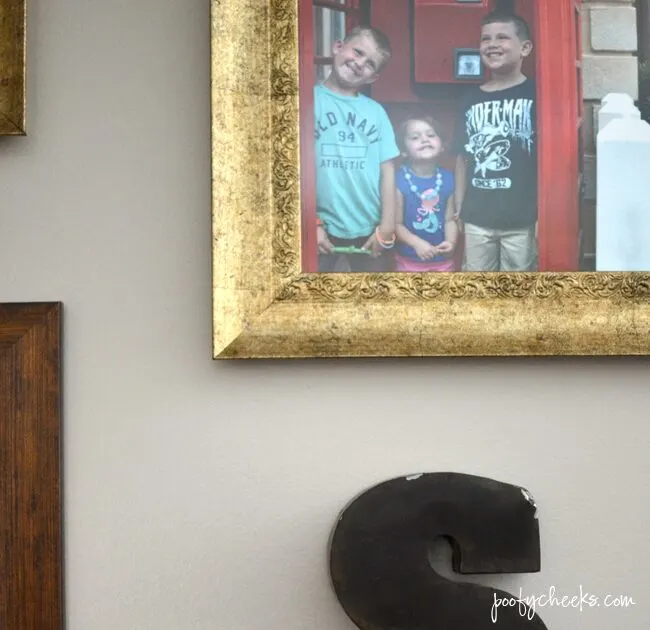 The Bed: The bedframe was given to us by my in-laws. (Have I mentioned how lucky I am that they always hoard furniture and then give it to us!?! Thank you Carol and April!!) It is a Bombay style bed and I just saw a similar one in Joanna Gaines new home furniture line (I have a total crush on everything Joanna and Chip from HGTV's Fixer Upper do!). I was doing a fist pump when I saw it! I went a little out of my comfort zone with the blue bedframe and Mike wasn't so sure of it at first but now that everything is all put together it belongs.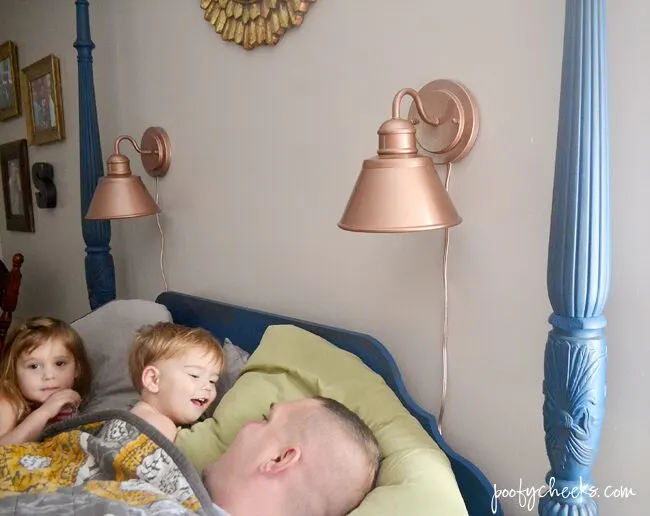 'Together' Painting: The painting below is a watercolor and I'll be sharing more about how I made it soon. What I will tell you is that I scooped up the frame from my husband's man room closet and it measures 48×24 inches.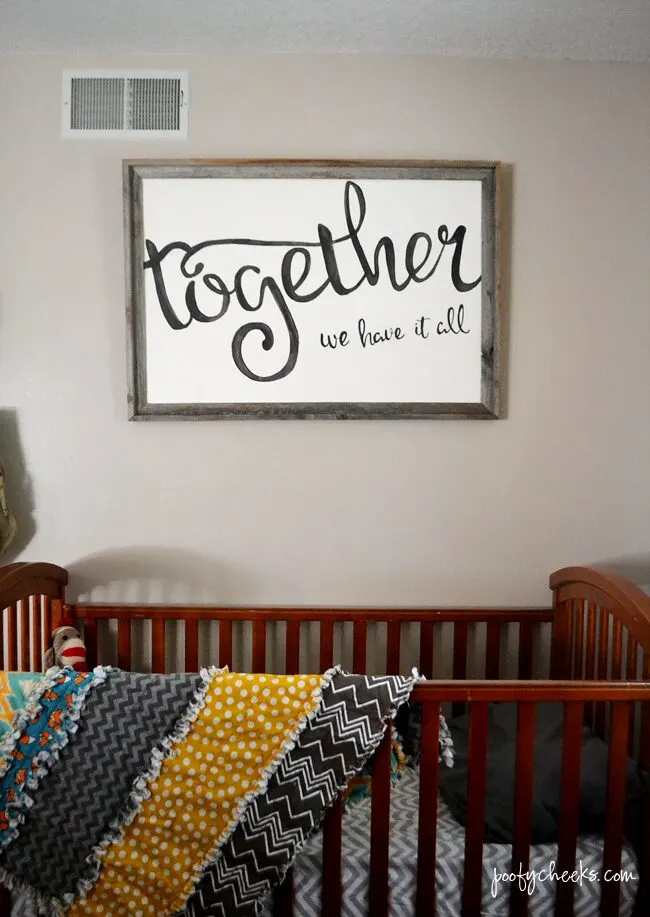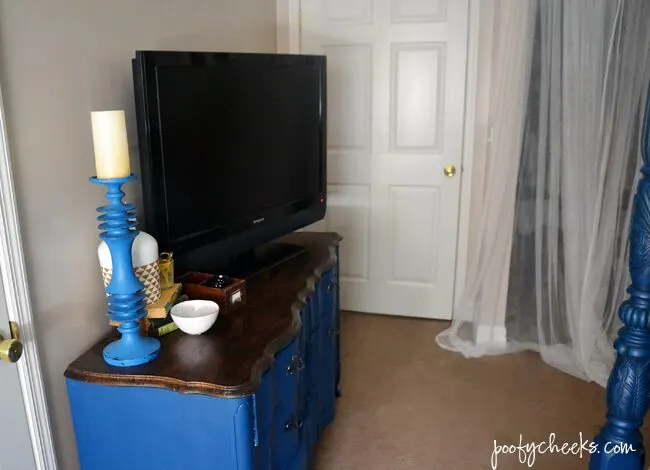 Curtains and Curtain Rods: Listen up – curtains and curtain rods are expensive. They cost more than I want to pay, have to pay or like to pay. I'm not sure if you noticed these curtain rods in my craft room reveal or not but I also used them in my master. I stained wooden dowel rods and hung them with pipe hangers. The curtains are drop clothes hung with curtain clips. I also hung a curtain rod and netted curtains from IKEA across our closet entrance. Before the doorway to the closet was open and you could see right into the often messy area. Eventually I am going to hang a barn door but first I have to kick Emmett and his crib out of our room and second I have to get my dad to build it and hang it.
Believe it or not our room is in the basement. We have an exposed basement and our room is in one of the exposed corners so we have two decent sized windows that let in a good amount of light in the afternoon. I timed it so I could get the pictures during the best light using a tripod. We didn't get as lucky in our bathroom – no windows there! Try plucking your eyebrows in that. I just resort to doing it in the car. Wave next time you see me at a red light with tweezers HAHA.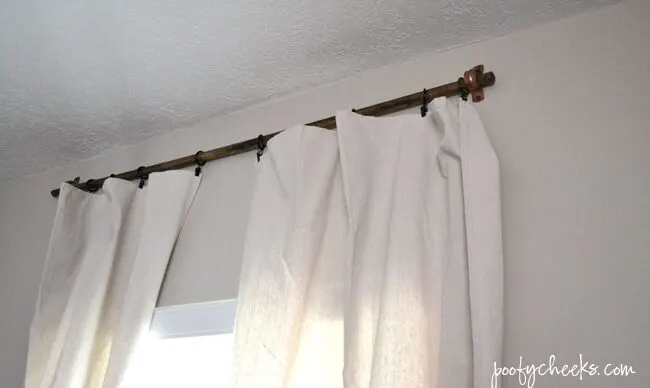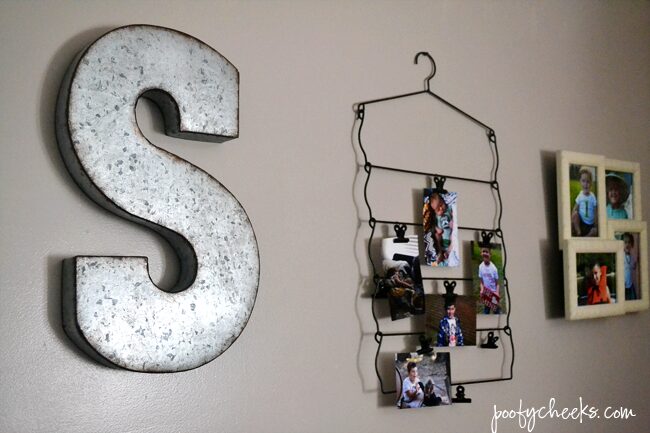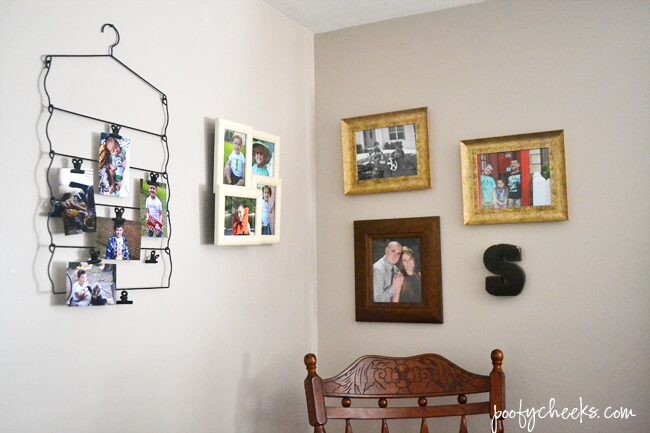 Lighting: I hung two lights above the headboard of our bed. I found the lights at Home Depot, gave them a coat of hammered copper spray paint because copper accents are ALL THE RAGE right now and rewired them from outdoor to indoor lights. Again I have a tutorial on how to rewire these and other lights coming soon!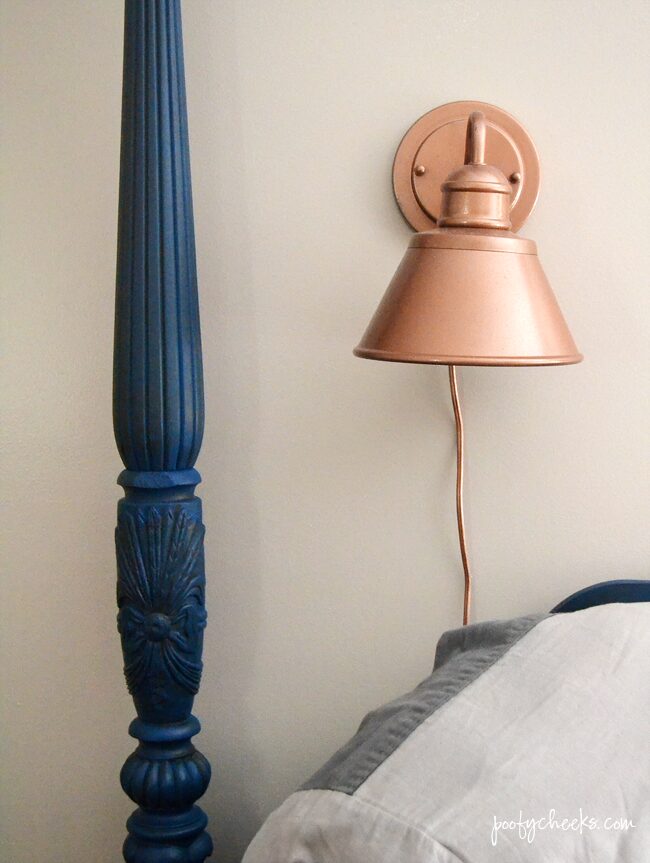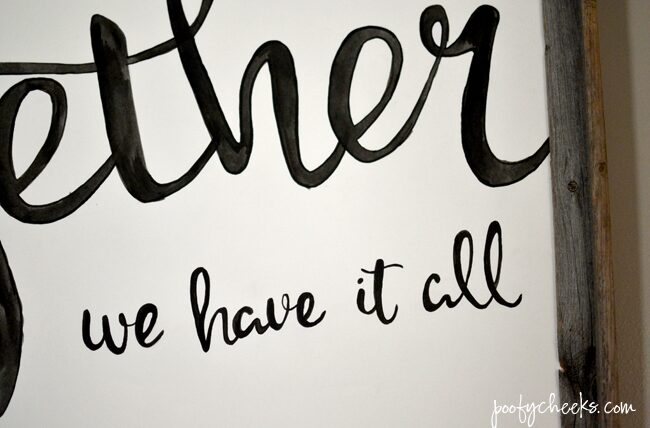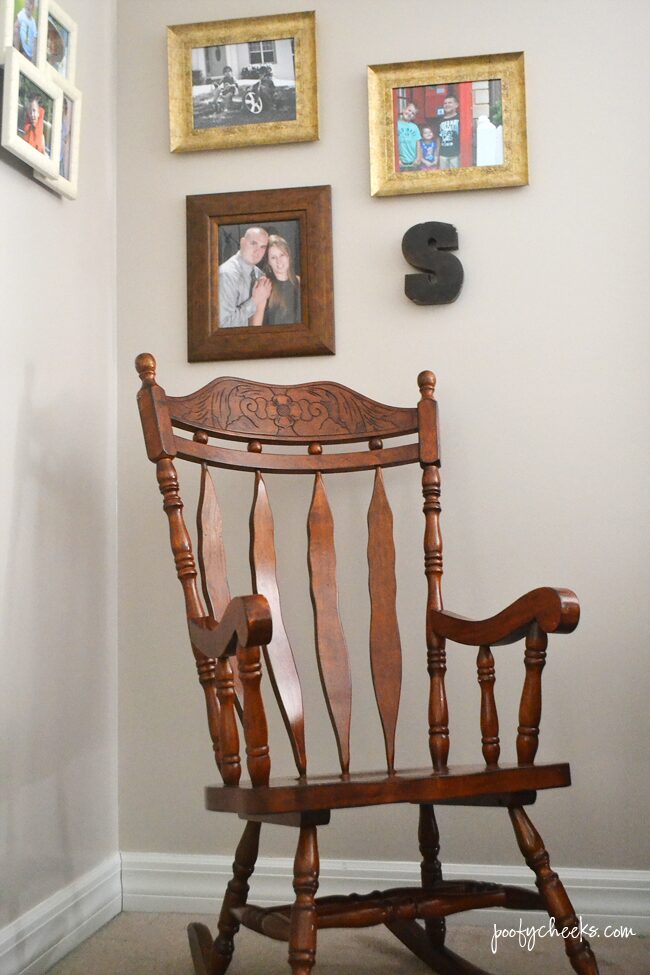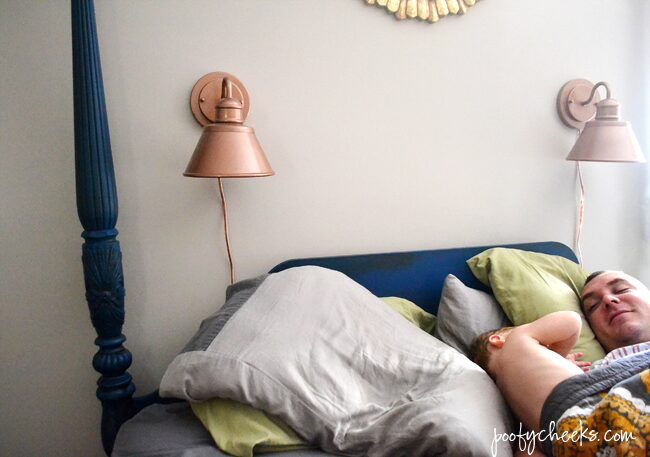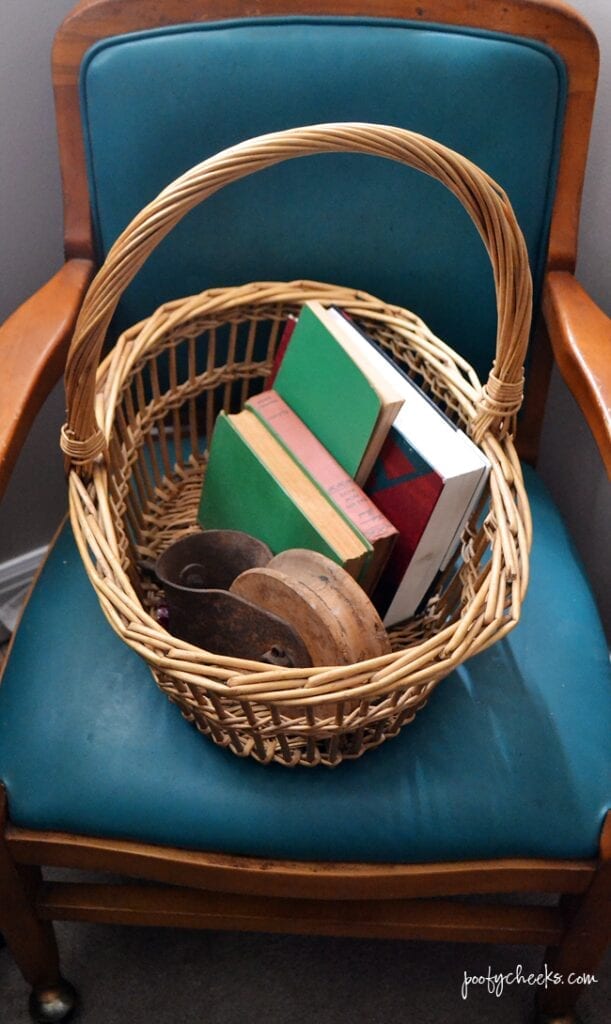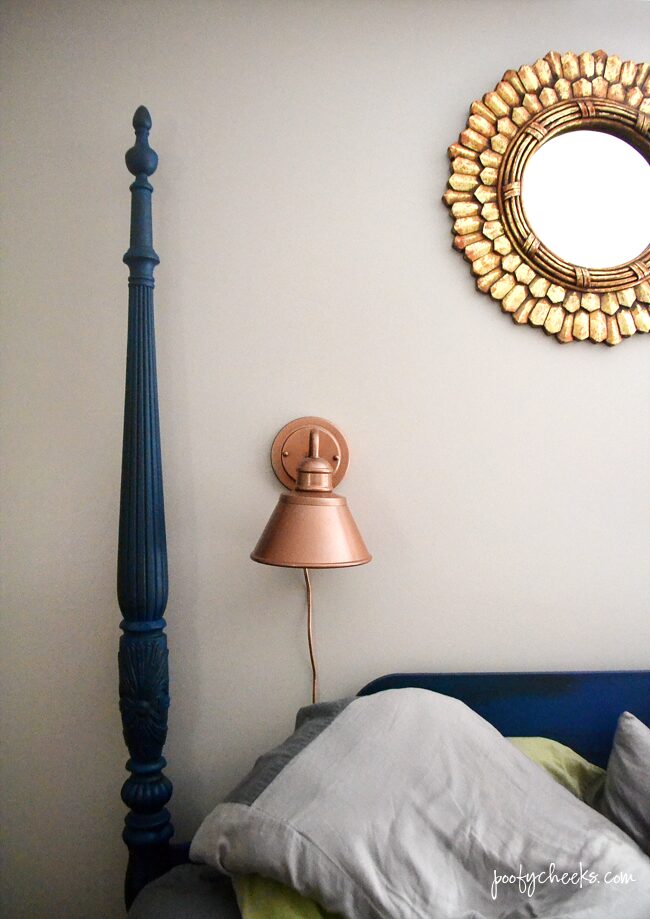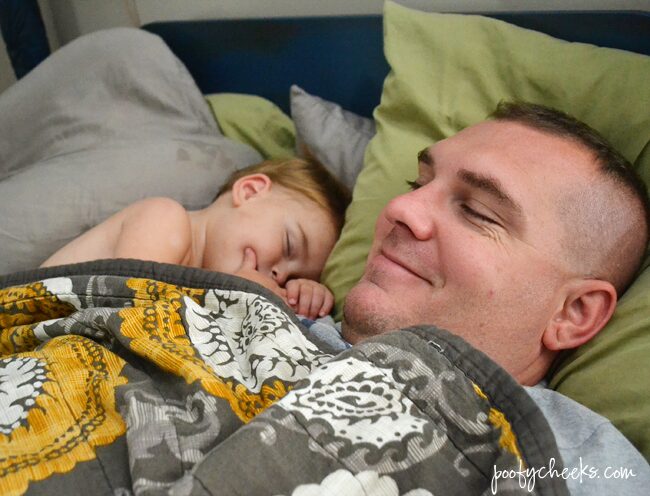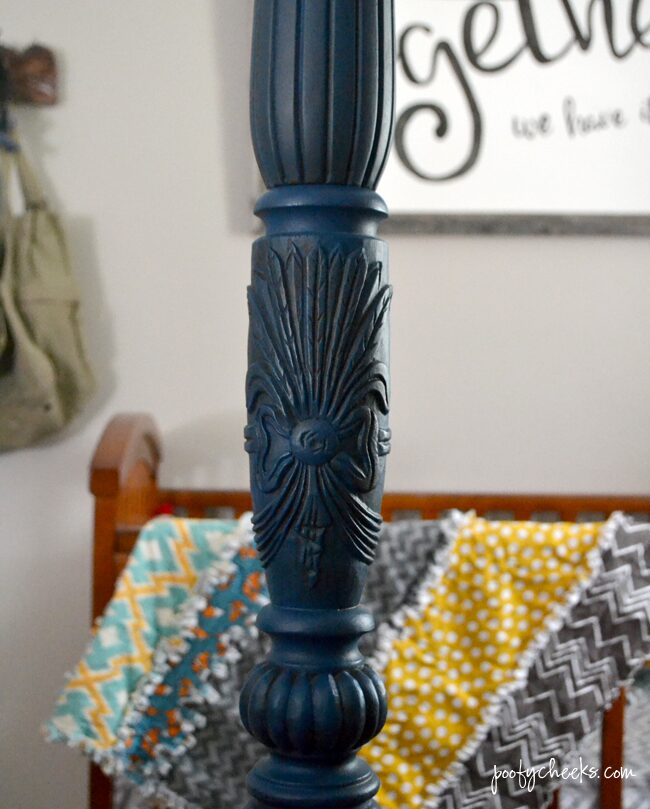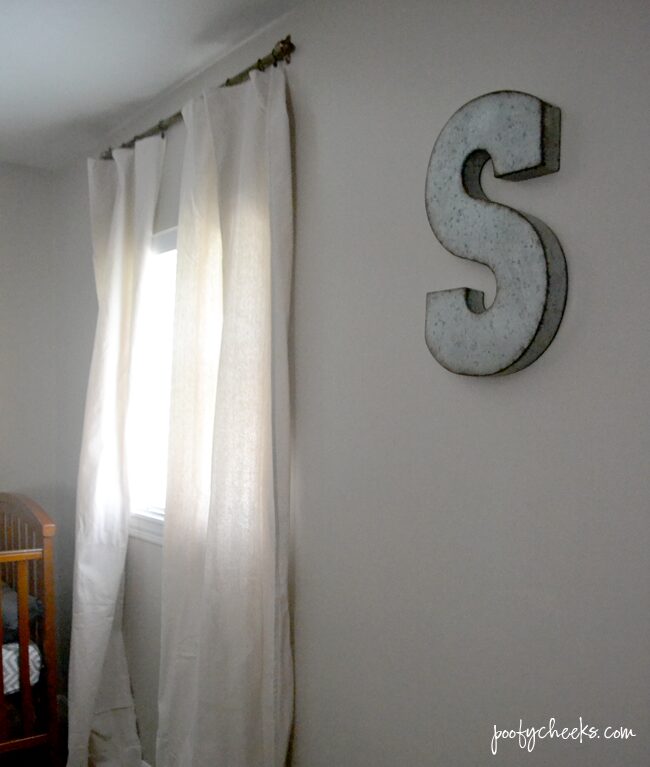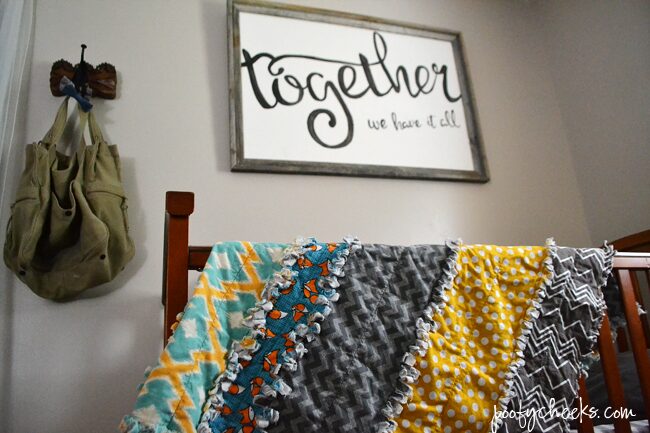 Décor Accessories: As for the accessories throughout the room I basically only have a few things on our dresser. The tall blue candle stick, candle, gold and white vase, gold rimmed bowl and tea light holders were all clearance finds. The other items such as the wooden drawer and books were garage sale finds.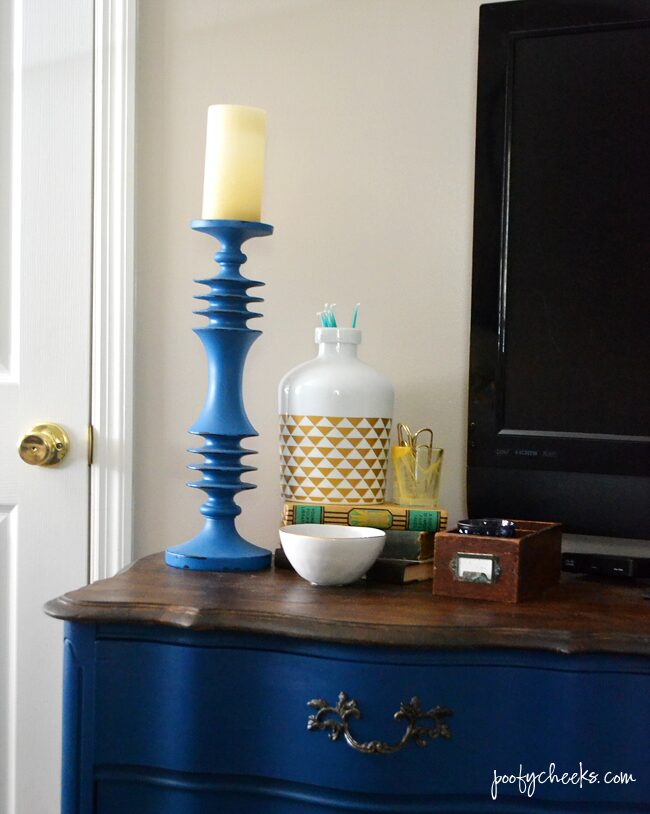 Blue Dresser: The French provincial style dresser was given to us by my sister-in-law who did have it painted with a glossy black spray paint. I sanded it down and refinished it by sanding and staining the top and painting the body of it to match our bed. I took the extra time to line the drawers with contact paper and paint the sides of the drawers in a pale blue.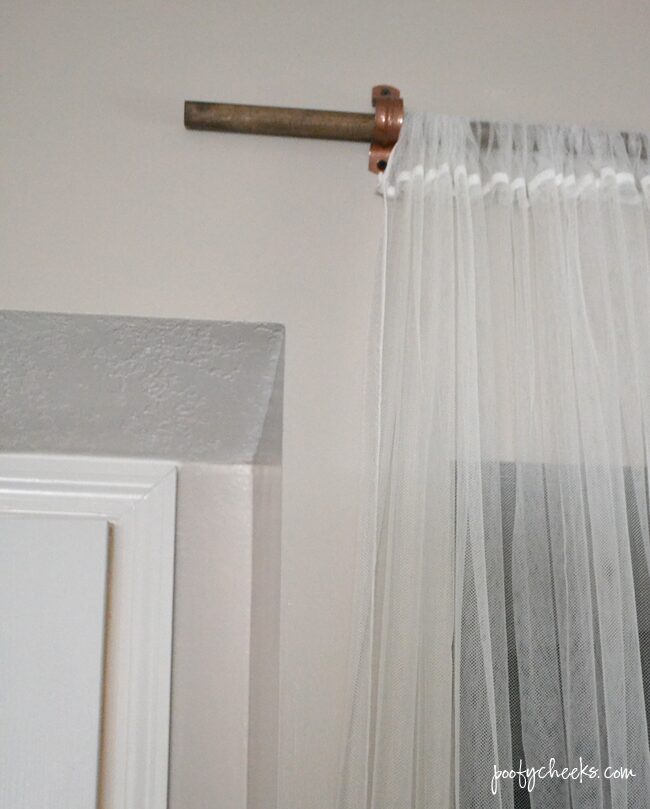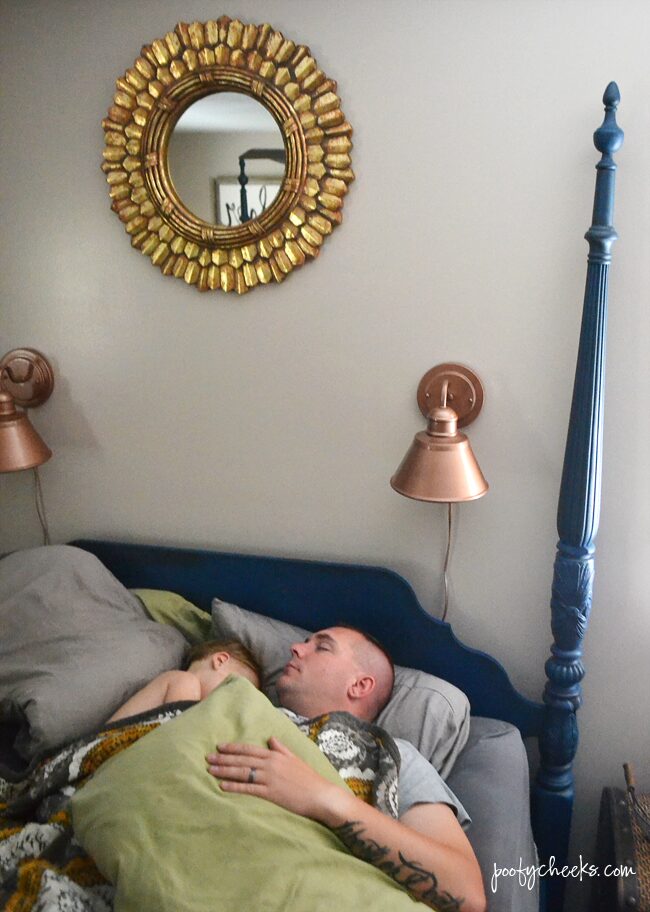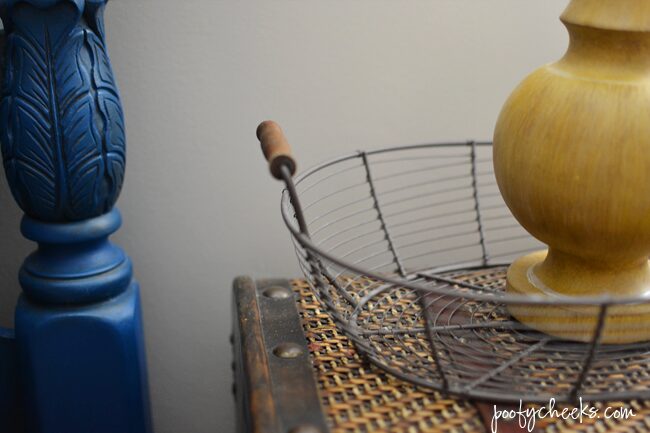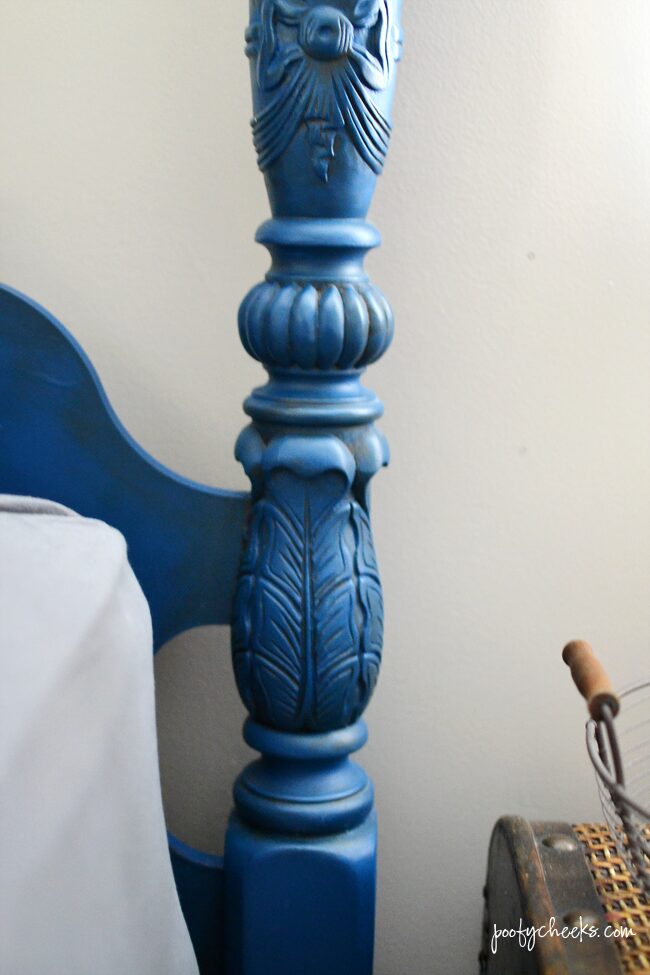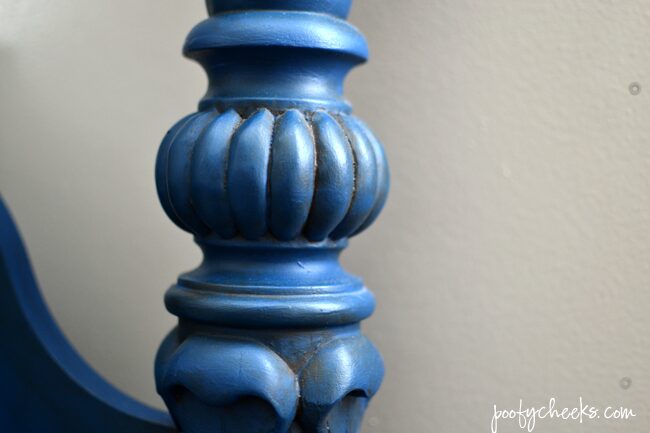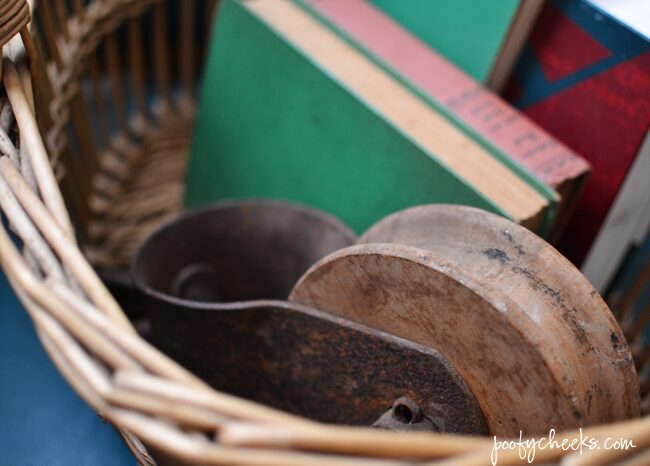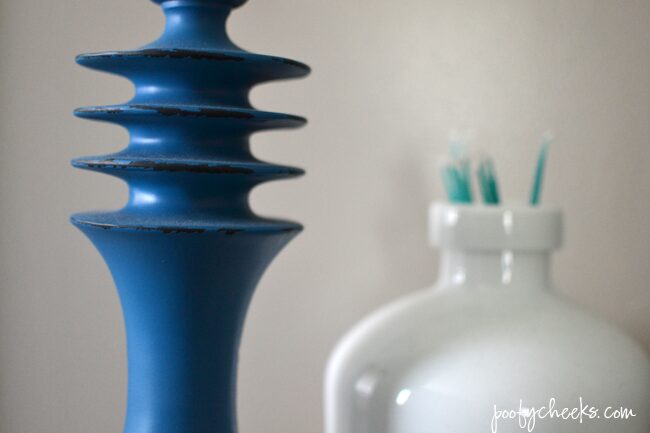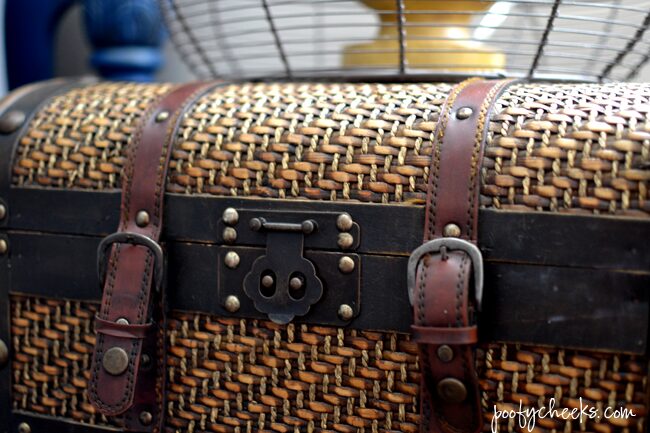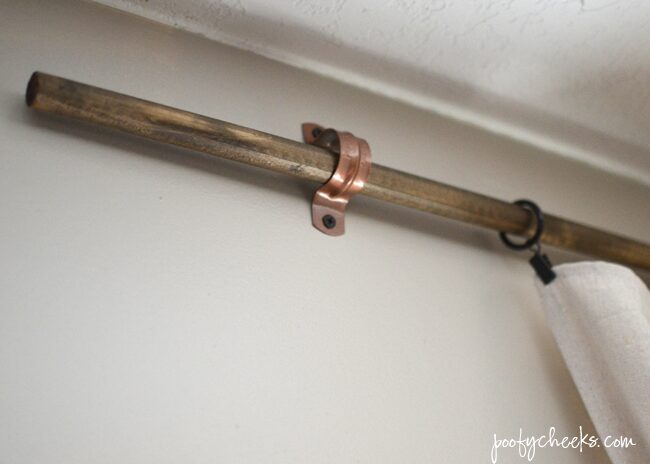 I made the chalkboard window years ago as one of the first projects I ever did on this blog. It has moved from house to house with us and this time it ended up in our room. I cut copper vinyl and added that to the middle pain of the window to tie in with the other copper accents on the curtain rods and lights.
he mirror centered above our bed was purchased before I ever even moved out of my parents house when I was 16 or 17. What can I say I had good taste then too… I just didn't know how to execute!
The trunk we have as a bedside table was another purchase from my first apartment. The lamp on it is a light wood and I'm not sure if that is where it will stay permanently but at least for now.
We have a rocking chair and a chair on wheels in two corners of the room. The rocking chair was one we purchased right before our oldest son Wyatt was born and will stay in our family until we one day pass it on to one of our children. The chair on wheels was a $3 garage sale find. Eventually I want to reupholster it in a dark blue velvet type material.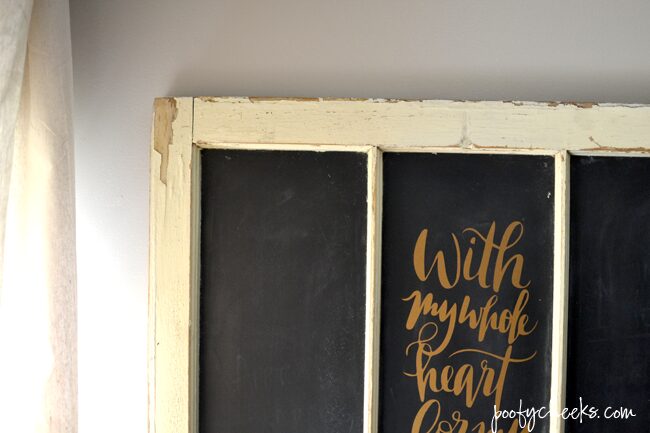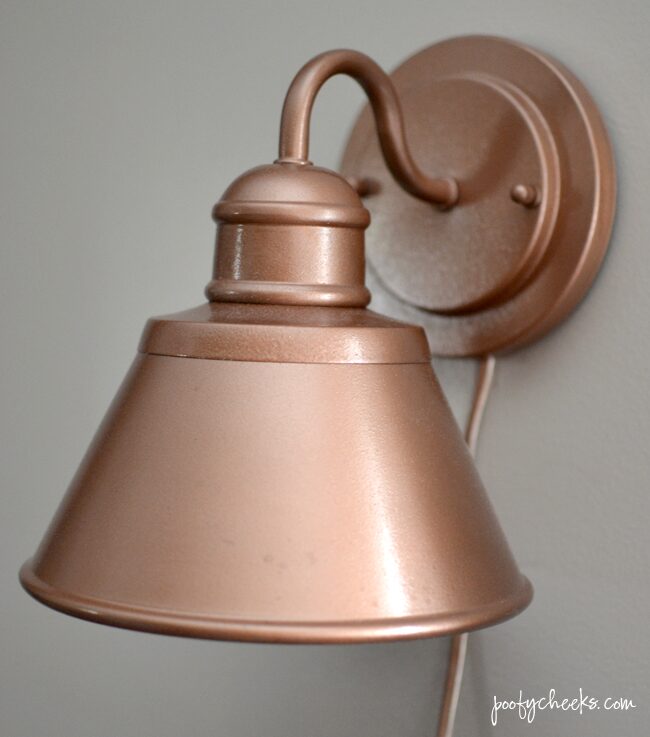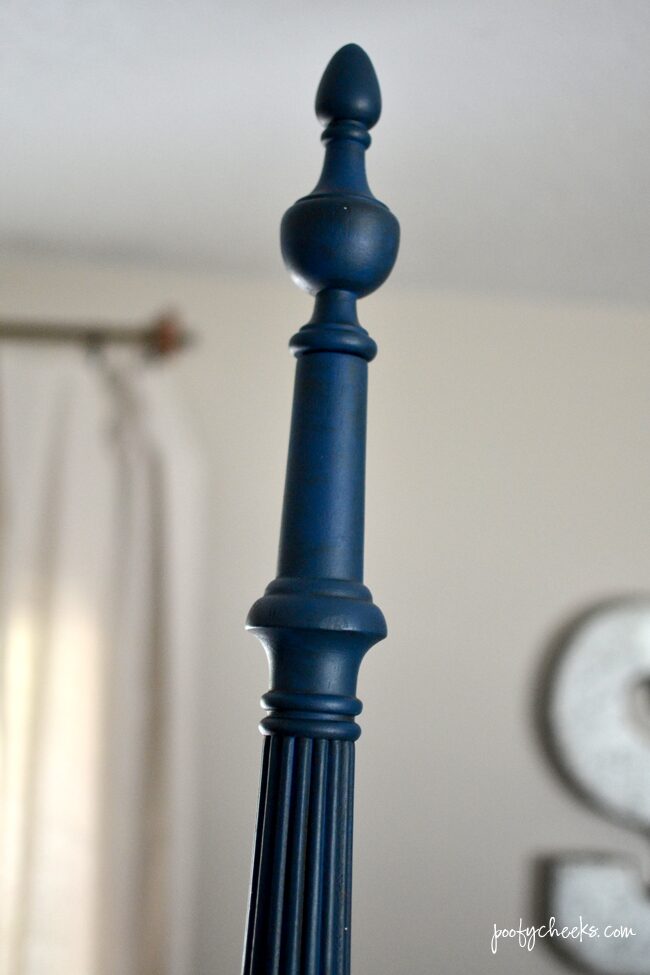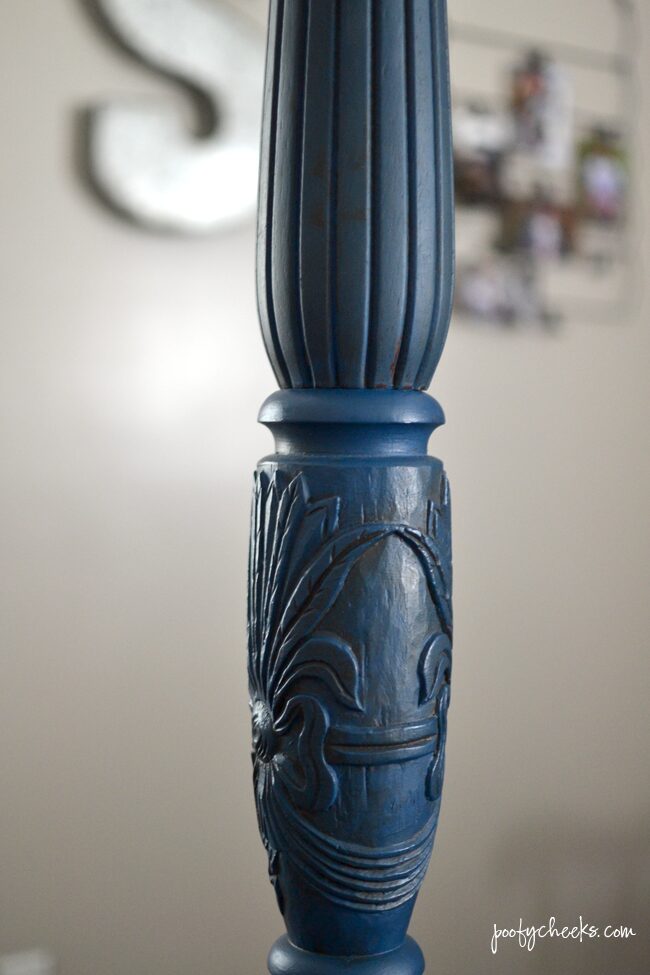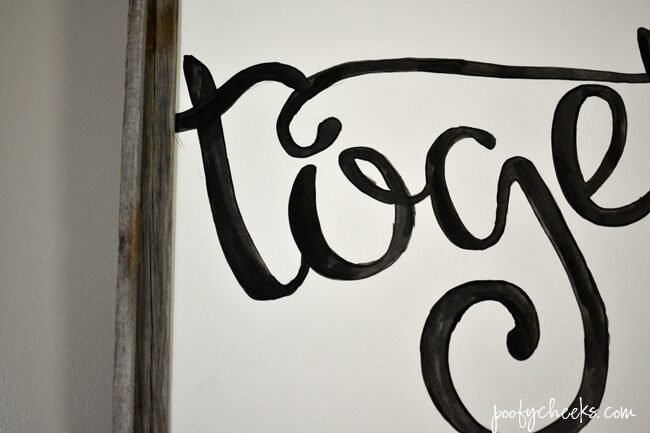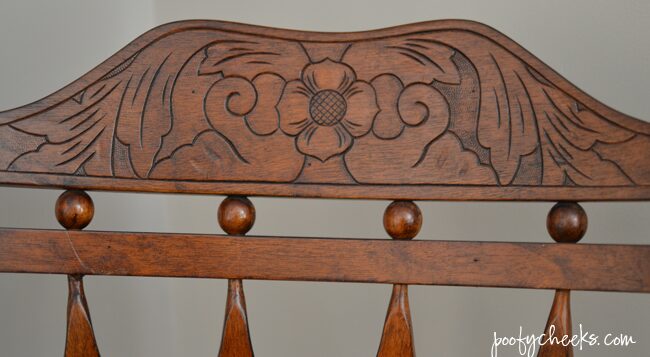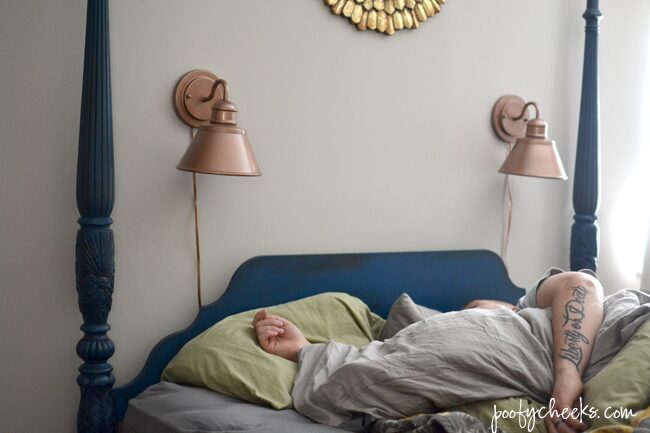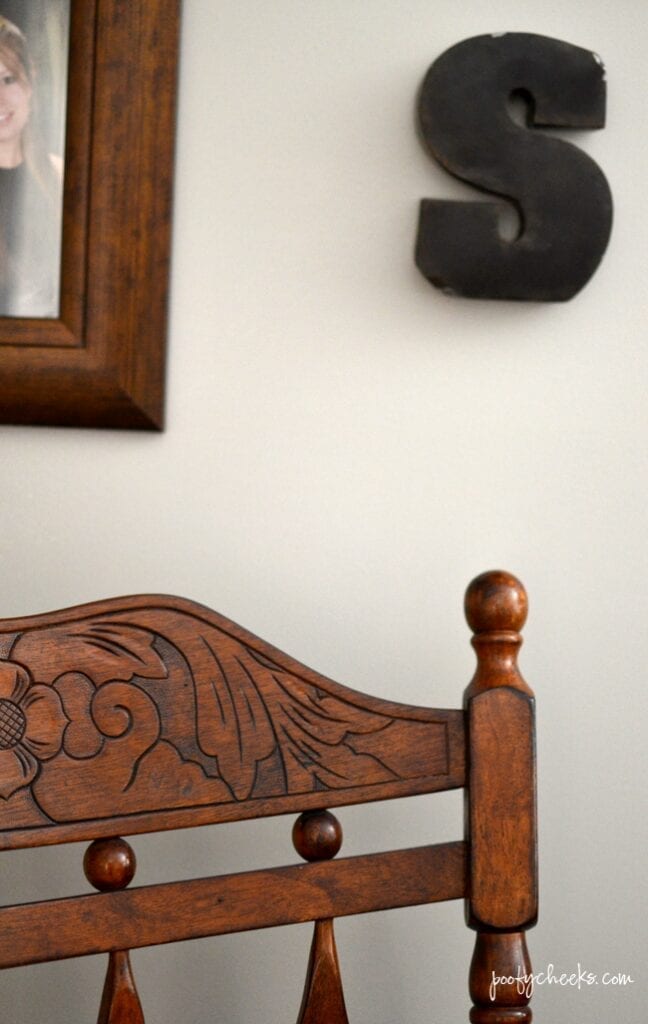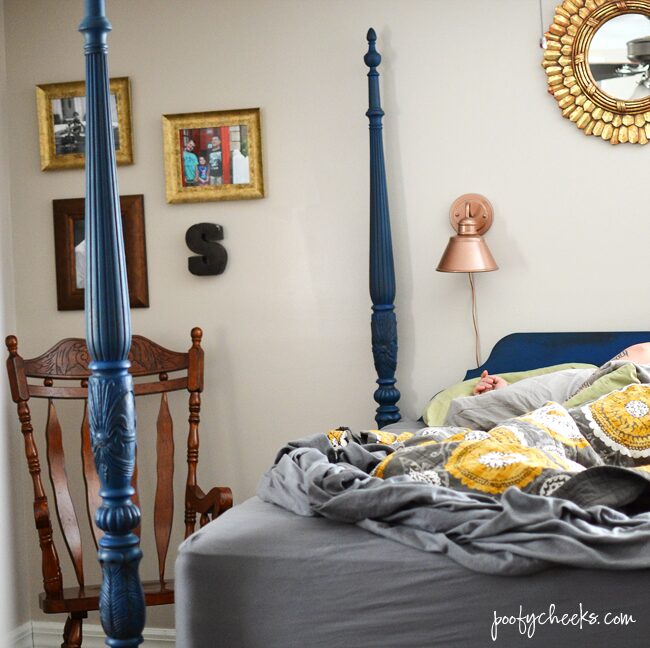 This is the first time Mike and I have had a bedroom that isn't a breeding ground for unwanted furniture, dirty clothes and completely taken over by kids and their belongings. Once we kick Emmett out of our room I want to put a small desk or sitting area where his crib currently sits. I wish we could move our TV over to that wall so it was directly across from our bed but unless we want a cord running across the floor that won't happen.
My favorite part is walking into my bedroom and being surprised by how grown up and pretty it is every time. It has my own eclectic feel to it. Mike always makes comments about how certain things are going to look bad or won't match but in the end when he sees it all together he changes his mind. I don't know how many times I heard him make snide comments and once I finished he said 'don't change a thing.'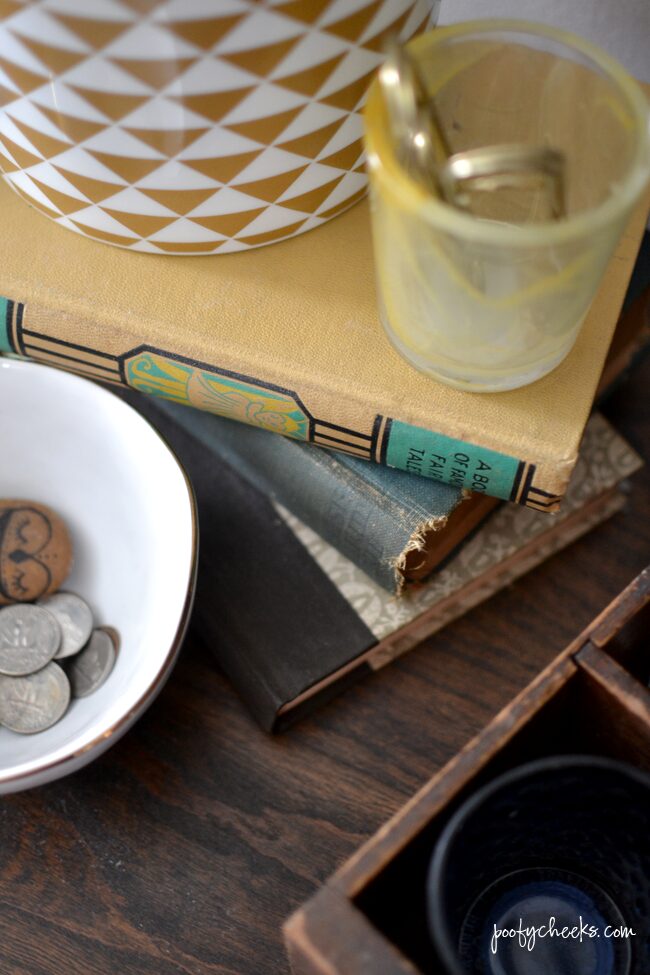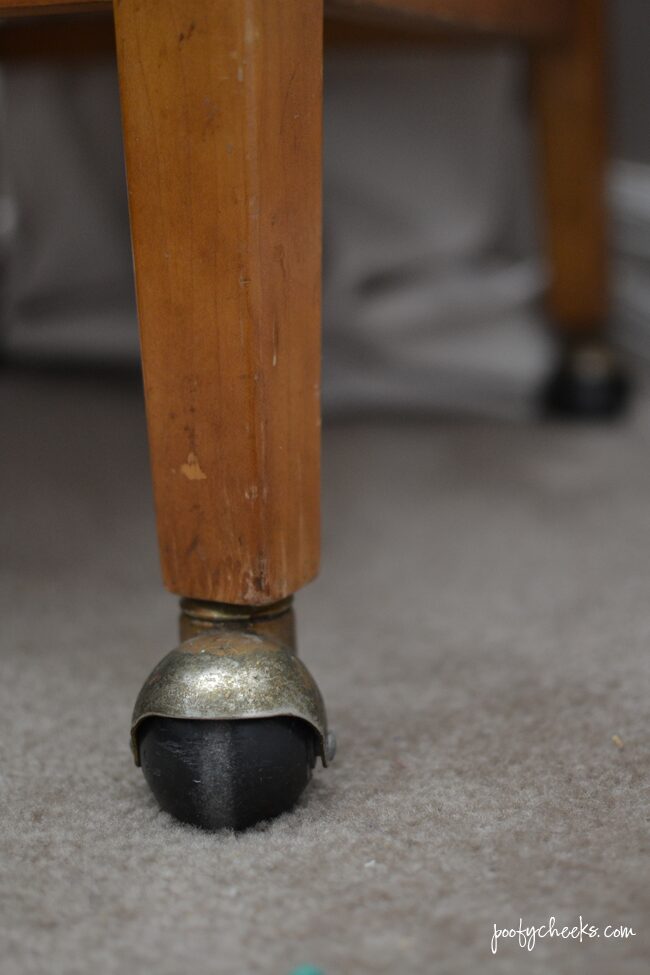 YOU MAY ALSO LIKE: