Patriotic Candles with Dollar Store Candles. This post contains affiliate links to products I use. We may receive a small commission if you make a purchase.
Red, White and Blue anything brings a smile to my face. It means summer, barbecues, warm weather and most importantly it signifies the freedoms we have thanks to those who protect our country. I was due on July 4th but wasn't born until July 8th. For some reason, maybe it is just because my birthday is in July, I have always had a true love for the Fourth of July. I have always looked forward to the celebrations, fireworks and fun.
Then I met my husband Mike who had a July birthday too… we had a son (okay we have three sons but one….) who has a July birthday too!! July is full of fun and celebration around our home. I have mentioned that this year our son, Mason, wants a Red, White and Blue birthday party so it only seems fitting that Red, White and Blue are the theme in our home for the whole month of July. I have our wreath on the front door and slowly but surely I am adding decorations all around.
If you have followed Poofy Cheeks for any length of time then you already know I like to keep things cheap. My budget is tied up buying groceries for four growing kids. Speaking of growing kid and groceries my children are eating me out of house and home now that they are home on summer break! As fast as I can stock our pantry the food is gone. This is where my cheap crafting comes in handy. Today's craft involves dollar store candles and vinyl stickers.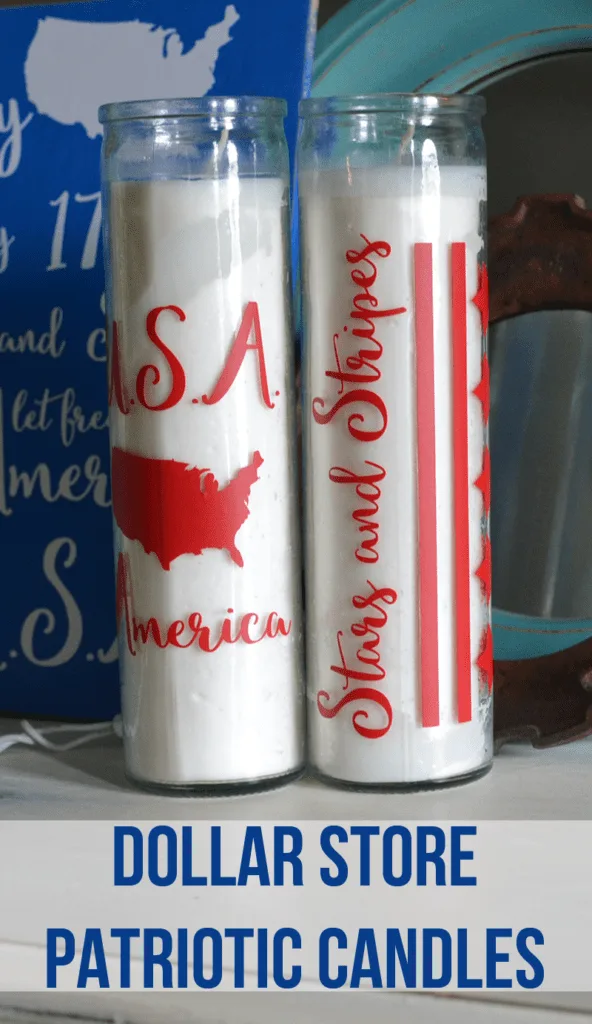 Patriotic Candle Supplies
Dollar Store Candles (as pictured)
Silhouette Cameo and cutting mat (or other vinyl cutting machine)
Vinyl Transfer Paper
Vinyl weeding tool
Silhouette Scraper (optional)
Open the FREE cut file in Silhouette Studio and resize the designs if needed.
Cut the design onto vinyl then weed the design.
Wipe the glass of the candle with rubbing alcohol to prep it for the vinyl.
Put the vinyl onto transfer paper and use the scraper to rub the design onto the candles.
*If you are unfamiliar with vinyl transfer paper see my full tutorial HERE.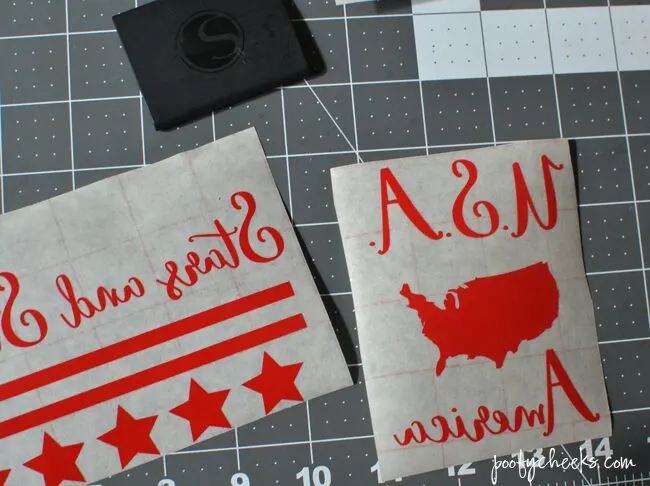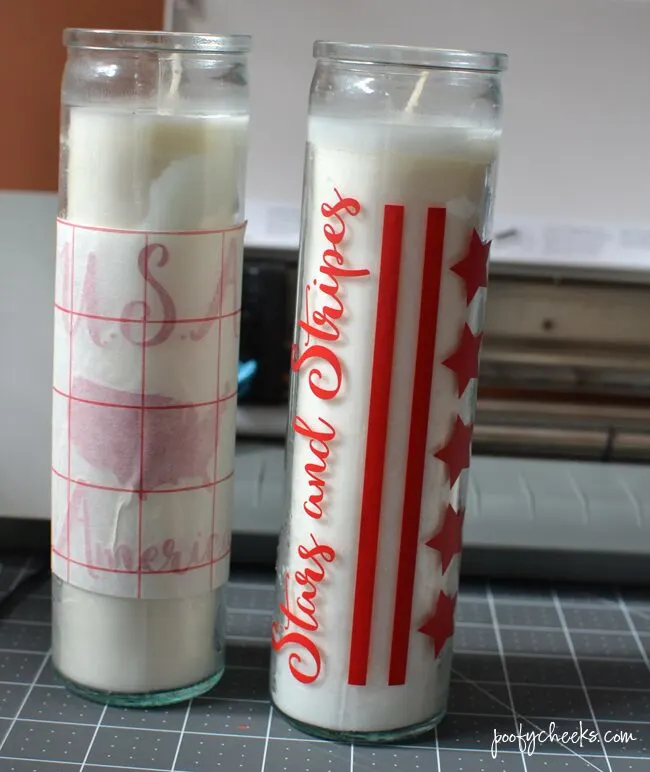 Here is another tip – take the labels off BEFORE applying the vinyl design. Learn from my mistakes!!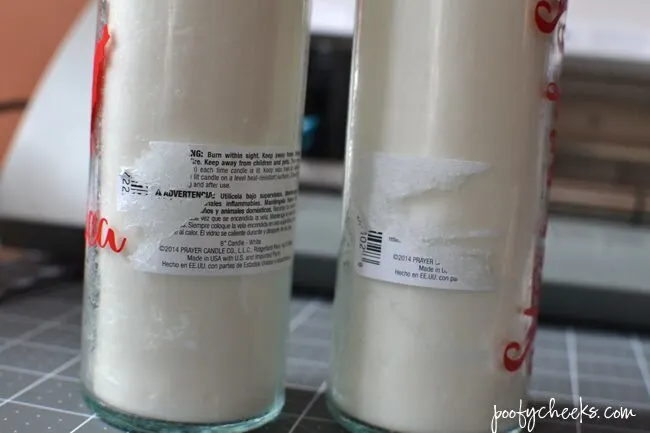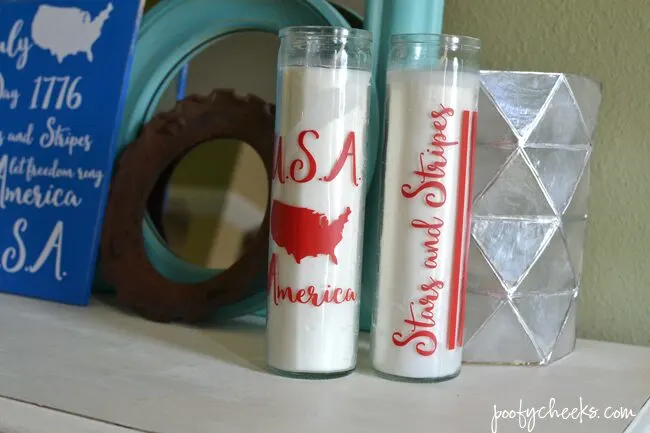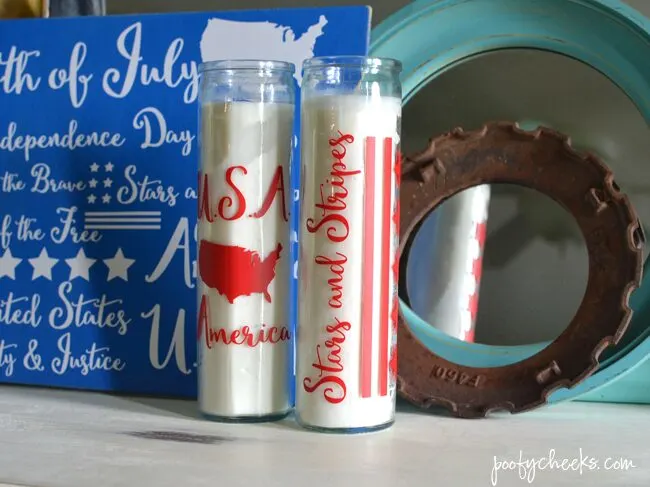 The Red, White and Blue combo from the candles and the patriotic sign I made last week go great together on our mantel!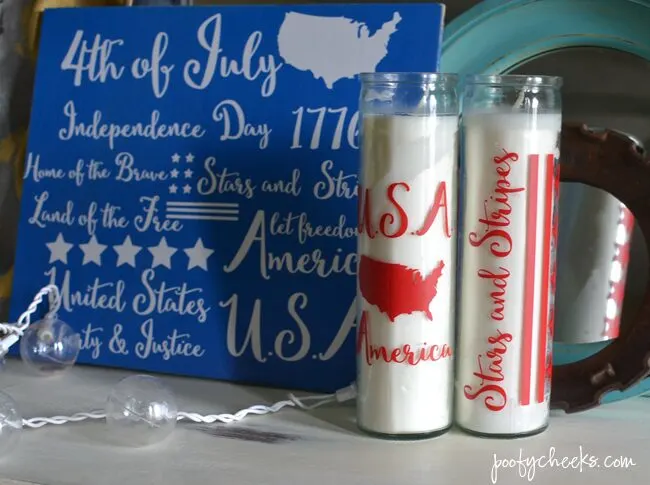 Enjoy,
Check out the Poofy Cheeks Blog Pinterest Board for other craft and recipe ideas!
Follow Poofy Cheeks's board Poofy Cheeks Blog on Pinterest.