I know, I know I'm sharing yet another Disney post and it has to do with Frozen but what can I say? What little girl doesn't want a Frozen signature book? We have fallen into the Frozen obsessed category over here and a certain two year old sings Frozen songs all day long. Her favorite line is I don't care what you're going to say and in her terrible two stage I think she is trying to tell me something by singing it over and over. This afternoon we were riding in the car and she told my husband he was Kristoff, she was Elsa, baby brother Emmett was Olaf and I was Sven.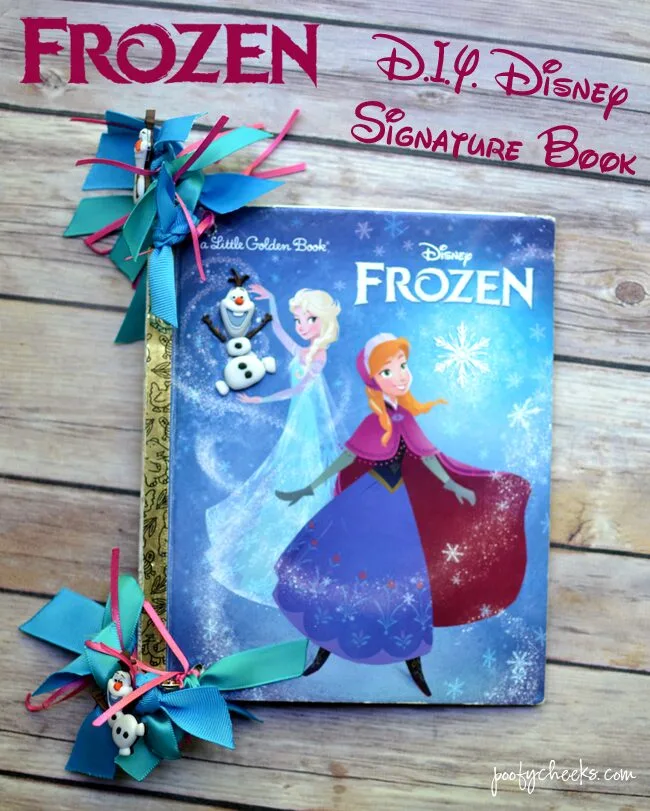 Since we live so close to Disney World we surprised all of the kids by pretending we were dropping them off at school yesterday and heading to Magic Kingdom instead. When we make quick day trips we stick to rides we really like and don't usually stop for parades, characters or shows. Yesterday was no exception. In a few short weeks we have five nights booked at a Disney Resort and that is when we take things slower and immerse ourselves into the total Disney experience. As I mentioned before I am SO excited for Delilah to see Anna and Elsa for the first time. (Heck I might even be more excited to see her reaction than she will actually be to see them!)
Since Delilah's favorite Disney characters are Anna and Elsa (with Mickey and Minnie following up as a close second) I wanted her to have a Frozen autograph book. Originally I was going to turn a scrapbook into an autograph book but I couldn't find a book I liked anywhere! I wanted something without lined paper and after searching everywhere I gave up and decided to DIY my own. I saw some really cool Frozen books but when I saw this Frozen golden book I knew it was perfect because I could easily remove the pages and use my hole punch through the covers to add binder clips.
Keep reading for the Tutorial – I have used some affiliate links in the directions so you can see the exact supplies I am referencing.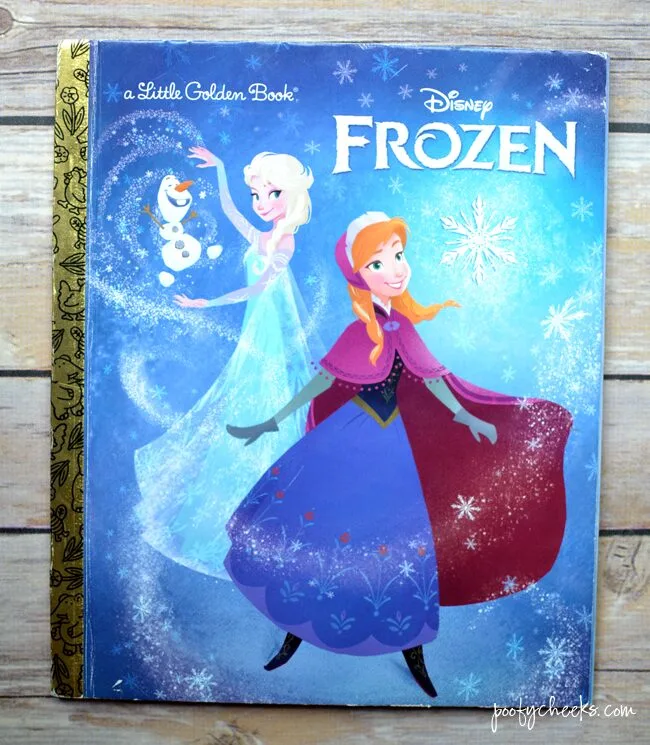 Supplies Needed:
Exacto Knife
Binder Rings
Shimmer Cardstock (10 pages of 8.5×11)
Paper Cutter or ruler and scissors
Wire Cutters
Ribbon (in various colors and sizes)
Lighter
E6000 Glue
Olaf Buttons (I bought mine at JoAnn Fabrics for $4 and used a 50% off coupon)
Step 1:
Use an exacto knife to cut along the front cover and first page of the book. Repeat with the back cover and last page of the book. Gently pull the covers apart and take the pages out. Use the exacto knife to score and cut through the middle of the book spleen. Trip off any scraps if needed.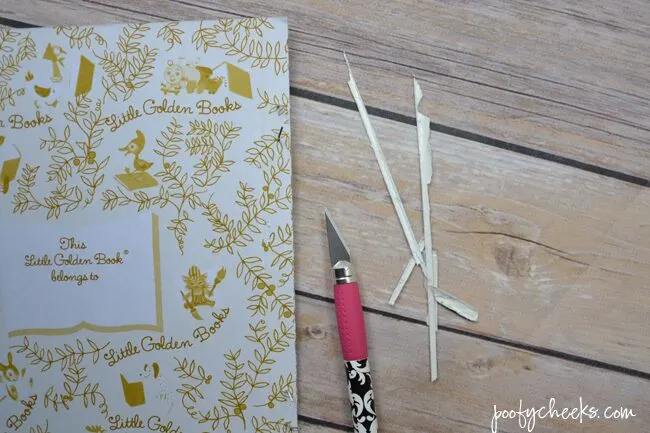 Step 2:
Use wire cutters to cut off the staples as close to the cove as possible.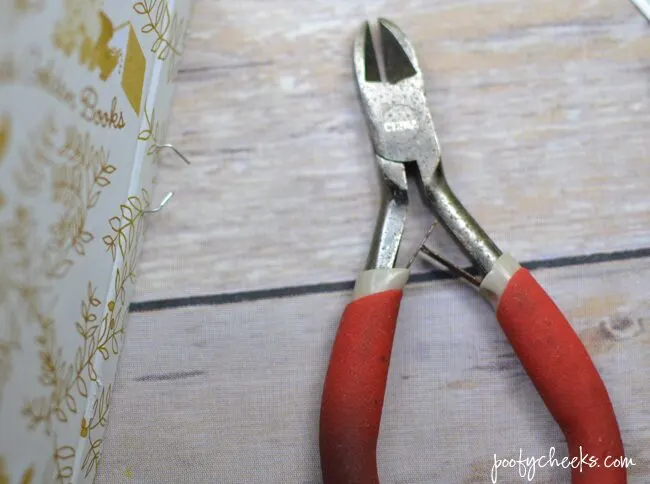 Step 3:
Use your paper cuter or scissors and ruler to measure and cut the cardstock. I trimmed my 8.5×11 inch paper down to 8×11 inches (the Golden book is 8 inches). Then I cut the piece of paper in half so I had two 8×5.5 inch pieces of paper. I cut 10 pieces of paper so my book has 20 pages (40 if you count front and back)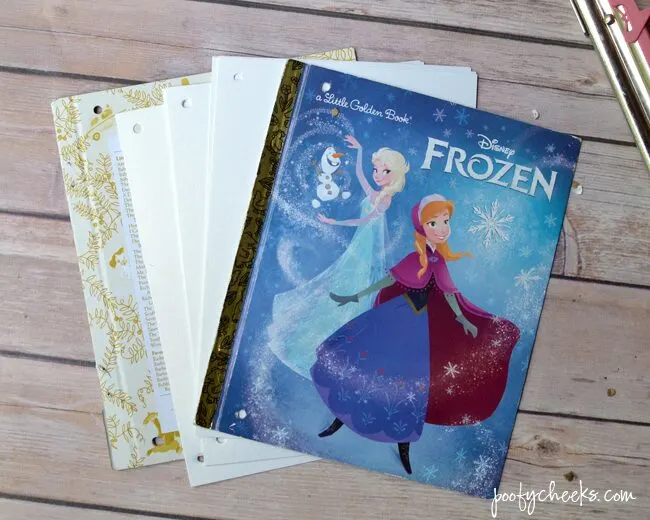 Step 4:
Use your crop-a-dile to measure and place holes through the top and bottom of both book covers. Then measure and punch holes into the cardstock that line up with the holes you put through the covers. Place binder rings through both sets of holes to hold the book together.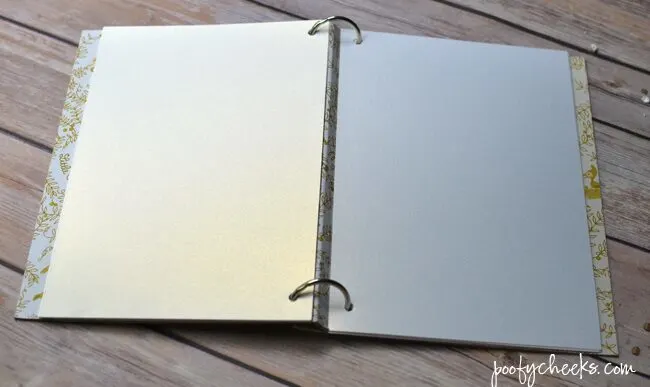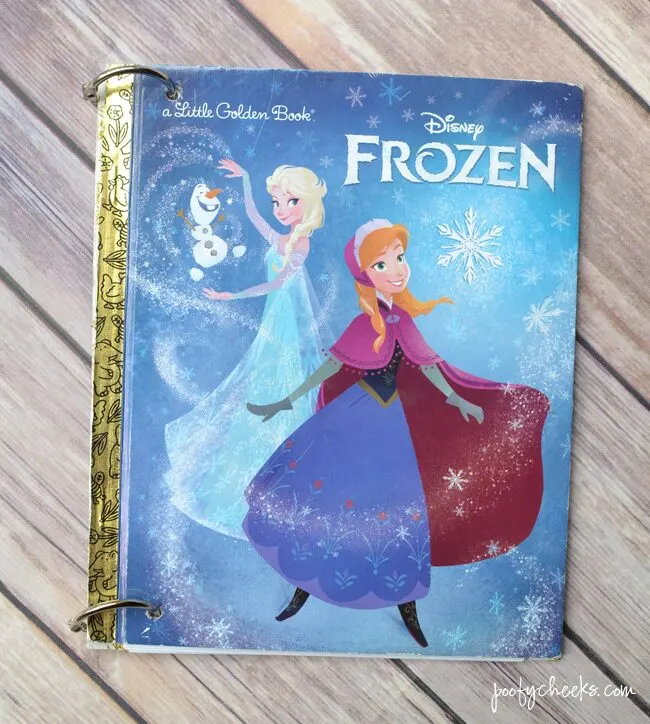 Step 5:
Double knot ribbon pieces around both binder clips and use a lighter to seal the ends from fraying. Embellish the ribbon with Olaf buttons from the button pack. Take the Olaf pieces without button backings and use E6000 to glue them over the illustration of Olaf on the front cover.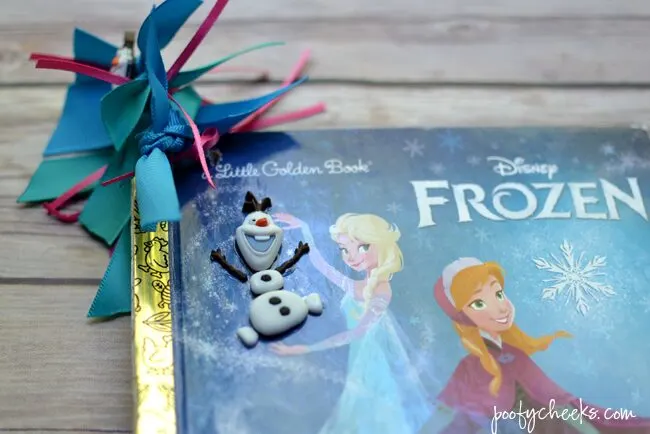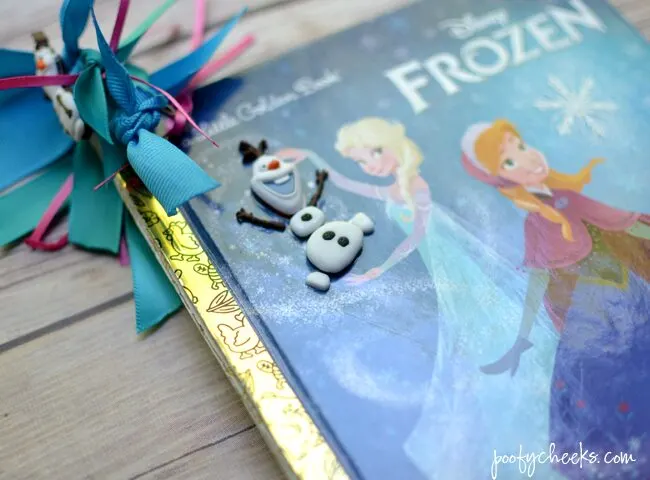 When I showed Delilah her book she exclaimed 'Mommy it's so pretty!' and I knew I had her approval. I still haven't been able to get the Meet Anna and Elsa fastpasses for our vacation but I am not giving up. Monday night I looked for fast passes for our Tuesday Disney trip and they had one fast pass for Anna and Elsa available but it was for 10-11pm and I knew we would be leaving around 6pm.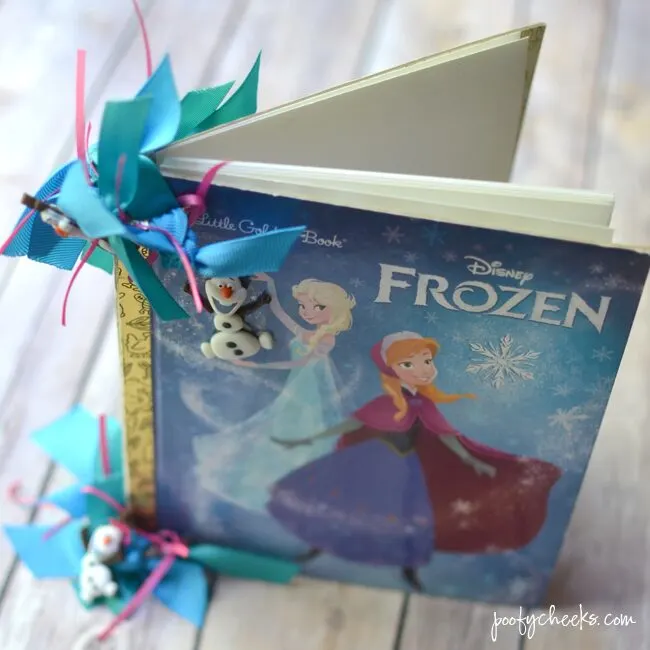 Mike and I thought the boys might be getting too old for autograph books but when I asked them Mason, our five year old, seemed quite angry that I had considered not making him one. I have been looking for a Golden Book that he would like to use as an autograph book but no luck yet!
Out of all of the Disney characters who is YOUR favorite? Mine would have to be Minnie Mouse followed by Snow White.

You may also like:
Enjoy,
I party
HERE
Check out the Poofy Cheeks Blog Pinterest Board for other craft and recipe ideas!
Follow Poofy Cheeks's board Poofy Cheeks Blog on Pinterest.