Teacher Appreciation started when Eleanor Roosevelt persuaded Congress to recognize educators. The recognition started as a celebration on one single day and turned into a week long time to show teacher appreciation which is always the first week of May. This year Teacher Appreciation Week is May 4-8th and Tuesday May 5th is National Teacher Day. If you are a mom or teacher then I am sure you know the importance of showing our appreciation to the ones who educate our children and often spend more time with our children than we as parents can.
My two older boys are in kindergarten and 1st grade and the things they are learning always amazes me. At the beginning of the school year Mason knew a handful of sight words and could only spell his name. Now he is reading books and sounds out big words with ease. Wyatt is reading chapter books and learning math problems I don't think I learned until I was in at least 3rd grade I am so thankful for both of the boys' teachers because I know they have a job I could never have the patience for. I know they are working before and after my kids sit down in their classroom for the day and often take their work home with them. For Teacher Appreciation Week I plan to send something fun a couple of days throughout the week. I want to send a few things the teachers can use in the classroom as well as a few things they can keep for themselves.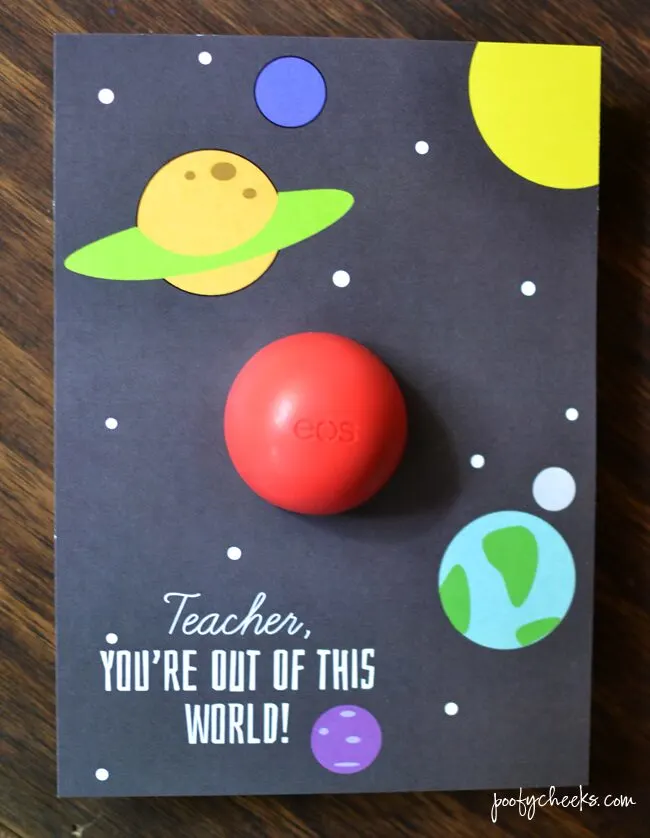 I feel like the boys' teachers are Out of This World and I knew inserting an EOS lip balm would be perfect for this printable. To grab this FREE printable go HERE and remember Poofy Cheeks printables are for personal use only. They may not be claimed as your own or sold in their printed or digital format.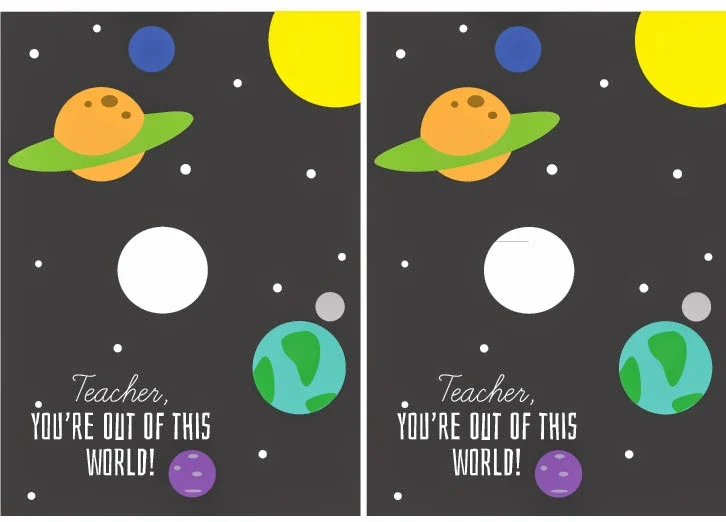 To make your own 'Out of this World' EOS lip balm card you will need the following supplies:
White Cardstock
Printer
Scissors
Craft Knife
EOS lip balm
Directions:
Print the free file onto cardstock using a home printer or send it to an office supply store to be printed. Use scissors to cut out the card and then a craft knife to cut out the white circle. The white circle is the exact size it needs to be to fit the lip balm. Open the EOS lip balm and insert through the card and then close. Now your lip balm looks like a planet.
*I printed my file to Office Depot and the cost was $0.70*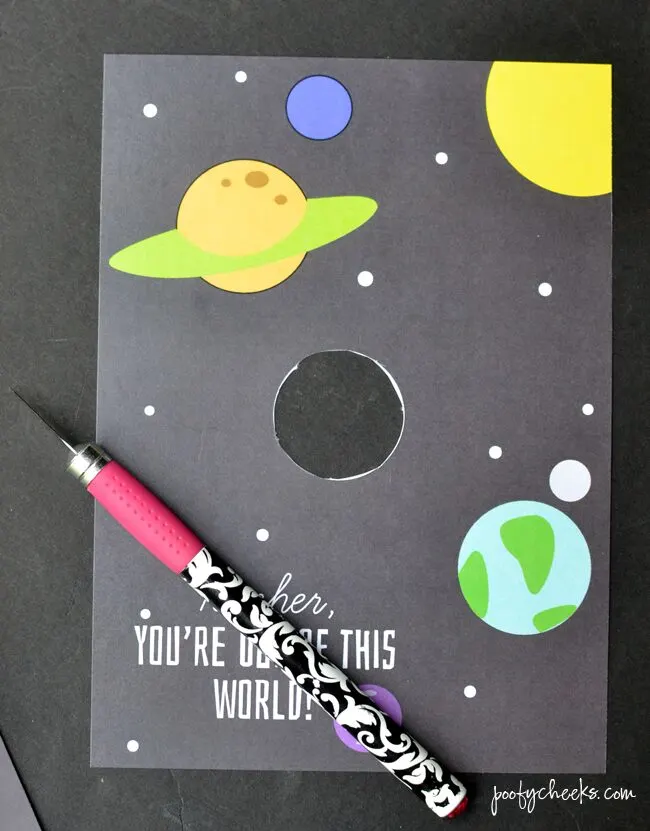 Even if it is a simple note telling your child's teacher how much you appreciate them I'm sure they would be so grateful. I personally don't always get a lot of time to see or talk to the boys' teachers so I'm sure they would be appreciative of a note telling them the differences I have seen in my boys or how much I appreciate the time they put into teaching my children.
Enjoy,