Hey friends! Today I am sharing a cupcake recipe every Oreo cookie lover will want to get their hands on and they will make the perfect April Fool's dessert too. Oreo 'Dirt' Cupcakes were inspired by a set of carrot cupcake topper printables I will be sharing very soon. Carrots grow in dirt don't they? Well I had to make sure that my printable carrots grew in dirt too. The best part is that I don't have a lot of time on my hands so the Oreo 'Dirt' Cupcake recipe uses a boxed cake mix to make things easier and quicker. If you have a chocolate cake recipe you would rather use than feel free to one-up all of us and use that instead.
When I said these were Oreo cupcakes I wasn't telling a lie. These babies have Oreos on the bottom and the top. Mmmm Mmmmm Delicious! As the cupcakes bake the bottom Oreo softens up so the blend right into the cake as you take a bite out.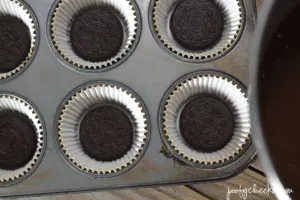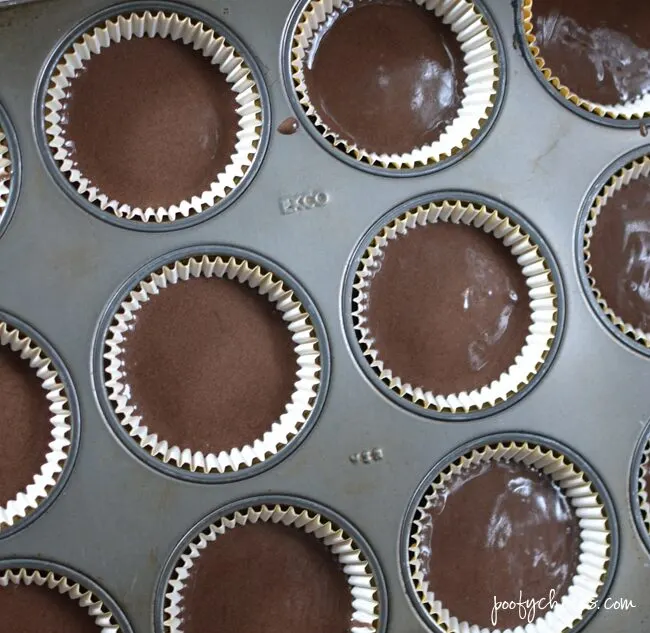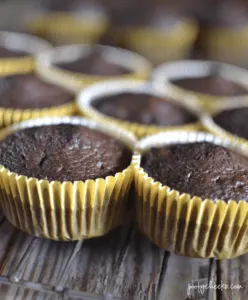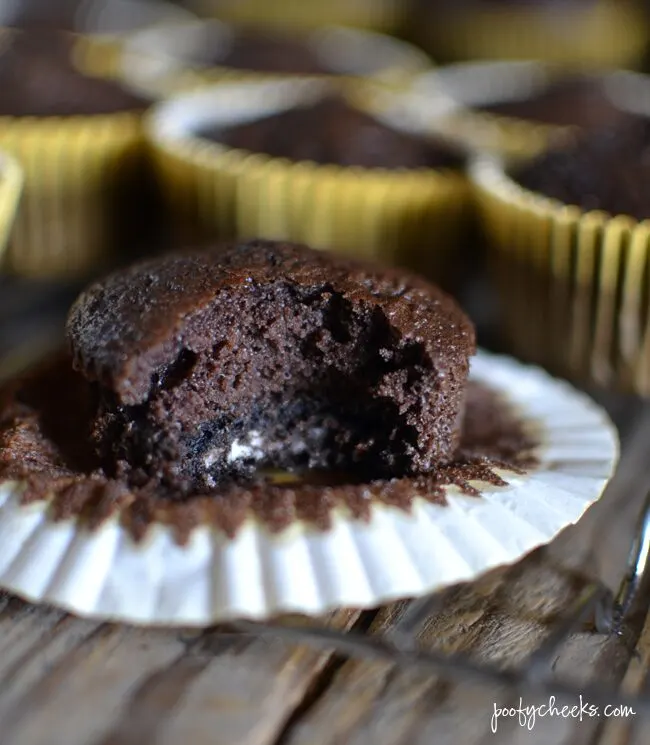 Oreo Cupcake Recipe – 'Dirt' Cupcakes
Ingredients
1 pack of Oreo cookies
1 box of Chocolate Cake Mix, (and ingredients it calls for – eggs, water, vegetable oil)
1 tub of Chocolate Frosting
Instructions
Make cake batter according to box directions. Line cupcake pan with liners and add one whole oreo to the bottom of each one. Fill cupcake tins with cake batter so they are 2/3 – 1/4 of the way full.
Bake cupcakes according to the directions on the cake mix box. Remove when a toothpick can be inserted and comes out clean.
Once you remove the cupcakes from the oven immediately remove them from the cupcake pan and allow to cool completely on a wire rack.
While cupcakes are cooling put the remaining cookies in an air tight bag and crush with a rolling pin or toss them in a food processor. Place the crushed Oreos in a shallow dish or on a plate.
Once the cupcakes are completely cool frost them with the chocolate frosting and then roll them in the crushed Oreos. Flip them over and you are done!
Nutrition Information:
Serving Size:

1 grams
Amount Per Serving:
Unsaturated Fat:

0g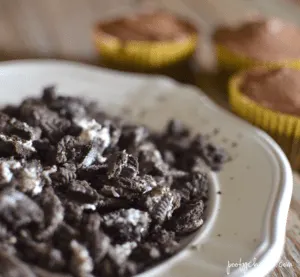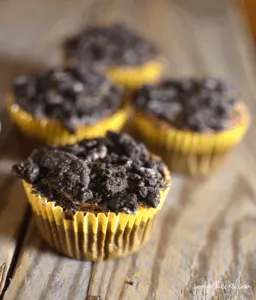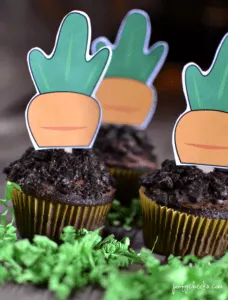 Aren't the cupcakes + the printable carrot toppers adorable? The kids are going to love these at their Easter table this year and I know some adults that will love them too!
Enjoy,
I party HERE
Check out the Poofy Cheeks Blog Pinterest Board for other craft and recipe ideas!
Follow Poofy Cheeks's board Poofy Cheeks Blog on Pinterest