When we were looking for a place to move in October we found out one of my husband's old co-workers was renting his house out in the area we needed to move to. Mike was away for training so I had to drive and scope things out on my own… with four kids. I set up a time to come look at the house and from the second I opened the doors and saw the dark hardwood floors I was sold. For only having to look at one house and then knowing it was the place we were renting made things so much easier than I thought they were going to be! The house has two living rooms which means I get my own pretty and almost-always clean space.
The house is two stories, a bit quirky as far as layout and larger than I would like but now that we are settling in it works perfectly for our big family and my business. I used to use my 320 degree heat press in the garage and during the Florida summers it was brutal. Now I have my heat press indoors. From the front it looks like a one story house and upstairs is laid out like a normal two bedroom with a nice large living space. There is a half bath off of the living room and a pocket door you can close off leading to the full bath and bedrooms. Then in the dining area there is a long hallway that leads to a stairwell. After you descend down the stairs you are greeted with another large living area that includes a second kitchen, living room, office space and master bedroom and bathroom. There is a large sliding door that opens up to a deck and our back yard butts up to the woods. When we talked to Mike's friend he told us that when they moved into the house it was just an upstairs with an unfinished basement. They refinished the entire basement and thought about renting it out which was the reason for the second kitchen. Right now the second downstairs kitchen has a lot of my crafting supplies and all of my husband's beer brewing supplies. He has claimed the second kitchen as his man cave so I am dubbing the upstairs living room my mom room! Ready to see it!?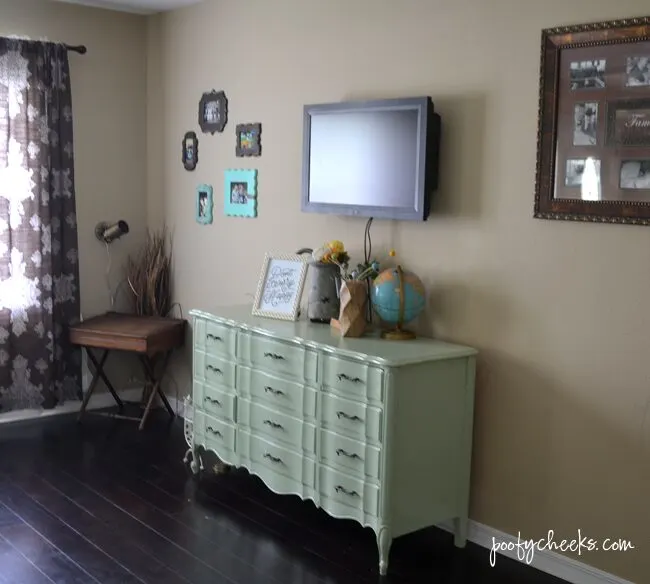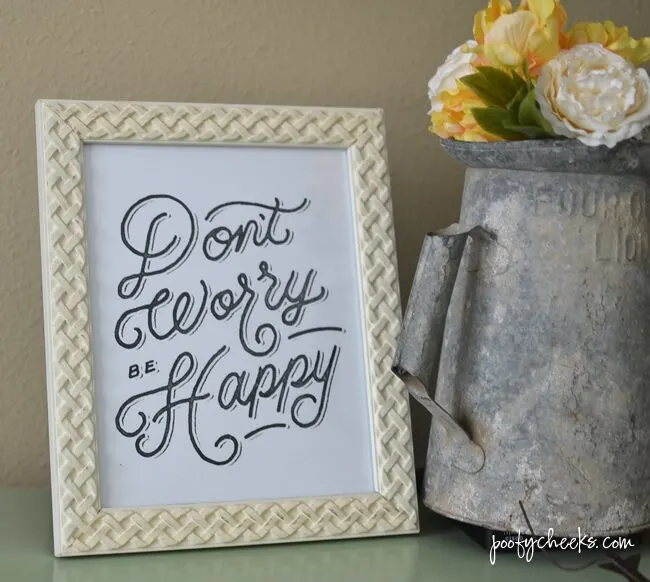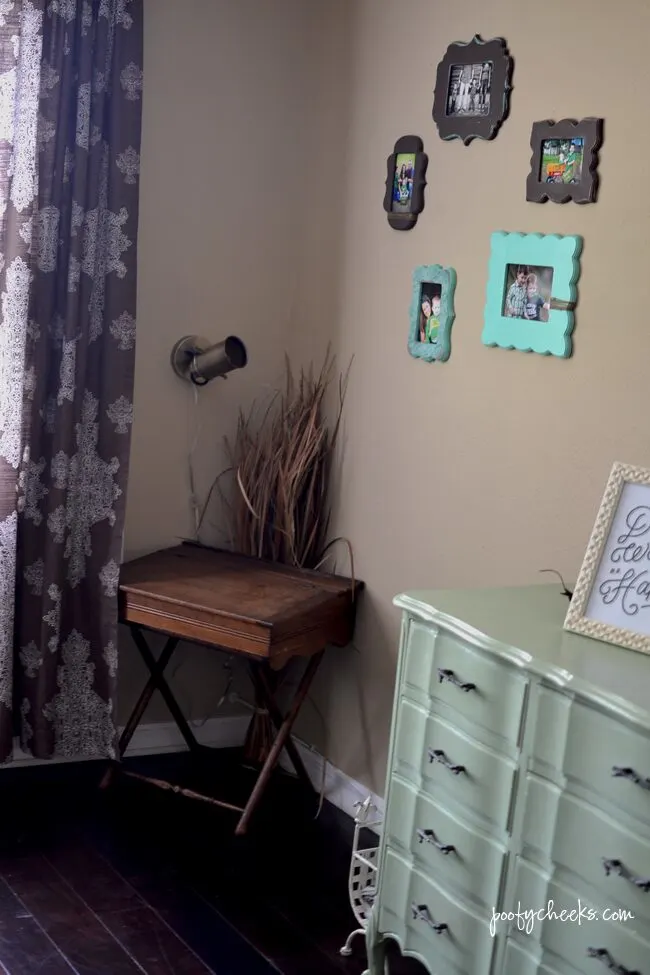 The part I love the most is that the light floods in from every side of the room. I think the hardest part about this room and the move in general is that we sold a lot of furniture and home décor when we moved. Now we are rebuying and trying to fill a house that has almost double the space we had before on our small budget.
Luckily for this room we were able to buy the sofa, coffee tables, end tables and lamps from the home owners parents (they were selling the set from their front sitting room and the sofa looked like it was never used) all for $200. Then one of my husband's new co-workers knew we had just moved and asked if we wanted two lounger chairs they were otherwise going to take to Goodwill. We took them and honestly they are the most comfortable things to relax in. I brought in the curtains, picture frames, TV, dresser and a few other things that we already had combined with some clearance and thrift store purchases I made. The room in now inviting and relaxing. Since we spend most of our family time in the living room downstairs it is nice to invite guests into a clean living room. As long as they don't venture past it and into the kitchen ((which hasn't been so clean lately)) we will be okay!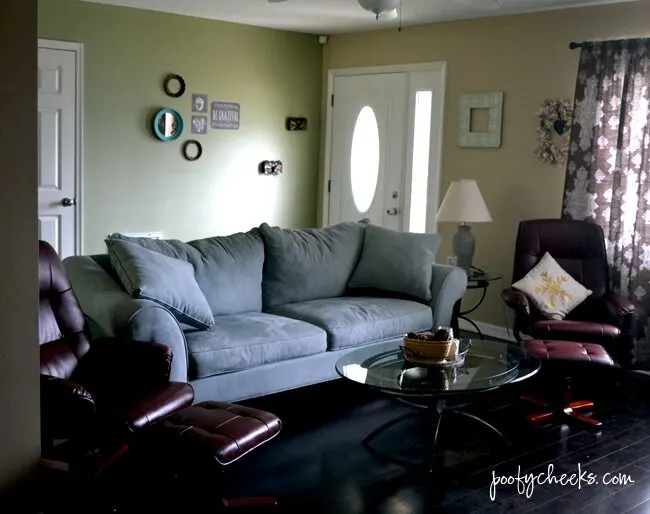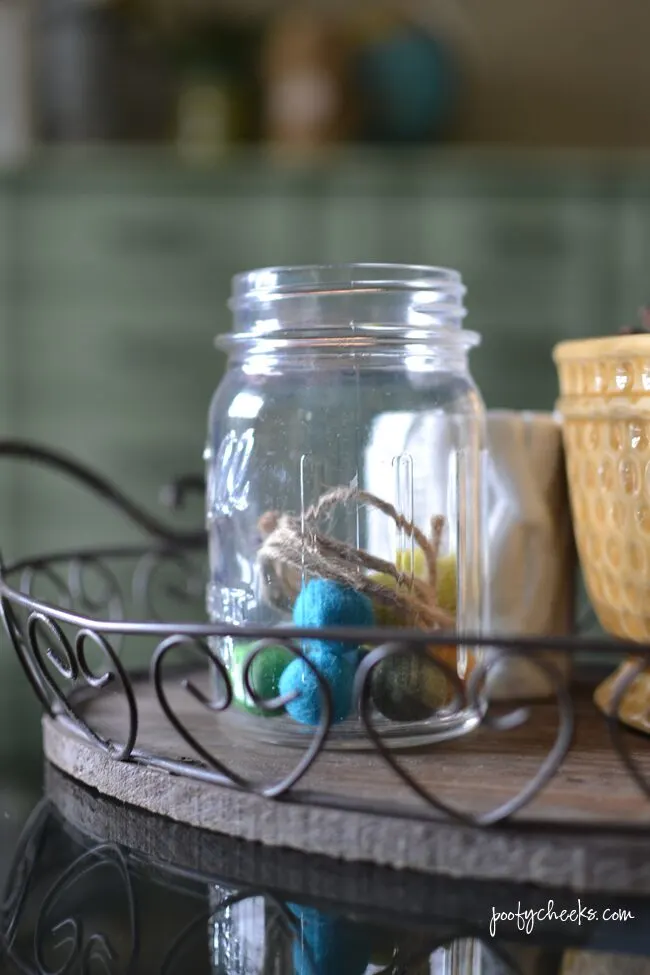 One of the things I made for this room was a set of felt ball flowers for a Target clearance vase I picked up. I bought two sets of felt balls on ETSY to make a garland before Christmas. I thought I had added my color selections at checkout but when they arrived I realized I forgot so I got an assortment of colors. The colors weren't going to work for what I had in mind but I knew I would find another use for them. When I found a vase I loved at Target on clearance – it was tall and skinny so I wanted to find a thick wire and stick the felt balls onto it like flowers. After searching the isles of Michaels last Saturday while the boys did one of their crafts I found a twine covered wire. I knew it was the perfect 'stem' for my felt ball flowers. P.S. The Saturday crafts they have for kids at Michaels are great! They are $2 per child on and they get to bring their craft home that day. My boys made felt envelopes with letters and numbers on them and I was able to browse the isles while they crafted. Okay well it was sort of a bad thing because I kept seeing things I wanted to buy!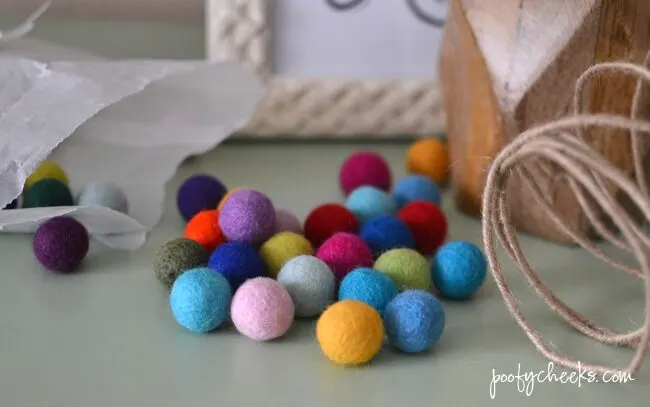 Felt Ball Flower Supplies:
Felt Balls (found mine here on ETSY)

Twine wrapped wire

Scissors or wire cutters
Directions:
Use old scissors or wire cutters to cut the wire the length you want for the stem. Use your hands to straighten out the wire. Peel back the twine a tiny bit and trim it off so that you can insert the wire into the felt ball. As easy as 1-2-3 and now you have felt ball flowers!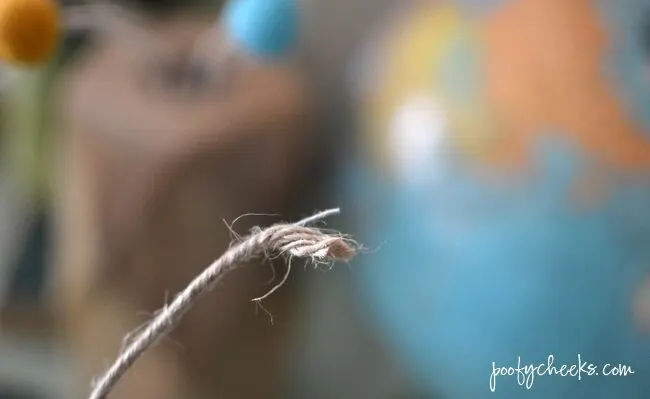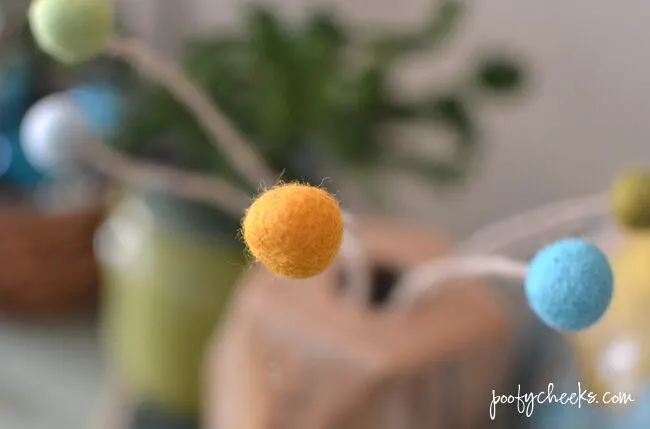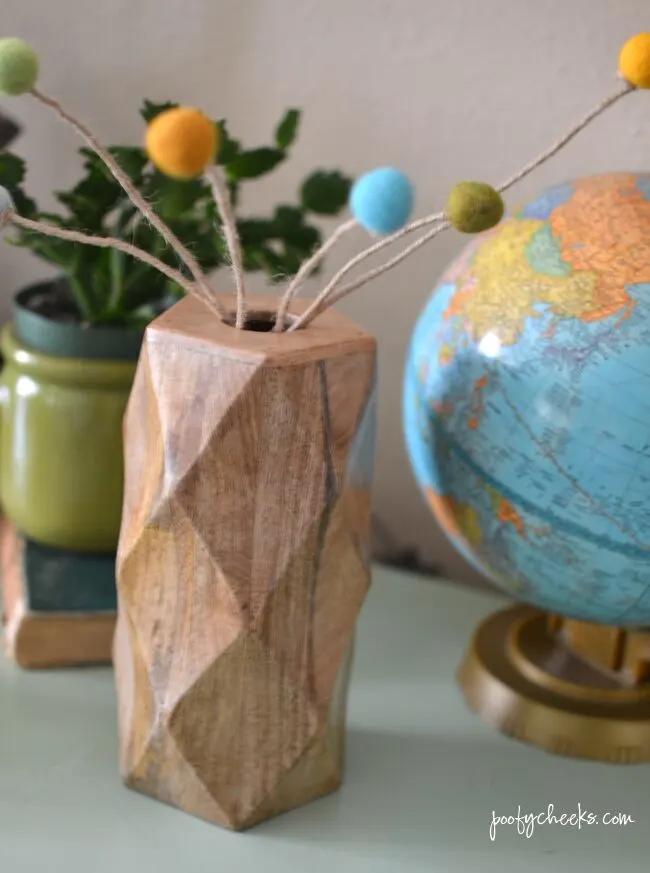 I can't wait to show you the rest of the house as I go room by room getting everything just the way I want it. We are working our hardest to find and redo as much of the furniture as possible. I finished a desk over the weekend that is going under our family room TV downstairs. The room that needs the most help right now is our master bedroom. We sold everything including our mattress when we moved so right now our new mattress is on the floor… Guess which room I am heading to next!?
Enjoy,


I party HERE
Check out the Poofy Cheeks Blog Pinterest Board for other craft and recipe ideas!